Displayed below are some selected recent viaLibri matches for books published in 1910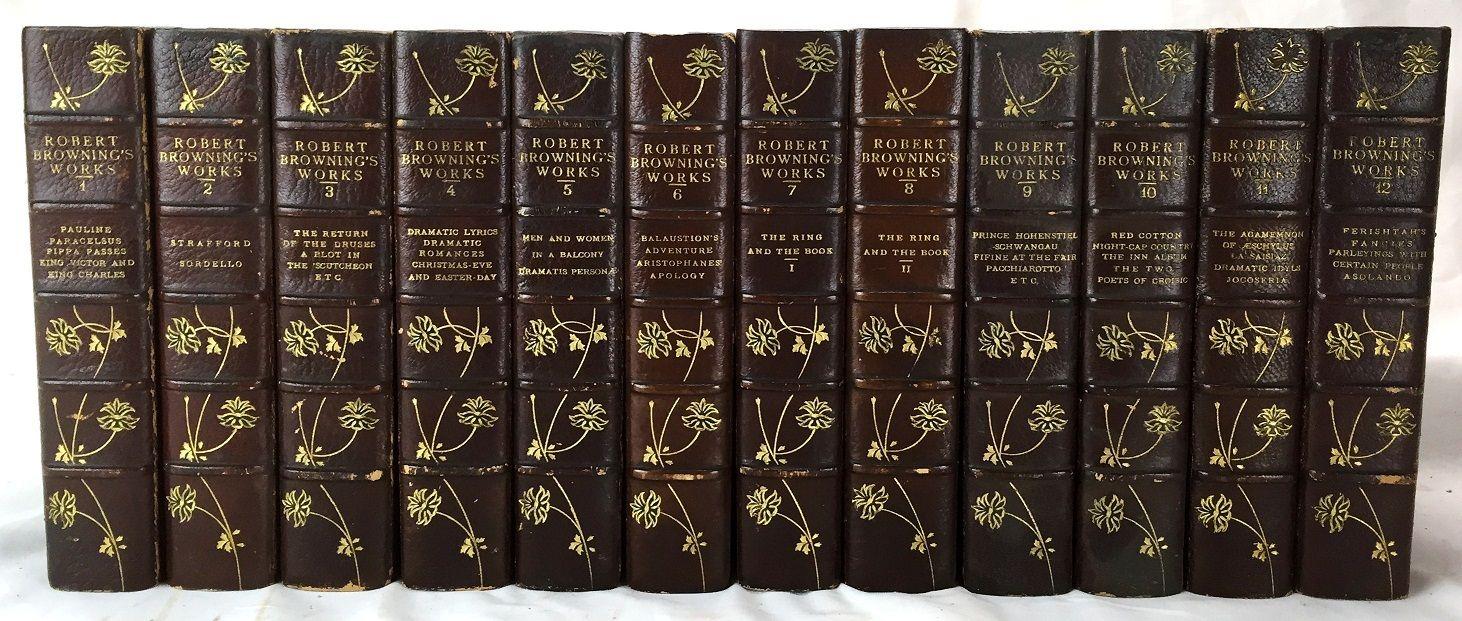 Robert Browning's Complete Works : From the Author's Revised Text. 12 Volume Set. Assisi Edition
New York : Fred De Fau 1910 - 12 Volumes. Octavo. Assisi Edition. Number 92 of 100. Bound in original 3/4 crushed brown morocco leather with silk boards, gilt, compartments decorated in gilt, marbled endpapers. Top edge gilt, raised bands. Mostly unopened. Photogravure plates throughout, including frontispieces, in two states. Rubbing to edgtes and joints, corners bumped. Darkening to spines. Owners bookplate to front pastedown and initial in gilt on front boards of William H. Woolverton. Contemporary gift inscription to FEP of some volumes. Clean, unmarked pages. Photogravure plates in double suite, including color and plain frontis portrait. This is an oversized or heavy book that requires additional postage for international delivery outside of Canada and the US. [Attributes: Hard Cover]
[Bookseller:
Sequitur Books
]
The Tesla High Frequency Coil, Its Construction And Uses (First Edition, Signed By Haller)
New York City: D. Van Nostrand, 1910. 1st Edition. Hardcover. Good/No Jacket. 56 Illustrations. Signed by Author(s). 1st Printing Xii, 119 + Large Catalog At End. Green Cloth, Lightly Worn But Most Of Fragile White Lettering Has Rubbed Away, No Fraying Or Stains. Hinges Solid. Signature Of "George F Haller / Sept 14 1910" On Front Endpaper, With Remains Of Tipped In Printed Paper Label Beneath The Signature, Of Which Only A "T" Remains, Possibly A Publisher's Note. In 1915 Cunningham (1889-1965) Started The Audio Tron Sales Company In San Francisco. Based On The West Coast, He Was In Direct Competition With Lee De Forest, A Leading Manufacturer Of Triodes Sold Under The Audion Brand. Before 1915, Triode Vacuum Tubes Were Spherical Or Shaped Like An Incandescent Light Bulb. Cunningham Took A Different Route. His Triode Tube Was Tubular And Had The Capability Of Being Double Sided. This Design Allowed Dual Filaments, Which Provided Longer Operating Life. Cunningham Was Able To Produce This Vacuum Tube In Large Numbers And Maintain Quality. The Rise In Amateur Radio Interest Was A Great Asset To Audio Tron Sales. This Design Proved Influential On Vacuum Tube Production, And Prompted De Forest To Come Up With A Tubular Audio. Another Important Design In The Audio Tron Tube Is The Use Of A Cylindrical Plate Instead Of The Typical Flat Plate In The Audion. The Cylindrical Plate Provided Better Gain And Tube Efficiency. This Design For The Audio Tron Was Probably Inspired By George Halle.In 1916, Elmer T. Cunningham And His Writing Partner George Haller Formed The Haller-Cunningham Company. The Main Purpose Was To Sell And Make Wireless Equipment. In Addition, Cunningham Provided Financial Backing To Otis B. Moorehead Late In 1915, To Start A New Vacuum Tube Company, Called Moorehead Laboratories Also Based In San Francisco, Ca. In July 1916 Otis Moorehead Marketed The Electron Relay Tube. This Vacuum Tube Was Similar In Appearance As Cunningham's Audio Tron. Like The Audio Tron Moorehead's Tube Would Cut Into De Forest's Tube Business On The West Coast And De Forest Would Take Legal Action On Moorehead As Well. Moorehead Would Later Make The First Military Tubes For The Us And United Kingdom During World War I. In 1919, The Radio Corporation Of America (Rca) Took Legal Action Against Cunningham For The Violation Of The Flemming And Deforest Patents. The Decision Made By The Us District Court For Northern California Proved Quite Favorable To Cunningham. By 1921, Audio Tron Manufacturing Company Started Slowly Changing Their Name To "E.T. Cunningham Inc." In Later Years After The Court Decision, Cunningham Played A Bigger Part In Rca's Business Activities. According To The Rca Publication " Rca A Historical Perspective" By 1931 The E.T. Cunningham Company Became An Integral Part Of Rca And Consolidated With The Rca Radiotron Company, Giving Rca Rights To The Use Of The Cunningham Brand. In Addition, Elmer T. Cunningham Became A Part Of The Rca Organization. In 1932 His Name Appears On Page 16 Of The August-September Edition Of "Music Trade Review" As President Of Rca Radiotron Division (Vacuum Tube Production And Distribution. By The Mid 1930S He Rose To The Position Of President Of Rca Manufacturing Division. Haller Was In A Responsible Position With Westinghouse In 1910. He Wrote The Use And Care Of Storage Batteries In 1916. He Became Vice President And General Manager Of Haller Cunningham Electric And In 1917 Was Traveling Throughout The U.S. Arranging For Installation Of Their Extensively Patented Wireless Equipment On Steamers. By 1923 He Was President Of The San Francisco Labor Council And That Year Became A Member Of The California Commission On Immigration And Housing.
[Bookseller:
Arroyo Seco Books
]
Opus divinum, cui titulus historiae naturalis, multoqua[m] antehac unqua[m] prodiit in luce[m] castigatius, una cu[m] annotationibus Hermanolai Barbari ...Paris, Jean Petit (colophon: Nicolaus Sauetier), 1526. 2 parts in 1 volume (bound in reverse order). Folio. With title-page printed in red and black to the main work (bound second) and title-page to the index (bound first), both in woodcut border in four pieces. Contemporary or near contemporary calf, with the boards richly blind-tooled in a panel design; rebacked with part of the original backstrip laid down.
Bird 1910; USTC (2 copies); not in Adams; BMC French; Durling; Hunt; Wellcome. Very rare first Paris edition of Historiae naturalis, with the annotations by Hermolaus Barbarus. Pliny's Natural history is one of the largest single works to have survived from the Roman Empire to the modern day and purports to cover the entire field of ancient knowledge, based on the best authorities available at the time. It encompasses the fields of botany, zoology, astronomy, geology and mineralogy as well as the exploitation of those resources. It remains a standard work for the Roman period and the advances in technology and understanding of natural phenomena at the time. Pliny's accounts of some technical advances are the only sources for those inventions, such as hushing (using water to wash away soil) in mining technology or the use of water mills for crushing or grinding grain. Archaeological excavations have confirmed much of what he wrote. ''We know from Pliny that there were important pearl fisheries in the Gulf ... Pliny identifies Tylos (Bahrain) as a place famous for its pearls ... [He] attests that pearls were the most highly rated valuable in Roman society, and that those from the Gulf were specially praised ... The pearl related finds at the site of El-Dur indicate the site was integrated into the maritime trade routes linking the Roman Empire, the Persian Empire, India and South Arabia'' (Carter). Book 6 holds a chapter that gives the first detailed account of the regions around the Gulf, including what are now Qatar, the Emirates and Oman. Hermolaus Barbarus (1454-1494) was an Italian Renaissance scholar. His discussions of Pliny's Naturalis Historia was first published as Castigationes Plinianae in 1492, in which he made over 5000 corrections to the original text. Due to this work and other classical works he translated or edited he was considered a leader authority on Latin and Greek work on antiquity.With manuscript inscriptions on title-page. The two parts bound in reverse order. Binding rebacked and restored, but with most of the central tooling on the boards still clear. Text in very good dcondition, with only a couple marginal waterstains and some minor thumbing.
[Bookseller:
Antiquariaat FORUM BV
]
L'arte Cucinaria in Italia. Trattato teorico pratico e dimostrativo della cucina italiana e delle principali straniere applicabile a qualsiasi servizio sia per cucina di lusso che per quelle d'albergp e di famiglia. Compilato per iniziativa del Circolo Gastronomico Milanese.
Milano, Succ. Wilmant, 1910/1911, due volumi in-4? tutta tela con tasselli ai dorsi, pp. XI-760 + 837 con allegorie e 175 disegni n.t.
[Bookseller:
Libreria Piani già' Naturalistica snc
]
The Tale of Mrs Tittlemouse.
London Frederick Warne & Co 1910 - First or second printing, deluxe issue, colour frontispiece, plain title vignette and 26 colour plates, contemporary ink gift inscription dated Christmas 1910 to half-title, original blue cloth with mounted colour illustration, lettering and decorations in gilt, all edges gilt, spine slightly darkened, spine ends and corners a little rubbed and bumped, still excellent overall. [Linder p.429; not in Quinby. [Attributes: Hard Cover]
[Bookseller:
Shapero Rare Books
]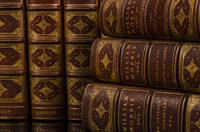 Collected Works of William Morris, The
London: Longmans Green and Company, 1910. The Definitive Edition of the Works of William MorrisMORRIS, William. The Collected Works of William Morris. With introductions by his daughter May Morris. London: Longmans Green and Company, 1910-1915.Limited to 1,050 numbered copies (of which this is number 271). Twenty-four octavo volumes (9 x6 1/8 inches; 229 x 156 mm.). Photogravure frontispieces and plates (by Emery Walker and Walker & Boutall), facsimiles (one color) and examples of Kelmscott type and borders, maps (some folding).Bound ca. 1915, in full brown morocco. Covers decoratively bordered in gilt, spines decoratively tooled and lettered in gilt in compartments, gilt ruled turn-ins, full dark blue morocco doublures decoratively ruled in gilt, purple watered silk end-leaves, top edge gilt, others uncut. Although the binding is not signed it is most probably the work of Stikeman & Co. of New York. Minimal rubbing to extremities otherwise a very fine set of the definitive edition of Morris's works.William Morris (1834-1896), "English designer, poet, and early socialist, whose designs for furniture, wallpaper, and other decorative products generated the Arts and Crafts Movement. Through his friendship with the poet Dante Gabriel Rossetti, Morris was associated with the Pre-Raphaelite Brotherhood, whose interest in medieval subjects was reflected in Morris' poetry as well as his designs… As a poet, he first achieved fame and success with the romantic narrative The Life and Death of Jason (1867). Other works of this period were The Earthly Paradise (1868-70), a series of narrative poems based on classical and medieval sources; the exquisitely illuminated Book of Verse (1870); and his principal poetic achievement, the epic Story of Sigurd the Volsung and the Fall of the Niblungs (1876), written after a prolonged study of the Old Norse sagas… [Morris] became an active socialist; he formed the Socialist League, with its own publication, The Commonweal. There his two finest romances-A Dream of John Ball (1888) and News from Nowhere (1890), an idyllic vision of a rural socialist utopia-appeared. Subsequently, he founded the Hammersmith Socialist Society. Morris founded the Kelmscott Press in 1891, and between that year and 1898 it produced 53 titles in 66 volumes. He designed three typestyles for his press, including Geoffrey Chaucer type, in which The Works of Geoffrey Chaucer was printed during the last years of Morris' life. One of the greatest examples of the art of the printed book, Chaucer is the most highly decorated of the Kelmscott publications" (Merriam-Webster's Encyclopedia of Literature).
[Bookseller:
David Brass Rare Books, Inc.
]
Calavera De La Penitenciaria
Mexico City, Mexico: Antonio Vanegas Arroyo. Good. 1910. Broadside. A rare broadside by Mexican illustrator and political satirist Jose Posada (1851-1913). Printed on one side of thin paper with a few chips and tears, and a dampstain on left margin. Posada's broadsides were known as calaveras ("skulls") , and became associated with the holiday of Dia de los Muertos. Titled "Calavera de la Penitenciaria," with rhyming verse and an illustration of an Eiffel Tower made of skulls. Scarce, with no copies found on OCLC. ; 15 1/4" x 11" .
[Bookseller:
Back of Beyond Books, ABAA
]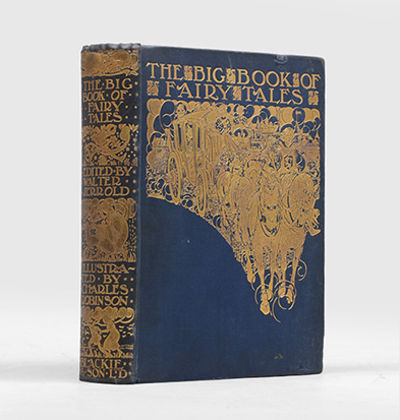 The Big Book of Fairy Tales.
London: Blackie and Son Limited,, c. 1910. Edited by Walter Jerrold and Illustrated by Charles Robinson. Quarto. Original blue cloth, titles and pictorial decoration to spine and front cover gilt, edges gilt, pictorial endpapers green and red. Colour frontispiece and 121 colour plates, 16 red and black plates and numerous black and white illustrations in text. Contemporary gift inscription to head of front free endpaper. Spine rolled and faded, light bumps to extremities and head of front cover, slight wear to bottom tips, inner rear hinge cracked but holding, a very good copy. First edition, dated 1911 to title page, but with a Christmas gift inscription dated 1910 to front free endpaper, most likely published in late 1910 and post-dated 1911.
[Bookseller:
Peter Harrington
]
JAPANESE SWORD-MOUNTS COLLECTION OF J C HAWKSHAW
1910. JOLY, Henri L. JAPANESE SWORD-MOUNTS: A DESCRIPTIVE CATALOGUE OF THE COLLECTION OF J. C. HAWKSHAW, Esq., M.A., of Hollycombe, Liphook. London (Privately printed for J. C. Hawkshaw), 1910. First edition, limited to 300 numbered copies of which this is no. 77. Illustrated with 50 collotype plates from Joly's photographs. Each plate shows multiple sword- mounts that are numbered on a tissue overlay; the numbers can be used to identify the pictured sword-mounts with descriptions in the catalogue. Many of the mounts have the name of the maker written neatly below in pencil. Some tissue overlays are creased or split, and a few are chipped. Quarto. xxvi, 300 pp., + [1] ff. Partial 'Errata on Plates' laid-in at the front and [8] pp. Addenda laid-in at the end. 32 x 26 cm (12 1/2 by 10 inches). Light brown cloth binding with the title printed in red on upper board and a red-and-black printed paper label on spine. This a handsomely produced and complete volume that is being offered as is because the binding has failed: Several of the plates and text leaves are sprung from the bookblock.
[Bookseller:
Boston Book Company
]
Recherches sur l'okapi et les girafes de l'est Africain.
Paris, Masson, 1910-1911. Two parts in one. Large 8vo (23.8 x 15.3 cm). Title page, hand-coloured frontispiece, 279 [93; 186] pp., 78 [27; 51] groups of text figures, 11 [5; 6] double-sized plates, of which one partly coloured. Contemporary half calf over marbled boards. Spine with five raised bands and gilt title. Original printed wrappers bound in.l A rare, complete set of these important contributions to the knowledge of the okapi and giraffes, including a finely coloured plate of the okapi (frontispiece), and a double-sized plate of two species of giraffe, one of which is the Giraffa camelopardis rothschildi, described by Lydekker. This work contains excellent illustations of skeleton parts, teeth, etc., etc. It was published in two parts in the "Annales des Sciences Naturelles, Zoologie", but these are the offprints, with their separately printed wrappers. The frontispiece is plate one of the first part, so the total number of plates is 12. Maurice Edmond Karl de Rothschild (1881-1957) "was an art collector, vineyard owner, financier, Senator of France, and one of the most financially successful members of the prominent Rothschild banking family of France" (Wikipedia). In 1904-1906 he organized a scientific expedition to Ethiopia and central Africa). The naturalist Henri Neuville (1872-1946) was director at the Laboratoire de zoologie comparative de l'Ecole pratique des hautes études in Paris. Handwritten, signed dedication by Neuville on the half title of the first part and pictorial (mammalogical) bookplate of the Dutch biologist Arie Scheygrond (1905-1996) on the blank front free endpaper verso. A very good copy. Despite the fine illustrations not in Nissen.
[Bookseller:
Antiquariaat Schierenberg
]
Amusement resort designed to be built at Wolf Lake, Indiana. Perspective, 1895. Pl. LX
Berlin: Ernst Wasmuth, 1910. Original lithograph on 4-ply, wove, tan paper. Foldout, printed over the fold. 15.9 x 37.5" (40.5 x  95.25 cm). Artist's embossed stamp lower left. Archival mat and backing.Provenance: The Prairie Avenue Bookshop, Chicago. The Bookshop recently closed and Wittenborn Art Books has taken over the distribution of the Wasmuth plates.  Many of these were acquired from Wright's apprentices and bear the marginal water stains from the famous fire of 1914, which destroyed the architect's home and studio and most of the edition. Text and title in German/Deutsch. Finely toned, moreso around the fold; creased at the fold. Else VG/NF. Matted. Wolf Lake, IL.Dover (LXa); Hitchcock (1942) pl. 37, pp. 27, 52, 109, Project
[Bookseller:
Alan Wofsy Fine Arts
]