Read more from the blog
viaLibri Blog
We are pleased to announce another increase in the number of  bookselling databases we now search. Our latest addition is the Iberian website Uniliber.com, which currently offers 5.4 million items from 278 Spanish and Catalan speaking booksellers.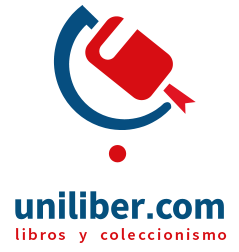 It was formed  in 2005 by the Asociación Profesional del Libro y Coleccionismo Antiguos with members from nearly all the Autonomous Communities of Spain.  It operates as a non-profit association owned and controlled exclusively by its members.
We are very happy that they have decided to join us and will now look forward to introducing them to the customers who have been searching for their offerings in the global marketplace for old and rare books.
It was a pleasant surprise yesterday when I discovered that one of our customers was using viaLibri in a clever way that had not previously occurred to me.  The user, Denis Gouey, is a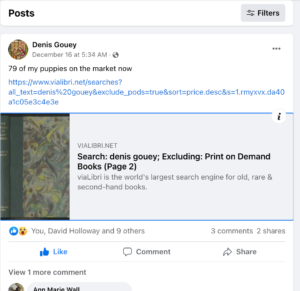 well-known bookbinder from Connecticut.  Naturally, he is interested in promoting his skills on the internet. You can find him on Facebook  where, on Friday, he published a post that links to a viaLibri search result listing all the books on viaLibri that match on the keyword "Denis Gouey".  As a result, anyone visiting him on facebook can click on this link and see pictures of lots of books bound by him and currently for sale online.
This was actually a fairly simple thing for him to do, since the booksellers who are offering examples of his work are happy to mention Denis in their descriptions and should be eager to do anything that might increase exposure for items they are offering for sale.
One interesting thing to note is that when I first saw Denis's post yesterday there were 79 items, or "puppies" as he called them, that appeared on his list. Now there are only 70. I would be very curious to know what happened to those books.
Anyone with an interest in the role of antiquarian bookselling  in relation to the broader study of  rare  books, bibliography, and early printing will want to read an article recently  published by Fabrizio Govi in the Italian scholarly journal TECA entitled "Online Bibliographical Tools for the Antiquarian Book Trade.  Their History, Use and Impact."
A well established and highly respected Italian bookseller from Modena, Govi  explores his subject broadly from both economical  and historical perspectives.  As the origins of online antiquarian bookselling slip further into memory the latter of these has become increasingly of interest, at least to me.
Sharing that interest, Govi began his research by identifying 17 different international websites that have focused primarily on the used and rare book market. He then attempted to contact  all of them to request information about how they started and what information they might offer about the online book market as it exists today.  Only three of these chose to respond.  Nevertheless, Govi was able to dig through a variety of primary and secondary sources to  compile a significant amount of interesting data on the origins of the antiquarian market and how it became what it is today. He tells me that what he has just published is only a preliminary study.  I'm encouraged that there  could be even more to come.
You will find the article here:
It's been almost a year since we launched the redesigned version of viaLibri! Time has flown by, but rest assured that we've been constantly working behind the scenes on improvements to viaLibri.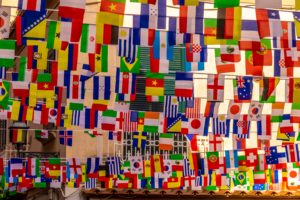 One of the new features that we added when we redesigned the site was the ability to filter search results by the location of the seller. This can be very useful for those wanting to avoid costly international shipping charges, among other uses.
Today we are making this feature available in Libribot, our saved search system. Your wants can now make use of the seller location filter too.
If you'd like to add the seller's location filter to a large number of wants then please get in touch with us. We'll be happy to update your wants in bulk for you.