Read more from the blog
viaLibri Blog
It's been almost a year since we launched the redesigned version of viaLibri! Time has flown by, but rest assured that we've been constantly working behind the scenes on improvements to viaLibri.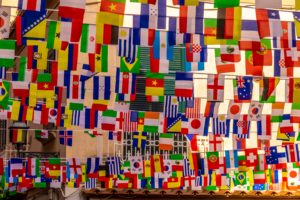 One of the new features that we added when we redesigned the site was the ability to filter search results by the location of the seller. This can be very useful for those wanting to avoid costly international shipping charges, among other uses.
Today we are making this feature available in Libribot, our saved search system. Your wants can now make use of the seller location filter too.
If you'd like to add the seller's location filter to a large number of wants then please get in touch with us. We'll be happy to update your wants in bulk for you.

It's been on our to-do list for a long time, so we are now especially pleased to be able to announce the addition of a paperback filter to our advanced search form.
Over the years since our launch in 2006 there have been few added features that have been more often requested than the ability to exclude paperbacks from our search results.  The delay was not due to a failure to understand how valuable this feature would be.  Our hesitancy was due chiefly to the difficulties involved in implementing it in a way that did not create more problems that it solved.
What we have done is different from anything similar you might find on other sites.  Many other sites present you with an option for limiting your results to either hardcovers or paperbacks.  This would seem like a logical choice if it were not for the fact that a significant number of the books that are offered on antiquarian book sites are not described by their sellers as either. Binding type is not binary, so many sellers will leave this information blank and give a proper binding description in the full text of their cataloging comments.
This is fine, except for the fact that many of our users only want first or early editions and are seriously annoyed by the quantity of cheap paperbacks that are returned in their search results.  If they try to avoid them by checking a binding option for hardcovers only then there is a real chance they may miss something they would want.
My assumption is that the customers who choose "hardcover" as a binding option are really doing so because they want to filter out all the cheap paperbacks that they would get otherwise.  So we give them an option that does that instead.  It filters out what they don't want and leaves everything else. It's not perfect.  There will always be a few paperbacks that slip through the cracks, but most of the junk will be removed.
Of course, there may be those who search on other sites for paperbacks only because they want the cheapest copy available of an ordinary book.  In that case all you need to do is sort your results with the least expensive first. That should give you the best choice of what you want.  And you might even find a hardcover copy selling for less than all the others.  Stranger things have happened.
There is one new feature we have added to our redesign that appears to have gone unnoticed by most of our users.  I hope that many of them will find it useful once they know that it is there.
They might not have discovered it because it is invisible until invoked. When not being used it hides on the search results page. You may already have noticed the checkbox that sits unobtrusively in the lower left corner of each description.  When you click on it and that book becomes "selected."  At the same time a rectangular tool tray will appear on the lower right side of the screen. It shows a set of 5 icons which indicate various things you can do with the books you have selected. The first of these lets you select ALL the books on that page with just a single click . (Why that's useful I explain further down).  Clicking the second icon will put all your selected items onto your clipboard. The third icon  creates and populates  a separate page that displays all your selected items (useful for printing).  The last icon can be used for sharing with social media.
For many, however, the most useful icon will be the one that looks like a tiny trash bin.  Clicking on that tool lets you remove from your search results all the items that you have selected using the checkboxes.  This is not a completely new feature.  Our previous version was also able to do this, only with a few different steps.
The new version was delayed because of a few backend improvements that proved to be more complicated than expected.  We also told ourselves that it was a minor feature that only a handful of power users would be looking for while we worked to finish it off.  On that we were definitely mistaken.  In all the feedback we have had so far during beta testing nothing has received more requests or comments than this feature and its omission.  I'm glad we finally have it enabled again and wish it had not been delayed for so long.
I hope you will have a chance to use it and the other tool tray features soon.  More feedback is welcome, as always.
No, we haven't finished yet.  It was more than three weeks ago that we first announced the public launch of the beta version of the redesigned viaLibri website, but it was still a work in progress.   The new site had already been under development for over 3 years and in that time had undergone a substantial update in both features and appearance. We knew that change is always dangerous when attempting to update a website that already had a loyal and contented following.  We also knew that over the years our regular users have always been generous with suggestions and  feedback.  Their observations had always been a valuable guide to our evolving design.  For those reasons we were eager to know how they would react to the changes we were preparing to show to them.  We were also eager to receive their feedback and make sure that the website we were trying to build for them would still be the tool they actually wanted to use.
We were thus very gratified by the initial response from our bookselling colleagues and other long time users.  We were happy to hear several of them describe the new design as "modern" (which they liked) and that they were pleased that we are at last mobile-friendly, a step which had been long overdue.
But the most useful responses were the ones we received from many of our long-standing and regular users, some of whom we had never heard from before, who waited for several days before sending their long and carefully described verdicts.  From these we learned many useful things.  The first thing we learned was how much our users liked viaLibri as it already was and how unhappy many of them were to see it change.  For some it was just a matter, readily acknowledged, of annoyance at needing to replace old habits with new.  But there were also some whose habits were natural and productive. We did not want to replace them with others that would not serve as well. Fortunately, in most cases, updates and redesigns were possible and we were able to incorporate them into the new version in ways that generally made the site better than it would otherwise have been.
One complaint that was especially frequent and strongly felt was a factor in many of the latest  changes we have made.  We now know that our customers very much prefer a compact site.  They don't like to scroll and prefer a cramped page to a spacious one if that is the price for minimising  the  number of screens that must be scrolled.  And they don't like empty white space for similar reasons.
This is just a sampling of some of the things we learned and have incorporated into this latest version of our redesign.  I don't doubt that there will be even more helpful feedback following this latest release.  We look forward to receiving it, because we haven't finished yet.