Displayed below are some selected recent viaLibri matches for books published in 1910
Francis Apartments, Forestville Ave. and 32nd St., Chicago, 1895. Pl. V.
Berlin: Ernst Wasmuth, 1910.(). Original lithograph on 4-ply, wove, tan paper. 15.94 x 25.25" (40.5 x 64 cm). Artist's embossed stamp lower (left) center. Archival mat and backing.Provenance: The estate of Blaine and Hulda Drake, who were members of the original class of fellows at Taliesin at Spring Green, Wi. They remained close to the master and later moved with him to Taliesin West, outside of Phoenix, AZ,. The corner of the print was damageddue to damage sustained famous fire of 1914, which destroyed the architect's home and studio and most of the edition.The missing piece is in the lower left margin, not affecting the image. The print has been cleaned and de-acidified. Text and title in German/Deutsch. Finely toned and exhibits marginal staining upper left. Near fine. Chicago, IL.Dover (V); Storrer (1993) 032; Hitchcock (1942) pl. 31; Brooks (1966) p. 202
[Bookseller:
Wittenborn Art Books
]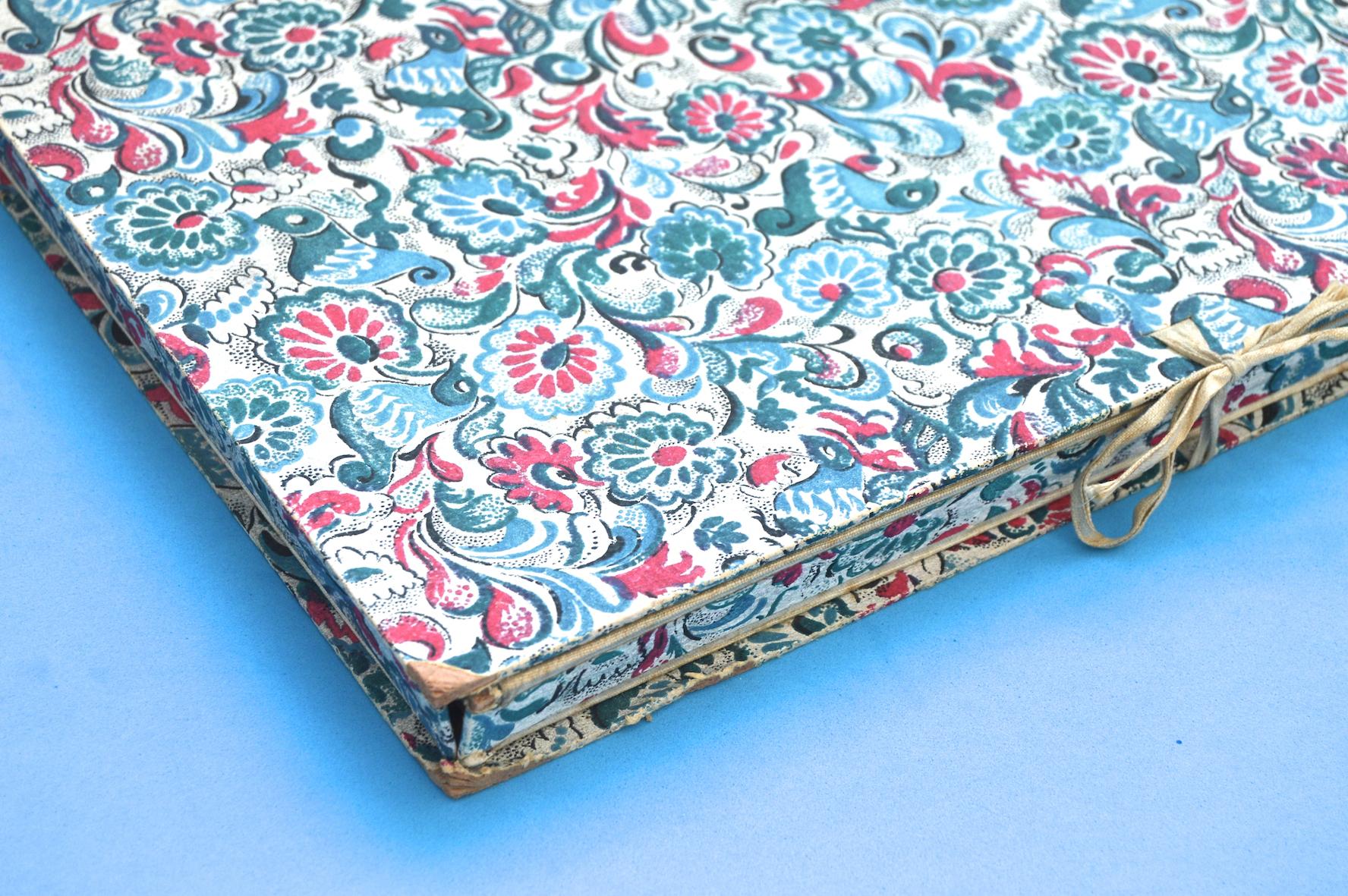 Modes et Manières du Jour, à Paris, à la Fin du 18ème Siècle et au Commencement du 19ème; Collection de 52 Gravures Coloriées
Paris: E. Gosselin 1910 - [Para pedidos desde fuera de España, por favor, consulte las condiciones de venta y envío, tipo B. / For orders to be delivered outside Spain, please, let you see our sale and shipping terms, type B. / Pour les commandes à livrer hors d'Espagne, s'il vous plait, voyez les conditions de vente et de livraison, type B.].- // Folio, (324x253 mm); huella (182x125 mm.); grabado (155x106 mm).- 53 grabadoss, de los que 1 portada grabada y 52 grabados al aguafuerte, coloreados a mano. Los dos primeros encabezados uno 'Modes et Manieres du Jour' y el otro 'Manieres et Modes'. En los dos últimos figura 'Modes et Manières'. En algunos consta consta ''G.', 'E.G', o 'Gosselin'. Algunos están fechados en 1897, 1901, 1902 y 1903.- // Encuadernado de época en carpeta de cartón con solapas forrada en papel de motivo avícola y floral, con cierre de lazo. Cantos levemente rozados. La portada presenta un leve oscurecimiento en el área no protegida por las solapas de la carpeta. Grabados en estado inmaculado.- // Proc.: Sin datos.- // Refs.: Para la ed. original, Colas, 914; Delteil, p. 93-4; Gaudriault, pp. 276-279; Monod, II, p. 6.- // El admirado Debucourt publicó sus 'Modes et Manières du Jour' con el editor Pierre La Mésangère, que a su vez publicaba el 'Journal des Dames et des Modes' (1797-1839). La celebridad que alcanzó esta colección hizo que, en 1893, Ed Gosselin inicase una reproducción de los grabados, tallándolos de nuevo, en una afición que se prolongó más de quince años hasta que, por fin, los publicó en 1910, como lo recogió la 'Revue de Synthese historique' al anunciar que "Vient de paraître chez GOSSELIN, marchand d'estampes, quai des Grands- Augustins, 51, la suite rarissime des 'Modes et Manières du Jour' de P.-L. Debucourt, regravée et coloriée par lui, imprimée sur les papiers de l'époque". [Attributes: Hard Cover]
[Bookseller:
Andarto B.
]
Au théâtre. Troisième série
Paul Ollendorff 1910 - - Paul Ollendorff, Paris 1910, 12x19cm, broché. - Edition originale. Envoi autographe signé de Léon Blum à Gaston Chérau. Une habile restauration en tête du dos, trace de décharge de papier adhésif ayant initialement servi à restaurer une déchirure en tête du premier plat et qui a été reriré par la suite, légers manques angulaires sur les plats. [AUTOMATIC ENGLISH TRANSLATION FOLLOWS] first edition. Autograph signed by Léon Blum to Gaston Chérau. A skillful restoration of the back, a trace of adhesive paper discharge that initially served to restore a tear at the head of the first board and which was subsequently re-ripened, three slight angular deficiencies on the boards. [Attributes: First Edition; Signed Copy; Soft Cover]
[Bookseller:
Librairie Le Feu Follet
]
THE YOUNGER CHOIR
New York: Moods Publishing(1910). First Edition, Full parchment lettered in gilt. Copy #16 of only 50 autographed copies of a total edition of 500. This copy SIGNED by 22 contributors including the editor, Edwin Markham, Louis Untermeyer, and Joyce Kilmer, a very scarce autograph as he was killed in World War I. This anthology predates both Kilmer's and Untermeyer's first books. Corners worn, some typical edgewear. Front hinge cracked., Full parchment, Paper on spine largely lacking; contents Very Good
[Bookseller:
Charles Agvent, ABAA
]
Rodin, Dessins Inédits. Ten Drawings by Rodin
New York, Brentano's, [1910]. Two of the Steichen gravures are slightly uneven at their edges due to how the book was cut; two of the Rodin drawings might be trimmed at the edge, or issued that way. Overall a near fine copy in blue cloth and half blue morocco including the tips, with gilt dentelles and lettering (leather lightly worn at the spine and extremities).. First Edition. Small quarto. Rare book on Rodin featuring four beautiful photogravures by Edward Steichen: one a portrait of Rodin, the others of Balzac; with two additional photogravures and seven tipped-in color plates after Rodin's drawings. Likely issued on the occasion of Rodin's 1910 exhibition at Alfred Stieglitz's Photo-Secession gallery, and including work from Rodin's 1908 exhibition. Published by Brentano's, the book nonetheless has all the earmarks of a Camera Work volume: from design, to font, to the splendid tissue gravures. While the title calls for ten Rodin drawings, this copy has nine, including two photogravures. OCLC tracks three copies. Like ours, the copy at NYPL has nine drawings, with thirteen total illustrations, including Steichen. A copy at the Philadelphia Museum of Art is missing half the plates. The third copy is reproduced partially in facsimile. With texts by Benjamin de Cessares, Agnes Ernst Meyer, S.H., and Arthur Symons (reproduced from Camera Work).
[Bookseller:
Harper's Books, Inc.
]
The Provinces of China. A Survey of Their Economic and Commercial Resources. Preface by Colonel C.D.Bruce, Author of "In Footsteps of Marco Polo".
Shanghai [privately printed], 1910. Small 4to. Original two-tone cloth, spine lettered in gilt, front cover in black; pp. [vii], 187, numerous sketch maps in the text;very light marking to cloth, a little inoffenisve spotting internally; a very good copy of a great rarity. ~b~First edition. The Beijing-based journalist wrote on Chinese-foreign relations and in this book he gives a concise and detailed description of the Chinese provinces, with as much statistical material as obtainable, and assesses the infrastructure, economics, industrialization, exports and commercial potential. Not in COPAC, OCLC (apart from a copy in the W Sheldon Ridge archive held by the Hoover Institution), not in KVK.~i~
[Bookseller:
Henry Sotheran Ltd.
]
Photoplay Collection.
London, New York, etc: Readers Library, Grosset & Dunlap, and others,, c.1910-50. 116 works, octavos. Original cloth, all but three volumes with the illustrated dust jackets. Photographic plates with film stills in many works. Generally very good condition. An excellent photoplay collection from the early decades of cinema, with the scarce and sensational illustrated dust jackets. 64 volumes are from the Readers Library series, published in London, 38 are from New York's Grosset & Dunlap (these notably illustrated with photographic film stills), and the remainder are from various other publishers. The collection includes a first printing, first state, copy (in second or issue jacket) of the first English edition of Thea von Harbou's Metropolis, published by the Readers Library in 1927 as a tie-in to the groundbreaking film by her husband Fritz Lang. Readers Library: Harrison Ainsworth – Old Saint Pauls E. Fletcher Allen – After Midnight Lucien Allina – Liberty! Eustace Hale Ball – The Gaucho Arnold Bennet – "Picadilly" (lacks jacket) Brighouse – Hindle Walks Thomas Burke – Twinkletoes Mrs Craik – John Halifax, Gentleman Ridgwell Cullum – The Wolf Pack Hubert Dail – Singing Fool A. Conan Doyle – Tragedy of the Korosko (The Fires of Fate) Alexandre Dumas – Chicot the Jester George Eliot – The Mill on the Floss H.L. Gates – The Red Dancer of Moscow MacBurney Gates – Aloma of the South Seas John Golden – 7th Heaven Leon Groc – The House of Death H. Rider Haggard - Cleopatra Thea von Harbou - Metropolis L. Allen Harker – Marigold Nathaniel Hawthorne – The Scarlet Letter Victor Hugo – The Hunchback of Notre-Dame W. W. Jacobs – The Skipper's Wooing W. W. Jacobs – Light Freights James P. Judge – Square Crooks Jerome K Jerome – Three Men in a Boat (x 2) Jack London – Burning Daylight Jack London – The Sea Wolf Belloc Lowndes – The House of Peril Henry Macmahon – The Ten Commandments J MacPherson & H MacMahon – The King of Kings W. Somerset Maugham – Sadie Thompson Adolphe Menjou – A Gentleman of Paris Prosper Merimee – Carmen W. Meyer-Forster – The Student Prince Allie Lowe Miles – The Crowd A.L. Muir & Harry Wall – Havoc Kathleen Norris – My Best Girl Eugene O'Neill – Anna Christie Eden Phillpotts – Widecombe Fair Elizabeth Pickett - Redskin Channing Pollock – The Enemy Hayter Preston & Henry Savage – Faust Hayter Preston & Henry Savage – The Sea Beast Hayter Preston & Henry Savage – The Flood Charles Reade – Peg Woffington Palle Rozenkrantz – The Golden Clown Inez Sabastien – Don Juan Rafael Sabatini – The Reaping Henry Savage – Prince of Adventurers John Monk Saunders – The Dawn Patrol Robert W. Service – The Trial of '98 Capt Frank Shaw – Captain Lash Henryk Sienkiewick – Quo Vadis Andrew Soutar – The Phantom in the House Norman Springer – The Blood Ship Arthur Stringer & Russell Holman – Manhandled Frank Vosper – Murder on the Second Floor (lacks jacket) Jules Verne – 20000 Leagues Under The Sea Lew Wallace – Ben-Hur x 2 A.M.R. Wright – Sons of the Sea Grosset & Dunlap: Lewis Allen Browne – The House of Rothschild Hall Caine – The Christian Homer Croy – West of the Water Tower James Oliver Curwood – The Golden Snare (x 2) James Oliver Curwood - The Flaming Forest Alexandre Dumas – Camille Winifred van Duzer – Our Dancing Daughters MacBurney Gates – Aloma of the South Seas Katharine Fullerton Gerould – A Romance of the Rio Grande George Gibbs – The Great Deception (x 2) Frances Nimmo Greene – The Devil to Pay Sarah P. McLean Greene – Cape Cod Folks Paul Gulick – Strings of Steel Bret Harte – Salomy Jane's Kiss George C. Hazelton – Mistress Nell William Johnston – When a Feller Needs a Friend Basil King – Let Not Man Put Asunder Jack London – The Sea-Wolf Cyril McNeile – Bull-Dog Drummond Anne Nichols – Abie's Irish Rose Charles Nordhoff & James Norman Hall – Passage to Marseille ("Men Without Country") Roy Norton – The Plunderer Ouida – A Dog of Flanders Gilbert Parker – The Right of Way Hubert Parson – The Dancers E. J. Rath – The Nervous Wreck Mary Roberts Rinehart – I Take This Woman Rafael Sabatini – Bardleys the Magnificent Andrew Soutar – Almost Married Robert Louis Stevenson – The Ebb-Tide Grace Zaring Stone – The Bitter Tea of General Yen Jan Struther – Mrs Miniver Leo Tolstoy – Resurrection D.E.N. Westcott – David Harum Thornton Wilder – The Bridge of San Luis Rey I.A.R. Wylie – Keeper of the Flame A. L. Burt: Charleson Gray – The Vagabond Lover E. M. Hull – The Desert Healer E. M. Hull - The Shadow of the East Louise Jordan Miln – Mr Wu Triangle Books: William Lindsay Gresham – Nightmare Alley (no jacket as issued) W. Somerset Maugham – The Razor's Edge The archer Press Corporation: J. W. McConaughy – Madame X The Leisure Library: H. de Vere Stacpoole – The Beach of Dreams Literary Press: Charles Dickens – A Tale of Two Cities E. P. Dutton: Charles G. Norris – Brass Doubleday, Page & Company: Roy Mason – Judgment of the Storm United Book Guild: Henry James – "The Heiress" Washington Square Harcourt, Brace and Company: Jessamyn West – The Friendly Persuasion Macaulay: Elinor Glyn – Three Weeks
[Bookseller:
Peter Harrington
]
Äußerst seltene deutsch-amerikanische Werbeschrift der Kalifornischen Holzindustrie. (Deutsch-amerikanische Firmenschrift). California Sugar & White Pine Company. Grosshändler & Lieferant von Californischen Zuckertannen, Californischen Weisstannen, Arizona Weisstannen, Fenster u. Tür-Rahmen, Simswerken, Latten, Rahmen, Wohlrichende Ceder, Bleistift Leisten.
an Francisco, ohne Jahresangabe, aber um 1910.. Quart. Goldgepr., flexibles Ganzleinen (gering berieben und bestossen). Titelblatt, 56 unpaginierte S. mit fast durchgehend ganzseitigen Illustrationen nach Photographien, 1 Bl. Impressum. Mglw. fehlt das erste unbedruckte Vorsatzblatt. Insgesamt gut erhaltenes Exemplar. Äußerst seltene und imposant illustrierte, deutschsprachige Firmenschrift, für uns nicht weiter nachweisbar. Eine vergleichbare, englischsprachige Schrift listet Margaret Miller Rocq in ihrer Kalifornien-Bibliographie (# 8745), aber selbst diese englische Ausgabe ist via worldcat nur in drei Exemplaren nachweisbar, eine vermutlich ebenfalls gleichartige, jedoch französischsprachige Ausgabe sogar nur in einem Exemplar (Bayreuth). Die Abbildungen zeigen den gesamte Herstellungsprozess der Hölzer vom noch unberührten Baum in den Kalifornischen Wäldern über das Fällen, Zerlegen, den Transport durch teils extrem unwegsames Gelände (z.B. via Eisenbahn über ein Gefälle von 87% !), die Lagerung und anschließende Veredelung zu Furnieren etc., bis schließlich hin zu einigen Endprodukten. - Beiligen zwei Blatt mit ausführlichen, deutschsprachigen Angaben zu lieferbaren Konfektionen und Verwendungsmöglichkeiten von Weißtanne und Kalifornischer Incense Zeder, diese jeweils mit dem Briefkopf der Firma (ein Blatt etwas knickspurig).
[Bookseller:
Antiquariat Stefan Wulf
]
ITA oder JTA HÜTE FIRMENSCHRIFT der Hutfabrik Ita in WIEN anlässlich der JADAUSSTELLUNG 1910 Titel: J(ohann) Heinr(ich) Ita, Wien k.u.k. Hof-Hutfabrikant. Jagdbilder von Ferdinand Gauermann nach Originalen die von der k. u. k. Dirketion der k. u. k. Familien-Fideikomiss-Bibliothek gütigst zur Reproduktion überlassen wurden
original Broschur mit Kordelheftung, gr.-8, 12 Blatt farbiger Bildtteil Reproduktionen der Gauermann Bilder, Katalogteil mit 30 Seiten der Firma Ita die Neuheiten für 1910-1911 enthalten mit über 90 Abbildungen, Zustand: sehr gut Buch
[Bookseller:
ANTIQUARIAT.WIEN Fine Books & Prints- Fl
]