Displayed below are some selected recent viaLibri matches for books published in 1741
Sthlm, 1741. 8:o. (16),144,1-149,(1) s. Häftad i ngt nött samtida klistermarmorerat pappomslag. Ryggen blekt och med små skador. Enstaka småfläckar. Bra ex. Hebbe 138. Fr.o.m. femte kapitlet tryckt hos Momma. En stort upplagd stridsskrift för en merkantilistisk näringspolitik.
Bookseller:
Mats Rehnström
[SE]
trois ouvrages en un volume Paris, 1741-1746, , trois ouvrages en un volume in-12, pagination multiple, basane brune mouchetée de l'époque, dos à nerfs fleuronné, tranches rouges, Éditions originales de ces trois ouvrages d'odontologie, tous très rares, de Robert Bunon (1702-1788), considéré, à la suite de Pierre Fauchard, comme l'un des premiers grands chirurgiens-dentistes ; il fut surtout le premier à donner une étude scientifique de l'hypoplasie dentaire, observée auprès des malades qu'il recevait à la Salpêtrière et à l'Hôpital général. L'"Essai sur les maladies des dents" est considéré comme le premier livre spécialisé dans la recherche odontologique ; Bunon y fait la synthèse de l'ensemble de ses publications précédentes. Très tôt, il préconisa l'extraction des dents de lait pour faciliter le rangement des dents permanentes ; il s'éleva également contre l'idée aberrante selon laquelle les femmes enceintes ne pouvaient recevoir de soins dentaires (voir la "Dissertation sur un préjugé très-pernicieux."). Protégé par Jean-François Caperon, le dentiste de Louis XV, Bunon est nommé dentiste de Mesdames en 1747. Les pièces de ce recueil sont reliées dans l'ordre suivant : - Dissertation sur un préjugé très-pernicieux, concernant les maux de dents qui surviennent aux femmes grosses. Paris, chez Chaubert, Briasson, Nully et Prault, 1741. 20 pages. - Essay sur les maladies des dents, où l'on propose les moyens de leur procurer une bonne conformation dès la plus tendre enfance. Paris, chez Briasson, Chaubert, de Hansy, 1743. XII-237-[3] pages. - Expériences et démonstrations f … [Click Below for Full Description]
Bookseller:
Librairie Alain Brieux
[paris, France]
Nuremburg: Homann heirs, 1741. Copper-engraved map, with full original colour. 21 x 24 inches. A very fine map of Greater London, by one of the period's leading cartographers An attractive map of London and the adjacent counties: Hertfordshire, Middlesex, Surrey, Kent and Essex, beneath which is a bird's-eye view of the city from the south. The Homann heirs were the inheritors of J. B. Homann's publishing firm, one of the leading cartographical houses in Germany during the 18th century.
Bookseller:
Donald Heald Rare Books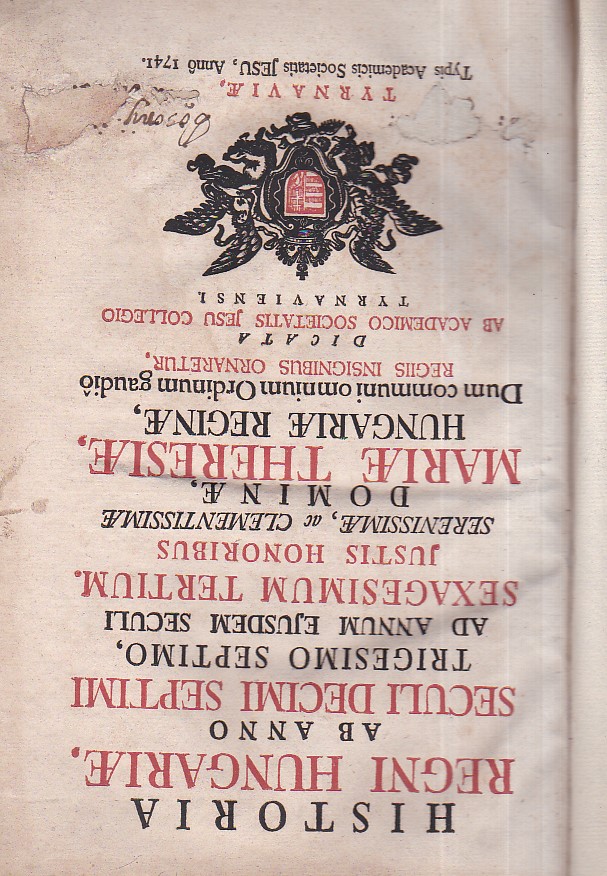 Typis Academicis, Tyrnaviae, 1741. In-folio antico (320x204mm), pp. (18), 288, legatura coeva p. pelle con titolo e fregi oro su dorso a nervi. Tagli spruzzati rossi. Frontespizio stampato in rosso e in nero con stemma coronato e antico ex-libris manoscritto parzialmente abraso (e rimarginato). Lunga dedicatoria a Maria Teresa d'Austria (Serenissima, ac Potentissima Regina, Domina, Domina Clementissima!). Belle testatine e iniziali ornate ed arabescate. Syllabus erratorum in fine. Qualche brunitura interna, restauri a cuffie e cerniere. Prima edizione del secondo volume (il primo era stato dato alle stampe nel 1737; la narrazione storica prende le mosse, in questo volume, dal libro V; nel 1749 fu dato alle stampe un ulteriore terzo volume) di rara storia del Regno d'Ungheria dal 1637 al 1663 (cioé dall'avvento al trono di Ferdinando III alla pace con i musulmani di Szentgotthard) scritta a più mani da Franciscus Kazy e da diversi altri membri del Collegio dei Gesuiti di Tyrnau, l'odierna città magiara di Nagy-Szombath. NUC pre-1956, vol. 291, p. 201. Latino [Attributes: Hard Cover]
Bookseller:
Gilibert Libreria Antiquaria (ILAB-LILA)
[Torino, ><, Italy]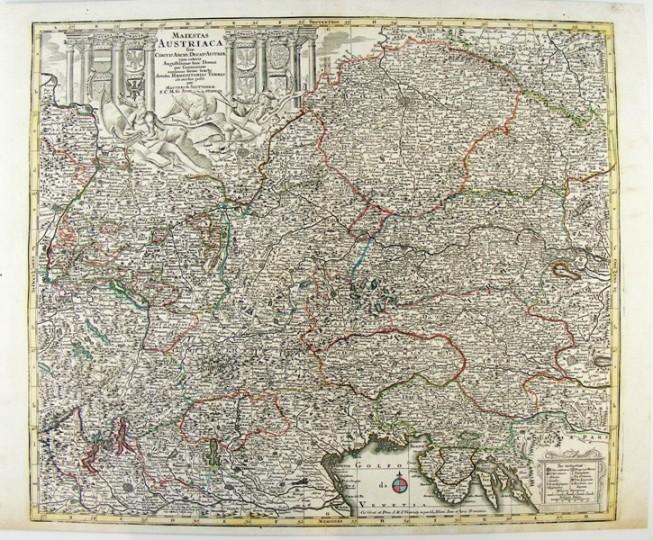 Kupferstich-Karte von M. Seutter, Ausgburg ca. 1741, alt grenzkoloriert. Ca. 49 x 57,5 cm. Zeigt Österreich mit den habsburgischen Ländern am Oberrhein, das Gebiet zwischen Heidelberg, Nürnberg, Eger, Brieg, Oppeln, Presburg, Istrien und dem Golf von Venedig, Mantua, Mailand und Straßburg. Links oben unkolorierte Titelkartusche, der Adler trägt ein Band mit der Inschrift "Imperium sine fine dedi", daneben die Wappen der Kronländern. Rechts unten Meilenzeiger und Erläuterungen, daneben das 1741 verliehene Kaiserliche Druckprivileg. The map shows Austria with habsburgian countries at the upper rhine, the region between Heidelberg, Nürnberg, Eger, Oppeln, Presburg, Istrien and the Gulf of Venice, Mantua, Mailand and Strasbourg. At the left top uncoloured title cartouche, the eagle holds a band with the inscription "Imperium sine fine dedi", next to that the crests of the Crown Lands. At the right bottom benchmarks and explanations.
Bookseller:
Antiquariat Peter Fritzen
[Trier, Germany]
The Hague: Pierre Paupie(1741). Jean-Baptiste de Boyer, Marquis d'Argens, a French writer who helped disseminate the ideas of the Enlightenment by addressing his writings on philosophy, religion, and history to a popular readership. Of an aristocratic Catholic family, he led a life of dissipation in his youth. He joined the army and then eloped to Spain; at one time he attempted suicide. He spent 25 years in the court of Frederick the Great as chamberlain, producing 18 volumes of letters, correspondence, and philosophy. As a freethinker, he challenged authoritarian religion and scholasticism, relying on empirical reason and personal ethics. His "Lettres Juives" (1738; "Jewish Letters"), Lettres Cabalistiques (1741; "Cabalistic Letters"), and Lettres Chinoises (1739-40; "Chinese Letters") are patterned after Montesquieu's Lettres Persanes. Six volumes bound into three. The bookplate of "Hans de Hofman Sgr. de Skierilgaard" on the fr. pastedown of each volume. Hans de Hofman. an author, was a contemporary of M. De Boyer.. Book. Book Condition: Very Good. Binding: Leather. Jacket: No Jacket Issued
Bookseller:
Peter Austern & Co./ Brooklyn Books
[Brooklyn, NY, UNITED STATES]
Printed for J. Osborn. 1741. First Edition, xiv,[ii],123,[3],[2],324pp., part II has a separate title-page, pagination and register, without endpaper, cont. calf, rubbed, hinges cracked. "The preface is signed 'Arabella Atkyns', which the B.M. catalogue says is a pseudonym. In it she states that the medical portion, which is much larger than the cookery, is taken from a common-place book of her brother who was a physician. It may be mentioned that she is the first lady who apologizes for her boldness in venturing to treat certain maladies which a lady would hardly be expected ti include. The cookery part is well arranged, the medical part is full of horrors. The treatment for appendicitis is to 'apply a live puppy to the naked belly' and follow up with a cataplasm of rotten apples or of 'sheeps-dung boil'd with milk'."?Oxford, English Cookery Books. Oxford p. 71; Maclean p. 49; Bitting p. 550; Cagle 673; Pennell p.150; Simon 658.
Bookseller:
Forest Books William Laywood
[GB]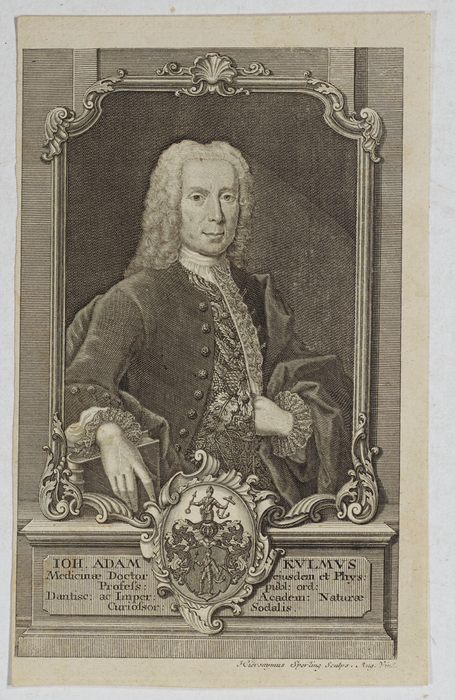 Hieronymus Sperling Sculps. Aug. Vind, (Leipzig, bey Caspar Fritsch 1741), 15,5 x 20,2 cm. Kulmus practised at Danzig and his Tabulae anatomicae were very popular and have been repeatedly reprinted and translated. The "Anatomische Tabellen" were even translated into Japanese, after a Japanese physician named MAYENO had satisfied himself by a dissection of a Japanese woman, Aocha-Baba, that they presented the true anatomical relations, and thus demonstrated that such anatomy as had been taught in Japan up to that time was absoltely false. cf. Hirsch-H. III, 632; Choulant-Frank p.34.
Bookseller:
Antiq. F.-D. Söhn - Medicusbooks.Com
[Marburg, Germany]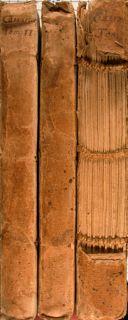 3 voll. Ril carton. orig., cm 24x18, tomo. I: Nel quale si contengono Le lezioni Sacre diviso in due parti, pp 8 nn., 476, 18 nn.; tomo II: Nel quale si contiene L'Esercizio della Buona Morte diviso in tre parti, pp 8 nn., 350, 10 nn.; tomo III: Nel quale si contengono Panegirici, Orazioni Funebri? Discorsi varj, Esortazioni, Meditazioni, Considerazioni, ed una Selva di Pensieri , Esempi, e Riflessioni divote, pp 16 nn., 352. Buoni front. ed elem. decor. Il II vol. pres. manc; al dorso, qualche gora ma buon esempl. [Attributes: Hard Cover]
Bookseller:
EDITORIALE UMBRA SAS
[Foligno, PG, Italy]
s.l.: S.n., 1741. Fine. S.n., s.l. 1741, in 4 (18,5x25cm), 58pp. (1bc)., en feuilles. - First Edition. Uncommon, 2 copies of the BN France, nothing in the UK, a copy in Berlin. Sheet. Since the sixteenth century, there had always been a man to head of the house of Austria, and the estate had passed from male to male. But the Emperor Charles VI had only daughters. He wanted to leave his inheritance to his eldest daughter, Maria Theresa, and his estate settled by a solemn law, called Pragmatic Sanction. The book is a careful examination of the will of the Emperor Ferdinand I, against the estate of the house of Austria. The book argues, in support of numerous extracts of the will, it can be no other than his eldest daughter female heirs, if it turns out that the male offspring was extinguished. The book was certainly written to ease tensions and bring justice to the will of Charles VI, yet it does not prevent the many conflicts which followed its decision and flared Europe. --- Please note that the translation in english is done automatically, we apologize if the formulas are inaccurate. Contact us for any information! - [FRENCH VERSION FOLLOWS] Edition originale. Peu courant, 2 exemplaires à la BN de France, rien au Royaume-Uni, un exemplaire à Berlin. En feuilles. Depuis le XVIème siècle, il y a avait toujours eu un homme pour chef de la maison d'Autriche, et la succession s'était transmise de mâle en mâle. Mais l'Empereur Charles VI n'eut que des filles. Il voulut laisser son héritage à sa fille aînée, Marie-Thérèse, et régla sa succession au moyen d'une loi solennell … [Click Below for Full Description]
Bookseller:
Librairie Le Feu Follet
[France]
London: Josephus Sympson, 1741. Large folio. (16 1/2 x 20 5/16 inches). Without text (as issued). 4 copper-engraved plates by Josephus Sympson after Marmaduke Cradock, window-mounted within a modern cloth box, leather lettering-piece. A fine lively series featuring at least 16 different species of birds. Cradock was born at Somerton, near Ilchester, in Somerset in about 1660. He was apprenticed to a house painter in London, but at the end of the apprenticeship turned to painting animals, birds and still life. His success with private patrons was limited and, in the main, he produced pictures for dealers. The DNB describes his work for Josephus Sympson as being `very spirited' and notes that it was not until after his death that the 'merits of his pictures were recognised, and they rose in value'. Walpole praised some of his work, and examples are included in Lord Derby's famous collection at Knowsley and the Yale Centre for British Art. The subjects of the plates are as follows: 1. A kestrel (?) carries off a chick, whilst a cock and hen and their four remaining chicks take flight, looking on are a pea-hen (?) and a barn owl, whilst a wren and a tit squabble on a roof nearby. 2. A cock pheasant stands guard on a stump, a juvenile pheasant makes off with an ear of corn, at a stream close by two kingfishers perch, on the banks of the stream a family of ducks (a drake, the female and 4 ducklings) feed, above them a third kingfisher flies off, in the background a duck sits on her nest. 3. A pigeon stands on a block of masonry, watched by a tit, a robin and a sec … [Click Below for Full Description]
Bookseller:
Donald Heald Rare Books