Displayed below are some selected recent viaLibri matches for books published in 1645
J. Blaeu, Amsterdam, 1645 - 1646. In Latin. 732+576 p. Contemporary vellum binding. Inscripion. Slightly spotted. Two parts in one volume. Engraved vignettes on titlepages. First endpaper missing and corpus slightly loose from binding in front. Else a fine copy.. Printed dedication to C. Huygens
Bookseller:
Jones Antikvariat
Amsterdam, 1645. Copper engraving, 38.5 x 50.5 cms, original hand-colour, French text on verso.
Bookseller:
Tim Bryars Ltd
Kupferstich aus Merians Topographia Palatinatus Rheni, 1645. 21,5 x 34,2 cm. Links oben etwas knittrig. Reizvolle Ansicht der Stadt Kaiserslautern mit ihren Befestigungsanlagen und Stadttoren. Zahlreiche markante Gebäude wie die Kirchen geben den baulichen Zusatnd der Stadt des 17. Jahrhunderts wider. Umgeben wird die Stadt von Feldern und Wäldern, Reiter und Fußgänger gehen auf die Stadt zu. Rechts oben Wappenkartusche mit Wappen der Stadt. Die berühmte Ansicht von Merian ist erstmals 1645 in seiner Topographia Palatinatus Rheni erschienen.
Bookseller:
Antiquariat Peter Fritzen
[Trier, Germany]
Uthgången och publicerat aff translatoris egen typographia, anno 1645. (10) + 912 s. Halvskinnband. Ryggen något skadad både upp- och nedtill. Saknar de sista 10 opaginerade sidorna.. Är egentligen en översättning från Albertinus tyska översättning av Juan de la Cerda, Vida politica de todos los estados de mugeres
Bookseller:
Antikvariat Röda Rummet AB
Roma, Hermano Scheus, 1645. 16mo. Engr. title,+ (10),+ 250,+ (1) pp.+ 12 engr. plates. Some spotting and dampstain, last preliminary leaf with paper repair, a minor hole through plate 9 and 5 leafs after, tear in margin pp. 39-240. Somewhat later vellum binding with modern front- and end-leafs and paste-downs, in a modern paper slip case and wrapper.
Bookseller:
Centralantikvariatet
[Stockholm, Sweden]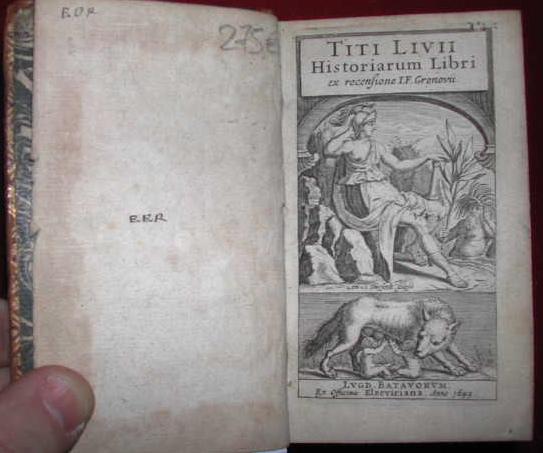 Lugd. Batavorum, Elzeviriana, 1645; in-12, XXIII pp. + 675 pp. + index, reliure d?époque plein-veau, dos à nerfs (état moyen, mors fragiles). Tite-Live (Titus Livius) célèbre historien latin, né à Padoue sous le consulat de Pison & de Gabinius en 59 avant J.-C., mort, sous Tibère, en 19 après J.-C, vécut dans l'intimité d'Auguste & fut précepteur de Claude. L?Empereur Auguste utilisa l'histoire de Tite-Live pour promouvoir l'unité nationale & renforcer son pouvoir. Bon état.
Bookseller:
alphabets
[NANCY, France]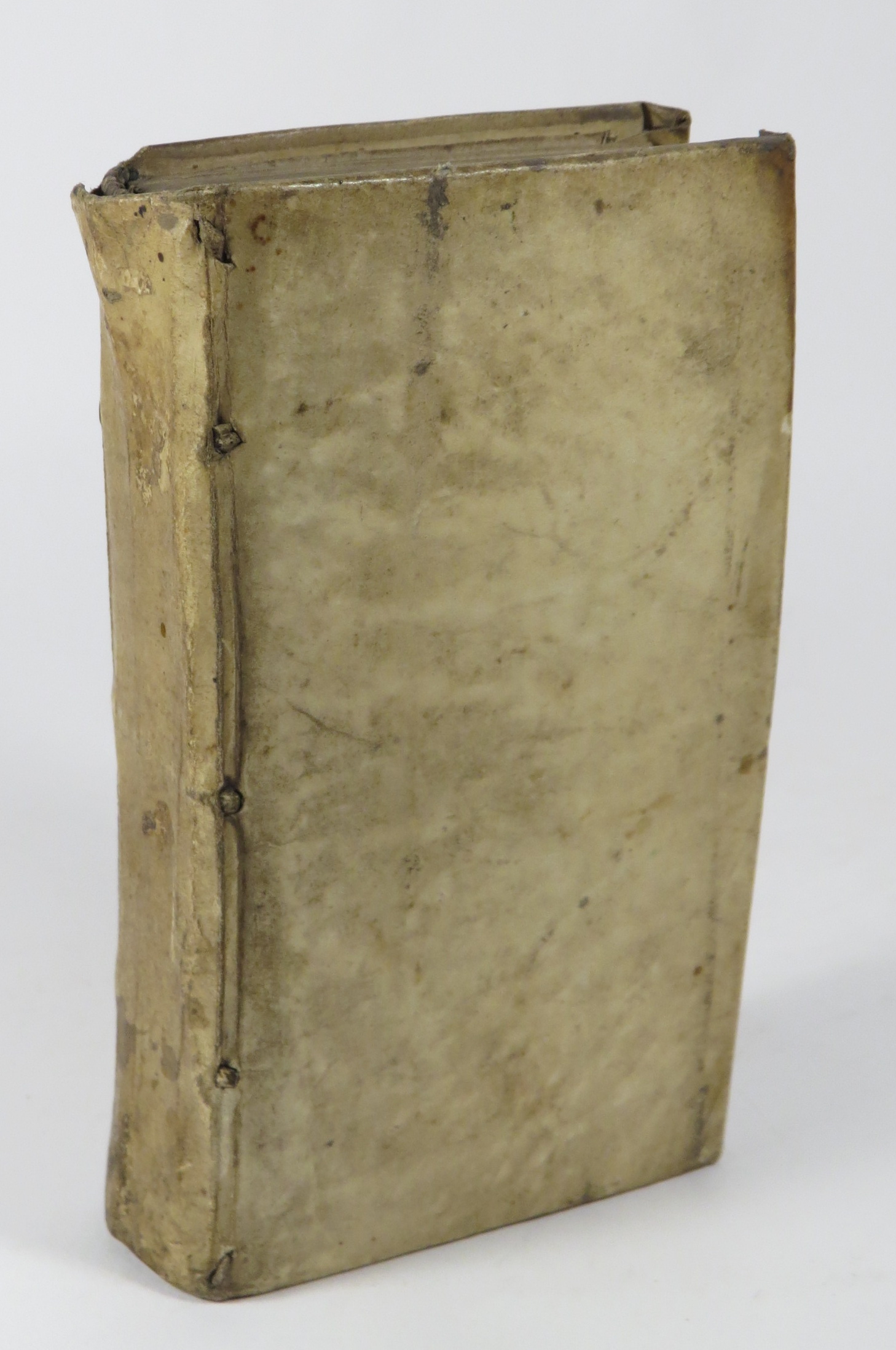 Simpkin and Marshall, 1645. [Antwerp?]: Simpkin and Marshall. Good with no dust jacket. 1645. First Edition. Hardcover. Vellum pulled at head of spine. Moderate rubbing and soiling to vellum. Pastedown endpapers have been removed. Pages 90-140 have some bad wormholes which have obliterated almost a whole half line of the text in the worst instances.; No imprint [Antwerp?]. 427 pages. Full vellum binding. Page dimensions: 127 x 70mm. Page 253 has a printed short title introducting the following section of the book "Vaticinium Hildegardis Jesuitis accomodatum per J.L.W.P.P.C.N. &c. quae fuo tempore addam." Owner's signature on John Walpole Willis on title page. Willis (1793-1877) was a Supreme Court judge in New South Wales, Australia, and the author of "On the Government of the British Colonies" (1850). Earlier inscription on title page: "Collegi Societatis Jesu Monastery".; 16mo 6" - 7" tall .
Bookseller:
Renaissance Books
[Dunedin, New Zealand]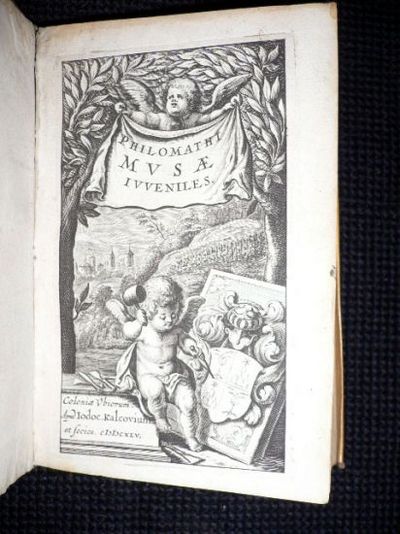 Colonia ubiorum (Cologne): apud Iodoc Kalcovium, 1645. Fine. apud Iodoc Kalcovium, Colonia ubiorum (Cologne) 1645, petit in 8 (15,5x10,5cm), (8) 175 pp., relié. - First Edition. As a frontispiece. Vellum full time to flaps. Title pen. Fabio Chigi Chisius (1559-1667), pope from 1655 to 1667 under the name of Alexander VII, this book includes poems that he wrote in his youth. Ex dono manuscript of the author. --- Please note that the translation in english is done automatically, we apologize if the formulas are inaccurate. Contact us for any information! - [FRENCH VERSION FOLLOWS] Edition originale. Un titre frontispice. Reliure en plein vélin à rabats d'époque. Titre à la plume. Fabio Chigi de Chisius (1559-1667), pape de 1655 à 1667 sous le nom d'Alexandre VII, cet ouvrage regroupe les poèmes qu'il écrivit durant sa jeunesse. Ex dono manuscrit de l'auteur.
Bookseller:
Librairie Le Feu Follet