Displayed below are some selected recent viaLibri matches for books published in 1612
London: Printed by W[illiam] S[tansby] for Richard Moore, 1612. Small quarto (184 x 139 mm), pp. [6], 108, [4] index; with initial blank [A1]. Old sheep boards, double blind rules, rebacked to style, corners restored. Some paper restoration, mostly trivial, 6 leaves (B2, B3, D2, D3, K1, K2) extended at fore-margin, spill-burn in L2 costing a couple of letters either side but not the sense, later (probably 19th-century) marginal note to N4v; a very good copy. Folding plate depicting the measuring instrument, woodcut illustrations in text, tables and mathematical equations. First and only edition, by Rooke Churche, King's Surveyor, though often erroneously attributed to R. Chambers or Robert Churton. A classic early work of early 17th-century husbandry, with similar aims and views to, but long predating, Evelyn's Sylva (1664). In his preface Churche praises Henry Howard, earl of Northampton, as an exemplary manager of forestry. The book is fairly well-held institutionally, ESTC locating seven copies in Britain and four in North America, but scarce in commerce. Henrey 29; STC 4923. [Attributes: First Edition]
Bookseller:
Peter Harrington. ABA member
[London, United Kingdom]
Frankfurt, Hoffmann 1612. 36 cm. (8), 1024, (100, letzte 2 weiß) Seiten mit 3 Holzschnitt-Druckermarken. Pergament der Zeit - ADB 18, 132 - BL German 1601-1700 L366 - VD17 23:231115A - Wegele 402ff. - Erstausgabe. Gedruckt für Jonas Rosen, Frankfurt. "... der erste ... der den Anforderungen an die Geschichte einer Reichsstadt bis auf einen gewissen Grad gerecht geworden ist ..." (Wegele). - Einband fleckig und kleinere Löcher im Bezug. - Mit Kaufvermerk "Graf von Galen, 1817". - Titel am Rand kaum sichtbar restauriert, stellenweise alte Marginalien und Anstreichungen -
Bookseller:
Wenner Antiquariat

Condition: Etat correct. Par S. Millanges. Imprimeur Ordinaire du Roy. 1612. In-8. Relié. Etat passable. Plats abîmés. Dos abîmé. Déchirures. 342 pages. Gravure en noir et blanc encollée en page de titre. Couverture parcheminée et muette. Annotations d'époque à la plume en page de garde et au dos du second plat: 'Ce livre appartient à M. Pierre Perrier. Procureur. 1684 (...) Et à présant il appartient à M. P. Durand. Proc.. 1692 (...)'. Premier plat déchiré. Second plat taché. Couverture détachée. Revêtement en papier du dos des plats abîmé et se détachant. Quelques feuillets abîmés et détachés: pages de garde. de titre. toutes premières pages. Cahiers se détachant. Quelques mouillures. Pages 73-86 manquantes. Texte très lisible.. . . . Classification Dewey : 94.2-Livres anciens XVII ème. sku : RO40113414.
Bookseller:
le-livre
[SABLONS, FR]
Leipzig, Jakob Popporeich für Henning Grosse, 1612.. 8°. Titel in Rot u. Schwarz. 136 S., Mod. HPgmt.. Äußerst seltene und frühe Genealogie der Habsburger; kein Exemplar im Jahrbuch der Auktionspreise. - "Hosmann oder Hossmann (Abrah.) von Lauban [...] ward [...] durch seine gute Conduite kayserlicher gecrönter Poet und Historiographus [...]". Er starb im November 1617. - Gebräunt u. schwach stockfleckig. - VD17, 39:123574G; Vogel II/1, 217; Jöcher II, 1723.
Bookseller:
Antiquariat Wolfgang Friebes
Johannis Jacobi Hennei, 1612. First edition, issued the same year as that of Hanau, but this Frankfurt edition is far more rare; folio, *1-*4, A1-3P6, 3Q1-4, 3R1-3Z6, 4A1-4D6, 3 signatures missigned, pp. [8], 1992 columns, pp. [152]; early ownership inscriptions, small defects in the upper margins of leaves 4L4 through 4R2 (not touching letterpress), occasional spots and stains, some miscreasing of the pp., but generally a good, sound copy or better in full contemporary paneled calf, elaborate blind-tooled borders, spine with long crack neatly restored, clasps not preserved. A famous and important work by the Wittenberg professor and orientalist who did not live to see his greatest work, this Lexicon, into print. It is the first comparative dictionary of Semitic languages. Graesse and the British Library cite only the Hanover edition; Cordell possesses only a later (1653) edition. NUC locates only the Columbia Univ. copy of this Frankfurt printing; this edition not in Vancil. [Attributes: First Edition]
Bookseller:
Rulon-Miller Books
[U.S.A.]
London: Printed by A. Islip and G. Eld, 1612. Book. Very good+ condition. Hardcover. First Edition. Folio. [vi], 1380 pages of text, followed by [xxvii] of index, [i] blank (complete). Woodcut allegorical title page. Full leather binding, with early boards; later rebacking in period style; hinges repaired with tinted Japanese tissue. Corners slightly bumped, and spine extremities worn with loss. Minor ink marginalia in an attractive and contemporary hand scattered throughout text. Sabin 47118. Title continues "...now raigning; Written in French by Lewis de Mayerne Turque, unto the yeare 1583: Translated into English, and continued unto these times by Edward Grimeston, Esquire." First edition in English..
Bookseller:
Kurt Gippert Bookseller (ABAA)
[US]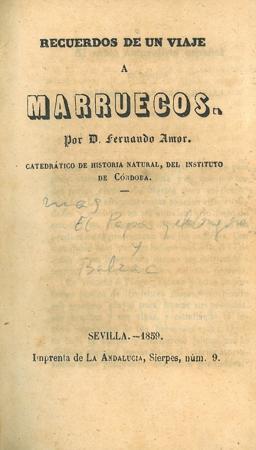 Madrid Juan de la Cuesta 1612. - Generally VG - binding abraded at edges with tears at base. Palau 254024; NSA 0098006 (IU only); Schneer 105 - none of these mention the second item--apparently printed separately. Title cont.: . a i nstancia del P. Pedro Egypciaco, premier general de la dicha orden. The last 8 leaves constitute: El modo y orden de dar el habito de los hermanos del orden de Juan de Dios. Final leaf of main portion has tear in lower corner with 8 words restored in early ms. Small worm hole passes through entire volume--not affecting readability. The "Modo y orden" has chamges in ms., primarily making the plural forms singular, as though to individualize this copy for the brother who was received. At the end of the volume are 6 pages in early ms. A very early printing of the laws of the Brothers Hospitallers . Illustrated by Cueata device, Wood-cut port. Binding is cont. vellum. [Attributes: First Edition]
Bookseller:
Beechwold Books
188 leaves. Small folio. 19th-century half leather (somewhat rubbed and bumped). Lucerne and Rome, (c. 1612-1703). The Holy See established a permanent nunciature at Lucerne during the time of the counter reformation, to intensify diplomatic relations with Switzerland, and with the Catholic cantons in particular. Part of the duties of the represenatives was to send reports about Swiss internal and external matters regularly. These missives are among the most important and objective sources for Swiss historiography. I. (Aquino, Ladislaus di, bishop of Venafro). Relatione della Nuntiatura de' Suizzeri. 64 num. leaves. (Lucerne, c. 1612). - Ladislaus di Aquino was nuncio from 1608-1613. He gives a detailed description of Switzerland, the cantons, the topography, constitutions, administrations, diplomatic relations, etc. Haller thinks that the work merits well to be published, that its content is immensely important and that a useful excerpt would become too voluminous. - Cf. Haller V, 783. II. Boccapaduli, (Francesco). Compendio della Relazione dello stato della Nunziatura de gli Svizzeri data da Mons(igno)re Boccapaduli, a. M. Caraffa suo successore nel 1652. 20 num. leaves. Lucerne, 11 September 1652. - Boccapaduli was nuncio form 1647-1652, his successor Carlo Caraffa della Spina from 1652-1654. III. Boccapaduli, Francesco. Relazione della Nunziatura Elvetica. 68 (=70) num. Bll. (incplt. at the end). (Lucerne), 1652. - Treats diplomatic problems, the state of the dioceses, ecclesiastical orders, and monasteries, a.o. IV. Landi (or Landini), Beretti. Address to the Diet of t … [Click Below for Full Description]
Bookseller:
Schumann
[CH]
Freiburg, Typogr. Archiducali 1612. 32 cm. (4 Blatt einschließlich Kupfertitel), 476 (irrig 478), (62) Seiten mit Kupfertitel (im Unterrand datiert 1610) von Lucas Kilian nach Heinrich Gessner, 1 ganzseitiges Textkupfer, 43 Wappenkupfern (davon 1 in Faksimile) von Lucas Kilian sowie zahlreichen Vignetten und Initialen. Festeinband, Ledereinband der Zeit mit Rückenschild - VD17 12:114044M - Strehler S. 251-257 - Benzing, Buchdrucker 140 - Thieme / Becker 13, 498; 20, 298 - Der einzig bekannte Druck der "Typographia Archiducali", eines von Verlagsunternehmens, das 1610 zur Herausgabe dieser Chronik gegründet worden war und 1612 seine Tätigkeit einstellen mußte. Die erste umfassende Geschichte des Klosters Einsiedeln und der Schweiz, in der wichtige Urkunden erstmals veröffentlicht werden. Das nach Äbten geordnete Werk beginnt mit St. Meinrad und endet um 1600. Der Anhang enthält eine "Vita S. Meginradi martyris" und eine "Vita S. Adelheidis imperatricis". "Hier finden sich auch zum ersten Male viele Urkunden gedruckt, welche nicht nur für die Geschichte des Klosters, sondern auch einen großen Teil der Schweiz und die Kaisergeschichte von Bedeutung sind" (ADB 10, 682). Der Kupfertitel von Lukas Kilian entstand nach einer Zeichnung von Heinrich Gessner, der zu dieser Zeit mit der Ausmalung der Einsiedler Stiftskirche beschäftigt war (Strehler). Er zeigt auf der linken Seite Abt Gregor, St. Meinrad und St. Benno, St. Adelrich; auf der rechten Seite St. Wolfgang, die Äbte Eberhard und Thietland sowie Abt Friedrich. In einer als Aufsatz eingesetzten Umrahmung sitzt der hl. Benedik … [Click Below for Full Description]
Bookseller:
Wenner Antiquariat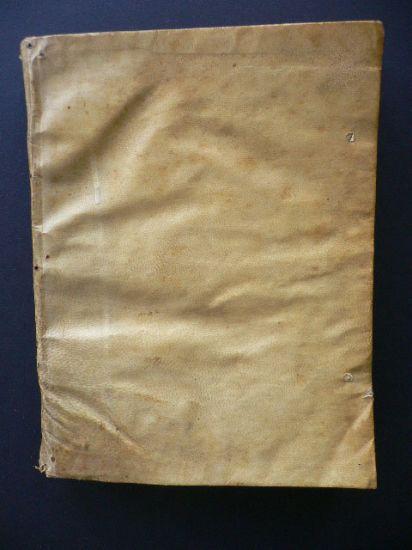 - Apud Erasmi Viothi, Parmae 1612, in-4 (15x20cm), (60) 310pp. (1), relié. - Edition originale. 2 vignettes, marques de l'imprimeur, sur la page de titre et en fin d'ouvrage. Reliure en plein Parchemin d'époque. Dos lisse avec titre à la plume. Traces de lacets. Une mouillure en marge basse au milieu de l'ouvrage sur l'ensemble du volume. Grégoire XIV fut élu pape le 5 décembre 1590 et ne régna que 10 mois. A noter que c'est lui qui confirma l'excommunication de Henri IV et des Calvinistes. [AUTOMATIC ENGLISH TRANSLATION FOLLOWS] First Edition. 2 labels, brands of printer, on the title page and endnotes. Full contemporary Parchment. Smooth back with title pen. Traces of laces. Wetting a low margin environment of the work on the entire volume. Was elected Pope Gregory XIV December 5, 1590 and reigned for only 10 months. Note that this is he who confirmed the excommunication of Henry IV and Calvinists. --- Please note that the translation in english is done automatically, we apologize if the formulas are inaccurate. Contact us for any information! (60) 310pp. (1) [Attributes: First Edition; Hard Cover]
Bookseller:
Librairie Le Feu Follet
[Paris, France]