Displayed below are some selected recent viaLibri matches for books published in 1601
Venice: Apud Iuntas [Giuntas], 1601. hardcover. very good. Printer's device on title page and colophon. Illustrated with 25 fine full-page woodcuts plus 1 in-text figure, depicting bathing, dining, boxing, discus throwing, weight lifting, balancing, etc. [16], 326, [2], [26]pp. Numerous errors in pagination. Large 8vo, bound in contemporary calf with gilt- decorated spine (well worn, especially at spine and joints; some light occasional dampstaining, one plate with closed tear; some old ink marginalia). Venetiis: Apud Iuntas [Giuntas], 1601. Fourth edition. Text in Latin with occasional Greek. Very good.The fourth edition of the first illustrated book on gymnastics. The first edition, published in 1569, was not illustrated. Garrison- Morton 1986.1; Brunet III 1646; Heirs of Hippocrates 223; Adams M1320; Wellcome I 4224; Graesse IV 495.
Bookseller:
Argosy Book Store
[US]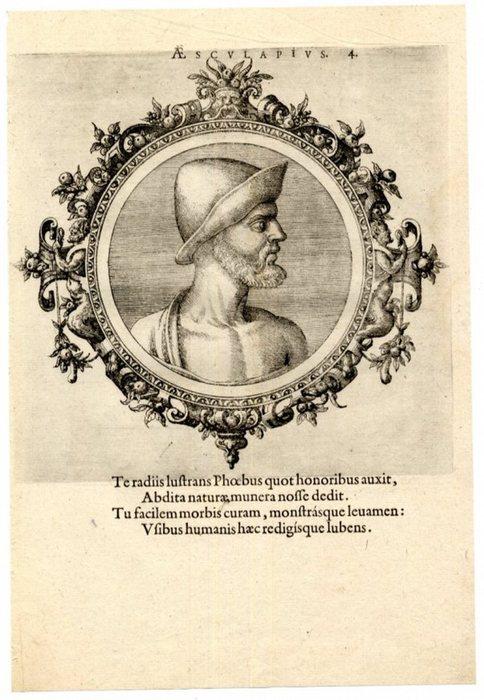 Icon. med. philosoph., 4. - Joh. Sambucus. - Antwerpen, C. Plantin, 1601, Folio, 320 x 216 mm etwas beschnitten, feiner Abzug. Asclepiades of Bithynia (124-56 B.C. - "After the fall of Corinth (146 B.C.), Greek physicians migrated to Rome. There, before the advent of Asclepiades, the Greek physicians were despised. He was born at Prusa of Bithynia in Asia Minor, and travelled much when young, and seems at first to have settled at Rome as a rhetorician. In that profession he did not succeed, but he acquired great reputation as a physician. Asclepiades may be said to have established Greek medicine in Rome on a respectable footing. His remedies included change of diet, friction, bathing, and exercise. Gumpert hat preserved what is left of his writings in the Greek edition "Fragmenta. Digessit et curavit C.G. Gumpert" (Vinariae 1794). The medical writers Galen and Aretaeus, both of whom lived in the second century A.D., credit Asclepiades of Bithynia with being the first individual to perform an elective (non-emergency) tracheotomy.His pupils were very numerous, and the school formed by them was called the Methodical. He is said to have died at an advanced age. See R.M.Green, Ascleiades, his life and writings, New Haven, 1955, which includes a translation of Gumpert's Fragmenta. Asklepiades von Bithynien, "ein im ersten Jahrhundert v. Chr. in Rom lebender hochberühmter Arzt, ist der Begründer des "methodischen" Systems. Vereinzelte Versuche, z.B. die des ARCHAGATHUS, der Medicin bei den Römern Eingang zu verschaffen, waren an dem Hasse der rauhen Republikaner vom Schl … [Click Below for Full Description]
Bookseller:
Antiq. F.-D. Söhn - Medicusbooks.Com
[Marburg, Germany]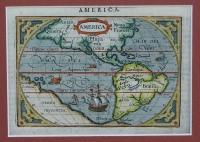 Johannes Keerbergen c. 1601, Antwerp. "The most interesting features, however, are the rivers near Virginia and a R. grande on the west coast of North America. The upper part of the Gulf of California is also enlarged and fed by three more rivers." (Burden)Published in Ortelius's pocket atlas "Epitome theatri orbis terrarum Abrahami Ortelii.", Size : 80x120 (mm), 3.15x4.72 (Inches), Hand Colored, 0
Bookseller:
Alexandre Antique Prints, Maps & Books
[Toronto, ON, Canada]
Holzschnitt 1601: . Holzschnitt 1601. 14.3x11 cm. - Mit Monogramm des Holzschneiders B F. Aus Ambroise Paré: Wundt Artzney, oder Artzney spiegell ..." Unter der Darstellung ein Lobgedicht des Pfarrherren Johann Hoffmann aus Neuweilnau in 2 Spalten zu je 10 Zeilen.
Bookseller:
Wenner Antiquariat
[Np, but likely Madrid. nd, but ca. 1601].. [2],24pp. Folio. Dbd. Dampstained and soiled, top and bottom edges worn. Worm holes throughout, affecting a few words on each page. Contemporary underlining and marginal lines throughout, contemporary handwritten folio numbers on each recto. Still a good copy. In a half morocco and cloth box. An extremely rare treatise which considers the question of whether rebellious Indians in Chile should become slaves. Addressed to the Viceroy and Audiencia of Peru, the work discusses whether slavery of conquered Indians is just or not, reviewing arguments on both sides of the question. Calderón approaches the problem in an intriguing manner by providing separate justifications, each in its own individual section of the text, for enslaving the Indians from the various points of view of the King, the Kingdom, and the Church. In turn, the author then provides responses to these various assertions, promoting the view that such slavery would be unjust. The last pages of the text consist of final responses and commentary. Calderón, the Canon of the Cathedral of Santiago, also served as Commissar of the Holy Office and the Holy Cross, and the General Vicar of the Bishopric of Santiago. He addresses the TRATADO... to the Viceroy of Peru, as well as numerous representatives of the royal government and the Catholic Church who have convened to consider strategies for waging war against the Araucanian Indians of Southern Chile. The campaign to conquer these Indians was one of the most difficult and drawn-out conflicts between Europeans and American Indi … [Click Below for Full Description]
Bookseller:
William Reese Company - Americana
London: [Simon Stafford and Felix Kingston] for Cuthbert Burby & John Flasket, 1601.. [1],58,[4] leaves. Woodcut vignette of sailing ship on titlepage. Extra- illustrated with 19 engravings (numbered 1-3, 19, 4-18) from Van Neck's HISTORIALE BESCHRIJVINGHE (Amsterdam, 1619). Text and plates "inlaid to size," remargined to 9 1/4 x 6 3/4 inches. 19th-century mottled calf, double-fillet gilt border on boards, spine gilt in compartments, gilt leather label. Boards and spine slightly worn. Titlepage and extra- engraved plates fully attached to sheets; printed pages of text inserted in blank leaves in order to show recto and verso. Engraved plates annotated in ink with corresponding "page" (leaf, recto or verso) of text. Lacking the dedication leaf (paraph 2) and leaf Q4 (blank), pages shaved (with occasional slight loss of text in lower margin), rust hole in leaf P3 (affecting a few letters on recto), tear in leaf Q3 (repaired, not affecting text). Overall, a very good copy, with the 1860 engraved bookplate of the Library of the Earls of Macclesfield on front pastedown, shelf marks inscribed on verso of front free endpaper. Embossed stamp of the Earls of Macclesfield in upper extended margins of titlepage leaf and following two leaves of text. The first English edition of Van Neck's account of his 1598 voyage to the East Indies, translated from the 1601 Amsterdam edition of the author's HET TWEEDE BOECKE. The Dutch navigator, who represented the Verre Company, commanded three ships which were part of the first successful Dutch trading voyage to the region. The other … [Click Below for Full Description]
Bookseller:
William Reese Company - Americana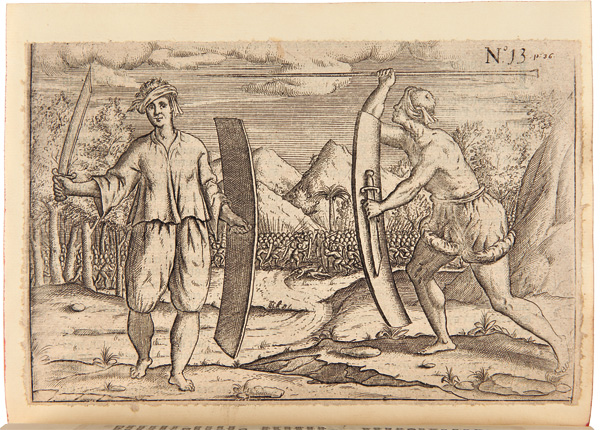 London: [Simon Stafford and Felix Kingston] for Cuthbert Burby & John Flasket, 1601. [1],58,[4] leaves. Woodcut vignette of sailing ship on titlepage. Extra-illustrated with 19 engravings (numbered 1-3, 19, 4-18) from Van Neck's HISTORIALE BESCHRIJVINGHE (Amsterdam, 1619). Text and plates "inlaid to size," remargined to 9 1/4 x 6 3/4 inches. 19th-century mottled calf, double-fillet gilt border on boards, spine gilt in compartments, gilt leather label. Boards and spine slightly worn. Titlepage and plates mounted to larger sheets; printed pages of text inlaid in larger sheets. Engraved plates annotated in ink with corresponding "page" (leaf, recto or verso) of text. Lacking the dedication leaf (paraph 2) and leaf Q4 (blank), pages shaved (with occasional slight loss of text in lower margin), rust hole in leaf P3 (affecting a few letters on recto), tear in leaf Q3 (repaired, not affecting text). Overall, a very good copy, with the 1860 engraved bookplate of the Library of the Earls of Macclesfield on front pastedown, shelf marks inscribed on verso of front free endpaper. Embossed stamp of the Earls of Macclesfield in upper extended margins of titlepage leaf and following two leaves of text. The first English edition of Van Neck's account of his 1598 voyage to the East Indies, translated from the 1601 Amsterdam edition of the author's HET TWEEDE BOECKE. The Dutch navigator, who represented the Verre Company, commanded three ships which were part of the first successful Dutch trading voyage to the region. The other two ships were commanded by Wybrand Van Warwijck and Jacob Va … [Click Below for Full Description]
Bookseller:
William Reese Company - Americana
[New Haven, CT, U.S.A.]