Displayed below are some selected recent viaLibri matches for books published in 1599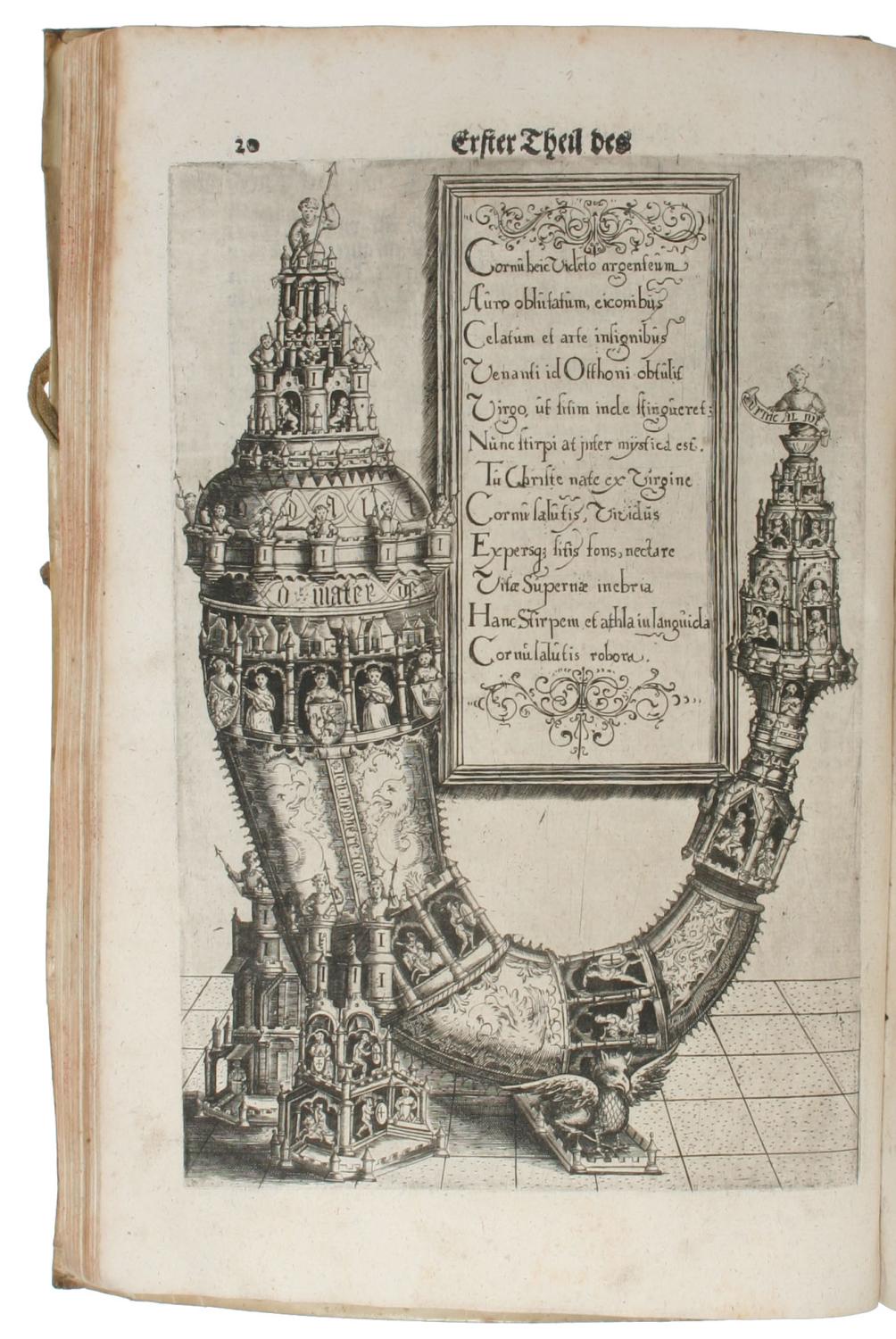 (Oldenburg, Warner Berendts Erben), 1599 - Strassburg, (Bernhard Jobins Erben), 1599. Folio. One contemp. full limp vellum with ties. Blindtooled borders on covers. On front cover in black printing: "C V D A I G G 1600" Ms titles on spine. (86),494,(18) incl. (2) blank and engraved ornamental title. Profusely textillustrated with engravings and woodcuts among them the full-page portrait of the author, a full-page view of Oldenburg, 3 folded genealogical tables and the double-page engraved elevated plan of Oldenburg. Some scattered brownspots, a few quires browned, sometimes slight offsetting from engravings. Printed on thick paper.(Spangenberg:) Title printed in red a.black with large wood-engr. coat of arms. (8),287,(18) pp. Last leaf with printers wood-cut device. Some rather heavy browning to the last quires. Some scattered brownspots. Both works in first edition. Hamelmann's Chronicon is the first book to be printed in Oldenburg (Brunet) and it is the historical source work for the "House of Oldenburg" whose descendents became kings of Denmark and emperors of Russia. - Adams H 30. [Attributes: First Edition]
Bookseller:
Lynge & Søn ILAB-ABF
[Copenhagen, Denmark]

Lyon, Barthélémy Vincent, 1599. in-8, [97] pp. mal chiffrées 127 (il y a saut de chiffrage de 41 à 72 sur le même feuillet), vélin souple, dos lisse (reliure de l'époque). Quelques taches sur les plats, mais bon exemplaire.Edition originale très rare du second des plaidoyers de l'avocat Antoine Rambaud (mort vers 1630) en faveur des Etats du Dauphiné. Le premier était paru en 1598, à l'adresse de Paris, et il est aussi rare : en fait, l'on voit surtout l'édition collective des pièces de cette affaire, composée de trois parties, et donnée en 1600. Le Dauphiné, comme l'on sait, jouissait d'un statut très particulier en raison de l'acte de transfert à la Couronne de France ; ici, le point défendu est l'exemption générale de la taille pour l'ensemble de la province. Cioranescu, XVII, 58037. Absent de Baudrier. Une seule notice de cette édition au CCF (Grenoble). [Attributes: First Edition]
Bookseller:
Librairie Historique F. Teissèdre
[PARIS, France]
Paris, Jeremias Perier, 1599.. (16) 183 (recte: 181), (10) SS. Mit Holzschnittdruckermarke am Titel. Pappband um 1850. Dreiseitiger Rotschnitt. 8vo.. Erste Ausgabe dieser Sammlung von 17 textkritischen Aufsätzen. Der französische Philologe und Rechtsgelehrte D. Herauld (1575-1649) war seit 1598 Professor für Gräzistik an der protestantischen Akademie in Sedan. - Zahlreiche längere Passagen in griechischer Sprache. Der Titel verso mit Exlibris der Dillenburger Bibliothek der Fürsten von Oranien-Nassau. Titel gestempelt. Papierbedingt durchgehend gleichmäßig gebräunt. - BM-STC French 222. Adams H 291. Hoefer XXIV, 268.
Bookseller:
Antiquariat Inlibris, Gilhofer Nfg. GmbH
Bookseller:
ARCHETYPON STUDIO BIBLIOGRAFICO
[Susa, TO, Italy]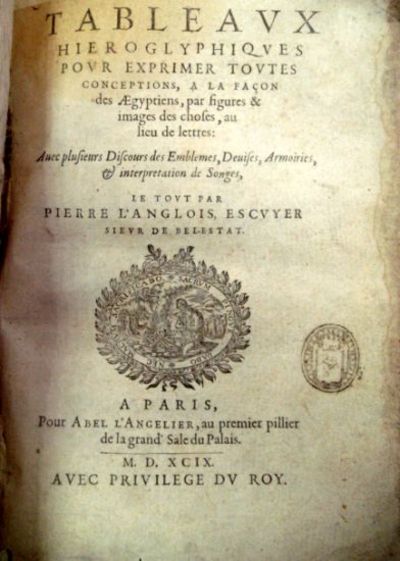 à Paris: Pour Abel Langelier, 1599. Fine. Pour Abel Langelier, à Paris 1599, In 4 (17x24cm), 112ff., relié. - New edition, after the original from 1583 by the same publisher. This edition contains a dedication to Sir Huraults Philippi, Vicomte de Cheverny, dated 1598 and bearing the name of the author. The title of the first edition was significantly different: Speeches aegyptiens hieroglyphics, emblems, deuises and arms. LIIII together. hieroglyphic paintings to express all concepts in the way of Aegyptiens by figures, and images of things, instead of letters. Auecques several interpretations of dreams & wonders. All by Englishman Peter. Parchment full contemporary. Smooth back silent. Cut the top of the title page of 1 cm. --- Please note that the translation in english is done automatically, we apologize if the formulas are inaccurate. Contact us for any information! - [FRENCH VERSION FOLLOWS] Nouvelle édition, après l'originale de 1583 chez le même éditeur. Cette édition contient une dédicace à Messire Philippes Hurault, Vicomte de Cheverny, datée 1598 et portant le nom de l'auteur. Le titre de la première édition était sensiblement différent : Discours des hieroglyphes aegyptiens, emblemes, deuises, et armoiries. Ensemble LIIII. tableaux hieroglyphiques pour exprimer toutes conceptions, à, la façon des Aegyptiens, par figures, images des choses, au lieu de lettres. Auecques plusieurs interpretations des songes prodiges. Le tout par Pierre l'Anglois. Reliure en plein Parchemin d'époque. Dos lisse muet. Découpe en tête de la page de titre sur 1 cm.
Bookseller:
Librairie Le Feu Follet
Frankfurt & Main: Johann Feyrabends, 1599. Fourth Edition. Hardcover. The title page and the two text leaves silked. The plates have an occasional finger smudge but are much cleaner than one would expect from a model book designed for use by artists. Small repaired hole in the bottom blank margin of one page. Very Good copy of a scarce book with intriguing plates. Small quarto (5-1/2" x 7-1/2") bound in early vellum; [1] 144 pages. Title in red and black with large woodcut printer's device. Illustrated with 289 (of 293, lacking Kk3 & Kk4) full-page woodcuts, nearly half of them depicting horses with or without riders, many of whom bear arms. The others depict a variety of subjects including kings, warriors, ecclesiastical figures, Turks in costume, mythological and allegorical figures, tradespeople, musicians, armorial escutcheons, etc. Laid in at the rear is the title page of Amman's 1580 First Edition KUNNST UND LEHRBUECHLEIN along with two engravings from that edition. A superb collection of this prolific master's woodcuts, some of the finest produced in the Renaissance. Born in Zurich, he established himself in Nuremberg where he continued in the manner of Durer. Adams A-969; Brunet I, 234; Fairfax Murray German 36; Graesse I, 103. Only a handful of copies of this title have sold at auction in the last 25 years. This copy matches in completeness the Walpole-Beckford copy which sold at Christie's in 1996. This famous work of patterns for artists was first published in 1578 with only 108 woodcuts. This is the most complete of the early editions.
Bookseller:
Charles Agvent
[Frankfurt]: Theodorici de Bry viduae & filiorum, 1599.. Two parts bound in one volume. [2],78; 99pp. Double hemisphere copper plate world map on title-leaf, plus letterpress title and eighteen plates, each with a half page copper plate engraving and descriptive text, versos blank. Folding engraved map of northeastern South America. Folio. Modern limp vellum. Leaves expertly washed and pressed. Overall a very good copy. In a half morocco and cloth slipcase. The first edition, in Latin, of Part VIII of De Bry's GRAND VOYAGES, here in the third issue, but without the two extra in-text maps on pages 78 and 3. This volume contains relations of six different voyages, by Drake, Cavendish, and Raleigh, with a map and illustrations never before published. These accounts describe Drake's famous circumnavigation of the world and Caribbean raids, Cavendish's circumnavigation, and the famous search for El Dorado. The three voyages of Sir Francis Drake recounted here are of the greatest importance. The first is a description of the famous voyage of circumnavigation of 1577- 80, only described in print up to that time by Hakluyt, here based on the account of Nuno da Silva. Drake's Caribbean raid of 1585-86 is also reported, based on the account of Walter Bigges, as well as the final voyage of 1595-96, directed against the Spanish at Panama. This is the first extensive account of the last voyage, during which Drake died off Panama, and it is evidently based directly on his log, continued by others after his death. Besides these texts, the titlepage of the volume has an ext … [Click Below for Full Description]
Bookseller:
William Reese Company - Americana