Displayed below are some selected recent viaLibri matches for books published in 1596
VENETIA: RUBERTO MEIETTI, 1596. VENETIA: RUBERTO MEIETTI. (500 PRIMA EDIZIONE). (cm. 21,5) Bella piena pergamena originale, tit. al dorso, tracce di lacci, cc. 4 nn., pp 215, p. (1). Bella marca tipografica diversa al frontis e in fine. Edizione originale ed unica pubblicata postuma dal conte Ingolfo De Conti e dedicata a Francesco Maria Della Rovere Duca di Urbino. Lopera, in carattere rotondo di grande eleganza tipografica, presenta una curiosa peculiarita': gli spazi dei capilettera sono stati lasciati bianchi per permettere al miniatore la decorazione. Non ci risultano opere di questo periodo stampate con tale accortezza che era usuale solo fino ai primi decenni del 500. Lo Speroni (1500-1588), fu uno dei piu' influenti eruditi per lo sviluppo della prosa rinascimentale. Notevole l'orazione in morte del Bembo, quella Contra le cortigiane e al re Antonio di Navarra. Qualche carta interna lievemente ombreggiata, ma esemplare molto bello e nitido. Gamba 931; Razzolini 323; Poggiadi I p. 369; Graesse VI 466; Adams S 1574; BM. STC. 636.[f51] . buono. Rilegato. 1596.
Bookseller:
Libri Antichi Arezzo - F&C Edizioni
[AREZZO, Italy]
Basle: Per Sebastianum Henricpetri, 1596. Small quarto, pp (22), 669, (9), woodcut vignette to t.p., woodcut portrait, woodcut colophon, various small woodcut initials, title page slightly tender at the margins, and lacking the top corner, though no loss of print, pages browned at margins, but otherwise in remarkably good condition. [Bound with] Icones Plantarum aliqvot hactensis. I page of text, 8 woodcut plates of plants. Contemporary vellum a little marked, and with slight loss towards the base of the spine, Greek title, author and date in ink in probably a Victorian hand on spine, [the date is incorrect by five years], a very early ink inscription on the front endpaper which also carries a modern bookplate lightly attached. [RARE. Although not containing the fine woodcuts of the later work, this preceedes the Pinax by 27 years and is a remarkable foreshadowing of the binomial system - Bauhin states in the preface that, for the sake of clearness, he has applied one name to each plant, and added also some easily recognisable character. This has led many commentators to describe him as the founder of the natural system. Overall a remarkably good copy of an extremely scarce work] .. Vellum. Very Good.
Bookseller:
Mike Park Ltd
Jena: Tobias Steinmann, 1596., 1596. 4to. ff. [8], 233, [24], [1]blank. title in red & black within woodcut border. woodcut printer's device at end. woodcut headpiece & initial. fine contemporary blind-stamped pigskin binding with two early partly coloured panel stamps (Justitia on front & Lucretia on the back) with monogram 'HGW' and date '1597', 2 of 4 ties present (paper lightly embrowned, wormhole in blank margin of some leaves). bookplate of Sebastian Hartmann dated 1637. Third Edition. Jocher IV 1471. Lipenius II 236. Not in Adams or BM STC German. [BOUND WITH:] GRIFFEN, Hubert van. De Imperatore Iustiniano Commentarius: Index Historicus Rerum Romanarum: Et Disputatio De Actionibus Empti Et Venditi. 4to. [ff. 68]. woodcut ornaments & initials. (wormhole in blank margin of some leaves). Ingolstadt: Wolfgang Eder, 1591. First Edition. Jocher II 988. Lipenius I 1591. Not in Adams or BM STC German. [BOUND WITH:] COEDDAEUS, Johannes (Praeses). Feudalia: Sive Theses Et Disputationes De Feudis, Praeside. 4to. pp. 4 p.l., 118, [blank leaf]. woodcut printer's device on title. woodcut ornaments & initials. Marburg: Paul Egenolff, 1594. First Edition. Jocher II 1042. Lipenius I 505. Not in Adams or BM STC German. [BOUND WITH:] MELANDER, Otto. Adiuvante Iehova Opt. Max. Ex Decreto Et Autoritate Amplissimi Senatus Iuridicae Facultatis.Academia Marpurgensi, Pro Consequendis Doctoratus In Utroque Iure Insignibus. 4to. [ff. 26]. woodcut printer's device on title. woodcut ornaments & initials. Marburg: Paul Egenolff, 1594. First Edition. Jocher III 391. cfL … [Click Below for Full Description]
Bookseller:
D & E Lake Ltd. (ABAC, ILAB)
A Bound / Flex Cover / REPRINT: Erffordt 1596 / Modern Reprint / Privately Published, No Reprinted Date 145 pages. Softcover reprinted edition in very good condition, this book has card covers with cloth spine. Very slight wear to edges. Modern facsimile replica of the original text / work / manuscript / book. Privately published. Archival reprint. This book is not old, however, there is no other publication date other than of the original text. Most likely produced for research purposes since the original text is fragile or very rare. Both book and text are clean and unmarked. Overall a very good copy of this scarce title. Excellent reading resource, research or study. A good book to enjoy and keep on hand. Or would make a great gift for the fan / reader in your life. This is NOT a mass market paperback, or mass produced book. Full title page reads, Chiromancia : Sampt jhrer Theorick : Practick vnd Astronomischer Concordantz vnd Vergleichung der Nativiteten oder Geburtsfiguren, in etlichen Exempeln : Jst zu ende gesetzt das Leben vnd furnembste Thaten Alexandri Magni Koniges in Macedonien neben seiner Nativitet Auff Historische vnd Astrologische Arth etc. Text is in German / Latin. Mathematics / History / Astrology . Excerpt from wikipedia: Chiromancy or cheiromancy, (Greek cheir (????), "hand"; manteia (???????), "divination"), is the art of characterization and foretelling the future through the study of the palm, also known as palmistry, palm-reading, chirology or hand analysis. The practice is found all over the world, with numerous cultural variations. Those who p … [Click Below for Full Description]
Bookseller:
Great Pacific Book Co.
[Amsterdam: Cornelis Claesz, ca. 1596-1604].. Twenty-nine (of thirty) plates, plus two maps and one extra plate. Oblong quarto. Contemporary Dutch vellum, gilt. Cockled, soiled. Marginal stains on two plates; one plate chipped in margin, not affecting text. Very good. In a cloth clamshell case, leather label. This extremely rare portfolio of plates consists of fine early impressions of Linschoten's famous views of Portuguese Asia. They are among the first eyewitness illustrations of the East to reach Europe, and were by far the most widely disseminated. Donald Lach has called them "a watershed in Europe's pictorial impression of Asia." They rank among the most influential images of the period, and appeared in the many subsequent editions of Linschoten's works. The illustrations were executed by Joannes and Baptista Doetechum from sketches brought back by Linschoten. Linschoten described the images of the people, places, methods of travel, and animals of Asia as "counterfeits from life," which would give a realistic representation of what he saw, but also a general perception of the reality of the distant East. In the present copy, a large, double-page view of Goa is missing, while two maps, one of Mozambique and one of Ascension Island, have been added. Also added is an untitled panorama of an Indonesian or Malaysian procession. This plate is likely connected to the 1598 Claesz publication of Houtman & Loewijk's account of the first Dutch expedition. It seems clear that the present item is one of the very rare issues of the plates produced for separate sale … [Click Below for Full Description]
Bookseller:
William Reese Company - Americana
Io. Dominicum Tarinum,, Augustae Taurinorum, 1596. Cm. 32, pp. (16) 235 (1). Grande stemma sabaudo inciso al frontespizio, ogni pagina inquadrata in un filetto. Testate, bei capolettera e fregi tipografici nel testo. Bella legatura seicentesca in piena pergamena molle con fregi in oro centrali e filetti in oro ad inquadrare i piatti. Titoli ms. al dorso. Qualche piccola mancanza alle estremità dei piatti, ma bell'esemplare fresco, genuino e marginoso, a carte perfettamente candide. L'autore fu scrittore e uomo politico, grande erudito del suo tempo, nato a Milano nel 1528 e morto nel 1601. Prima edizione di un'opera significativa nell'ambito dell'editoria piemontese del '500, dedicata alla vita di Emanuele Filiberto (1528-1580). Come la gran parte degli esemplari censiti, anche il presente è privo (verosimilmente dall'origine) del ritratto. Non comune, soprattutto in tale stato di conservazione ed impreziosito da una legatura affascinante ed assai decorativa. [Attributes: First Edition; Hard Cover]
Bookseller:
Studio Bibliografico Benacense
[riva del garda, Italy]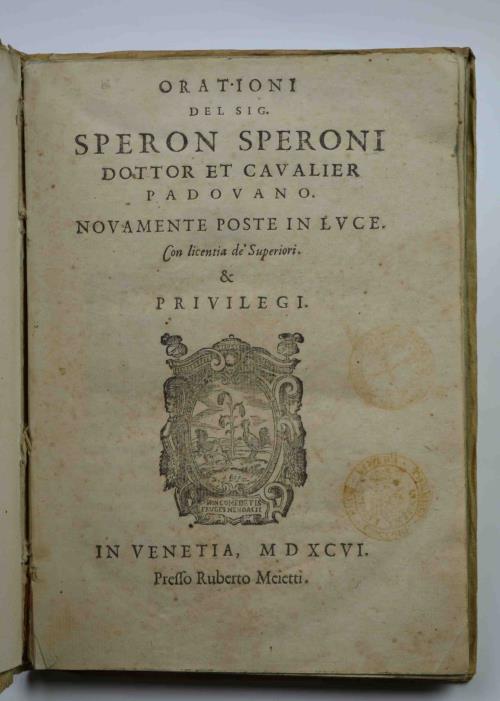 presso Ruberto Meietti (per Giovanni alberti al colophon),, In Venetia, 1596. Cm. 21, pp. (8) 215 (1). Marchio tipografico al frontespizio ed al colophon ed un bel capolettera istoriato. Legatura del tempo in piena pergamena semirigida con nervi passanti e titoli ms. al dorso. Timbro della censura ecclesiastica al frontespizio. Ottimo esemplare, genuino e marginoso. Comprende le seguenti nove orazioni: Al Re Filippo di Spagna; Al Re Antonio di Navarra della Pace col Re di Francia; In morte di Giulia Varrana Duchessa di Urbino; Al Principe di Venezia Luigi Mocenigo, nella sua creazione; In morte del cardinal pietro Bembo; A Giacopo Cornaro Capitanio di Padova nella sua partita; A Girolamo Cornaro Capitanio di Padova nella sua partita; Contra le Cortigiane; A gli Accademici Infiammati di Padova quando fu suo Principe. [Attributes: Hard Cover]
Bookseller:
Studio Bibliografico Benacense
[riva del garda, Italy]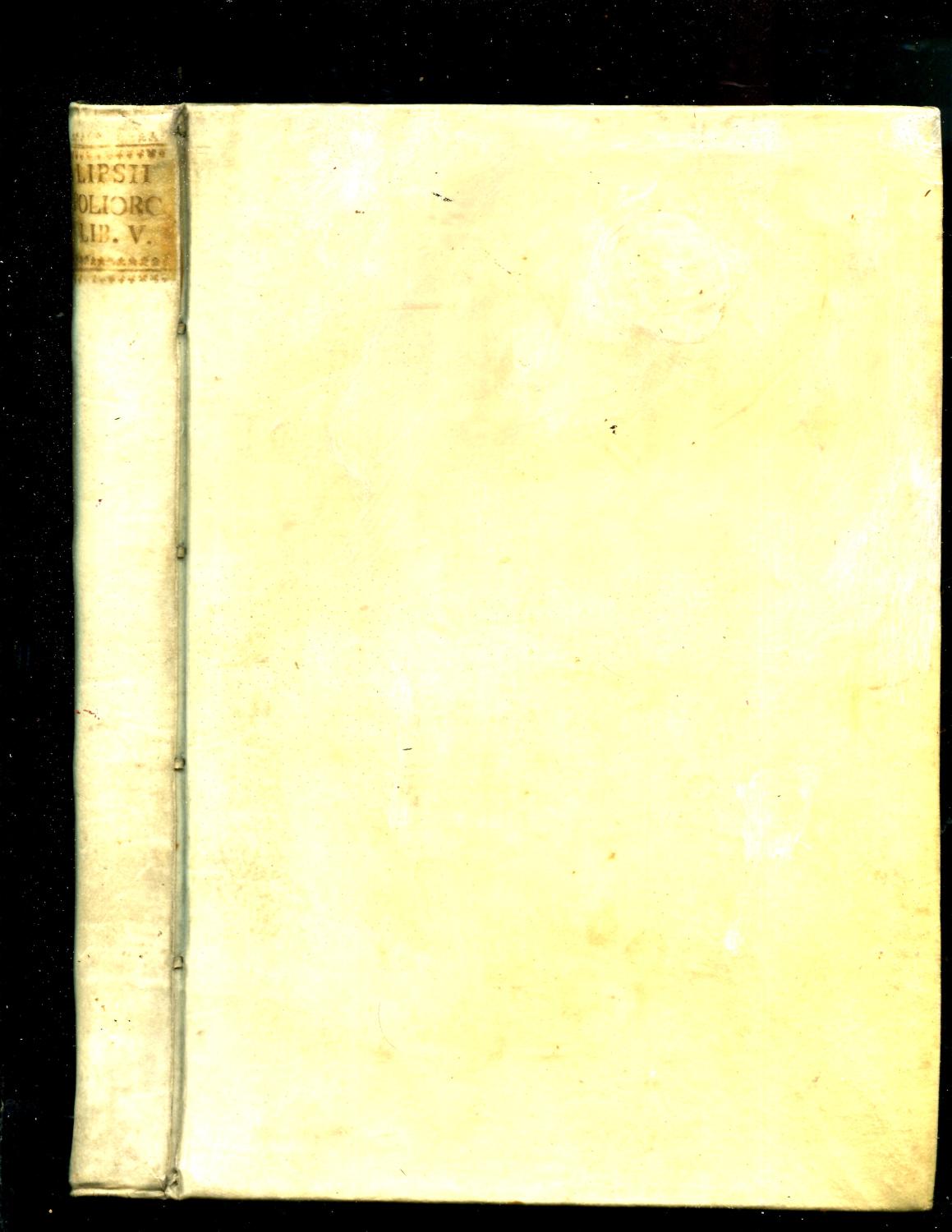 Antwerp: Officina Plantiniana apud Viduam, 1596. Octavo [7 1/4 X 9 7/8 inches], 17th century full vellum with gilt title on spine, faint quarter-sized stain on front cover. [16], 267, [8] pp. 41 full and half page engraved illustrations including one on first title page and one at end, attributed to Pieter van der Borcht. Wood cut first letter on many pages. Light marginal dampstaining on first page not effecting the wood cut else a lovely copy. Cockle No. 672. Bibl. Lips. II,319 ff. Belg. Typogr. No. 1952. Funck 354. Olschki, Choix, 3964. One of 1500 copies printed. First edition. [Attributes: First Edition; Hard Cover]
Bookseller:
Tintagel
[Springfield Center, New York, NY, U.S.A.]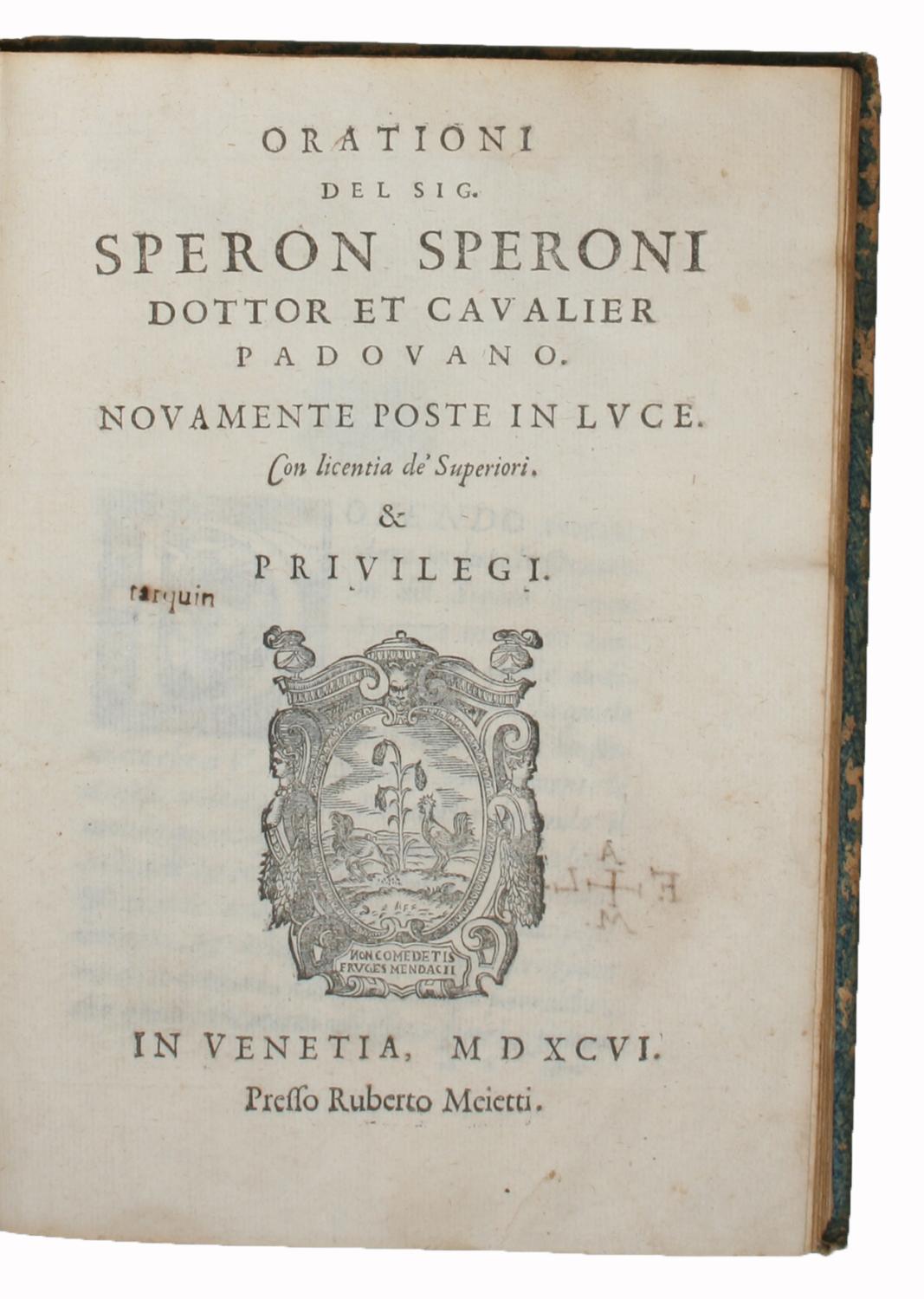 Venetia, Ruberto Meietti, 1596. (Colophon: In Venetia, 1596, Per Giovani Alberti). 4to. 18th century marbled blue paper binding with traces of wear, especially to spine and extremities. Handwritten paper title-label to spine. A few leaves evenly browned , and some leaves with a damp stain to upper margin, mostly faint. a bit of light brownspotting, but overall a nice and clean copy. Very discreet "stamp" to title-page ("tarquin") and a handwritten symbol with initials (a cross with A. L. M. F. at the ends) to verso of title-page. Woodcut allegorical title-vignette, woodcut printer's device to colophon, and large woodcut initial at beginning. A lovely printing. (8), 215, (1). With a preface, in which Speroni's friend Ingolfo Conte de Conti dedicates the work to the Duke of Urbino. ("Di Padoua di 16. Decembre, 1596"). ¶ The scarce first edition of Speroni's highly important work of orations, which is responsible for establishing the entire genre of moral orations and for Speroni's reputation as the first Italian orator. <br><br>Sperone Speroni, one of the important cultural figures of the time, known from Torquato Tasso, his pupil, as "Sperone, who possesses fully all the arts and sciences", counts as the dominant literary figure on the "terraferma" in the generation following Bembo. During the early 1520s Speroni studied with the greatest of the Renaissance philosophers, Pietro Pomponazzi, and by the 1530s had become a major light at Padua, where he became professor of logic and general philosophy. Due to his eminent oration skills and his widely acknowledged and remembered … [Click Below for Full Description]
Bookseller:
Lynge & Søn ILAB-ABF
[Copenhagen, Denmark]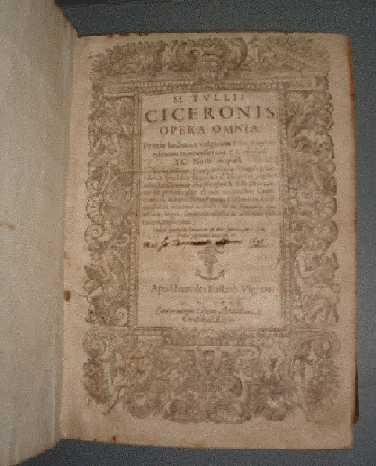 Geneva: Apud Eustache Vignon, 1596. Thick quarto. Four volumes bound in one. With no separate title-pages to volumes II-IV. I: [iv]ff., 436cols.; II: 958cols.; III: 636cols.; IV: 714cols.; Index and Privilege - 40ff. I: 4, A4-O4, P2; II : aa8-zz8, Aa8-Gg8; III: a8-v8; IV: Aa8-Yy8, Zz4 ; Index & Privilege: A8-E8. Last leaf, E8, is blank and lacking. Engraved title-page. In a contemporary vellum binding..
Bookseller:
Sam Gatteno Books
[Grosse Pointe, MI, U.S.A.]