Displayed below are some selected recent viaLibri matches for books published in 1571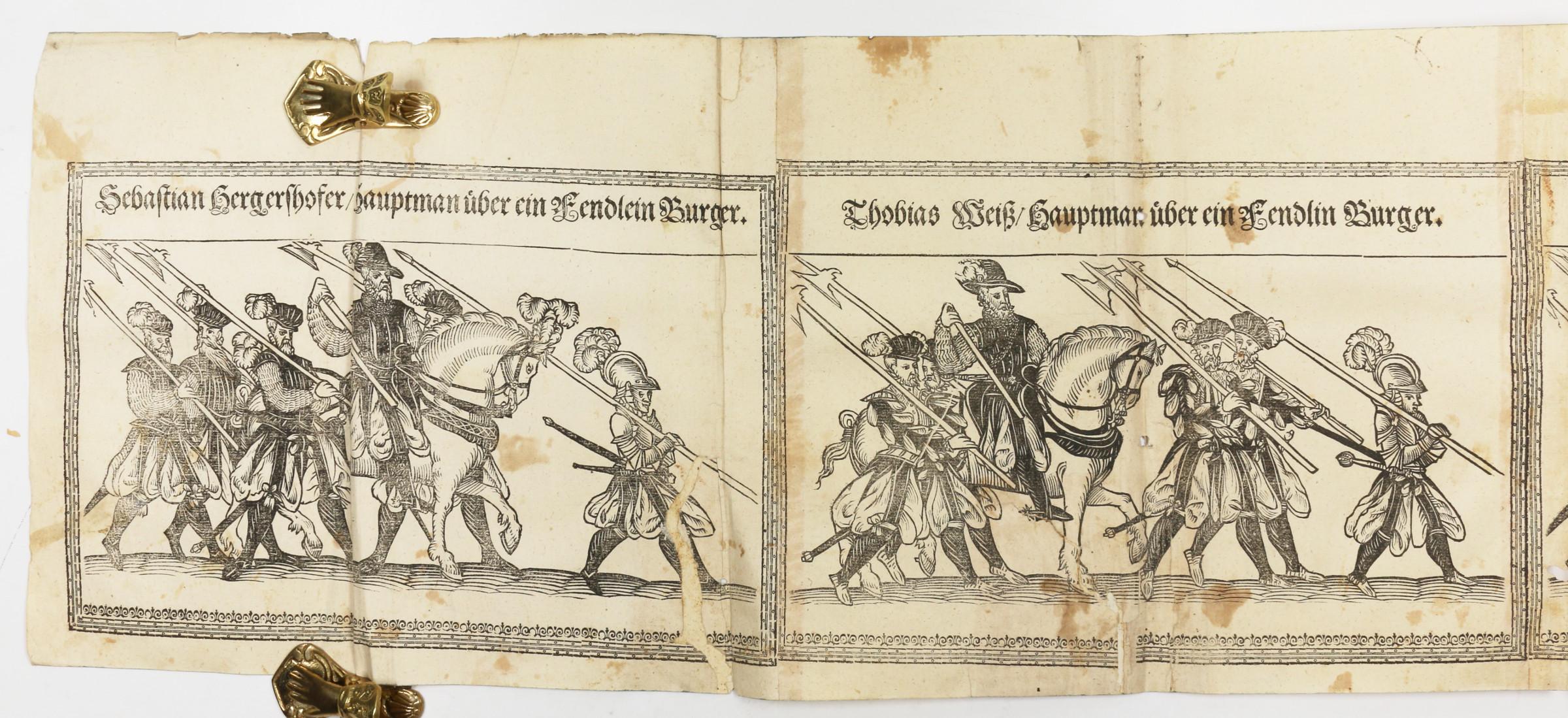 Wien, Blasius Eber, 1571. Daraus 8 figürliche Holzschn. auf 6 (einer gefalteten) Tafeln. Beiliegend das Textblatt R4 (mit einem kolorierten Wappenholzschnitt). Lose in Leinenkassette mit geprägtem Deckeltitel. Folio. Aus einem der schönsten und seltensten Wiener Drucke des 16. Jahrhunderts. Komplette Exemplare sind nahezu unauffindbar. - Vorliegend 4 doppelblattgroße Holzschnitte mit Mitgliedern der Wiener Bürgerwehr und 4 Einzelblätter mit je einem Fahnenträger zu Fuß (Hans Christoph Kastner, Urban Lauffenawer, Hans Schilmaier und M. R. Scheller). - Gering gebräunt und fleckig, einige Ausbesserungen. - VD 16, 3587. Lipperheide Sc4. Mayer I, 112, 634. Goedeke II, 326, 4, 4. Drugulin II, 44. K. Vocelka, Habsburgische Hochzeiten 1550-1600, Wien 1976, S. 47-77. Vinet 659 ("volume de plus grand rareté"). Ruggieri 937 (mit genauer Kollation der Tafeln).
Bookseller:
Antiquariat INLIBRIS Gilhofer Nfg. GmbH
[Vienna, A, Austria]
Nuremberg Dietrich Gerlass 1571. Very rare first edition of this illustrated perspective compendium, in the Nuremberg tradition of Kunstbuchleinen, with numerous woodcuts of stereometric bodies—mostly elaborate variations on regular and semi-regular solids—with working diagrams and perspective drawings, all matched to succinct text. [Attributes: First Edition]
Bookseller:
Martayan Lan
[New York, NY, U.S.A.]
1571. INDAGINE, Johannes ab. Chiromance & Physionomie Par le Regard des Membres de L'Homme, Faites Par Jean de Indagine. Plus Dudat: La Diffinition des Faces des Signes. Reigles Astronom. Du Iugemet des Maladies. L'astrologie Naturell. La Congnoissance de la Complexion des Hommes Selon la Domination des Planettes. Lyon: Jean de Tournes, 1571. BOUND WITH: RONPHILE. La Chyromantie Naturelle. Lyon: Antoine Jullieron, 1666. Two volumes bound in one. 12mo, modern full brown calf gilt, raised bands. $4200.Rare early French editions, with over 80 in-text diagrams, charts, and engraved illustrations.The author combines astrology, palmistry, and physiology in an effort to determine character. His systematic approach anticipates later Renaissance medical advances. Originally published in Latin in 1531, and in French in 1549. Ronphile's text, originally published in 1653, provides further illumination regarding palmistry. See Brunet 435, Graesse 3-4, 421. Top edge trimmed a bit close, affecting headers and page numbers but not text. Tiny marginal wormholing. Text exceptionally clean and bright, restoration to lower margin of title page in first work, not affecting text. A clean, near-fine copy with beautiful illustrations, very handsomely bound. [Attributes: Hard Cover]
Bookseller:
Bauman Rare Books
[Philadelphia, PA, U.S.A.]
London: Henry Denham, 1571., 1571. 4to. ff. [12], 83. title within typographical border. woodcut ornaments & initials. 19th century blind-stamped old-style calf by Rivière, gilt edges (rubbed, short split in upper front joint, few minor stains, small repair to C1 - no loss). First Edition of the Latin Translation by Nicholas Carr [1524-1568], the second edition of Demosthenes to be published in England. The first English translation, by Thomas Wilson, was published by Denham in London the previous year. Appended are a life of Carr by Bartholomew Dodington, one of Carr's successors as regius professor of Greek at Trinity College, Cambridge, and eulogies and funeral orations by Henry Howard, Thomas Bing, Thomas Hatcher, and others. STC 6577. Bruggemann I p. 160.. 1st Edition. Hardcover.
Bookseller:
D & E Lake Ltd. (ABAC, ILAB)
[Canada]
Venetia: Heredi Di Giovan Maria Bonelli, 1571. Venetia: Heredi Di Giovan Maria Bonelli. [Lettere in volgare] (cm. 15,3) buona piena pergamena originale con unghie e tracce di lacci. Titolo calligrafato al dorso.-- cc. 8 nn., cc. 474, c. 1 con marca xilografica + c. 1 bianca. Capilettera figurati, elegante corsivo, marca tipografica al frontis e diversa in fine. Dedica a Don Gregorio Macigni monaco camaldolese. Edizione ampliata nella quale è stato aggiunto il XVI ed ultimo libro di Tomaso Porcacchi, inoltre è una delle prime opere stampate dagli eredi Bonelli, attivi dal 1571 al 1576. Cfr. Pastorello 63 e Ascarelli p. 202. Per le due belle marche tipografiche, vedi Vaccaro figura 291 e 292 e Zappella 994 e 844. Molto raro manca a molta bibliografia compreso Adams e Bm. Stc. Esemplare molto bello fresco e genuino. * Gamba 1465 in nota.[f49] . buono. Rilegato. Edizione Ampliata. 1571.
Bookseller:
LIBRI ANTICHI E RARI FRANCESCO&CLAUDIA
[AREZZO, Italy]
1571. Ercolani, Francesco [1541-1569]. De Cautione de Non Offendendo. Venice: Apud Io. Andream Valuassorem Cognomine Guadagnino, 1571. [32], 159 [i.e. 317] pp. Octavo (6-1/2" x 4"). Contemporary limp vellum, early vellum rebacking and hand-lettered title to spine, early repair with paper to top edge of rear cover. Light soiling, some wear to corners, chipping to spine ends, front hinge cracked, rear hinge starting at ends, front endleaves lacking. Large woodcut printer device to title page, woodcut decorated initials. Interior notably fresh. * Second edition. Ercolani's treatise addresses the Roman law of interdict, a category of orders or prohibitions issued by a magistrate and addressed to a particular person to give immediate protection to a threatened interest of a complainer. They were also used to protect public interests, such as waterways. The first edition of this treatise was published in 1569, third and final in 1580. 7 copies located in North America, 2 of this edition (at UC-Berkeley and Harvard Law Schools). Censimento Nazionale Delle Edizioni Italiane del XVI Secolo (EDIT16) CNCE 18254.
Bookseller:
The Lawbook Exchange, Ltd.
Basel: ex. off. Henripetrina 1571 mense Augusto. With 27 double-page woodcut maps and 7 smaller woodcuts in the text. Fol. (106) + 977 + (2) pp. 12 pages missing, including title in the beginning. Contp. vellum, corners bumped. Last 3 pages with repairs, printer's mark partly damaged, a few leaves dampstained.. Graesse VI, 505. This is the 3rd edit. transl. and edited by Xylander with Greek and Latin parallel texts. The block that were used, were the same that Münster used for 4 editions of Ptoloemaeus Geographie [37500 DKK]
Bookseller:
Peter Grosell, Antiquarian Bookseller
1571. Antweriae, ex officina Chistophori Plantini, 1571. 4to (223 x 155mm). pp. (20), 332, (10), with 92 woodcuts in the text. Contemporary limp vellum (some damage to right upper corner of the frontcover). First Latin edition of this important work on toxicology. The first French edition was published by Plantin in 1568. The present Latin edition was translated from the French by the Augsburg physician Hieremias Martius. Jacques Grevin (c. 1539-1570) was a French poet and dramatist and disciple of Ronsard. "Grevin was originally educated as a physician, and wrote several works on medical and scientific topics. His two books on poisons, while adding nothing new to toxicological knowledge, showed a distinctively skeptical and realistic attitude towards the writings of both classical and modern authors, with whom Grevin often disagreed. He also casts doubt on several superstitious beliefs, such as the efficacy of amulets against poison, or the turquoise's power to detect the presence of toxic substance. Two books on poisons was published with Grevin's verse translation of 'Theriaka' and 'Alexipharmaka', two didactic poems on poisonous plants and animals by the Hellenistic physician Nicander of Colophon (b. ca. A.D. 275)" ('The Haskell F. Norman library of Science & Medicine' 439, quoting the French edition). The excellent woodcuts show snakes, amphibia, scorpions, fish, a dog suffering from rabies, poisonous plants etc. Durling 2174; Nissen ZBI, 1713..
Bookseller:
Antiquariaat Junk
London, Purfoot 1571).. Fol. 458 S. (Titel- u. Erratablatt fehlen), mit rd. 270 eingedruckten u. 5 separat gedruckten u. eingeklebten Pflanzendarstellungen in Holzschnitt. Pgmtbd. d. Zt. unter Verwendung einer alten Pergamenthandschrift (stärker berieben und gebräunt, einige Wurmspuren in Vorder- u. Hinterdeckel), Vorsätze fachgerecht erneuert. Frisches, breitrandiges Exemplar, nur an den Rändern teils schwach gebräunt. Auf den letzten 5 Bll. leichte Brandspuren. Vermerk v. alter Hd. auf d. 1. S., verso ein gelöschter Stempel.. Adams 2,58,P616. Pollard 449,19595. Nissen: BBI 138,1502. Arents: Tobacco (1),237ff.,Nr.13 (sehr ausführlich zur Textgeschichte u. über die abgebildete Tabakpflanze). Vergl. Graesse 4,240 u. Brunet III,401 (Plantin-Ausg. 1576). Zu Pena s. Jöcher/Adelung 5,1837. Zu L. (auch Lobel, 1538-1616), nach welchem die "Lobelie" benannt ist u. d., wegen seiner Berühmtheit als Botaniker, v. Jacob I. nach London berufen wurde, vgl. Hirsch/H. 812. Unter d. 5 separat gedruckten Holzschnitten, die fast immer fehlen, befindet sich die erste bildliche Darstellung der Tabakpflanze, die 1569 erstmals nach Europa gebracht worden war. Selten.
Bookseller:
Antiquariat Löcker
Paris: Hierosme de Marnef & Guillaume Cavellat, 1571. 16mo, (4-3/4 x 3-1/2 in) Two parts in one, each wth its own title-page. pp. 608; (609)-778, (6). Woodcut printer's device on both titles and verso of final leaf. Bound in later gilt stamped vellum, lightly soiled, brown morocco spine label, AEG. Closely timmed at the top margin, but not affecting text. (obscuring a contemporary signature). Title-page lightly soiled. Aldis Library bookplate on the front end paper. Not in Adams nor BL French STC; OCLC locates just one copy (Yale). Bertelli & Innocenti, "Bibliografia Machiavelliana, # 150. Very scarce. The third translation into French of Machiavelli's "Discources", this time by aristocrat and scholar Jacques Gohory (1520-1576), the second part is "The Prince" translated from the Italian by Gaspard d"Auvergne. [Attributes: Hard Cover]
Bookseller:
Second Life Books, Inc.
[Lanesborough, MA, U.S.A.]
4to. Mid eighteenth-century maroon morocco by Padeloup of Paris (engraved binder's label at lower margin of title), spine ornamented and lettered in gilt, triple fillets around boards in gilt, inner dentelles gilt, gilt-lined edges of the boards, all edges gilt, marbled endpapers; ff. [vi], 97, [3], woodcut printer's device on title, f. [32] blank; light wear to hinges and extremities, variable browning (as frequently the case with Southern Italian books of this period), two preliminary leaves remargined in the eighteenth century, f. 94 with small hole, not touching any letter; sixteenth-century inked out Italian ownership inscription to title. First edition of this detailed study of three violent episodes in Genoa's and Italy's turbulent history: the failed conspiracy and coup d'etat of Giovanni Luigi Fieschi against the autocratic Andrea Doria in Genoa in 1547, in which the author's older brother had been involved and which provided the historical background for Friedrich Schiller's play of 1783; a popular uprising in Naples against the French viceroy Pietro di Toledo; and the violent death of Pier Luigi Farnese, Duke of Parma in 1547, who had been stabbed by aristocratic conspirators. The repercussions of Doria's harsh punishment against the Fieschi family made it impossible to publish such a book in Genoa. Naples seemed far enough and not too much in cahoots with the Genoese government to publish the text, which had been circulating in manuscript since 1569. Uberto Foglietta (Genoa, c. 1518 - Rome, 1581) was an official historiographer to various Italian Renaissance cou … [Click Below for Full Description]
Bookseller:
Henry Southern Ltd.