Displayed below are some selected recent viaLibri matches for books published in 1569
Basileae [Basel, Basle]: Per Sixtum Henricpetri. Cum Caesareae Maiestatis gratia & privilegio., , The date of publication is taken from the latter title pages. 1569 - Folio, leaf size 320x200mm. In, possibly, 18th-century leather-covered boards, with minimal abrasions, recently re-backed and re-cornered. Spine with five raised bands with blind-rule outline and black lettering-piece with title gilt. Very small manuscript numbers at head of front pastedown. 'Ghost' of what looks like a book-plate on front free end-paper (there might have been a book-plate on the front paste-down at some time, too. [1], A-Z6, Aa-Zz6, Aaa-CCc6, DDd4; a-z6, A-L6, M3; [1], [dagger]4, A-G6: [2], 593, [1]; [4], 414; [84] pages. Main title-page with early ownership inscription, partly crossed out 'Ex libris Everardi Spana [?]', above printer's woodcut device: Sixtus Henric Petri, with manuscript date '1569' at foot; minor worming at lower gutter corner from start to P4; Ll4 misnumbered Ll2; minor printing fault on Rr6v not affecting legibility; attractive woodcut portraits of kings in text, mainly at the start; some neat, contemporary marginal annotations. 'Arnoldi Ferroni Burdigalensis, Regii consiliarii, de rebus gestis Gallorum libri IX' has a separate title-page, with a small woodcut decoration, separate register and pagination. 'Ioannis Tulii Chronicon de Regibus Francorum, a Faramundo usque ad Franciscum Primum' has a separate title-page with printer's woodcut device: Sixtus Henric Petri and separate register but is unpaginated; the colophon at the end is an enlargement of the central part of … [Click Below for Full Description]
Bookseller:
Collectable Books
[United Kingdom]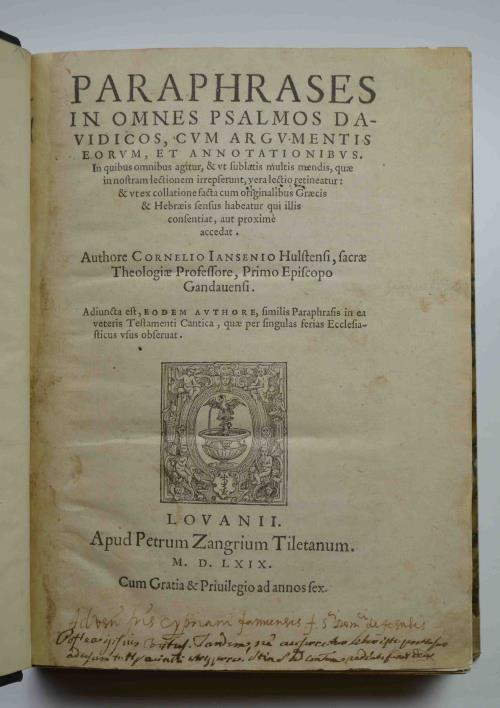 apud Petrum Zangrium Tiletanum,, Lovani, 1569. Cm. 22, cc. (8) 358 (2). Marchio tip. al frontespizio ed alcuni capolettera in xilografia. Elegante legatura ottocentesca in mezza pelle con titoli su tass. e fregi in oro al dorso. Esemplare ben conservato. Cornelio Giansenio (1510-1576), teologo cattolico fiammingo, partecipò alle ultime sessioni del concilio di Trento grazie al suo incarico di professore di Teologia a Lovanio. Le sue opere di esegetica, agevolate dalla profonda conoscenza delle lingue orientali, si ritagliarono una notevole fama nel panorama culturale europeo e divennero simbolo della lotta al protestantesimo. Edizione originale. Raro. Non in Adams. [Attributes: First Edition; Hard Cover]
Bookseller:
Studio Bibliografico Benacense
[riva del garda, Italy]
1569. First Edition. hardcover. Engraved t.p., (lacks frontis. port. and 2 plates). 284pp. 4to, older calf, gilt spine; (dampstain to table of contents, some contemporary annotations in margins, back hinge starting at top, several pp. creased in lower corner). (Vinetia: Appresso Gratioso Percaccino, 1569)."Colleoni was perhaps the most respectable of all the Italian condottieri...no act of treachery is imputed to him, nor did he subject the territories he passed through to the rapine and exactions practised by other soldiers of fortune." Ency. Britannica VI, p. 687. During his career he introduced the use of artillery to his armies. He fought mostly for Venice against Milan, but changed sides several times. In 1455, he became captain-general of the Venetian Republic. Adams S1601. STC Books printed in Italy...Brit. Museum, p. 637.[Attributes: First Edition]
Bookseller:
Argosy Book Store
[United States]
Madrid. . 1569 - 8,242 leaves. 19th-century vellum, lacking ties. New endsheets. Some leaves heavily foxed. Marginal repairs to the first signature, not affecting text. Else a clean, decent copy. The third edition, after Toledo editions of 1540 and 1546. An important geographical and cosmographical work, with numerous New World references, and an important early navigational guide. EUROPEAN AMERICANA 569/48. MEDINA (BHA) 128. HARRISSE ADDITIONS 156.
Bookseller:
William Reese Company - Americana
GABRIEL GIOLITO DI FERRARII, 1569. [GIOLITO-VOLGARE] (cm. 21,4) bella piena pergamena antica restaurata, sguardie antiche.-- pp. 40 , cc. 8 nn., pp. 240 + 1c. con marca tipografica e colophon. Eleganti fregi e capolettera figurati, a carta 8 nn. bella xilografia entro fregi con putti e fiorami. Dedica a Pietro Giustiniano. Prima edizione giolitiana. L' opera è una revisione con varianti della precedente: "Dottrina della vita monastica" stampata a Venezia nel 1494, nonchè dell' altra edizione dei fratelli da Sabio del 1527. A causa della morte del traduttore gregorio Marino, l' opera fu portata a termine dallo stesso tipografo Giovanni Giolito. Rara edizione, manca ad ADAMS e BM. STC. Alcuni antichi segnetti d' inchiostro a pag. 240 e al frontis per celare il precedente ex libris. Altrimenti esemplare molto bello nitido e fresco con una nota manoscritta coeva a pag. 9. BONGI II 292; ARGELATI II 331; CAPPONI 197.[f41] Libro
Bookseller:
Studio bibliografico Libri Antichi Arezzo di Massai C.
[IT]
Lugduni |(Lyon): apud Antonium Gryphium., 1569. Fine. apud Antonium Gryphium., Lugduni (Lyon) 1569, in 12 (8x12cm), 294pp. (39) (1bc)., relié. - New edition. The earliest edition published by Sebastianum Gryphium, in 8 we have found is that in 1539, owned by BN France. Italic print. Full contemporary calf. Back tooled raised florets, roulette cold tail and cap. Hot boards struck a central medallion with Renaissance motifs. Nets coaching. Gilt edges. Friction. Mors skillfully restored. Edition of the most famous work of Lucan (39-65), better known by the name of the Pharsalia, which tells the epic form in the wars between Caesar and Pompey. The poem follows the chronological order of events and is not without historical interest. The Latin poet was born in Cordoba in Spain, he fell out of favor with Nero, then participated in the conspiracy Nison against the emperor, who ordered him to suicide. His contemporaries gave him a brilliant language and a rare energy style, cleaner perhaps eloquence than poetry. --- Please note that the translation in english is done automatically, we apologize if the formulas are inaccurate. Contact us for any information! - [FRENCH VERSION FOLLOWS] Nouvelle édition. La plus ancienne édition éditée par Sebastianum Gryphium, in 8, que nous ayons trouvée est celle de 1539, détenue par la BN de France. Impression italique. Reliure en plein veau d'époque. Dos à nerfs orné de fleurons, roulette à froid en queue et coiffe. Plats frappés à chaud d'un médaill … [Click Below for Full Description]
Bookseller:
Librairie Le Feu Follet
[France]
In Venetia: Apresso Domenico, & Gio. Battista Guerra, Fratelli, 1569. Fine. Apresso Domenico, & Gio. Battista Guerra, Fratelli, In Venetia 1569, Pet. in 8 (9,5x14,5cm), (32) 238pp., relié. - The first edition was published in 1565, also in Venice. Brand of printer on the title page. Printed in Italics. Mottled brown cardboard early nineteenth. Part of title in red morocco. Net. Rubbing on spine and on the flat. Collection of sentences and stories on a variety of topics such as love filltes, measuring nose, the wine, astrology, the nature of man ... Lodovico Guicciardini (1523-1589), scholar and man of letters, was an advisor to Cosimo de Medici and the Duke of Alva, he moved to Antwerp, where he published a description of the Netherlands. --- Please note that the translation in english is done automatically, we apologize if the formulas are inaccurate. Contact us for any information! - [FRENCH VERSION FOLLOWS] La première édition a été publiée en 1565, également à Venise. Marque de l'imprimeur sur la page de titre. Impression en Italiques. Reliure en plein cartonnage brun moucheté début XIXe. Pièce de titre en maroquin rouge. Filets. Frottements aux coiffes et sur les plats. Recueil de sentences et d'anecdotes sur des sujets très variés tels que l'amour des filltes, la mesure du nez, le vin, l'astrologie, la nature de l'homme... Lodovico Guicciardini (1523-1589), érudit et homme de lettres, fut conseiller de Cosimo de Medici, puis du duc d'Albe, il s'installa à Anvers où il publia une description des Pays-Bas.
Bookseller:
Librairie Le Feu Follet
Claude Fremy, Paris, 1569. Folio. 2 vols. in 1. [14, of 16], 812, [36], 344, 63, [13]pp. Lacking title-leaf to Vol. I. 19th cent. calf, gilt, edges a little rubbed. Corners of first few leaves repaired. Edited by Jean le Frere, de Laval. In Latin and French. I ncludes Flavius Josephus' history of the Jews and David Kiber's "Abbrege de la guerre judaique" translated into French by F. de Belleforest. [Attributes: Hard Cover]
Bookseller:
Jeremy Norman's historyofscience
[Novato, CA, U.S.A.]
Venice: Stefano Scolari,, 1569. THE MOST IMPORTANT WALL MAPS OF THE FOUR CONTINENTS, PRODUCED BY THE GREATEST ITALIAN MAPMAKER Each with framed dimensions: 665/8" x 517/8" References: R. W. Karrow, Mapmakers of the Sixteenth Century and Their Maps: Bio-Bibliographies of the Cartographers of Abraham Ortelius, 1570 (Chicago, 1993), 216-249; Philip D. Burden, The Mapping of North America (Rickmansworth, 1996), 45-49; D. W. Sims, Giacomo Gastaldi and the Four Continents (Brooklyn, 2003). The four large-scale maps by Gastaldi are unique and remain unrivaled by any set of wall maps available today in terms of quality and importance. The maps saw a development through three different states as successive publishers added the latest information to them. State one, dating from ca. 1569, is thought to have been published by Giovanni Francesco Camocio. In approximately 1588, Donato Bertelli also published the plates, with some changes to the map of America in order to correct errors made by Gastaldi's assistants after his death (such errors mostly had to do with the assembly of the printed sheets). The second state of Gastaldi's maps appeared circa 1655, now enlarged with additional copperplate sheets. This edition was published by Stefano Scolari, who made minor nomenclature additions. On the New World map the title "America" was added, as were the names "California," "Nova Granada" and "Estotiland." Scolari was also responsible for another printing of Gastaldi's maps approximately seven years later, circa 1662. For this third state, the publisher once again updated the m … [Click Below for Full Description]
Bookseller:
Arader Galleries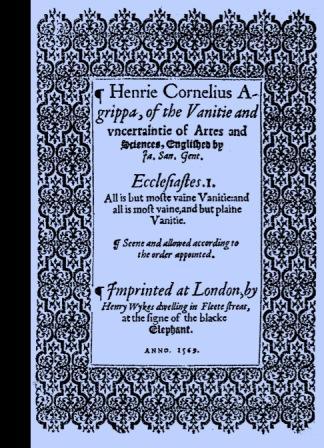 Henry Wykes (), London. [London: Henry Wykes; 1569]. Limited to 85 numbered copies, this being NO. 23. Quarterbound.
Bookseller:
VENTURA PACIFIC LTD Out of Print Books
[Ventura, CA, U.S.A.]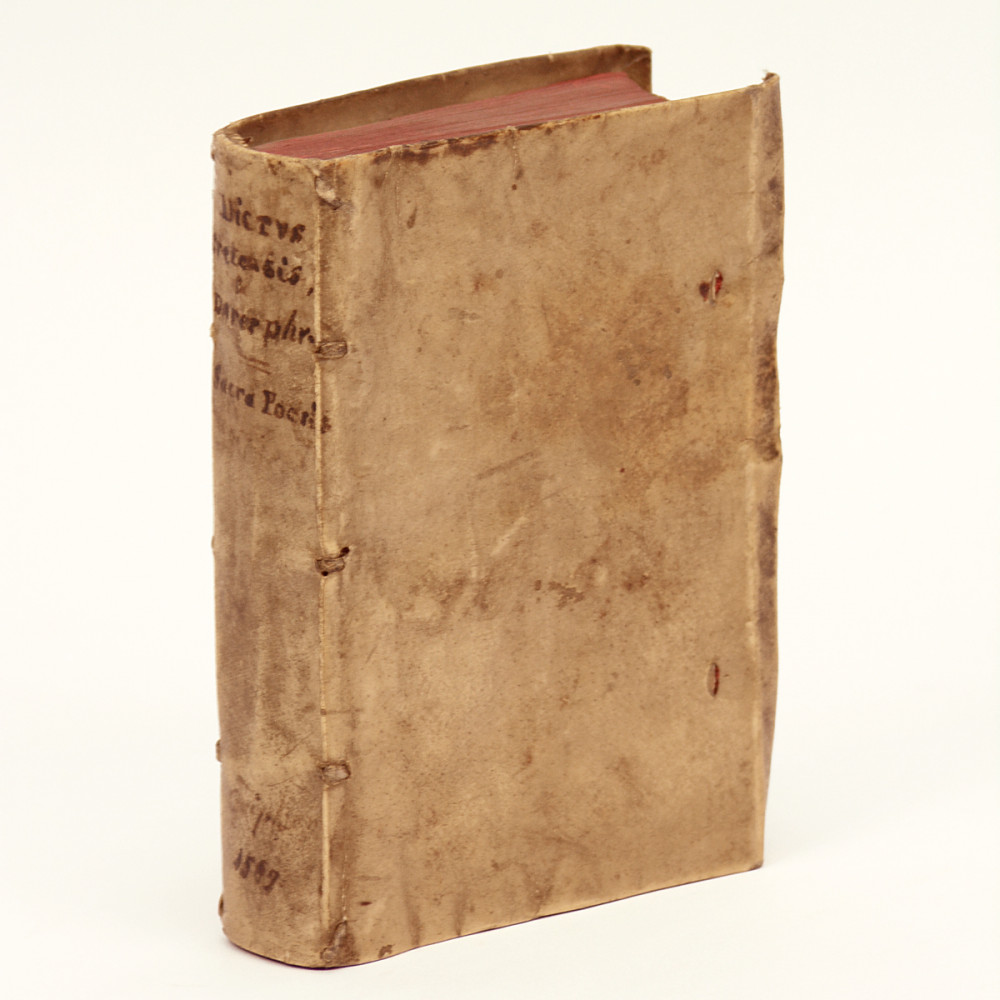 (1569) Baudrier, Bibliographie lyonnaise : recherches sur les imprimeurs, libraires, relieurs et fondeurs de lettres de Lyon au XVIe siècle, p. 353 (pour le premier volume). Rares impressions lyonnaises. Ex-libris ancien raturé sur la page de titre de l'Histoire de la guerre de Troie, quelques traces du temps en bordures de certains feuillets, mais bon exemplaire, avec la marque d'Antoine Gryphe sur la page de titre. [Attributes: First Edition]
Bookseller:
Librairie de l'Amateur
[Strasbourg, France]