Displayed below are some selected recent viaLibri matches for books published in 1566
Venetia: FRANCESCO SANESE ET ZUANE KRUGER, 1566. Venetia: FRANCESCO SANESE ET ZUANE KRUGER. [ARCHITETTURA] (cm. 24,7) buona mz. pergamena recente, tassello al dorso in pelle e oro.-- cc. 207 numerate (di 219) e cc. 7 (di 52) moltissime belle incisioni in xilografia. i libri hanno frontis proprio compreso nella numerazione. Prima edizione in ottavo dell' opera del Serlio, le incisioni di Krugher sono copie ridotte dall' edizione originale in folio, il testo risente dell' influsso di Piero della Francesca, Durer, Peruzzi e Viator ed ebbe un immediato successo internazionale con ristampe in tedesco francese inglese e fiammingo. Purtroppo scompleto: il primo libro è costituito solo da 8 carte numerate da 9 a 16, seguono da carta 17 gli altri libri fino a carta 219 e mancano solo 4 carte numerate (185-6-7-8). Il libro "Estraordinario2 è legato all' inizio dell' opera ed è costituito solo dal frontis architetonico con luogo tipografo e data e da altre 7 carte con le celebri porte. opera sempre importante per lo straordinario apparato iconografico. Alcune macchiette a due carte interne, qualche pagina un pò ombreggiata peraltro esemplare molto bello fresco e nitido con xilografie in ottima tiratura. FOWLER 327; CICOGNARA 668; BERLIN CATALOG 2570; RICCARDI II 441; SCHLOSSER-MAGNINO 418; BRUNET V 305; GRAESSE VI 370.[f40] . ottimo. Rilegato. PRIMA EDIZIONE IN OTTAVO. 1566.
Bookseller:
LIBRI ANTICHI E RARI FRANCESCO&CLAUDIA
[AREZZO, Italy]
s.n.,, S.l. (ma Paris), 1566. Cm. 17,3, pp. (72) 680. Marchio tipografico inciso al frontespizio. Solida legatura (seicentesca?) in piena pergamena rigida con unghie. Una mancanza al tassello, lievissime fioriture. Esemplare genuino e marginoso, in ottimo stato di conservazione. Si tratta di una delle due ristampe dell'originale, impresse con gli stessi dati tipografici di quest'ultimo; il presente si distingue per la grandezza dei caratteri ed il diverso numero di pagine. Cfr. Brunet II, 1076-77. Celebre opera in cui Estienne, con l'intento di denunciare i controsensi linguistici nella traduzione di Erodoto, ci offre un efficace panorama della vita sociale del Cinquecento. Una sorta di requisitoria contro varie forme d'abuso utilizzate da commercianti, medici, giuristi ed ecclesiastici. Si noti inoltre che ".Henri Estienne dans l'Apologie pour Hérodote s'étonne de l'étrangeté, du merveilleux du travestissement de femme en homme (acte moins vilain que la zoophilie), acte qui n'a rien de commun avec celui commis par quelques vilaines qu'on appelait anciennement tribades". Nel presente testo appare inoltre per la prima volta nella lingua francese il termine "tribade". Contro questo scritto si scatenò la censura e le varie ristampe dovettero spesso variare i passaggi più audaci. Interessante e non comune. [Attributes: Hard Cover]
Bookseller:
Studio Bibliografico Benacense
[riva del garda, Italy]
[Edinburgh: Robert Lekpreuik, 28 November, 1566. folio. ff. [14], ii-cxxii, cxxiiii-cxlv, [1], cxlvi-clviii, [2], clix-clxviii, [2], clxix-clxxxii. lacking initial blank & blank c4. woodcut title. woodcut initials. black letter. 19th century russia, gilt centre ornaments, gilt inside dentelles (joints repaired, head & foot of spine chipped, some of first few leaves apparently supplied from another copy, title cropped & repaired at corners with part of lower outer corner supplied in facsimile, marginal repairs to other prelims, occasional light soiling, light dampstaining in second part). a few old marginal notes. First Edition, variant issue, of the earliest collection of Scottish acts and statutes, compiled by James Balfour and others, and edited by Edward Henryson. The commission to compile and publish the laws, known as the 'Black Acts', was appointed by Queen Mary largely through the advice of John Leslie, Bishop of Ross. The work, covering the period from the accession of James I in 1424, to the current reign of Mary, 1564, is an important source for the political history of the period. Also of interest here are the early printed references to the game of golf. This copy corresponds to STC 21876, which combines elements of STC 21875 and 21876A, with cancels for folios 113, 118, 132, and 145, the latter followed by an unnumbered leaf; 2 unnumbered leaves following 158 and 168; 181 replaced by 2 leaves, including the new colophon dated 28 November; and 133 cancelled and not replaced, but with the earlier state of the title-page, line 3 ending with the word 'the'. Aldis 5 … [Click Below for Full Description]
Bookseller:
D & E LAKE LTD. (ABAC/ILAB)
[Toronto, ON, Canada]
[Genève]: Excudebat Henricus Stephanus illustris veri Huldrichi Fuggeri typographus, 1566. Fine. Excudebat Henricus Stephanus illustris veri Huldrichi Fuggeri typographus, [Genève] 1566, in Folio (34,7x23cm), (16) 256pp., 14pp. (4pl.) (22)., relié. - First edition produced by Henri Estienne translation of the original Greek into Latin. Beautiful print in Roman characters, clear, with notes in margins. 'Beautiful and correct edition. Brunet, III, 122. Illustrated with 4 folding plates showing the tower of Babylon, the gardens of Semiramis, the palace and the city of Semiramis of Babylon. These boards are often lacking. Half Calf emerald second half of the nineteenth, smooth small irons and rollers back. Red part of title. Very fresh copy. Restoration of the joints. The book begins with an apology for the story of Herodotus Henri Estienne (from the 3rd generation of Estienne, illustrious family famous for its Greek and Latin editions publishers), which he wrote in response to some ecclesiastical authorities who criticized the story of Herodotus. The translation is the work of the Italian humanist Lorenzo Valla (1406-1457), Latinist and Hellenist recognized, he began the translation in 1450. Life of Homer is itself the work of a German humanist Conrad Heresbach . One who has been called the father of history interested in the Persian Wars and Egypt, but more remarkable for us is its contemporary method that earned him his nickname, he wrote nothing before visiting places where history had been conducted. His books are so rich a wealth of observations from … [Click Below for Full Description]
Bookseller:
Librairie Le Feu Follet
[France]
Lugduni |(Lyon): apud Guliel. Rovillium, 1566. Fine. apud Guliel. Rovillium, Lugduni (Lyon) 1566, in-8 (16,7x11,5cm), (14) 364 pp., relié. - The first edition of these three treaties Mesue commented by Sylvius appeared in Paris in 1542 into a Christian Weschel Vol. in Folio. Edition went through several editions in 1544 and 1548. Brunet III, 1675. Vellum Full time flexible flap with traces of laces. Lack some of the top flap. Abu Zakariya Yahya Ibn Masuyah said Jean Mesue, Christian physician born in Khuz near Nineveh in 776 and died in Baghdad in 855, where he practiced and practiced medicine, and was the personal physician of the Caliph Harun al-Rashid. Besides the prominent role he played in Arabic medicine, reflecting number of Greek texts, his book of aphorisms (medical axioms) had considerable success in the West, some of which are still in use today. He also wrote the first treatise on diet based on boards properties of Gallien, analyzing the effects of boards on the body 140. Furthermore Arab medicine began to influence in a significant way in Europe in the fifteenth century, as the Arab had commented and translated many Greek texts, including some great academies such as Montpellier and Paris, it is here that we find our commentator, a great physician of his time, Jacobus Sylvius or Jacques Dubois (1478-1554), who officiated in Paris and Montpellier, driven from Paris because he was not MD and wore too much shading his fame (they came from all over Europe to consult). Arabs are especially fathers pharmacopoeia and it is precisely the interest of this edition, m … [Click Below for Full Description]
Bookseller:
Librairie Le Feu Follet
[France]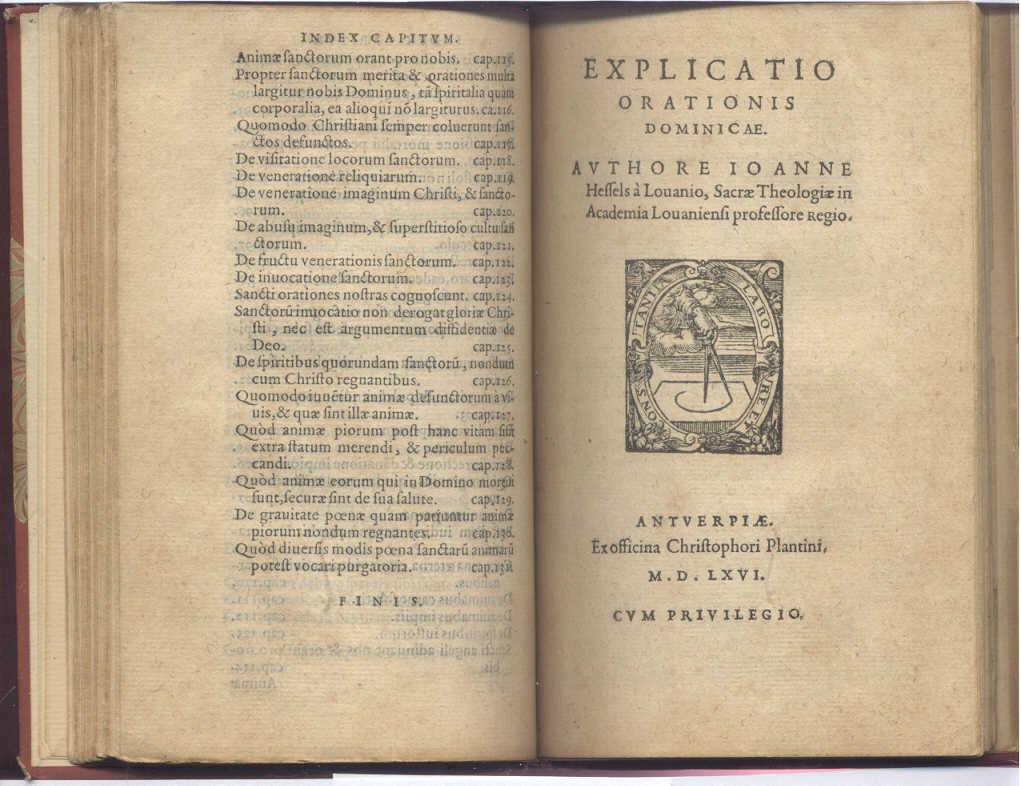 Christophori Plantini, Antverpiae / Anvers, 1566. 2 books bound and published together with their own title pages & both dated M.D.LXVI. i.e.1566. 139 +3 pages & 165 pages + antique manuscript page by early owner to back of last page. Later Binding looks Victorian. quarter material & mottled paper hardback. . Binding in good condition with minor edge ware, title of 1st. book (only) to spine. & has Victorian handmade end papers, Contents Good for age, most pages good, clean & tight with some minor odd staining, a very few antique Latin notes within., a very few corner tip folds. tiny hole to one page, poss. made during manufacture in 1566. Originally published together, , some have been split into 2 separate books, and now is Very Rare to find together. Johannes Hessels, was a professor at the Faculty of Theology of the University of Leuven and colleague and friend of Michael Baius, Hessels propagated a positive, biblical and patristic theology. Belgium. Size: 11 x 16.5cm Approx [Attributes: First Edition; Hard Cover]
Bookseller:
Malcolm Books
[Thetford, United Kingdom]
1566. Venice, 1566. Popular Sixteenth-Century Study of Topics in Roman Law Claro, Giulio [1525-1575]. Tractatus de Testamentis, De Feudis, De Donationibus, De Iure Emphiteotico: Nunc ab Omnibus Erroribus Maxima Diligentia Emendati: Cum Summariis, & Repertoriis Omnium Quaestionum, Ac Incidenter Dictorum. Venice: Apud Franciscum Laurentinum, 1566. 8, [32], 243 ff. Octavo (6" x 4"). Contemporary limp vellum with lapped edges, faint early hand-lettered title to spine, later signature (Romatelli) to front cover, ties lacking. Light soiling, rubbing to extremities, insect damage to rear cover, front joint cracked, pastedowns loose. Large woodcut printer device to title page, woodcut decorated initials. Occasional early annotations and underlining. Toning, dampstaining in a few places, interior otherwise clean. $500. * Second edition. With indexes. First published in 1565, this popular work on wills, gifts, feudal writs, usury and other topics in Roman criminal and civil law went through numerous editions throughout Europe well into the eighteenth century. These four tracts were books 3-4 of the author's unfinished Sententiae Receptae. Claro was a Milanese jurist. OCLC and KVK locate one copy of this edition in North America (at the Library of Congress). Another copy located at Harvard Law School. This edition not in Adams. Censimento Nazionale delle Edizioni Italiane del XVI Secolo CNCE 12641.
Bookseller:
The Lawbook Exchange, Ltd.
[USA]
Large woodcut elephant printer's device on title, a few woodcut initials.Sm. 4to. [16]ff. 852pp. 18th century vellum
Bookseller:
Maggs Bros. Ltd.
[U.K.]