Displayed below are some selected recent viaLibri matches for books published in 1539
Basel: In Officina Hervagiana [Per Ioannem Hervagium], 1539., 1539. 7 Parts in 1. folio. pp. 2 p.l., 63, [5]; 244; 243; 211; 91, [1]; [39], [1]; [96]. woodcut printer's device on first title, on title & at end of Book 5, on title & at end of the Chronologia, & at the end of the text. historiated woodcut initials. A nice copy, bound in 17th century speckled calf, paneled in gilt, rebacked, preserving endpapers & spine label, corners renewed (very occasional marginal stains). engraved armorial bookplate of Algernon Capell, [second] Earl of Essex, dated 1701, on title. A handsome folio edition, based on the Basel Froben editions of 1531 and 1535, the former being the first to incorporate the first five books of the Fifth Decade (Books 41-45), sourced from a manuscript discovered by German humanist Simon Grynaeus [1493-1541] in the Benedictine abbey of Lorsch in 1527. This edition reprints the 1531 dedicatory preface by Erasmus, and the improved chronology by Swiss humanist, Heinrich Glareanus [1488-1563], and also incorporates the revisions of Beatus Rhenanus and Sigismund Galenius, which were added in the 1535 edition. Adams L1332. BM STC German p. 521 (5 Parts). Graesse IV 228n.. Hardcover. Very Good.
Bookseller:
D & E Lake Ltd. (ABAC, ILAB)
Lyons: Seb[astian] Gryphius, 1539., 1539. 8vo. pp. 54, [5 leaves]. woodcut printer's device on title & on verso of last leaf. 2 woodcut initials. contemporary limp vellum, overlapping fore-edges (ties wanting). [BOUND WITH:] BAIF, Lazare De. De Re Vestiaria Libellus, Ex Bayfio Decerptus. Addita vulgaris linguae interpretatione, in adulescentulorum gratiam atque utilitatem. 8vo. pp. 65, [11], [2 leaves]incl. blank e7. woodcut printer's device on title & on verso of last leaf. 1 woodcut initial. Lyons: Seb[astian] Gryphius, 1539. [BOUND WITH:] BAIF, Lazare De. De Re Navali Libellus, In adolescentulorum bonarum artium studiosorum favorem, ex Bayfii vigiliis excerptus, & in brevem summulam facilitatis gratia redactus. 8vo. pp. 76, [10 leaves]. woodcut printer's device on title & on verso of last leaf. 2 woodcut initials. Lyons: Seb[astian] Gryphius, 1540. Nice grouping of these three famous children's books, abridged adaptations by Charles Estienne [1504-1564] of Lazare de Baïf's scholarly treatises on Roman antiquities. Charles began to prepare the works while employed as private tutor to Lazare's son, Jean Antoine de Baïf, the future poet. First published by Robert Estienne in 1535-37, these are considered to be "the first books produced specifically for the entertainment (unlike school-books) as well as the edification of a juvenile readership." (Schreiber) The first deals with various types of vases, drinking vessels, and receptacles used by the Romans, the second with ancient Roman dress, including sections on carpets and rugs and colours of wools … [Click Below for Full Description]
Bookseller:
D & E Lake Ltd. (ABAC, ILAB)
Venetiis |(Venise): Apud Haeredes Lucaeantonij Iuntae Florentini, 1539. Fine. Apud Haeredes Lucaeantonij Iuntae Florentini, Venetiis (Venise) 1539, In 4 (17x24cm), 4f. 396ff. 127ff., relié. - New edition, after the originator of 1473 in Bologna (under another name). Very rare. Brand Junta printer on the title page and the last page. Dedication to Hercules Gonzaga of Mantua. Absent Brunet. A copy in Oxford and one in the Italian catalog, but nothing in the French catalogs or the BN France.Demi Veal 1800 Back to nerve nets. Part of title brunette. Head cover cropped. Borders frottées.Pietro da Bergamo (died 1482) whose real name Almaldura, his book was called tabula aurea (golden table) because it was the only instrument that is essential for reading and consultation with the work of Saint Thomas (see The tabula di Pietro da bergamo Aurea T. Sterli Trento, published in 2003). The tabula is a universal index of the whole work of Thomas Aquinas. The second part, separate pagination consists of another index: Concordantiae dictorum and conclusionum divi Thomae of aquino. Finally the last section lists the input biblical term (Psalms, Daniel, Deuteronomy ...). This new edition is the work of Vincenzo Giaccari. Having been revered as a saint during his studious existence of Dominican friar, Fra Pietro da Bergamo was buried in the crypt of the chapel SaintThomas Aquinas. --- Please note that the translation in english is done automatically, we apologize if the formulas are inaccurate. Contact us for any information! - [FRENCH VERSION FOLLOWS] Nouvelle édition, après la princep … [Click Below for Full Description]
Bookseller:
Librairie Le Feu Follet
[Paris, France]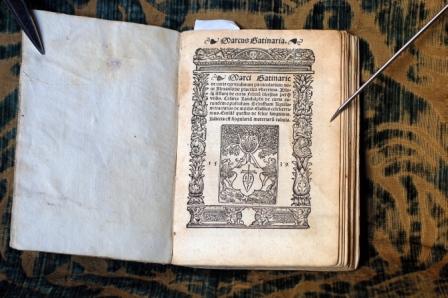 Lugduni: in Fine: Lugduni, impress.opera et industria Joanis Flaiollet impressionis seduli. Anno nostre salutis MDXXXIX (1539) die vero decima quindta mensis Julii [ma: Giunta Giacomo](1539). [Medicina - Giunti raro] (cm.18) Preziosa legatura coeva in piena pergamena manoscritta da una pag. di codice del sec. XIV-XV con capilettere rosse e blu. Tracce di lacci. -cc.XCV (95) + 1c. nn. Una xilografia a carta 41 verso, rappresenta un clistere per la prima volta. magnifico frontis entro bordura figurata in xilografia, carattere gotico a due colonne, capilettera a "fond criblè". Bella edizione rara, manca ad Adams, BM.STC: French, Waller, Osler e Garrison-Morton. Come riferisce Baudrier "Bibliographie Lyonnaise" fu stampata sotto Giacomo Giunti a Lione, Vedi anche Camerini "I Giunti". Apparsa nel 1506 ebbe successo e varie ristampe. L'autore fu l'inventore della siringa e del brachiere. Oltre a peste, morbo gallico, ecc. accenna ad un metodo di curare l'intero corpo umano, apprezzato e riferito da Haller e Giacomo Silvio. Un lavoro di tarlo a scomparire, facilmente restaurabile, interessa il margine bianco interno delle ultime 50 carte. lievi aloni e una macchia a sei carte interne senza danno al testo, ma esemplare buono e genuino nella sua affascinante legatura. * Durling 2022; * Wellcome 2698; * Rappaport "ars medica" cat.46 n°221; * Baudrier VI 184 e XII 433; cfr. anche Hirsch e De Renzi.[f55]. Libro. Book Condition: buono. Binding: Rilegato
Bookseller:
LIBRI ANTICHI E RARI FRANCESCO&CLAUDIA
[AREZZO, Italy]
Paris: Joannem Foucherium, et al. 1539. n. Sm. 8vo. ff.260,(4). Index. Old calf with blind tooled borders, rebacked, with the old backstrip laid down. Outer corners of covers worn.
Bookseller:
Kenneth Karmiole, Bookseller, Inc.
Mainz, Ivo Schöffer 1539. 30 cm. 50, (4) Blatt mit großem Wappenholzschn. auf dem Titel, großer Holzschnitt-Initiale, 1 Textholzschnitt und Holzschnitt-Druckermarke von Conrad Faber von Kreuznach. Biegsamer Antiphonar-Pgt.-Umschlag - VD16 T1939 - Roth, Schöffer 200, 50 - 2. Ausgabe der Gerichtsordnung des Erzbischofs Johannes von Metzenhausen. Titel und Titelholzschn. (Trierer Wappen) in Rot und Schwarz gedruckt. Blattränder stellenweise leicht gebräunt, Titelblatt am Rand kleine Fehlstelle unterlegt -
Bookseller:
Wenner Antiquariat
Köln, Melchior von Neuß 1539. 32 cm. (10), 478 (irrig 468) Blatt mit Holzschnitt-Druckermarke auf Titel, Pergamentband der Zeit, Schnitt gepunzt - VD16 R 3802 - Realenz. 17, 229 - Zweite Ausgabe seines umfangreichsten Werkes. Mit Vita von Johannes Trithemius (Johannes von Trittenheim). "In 42 Büchern kommentiert Rupert die gesamte Bibel unter geschichtstheologischem Aspekt; es ist das erste Werk dieser Art nach Augustin" (NDB 22, 273). Auf der Titelseite das Verlagssignet von Arnold Birckmann mit der "fetten Henne" in Wappenkartusche, flankiert von 2 Löwen, darüber das Kölner Stadtwappen (Wendland, Signete, S. 169). Rücken restauriert, auf Titel Stempel und Besitzeintrag des 16. Jahrhunderts, im Text stellenweise papierbedingte Bräunung - Sprache / Language: Lateinisch / Latin -
Bookseller:
Wenner Antiquariat
Coloniae |(Cologne): ex officina Eucharii Ceruicozni. Impensis Magistri Godefridi Hitorpii, 1539. Coloniae |(Cologne): ex officina Eucharii Ceruicozni. Impensis Magistri Godefridi Hitorpii, 1539. Fine. ex officina Eucharii Ceruicozni. Impensis Magistri Godefridi Hitorpii, Coloniae (Cologne) 1539, fort petit in 8 (16,2x11cm), non paginé et non folioté., relié. - Rare edition, unknown to the BNF and many libraries. Binding Renaissance in full glossy brown calf with back to 4 nerves, formed a separate boards in the center and decorated with scrolls central rectangle, rich frieze framing rectangle composed of musical angels, a flutist, a player drum and decorative elements. Slots for the location of laces (now extinct). Top cap restored, and various minor restorations (edges, corners and cover pages ...). A Vol. very small in 8 unpaged not folioté. Haymo was a Benedictine priest of the ninth century (he died in 853), after traveling, including Tours, and held various positions, including teaching in the monastery of Fulda, he was appointed abbot of the monastery of Haberstadt. He was a prolific writer and most of his works are comments from the scriptures and the book we present concerning the Epistles of St. Paul. In line with the exegetical tradition of his time, Haymo was not an original commentator, and his ideas are taken from the church fathers, but his position tends to accentuate the deep moral and mystical texts he comments, and his works have interest to reflect the age in which he lived. --- Please note that the translation in english is done automatically, we ap … [Click Below for Full Description]
Bookseller:
Librairie Le Feu Follet
[France]