Displayed below are some selected recent viaLibri matches for books published in 1537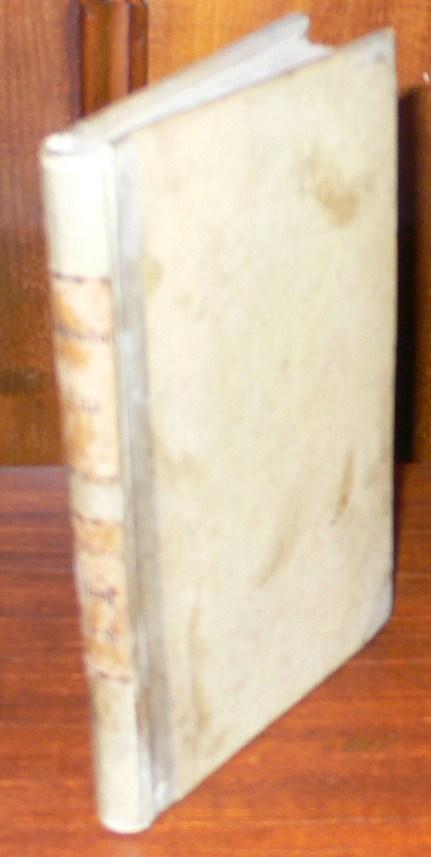 sans nom. s. l., s. n., n. d., et sans aucune indication typographique (probablement une partie tirée d'une édition en grec de l'Iliade, peut-être des éditions Giunti de Venise imprimée en 1537). Petit vol. in 8 de 56 ff. n. ch., reliure en demi parchemin rigide à coins postérieure, probablement du milieu du XIXème siècle, quelques petits signes à l'encre noire au bas du premier contreplat, intérieur frais, texte en grec, bon et bel exemplaire. [Attributes: Hard Cover]
Bookseller:
Librairie Scritti
[Paris, France]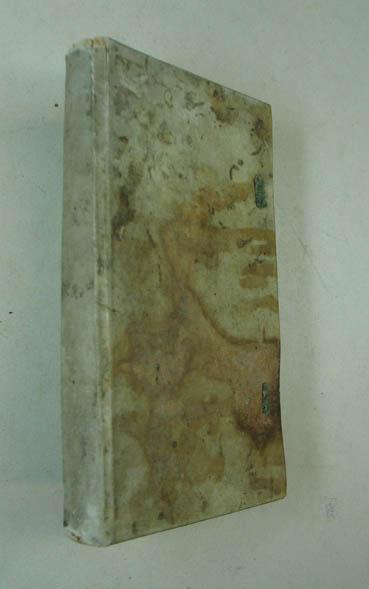 VD17 23:303053G - Ferchl 288 - Ferguson I, 486 - Darmstaedter, Bergbüchlein S. 197 - Schießl 9 - nicht bei Caillet, Duveen, Kopp, Rosenthal u. Schmieder. - Wie die meisten Kunst-Büchlein des 16. u. 17. Jahrhunderts von großer Seltenheit.- Laut ferguson handelt es sich um eine auch noch später aufgelegte, modernisierte Neuausgabe eines zuerst 1537 in Augsburg erschienenen Kunstbüchleins, in Verbindung mit der Neubearbeitung von "Rechter Gebrauch der Alchemie" 1531. Am Schluß ausführl. Inhaltsverzeichnis.- Durchgehend gebräunt od. fleckig, Ebd. bestoßen u. stärker fleckig, Bindebänder fehlen.
Bookseller:
Antiquariat Johannes Müller
[Salzburg, Austria]
Froben, Bâle, 1537. (1) bl, 323 pp, (4), table. Petit in-4 en veau usagé, dos absent, déchirure avec manque au feuillet O1 (1er feuillet du Traité des couleurs d'Antoine Thyles). Au verso : marque de Froben. Illustré de 23 bois hors-texte pour la partie concernant l'art naval, 3 bois hors-texte pour la partie costumes, 6 grands bois et 3 bois dans le texte pour le livre des vases. COMPLET DE SES 35 ILLUSTRATIONS. Textes en latin et en grec pour le premier traité, et en latin pour les trois autres. -. Complet de ses 23 bois gravés hors-texte sur l'art naval, avec le livre des vases antiques, le livre des vestales. Un des très beaux livres illustrés du 16ème siècle abondamment illustré de figures sur bois hors texte représentant dans le premier livre les bateaux de l'antiquité mis en action avec personnages et détails de gréement, et dans le second livre des figures hors-texte représentant les vestales , et pour la troisième partie des vases antiques représentés pleine page avec pour certains des diagrammes des proportions. [Attributes: Hard Cover]
Bookseller:
L'Oeil de Mercure
[Paris, France]

Augustæ vindelicorum Heinricus Steyner excudebat, 1537. Et quid vir ille de Ecclesiæ sacramentis, necnon sacre scripturæ locis communioribus insignioribusque, senserit, scripserit, simulatque ; docuerit, per Ionnem Piscatorium Lithopolitanum, hoc libro fidelissimè, & compendiaria quadam via diligentissime comportætum. Ad sacrarum literarum lectores pios ac candidos Decastichon Stephani Vigilii Pacimontani. Omnen scripturam Augustinus calluit Apher, Divinosque sacra protulit ore sonos, Enarrans doctè, cum sit præclarus & ipse interpres verus, relligione pius, analogen seruans, doctorum gloria prima, quoque alius non est, integritate prior, hunc tibi lector emas, cum sit iam copia rerum, neu posthac desit summus in arte sacra, nec te p niteat paruo quæsisse labore thesaurum ingentem, perpetuumque bonum. Ad lectorem certo certiorem te reddo, candidissime lector, side etiam obside, in hoc opere nihil aliud reperturum te, quam præsentissima atque ipsissima, sancta patris nostri augustini, hominis supra veri sidem eruditi, verba, de omnibus hic locis, quos versis aliquot pagellis habelis. Securus igitur accede, eme, lege, & fruere, dispeream si te utcunque candidulum p nituerit facti. Vale, & indica dextre, vive itemque Christianum. Piscatorius travailla Augustin dès sa jeunesse et c'est, à l'en croire, dès 1507 qu'il commença le travail qui aboutit à la parution de l'Epitome. Ce florilège répondait d'abord à un but pratique : permettre au clergé paroissial de se procurer Augustin à un prix raisonnable et de l'étudier dans une forme réduite. La seconde intention poursuivie par Pi … [Click Below for Full Description]
Bookseller:
Calepinus, la librairie latin-grec
[La Chèvrerie, France]
1537. CICERO, Marcus Tullius. Officia. [8], XCI ff. Collation: [*]8 A-O6 P8 (lacking blank leaf P8). Illustrated with a large woodcut on title of Caesar enthroned and surrounded by eight counsellors, with Cicero shown writing in the background (repeated on G2 verso), large woodcut portrait of Johann von Freiherr Schwarzenberg by Hans Weiditz after Albrecht Dürer on verso of title, the head within a circle surrounded by sixteen coats-of-arms, and 101 woodcut illustrations in the text by Hans Weiditz and Hans Burgkmair. Decorative woodcut tailpieces, decorative and historiated woodcut initials. Folio, 298 x 200 mm, bound in contemporary German blind-tooled calf, upper cover bearing armorial device of the Benedictine Abbey of Lambach (Upper Austria), two catches on upper cover, one clasp lacking. Augsburg: Heinrich Steiner, 1537.|~||~||~||~| |~| A German Renaissance woodcut book of supreme elegance. Third edition of the first German translation of De officiis (first published by Heinrich Steiner 16 February 1531), containing 103 woodcuts, including one of the earliest illustrations of a Conjurer. The German Cicero is considered one of the masterpieces of sixteenth-century woodcut art. According to Dodgson, there are "one hundred cuts by Hans Weiditz, in addition to borders and initials. Thirty-three of these belong to [Steiner's] Petrarch set, while the remaining sixty-seven (from sixty-four blocks, three of which are used twice) were designed for the Cicero. One cut (fol. 78) is by Hans Burgkmair; two (50, 71 vo.) are anonymous" (Dodgson II, p. 143). Of remarkable interest is … [Click Below for Full Description]
Bookseller:
Ursus Rare Books
Venetijs: In Officina Luceantonij Iunte, 1537. VIRI CLARISSIMI OPUSCULUM DE EMENDATIONIBUS TEMPORUM AB ORBE : condito ad vsque hanc ætatem nostram iuxta veram ac rectam chronographiam ex antiquis ac probatissimis authoribus. In hoc volumine habentur hæc. Emendationes temporum ab orbe conditio. Canones in tabulam perpetuam temporum. De vero die passionis Christi. Epitoma emendationis calendarij Romani- by Ioannis Lucidi Samothei (Joannes LUCIDUS)- Large letter woodcuts, printer's/publisher's device on t.p. and at colophon (incorporating the initials L A).- in Venetijs- 1537 [Anno M.D. XXXVII. mense Septembri]- 1st Edition- Hardcover:-4to- VG++ antiquarian condition/ no jacket as issued, Later 1/2 Calf Leather and marbled boards, 5 raise bands on spine, 1 panel in red leather with author in gilt and 1 in green with date of 1537, light rubbing at corners, but tight and clean- Collation as follows: [i4], A4-I4, K4-U4, X4-Z4, AA4-BB3. Total 198ff [396pp]- occasional minor spotting, a real nice copy.-SEE PHOTOS- 1st edition (repr. 1546, 1575) of a rare work on chronology by a French (?) priest and mathematician, discussing ancient calendars (i.a. the Roman) and the date of Christ's death. Woodcut mark on title and at the end. Astronomical woodcut on f. 155v. A few marginalia manuscript additions. Collector's and library stamps. . 1st Edition. 1/2 Leather & Marble Boards. VG++/No Jacket as Issued. Illus. by Woodcuts. 4to . Ex-Library.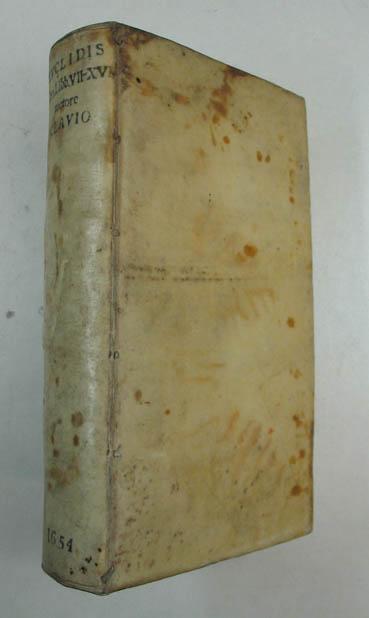 VD17 23:324624P - De Backer-S. II, 214 - nicht in BL.- Christoph Klau (1537 - 1612), geboren in Bamberg, unterrichtete Mathematik am Jesuitenkollegium in Rom. Ab 1574 erschien seine Euklidausgabe, die rund 200 Jahre maßgeblich blieb und zahlreiche Auflagen erlebte.- Enthält die Bücher 7 - 16.- Titel unten angerändert, mit hs. Besitzvermerk u. gestempelt, durchgehend etw. stockfleckig, Ebd. fleckig.
Bookseller:
Antiquariat Johannes Müller
[Salzburg, Austria]
Augsburg, Heinrich Steiner 1537. 33 cm. 3 Teile in 1 Band; (6), 178 (irrig 158); 24; 239 (irrig 249), (17) Blatt mit Holzschnitt-Titelbordüre und 1 Textholzschnitt vom Petrarcameister und Initialen. Blindgeprägter Lederband der Zeit über Holzdeckeln - VD16 A 4156 - Adams A-2171 - BM STC German Books 55 - DBA 960, 372f - Die erste von 3 Piscator-Ausgaben mit Lectores pios von Stephan Vigilius Pacimontanus (Friedberg) und Vita Augustini von Johannes Trithemius. Johann Piscator (Fischer), geboren in Stein am Rhein, verließ 1531 den Dominikanerorden und wurde evangelischer Pfarrer in Balzheim (Iller). Die Holzschnitt-Titelbordüre des Petrarcameisters (2. Zustand) mit Puttten und Waffen als Trophäen und eingedruckter Jahreszahl (Pflugk-Harttung Nr. 42). Der Index ist, abweichend von anderen Exemplaren, am Schluß eingebunden. Schließen entfernt, Einbandbezug am Rücken und an den Kanten stellenweise ergänzt; im Anfang bis Blatt 56 kleines Wurmloch, erste 10 und letzte 4 Blatt am Schnitt Feuchtigkeitsränder; auf Titel Besitzeintragungen 1592 und 1664; in Teil 3 sind Blatt 55-60 durch Faksimile-Kopie ergänzt; Stempel auf Titelblatt - Sprache / Language: Lateinisch / Latin -
Bookseller:
Wenner Antiquariat
Strasburg: Craton Mylius, 1537. Hardcover. Good. Portraits (107) on black ground +some historiated & foliated intial capitals. Titlepage with lion carrying pillar & coat of arms printer's mark. Folio blindstamped pig with border of heads in roundelles, corner lozenges with unicorn? +another roll with pairs of figures & central plant figures, on 4 raised bands with diagonally divided compartments (damage to corners crudely repaired with calf, head of spine with half inch loss, some marks & scratches). Titlepage with printer's mark (mounted to repair old tear without loss) +[3]pp dedication +[1]p contents +cccccvi(506)pages. LACKS 2 text leaves and 1 half title to the Paraleipomena (K3-4 & g4), brown spot 3cm diameter to one leaf (285/6). Some old marginal repairs without loss, fly leaf remargined, early biographical note on titlepage, marginal tanning. *Wide margined copy with shoulder notes. A collection of early chronicles by Burchardus. The dedication says that Philip Melanchthon asked for this edition and on p343-6 is a letter from the pubisher Mylius to Melanchthon dated March 1537.
Bookseller:
Abbey Antiquarian Books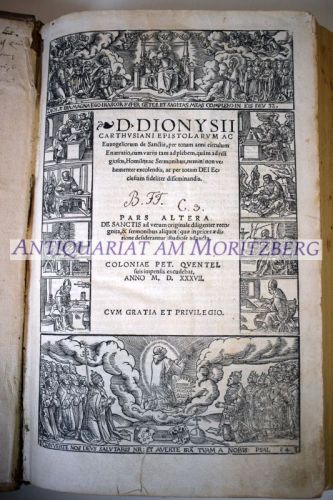 Köln, Quentel, 1537. 8 nn. Bll., Fol CCCCXII. Mit Holzschnitt-Titelbordüre und Holzschnittporträt. Folio. Schweinslederband d. Z. auf Holzdeckeln mit reicher Blindprägung, 2 Rückenschildern und 1 Schließe (von 2). Zusätzlich mit hs. Rückenschild; berieben; etwas bestoßen; an den Ecken mit kl. Bezugsfehlstellen; Titelei mit Einriß (ca. 4 cm), angerändert und in der Ecke fingerfleckig; teils fingerfleckig; Fol. CCLXXXV-Fol. CCCXX mit Wasserrand; Fol. CCCCIII mit Tintenfleck; einige hs. Unterstreichungen und Glossen; letztes Bl. mit Eckabriß und knittrig; hinterer Vorsatz fehlt; Vordervorsatz fast lose; vorderer Spiegel und fliegender Vordervorsatz mit hs. zeitgenössischen Anmerkungen. Provenienz: aus der Benediktiner-Abtei Einsiedeln, mit deren Bibliotheksmarke (samt Ausgeschieden-Stempel) auf Innendeckel. VD 16, D 1892. LA
Bookseller:
Antiquariat am Moritzberg
[Hildesheim, NDS, Germany]