Displayed below are some selected recent viaLibri matches for books published in 1494
147 leaves (of 148, without final blank), Roman letter (except for the two-line title in gothic type), 51 lines & headline, capital spaces with guide letters. One 8-line initial in red & blue, other initials & some underlining in red. Folio (283 x 187 mm.), modern blind-stamped calf in antique style (first leaf a little stained). Basel: J. Amerbach, 1494. First edition of the "first bibliography to be compiled as a practical work of reference."-Grolier Club, Bibliography, 7. Tritheim (1462-1516), one of the leading polymaths of his age, was appointed the 25th abbot of the monastery at Sponheim in 1483. "One of the first of his many self-imposed tasks was the reorganization and cataloguing of the monastic library, if one can call reorganization the process of transforming forty-eight mongrel volumes into a splendid collection of 2,000 printed books and manuscripts, many of great importance and rarity... "It was during the progress of this work, no doubt, as his exceptional knowledge of books caused inquiries frequently to be addressed to him, that he conceived the notion of compiling a new and ambitious bibliography of ecclesiastical writers. He began work in 1487, and by the spring of 1492 he was able to send the complete manuscript to the bishop of Worms. He then revised it, and in 1494 the Liber de scriptoribus ecclesiasticis, a folio of nearly 300 pages, issued from the Basle press of Johann Amerbach... "From Alexander, bishop of Cappadocia, down to himself, Tritheim sets out in chronological order nearly a thousand writers, largely but not exclusively ecclesiastical, gi … [Click Below for Full Description]
Bookseller:
Jonathan A. Hill, Bookseller, Inc.
First edition of Maurolico's translation of Archimedes, one of the two most important versions of the sixteenth century (the other being Commandino's). Francesco Maurolico (1494-1575) "ranked with Commandino as a first-rate student of Archimdes, and indeed these two ... were the outstanding interpreters of Archimedes in the first three-quarters of the century. However, Maurolico's interest, unlike Commandino's, was not in establishing a philologically sound version or translation of the Archimedean texts that survived but in presenting mathematically coherent texts that achieved Archimdedes' objectives. This will become particularly clear when we examine ... those texts in which Maurolico skillfully grafted medieval material onto the traditional Archimedean texts" (Clagett, Archimdes in the Middle Ages, vol. 3, part III, p.749; all of his chapter five, 'Francesco Maurolico in the Medieval Archimedes', pp.749-1053, is devoted to this translation). <br/><br/> "This paraphrase of Archimedean texts was made by the Sicilian Francesco Maurolico (1494-1575) probably between 1534 and 1550. A partial edition was printed at Messina between 1670 and 1672 by Paolo Bonacota, printer to the Senate of Messina, which largely paid for the edition. This was, however, never published, as the editor, Borelli, had to leave Sicily for Rome. The sheets of what had been printed remained stored in the house of one Lorenzo di Tommaso, an apothecary, who had obtained the original manuscript from the family of Maurolico. In 1678 these were confiscated by the Spanish authorities and taken to Palermo. T … [Click Below for Full Description]
Bookseller:
Sophia Rare Books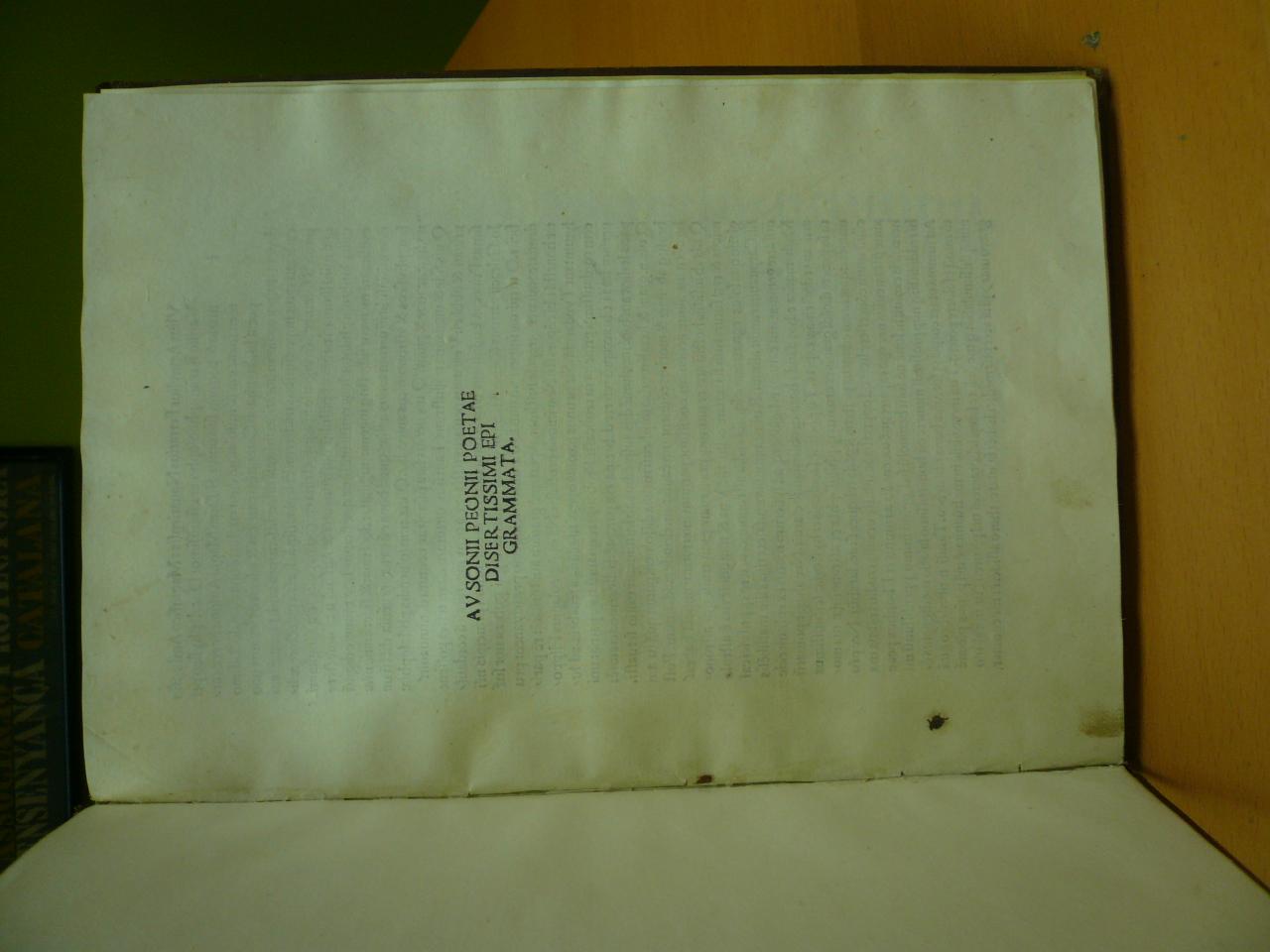 Johannes Tacuinus, de Tridino, 1494, 11 de agosto, Venecia. 42 hojas en signaturas A4, B6, C4, D-G6, H4. Reencuadernado en una encuadernación del s. xviii en piel habana con hierros dorados y supra-libros en los planos. Ejemplar con el papel muy limpio y ámplios márgenes. Goff A-1402. BMC v 528. IBE 650. Aunque cristiano, su obra se incluye casi toda en la tradición pagana, por más que se le considere un precursor de la literatura latina cristiana. Su obra más importante son los Epigramas, muchos de ellos adaptaciones de la Antología Griega.
Bookseller:
Els Llibres del Tirant
[Barcelona, Spain]
[Colophon on &6r:] [Venice]: Joannes (Rubeus) Vercellensis, 24 April 1494., 1494. folio. 310 x 215 mm. ff. [16], cl. 61 lines & headline. roman & Greek type. initial spaces. old bds. covered with marbled paper (some chipping to spine, a few early ms. notes & measurements in margins, repairs to upper & lower margins of final leaf with partial loss of one word, a few small wormholes in the last few leaves, some light dampstaining). The First Edition to be Edited by Antonio Mancinello. The previous four editions, the first of which was printed by Sweynheym and Pannartz at Rome in 1469 (Goff S793), were all edited by Giovanni Andrea, Bishop of Aleria. Mancinello's dedication of his table is dated 'quinto nonas Maias. M.cccc.xciiii', eleven days later than the colophon, which presumably accounts for the duplication of the title. In his second edition of 28 January 1494/5 (Goff S798), the printer replaced the second title with some Latin verses. "A geographical encyclopaedia written for the information of government officials and travellers and containing much regarding the customs and usages of various countries that is of technological interest. For instance, it describes the marble quarries of Carrara, the mining of vermilion in Spain, and the use of rock salt deposits there. It mentions the raising of the water by means of Archimedean screws. It describes the use of asphalt for building-blocks and in liquid form as a water-proofing agent - a product made from a bitumen seepage in Babylonia. It speaks of trade in bitumen, a product of the petroleum fam … [Click Below for Full Description]
Bookseller:
D & E Lake Ltd. (ABAC, ILAB)
[Canada]
Milan: Uldericus Scinzenzeler, 1494. Hardcover. Very Good. Milan: Uldericus Scinzenzeler, 6 September 1494. 167 (of 168) leaves; lacks final leaf with printer's device on verso (replaced with pen-and-ink facsimile). 8vo. Beautiful binding of contemporary blind-tooled sheep over wooden boards with knotwork border around center panel of symmetrically arranged rosettes on covers. Binding rubbed, lacks catches and clasps; occasional minor dampstaining in upper and lower margins, scattered early marginalia along with early manuscript music on front and rear endpapers and on blank recto of first text leaf, otherwise generally clean internally. BMC VI, 769 (also lacking last leaf); Goff R23.
Bookseller:
Sanctuary Books
[US]
[Colophon:] Venetiis [Venice]: i[m]pressus p[er] Benardinum [de Vitalibus] Venetum expensis d. Jeronymi Duranti. die. 16. mensis februarii, 1494. FIRST COMBINED EDITION of the author's De urinis and De pulsibus, both of which had been published separately once before (in 1483 and 1484 respectively). This edition was edited by Venantius Mutius, with a commentary by Gentilis de Fuligneo.The twelfth century French physician Gilles de Corbeil transplanted Salernitan medicine to Paris and gave expression to its most important achievements in attractive form. He was a pupil at the medical schools of Salerno and Montpellier, and later went to Paris where he was physician to Philippe Auguste of France (1165-1213).He wrote two works in verse form on the two principal diagnostic tools available to physicians of the time, the pulse and the urine. The Liber de urinis constitutes a compendium of uroscopy mainly on the lines of the Regula urinarum of Maurus. It remained the authoritative textbook on uroscopy until the sixteenth century.Klebs 466.1. Goff A94. Osler 7403. Murphy, The history of urology, p. 38. For a study of Gilles de Corbeil, see Ann. Med. Hist., VII (1925), p. 362.4to, 77 leaves (of 78, lacking the final blank). With the initial blank leaf, Gothic letter, 43 lines, initial spaces with guide letters. Careful restorations in some upper corners or margins affecting text only on S4 but without loss, a few small stains in lower margin, faint trace of an old library stamp removed from last page. Modern dark red calf, inner gilt dentelles.
Bookseller:
Nigel Phillips
[United Kingdom]
[1494-1497] Folio. 2 works in 1 vol. 293 x 202mm. 18th century Italian mottled calf, spine extra-gilt with floral devices; two red morocco labels with gilt titles; marbled endpapers; some old notes on first t.p., contemp. 5 line entry from Virgil beginning ?Arma virumque cano? on Persius t.p. in fine hand; a few leaves browned in Juvenal; repaired tear in last leaf in Persius. Large woodcut on t.p. of Persius with Persius at a table and the editors, Giovanni Britannicio and Bartholomaeo de Fonte at their writing desks pens in hand. Composed of two blocks it was also used in Tacuinus' edition of Juvenal but with the right hand block replaced; white on black initials; Tacuino?s printer?s device at end of Persius. Juvenal (fl. A.D. 100)was the last great Roman satiric poet, and although it is not certain, it is generally believed that he was a member of the imperial court of Domitian who fell out of favor for lampooning a court favorite. His work was largely unpopular until the fourth century when Lactantius quoted him by name and Ausonius, among others, imitated him. Juvenal's satire may be seen as a protest against the corruptions of Rome in his day, and the works were greatly admired throughout the Middle Ages and became the model for many satirists in the Renaissance and thereafter.Persius Flaccus (A.D.34-62), Etruscan knight and Stoic, is best remembered for his satires. His works were much read in Anitquity and the Middle Ages, but for his contorted thought, language, and many digressions, they are little read today. Donne emulated him, and his work has been compared fo … [Click Below for Full Description]
Bookseller:
Krown & Spellman, Booksellers
(). BADISCHE COMPANY. SUBSTANTIVE DYESTUFFS ON COTTON PIECE-GOODS. New York: Badische Company [n.d. ca. early 20th century]. 12 pp. + 12 pp. stiff card pages with 256 numbered small dyed cloth samples, all different colors. 8vo., green cloth stamped in gilt and blind. "1494" in gilt on front cover. Moderate shelfwear to boards at edges and corners, spine frayed, paper label on spine. Light soil/rubbing to title page, text. Sample pages are interleaved with glassine, some of which is chipped. Very good overall, with samples labeled as to process., Very Good
Bookseller:
Boston Book Company
[US]
Venedig, Benalius nicht nach 1494. 30 cm. (20) Blatt, 45 Zeilen. Festeinband, Pappband 19. Jahrhundert - GW M45648 - Hain 15443 - Goff T-117 - Wolff, Inc. 757 - "Das einzige Werk dieses Kirchenvaters, das im 15. Jahrhundert gedruckt wurde" (Wolff). Seltener Druck seiner "bedeutendsten apologetischen Schrift" (BBKL XI, 695ff). Wahrscheinlich die erste von nur zwei Einzelausgaben des 15. Jahrhunderts, von Reichling (ca. 1490) datiert (die andere 1493 bei Scinzenzeler in Mailand erschienen). Einbandbezug teils stärker beschabt, unten am Falz einzelne Wurmlöcher, Blatt 13-20 unten am Schnitt schmaler Feuchtigkeitsrand - Sprache / Language: Lateinisch / Latin -
Bookseller:
Wenner Antiquariat