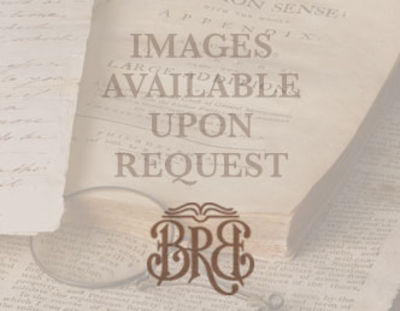 View of the State of Europe. WITH: The Constitutional History
1856. HALLAM, Henry. View of the State of Europe during the Middle Ages. Three volumes. WITH: The Constitutional History of England. Three volumes. London: John Murray, 1856, 1854. Six volumes in all. Octavo, contemporary full tan calf, elaborately gilt-decorated spines, raised bands, black and tan morocco spine labels, marbled endpapers and edges. $2200.Later editions of Hallam's classic histories, in beautiful uniform bindings."Hallam's works helped materially to lay the foundations of the English historical school… [The State of Europe] was probably the first English history which, without being merely antiquarian, set an example of genuine study from original sources" (DNB). Macaulay praised The Constitutional History as "the most impartial book we ever read," a view seconded by Walter Prescott (Allibone, 769). Prize inscriptions.Fine condition, beautifully bound.

[Bookseller: Bauman Rare Books]