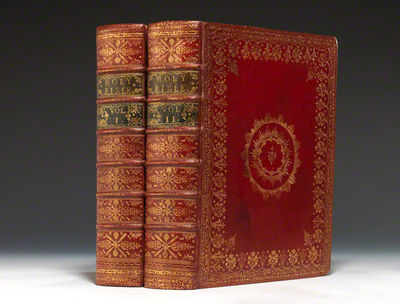 Holy Bible
1762. BIBLE. The Holy Bible, Containing the Old and New Testaments… Cambridge: Printed by Joseph Bentham, Sold by Benjamin Dod, 1762. Two volumes. Quarto, contemporary full red morocco, elaborately gilt-decorated boards and spines, raised bands, olive morocco spine labels, patterned endpapers, all edges gilt. $15,000.1762 "Standard Edition" of the King James Bible, with engraved allegorical frontispiece, distinctively bound in contemporary, elaborately gilt-tooled morocco.First published in 1611, the King James version is "the most celebrated book in the English-speaking world… Other translations may engage the mind, but the King James Version is the Bible of the heart" (Campbell, 1, 275). This 1762 edition marks the "standard edition" of that magisterial translation. "In this Bible a serious attempt was made [by S.F. Parris] to correct the text of King James' version by amending the spelling and punctuation, unifying and extending the use of italics, and removing printers' errors. Marginal annotations, which had been growing in some Bibles since 1660, although excluded from others, were finally received into the place they have occupied ever since, sundry new ones being added. Lloyd's dates and chronological notes were also adopted and increased, and the marginal references were much enlarged" (Darlow & Moule 854). Handsomely full contemporary goatskin elaborately gilt-tooled with a border composed of floral, insect, star and crown-and-scepter tools, with two flame-burst rings occupying each board's center, one inside the other, enclosing a ring of cherubs and the sacred monogram, IHS. Incorrect rendering "thy doctrine" retained in 1 Timothy 4:16. Includes Apocrypha. With engraved allegorical frontispiece (by Grignion after Hayman) and separate New Testament title page. Issued the same year in a folio edition, very few copies of which now survive. Herbert 1143. Infrequent scattered light foxing. Stunning contemporary morocco in excellent condition. An outstanding Bible, distinguished in elaborately gilt-tooled binding.

[Bookseller: Bauman Rare Books]