Recently found by viaLibri....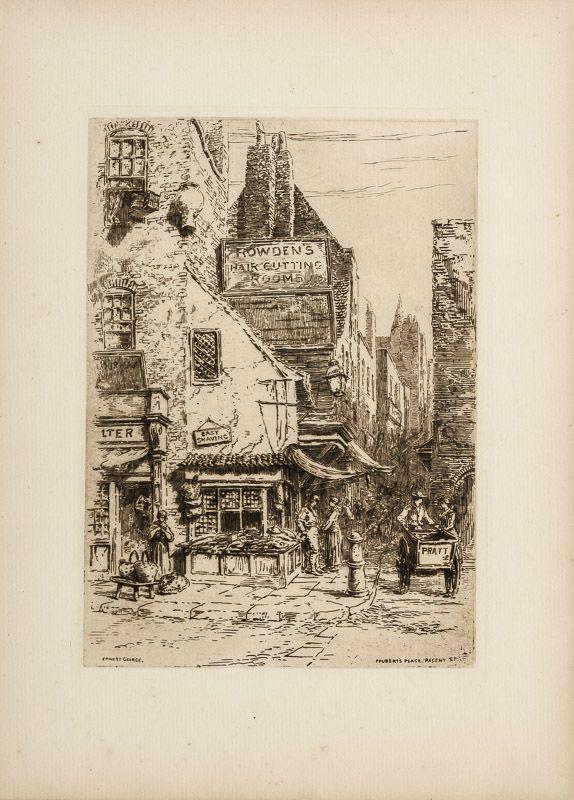 Foubert's Place" - Old Fishshop at Regent Street / Old London.
London, The Fine Art Society. 1884 - Sprache: English Original Etching. 26 cm x 37 cm. Original, vintage etching by Sir Ernest George. Signed in the plate, not in pencil ! Only very faint signs of some foxing. Mounted, ready to be framed. With descriptive Letterpress by Ernest George (included is a wonderful historic explanation regarding this old location in London by Ernest George). Sir Ernest George RA (13 Jun 1839–1922) was an English architect, landscape and architectural watercolour painter, and etcher. His London office was once called "The Eton of architects' offices". His pupils included Herbert Baker, Guy Dawber, John Bradshaw Gass, Edwin Lutyens and Ethel Charles. In the 1870s in partnership with Harold Peto, George designed houses in London for the Cadogan Estate in Chelsea and Kensington, and a number of country houses. In 1881 they designed Stoodleigh Court at Tiverton for Thomas Carew. In 1891 they designed an extension to West Dean House for William James, creating the Oak Room, now Oak Hall in West Dean College. Between 1870 and 1911 George designed several houses with his former pupil, Alfred B. Yeates. In New Zealand, which he never visited, he designed the Theomin family house Olveston in Dunedin which was built 1904-07. He was also responsible for the current Southwark Bridge (1921), and the Memorial to Heroic Self Sacrifice in London's Postman's Park. He served as president of the Royal Institute of British Architects from 1908 to 1910. In the late 19th century, George trained Ethel Charles, the first woman to be elected a member of the Royal Inst … [Click Below for Full Description]
Bookseller:
The Time Traveller's Bookshop Ltd.
Search for more books on viaLibri