Recently found by viaLibri....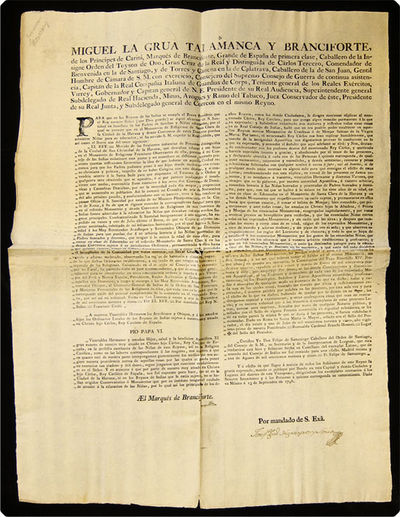 Broadside, begins: Miguel de la Grua Talamanca Branciforte ... Para que en los Reynos de las Indias se cumpla el Breve Pontificio que El Rey Nuestro senor (que Dios guarde) se dignó alcanzar de S. Santidad en beneficio de los padres de familias y ninas educandas, por el qual se permite que en el monasterio de religiosas de Santa Clara y la ciudad de la Havana y demas conventos de estos dominios que puedan admitirse niñas para su educación, se ha servido S.M. expedir la real cédula, que asi como el Breve son del tenor siguiente.
[Mexico: No printer, 1796]. Folio extra (59 x 39 cm; 23.25" x 17"). [1] p. By way of this very large broadside Mexican Viceroy the Marques de Branciforte (Miguel de la Grúa Talamanca y Branciforte) promulgates a papal brief and a related royal decree concerning the opportunity for girls on the island of Cuba to receive school-based education. The citizens of Havana had petitioned the crown and the papacy asking that the monastery of the Observant Franciscan nuns in their city be granted permission to establish a girls' school: The crown and the papacy here respond favorably and go even further to allow => all of the nunneries on the island to begin educating legitimately-born Spanish and criolla girls between the age of 6 and that of consent. The date of the papal brief is 21 July 1795, of the royal decree 26 December 1795, and of the viceregal decre 13 September 1796. Searches of NUC and WorldCat locate => only one copy, in the Mendel Collection of the Lilly Library. Not traced via CCILA. Not in Medina, Mexico; not in González de Cossío, Cien; not in González de Cossío, 510. Folded. Small fold tear in the center of the broadside, else very good.
Bookseller:
Philadelphia Rare Books & Manuscripts Co