Recently found by viaLibri....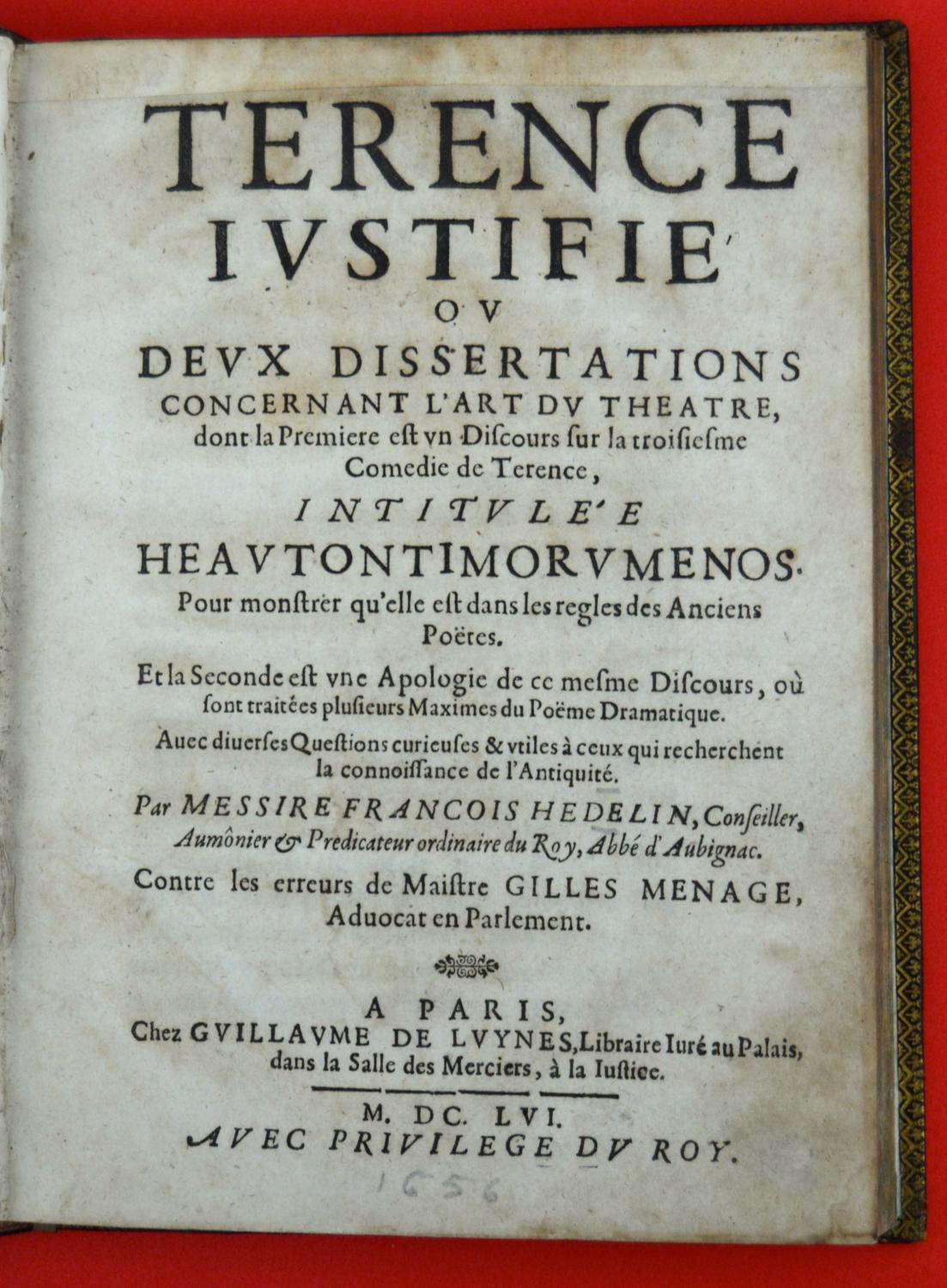 Térence ivstifié, ov Devx dissertations concernant l'art dv théâtre: dont la première est vn discours sur la troisième comédie de Térence, intitvlée "Heavtontimorvmenos". Pour monstrer qu'elle est dans les regles des Anciens Poëtes. Et la Seconde est vne Apologie de ce même Discours, où son traitées plusieurs Maximes du Poëme Dramatique. Auec diuerses Questions Curieuses & vtiles à ceux qui recherchent la connoissance de l'Antique. Par Messire François Hedelin, Conseiller, Aumônier & Predicateur ordinaire du Roy, Abbé d'Aubignac. Contre les erreurs de Maitre Gilles Menage, Aduocat en Parlement.
A Paris: chez Guillaume de Luynes, Libraire Iuré, MDCLVI. [i.e. 1656].- [Para pedidos desde fuera de España, por favor, consulte las condiciones de venta y envío, tipo B. / For orders to be delivered outside Spain, please, let you see our sale and shipping terms, type B. / Pour les commandes à livrer hors d'Espagne, s'il vous plait, voyez les conditions de vente et de livraison, type B.].- // 4º, (225x163mm.).- [28], 253 [i.e. 245], [1] p. , [1] h. en blanco; sign.: á4, é6, é4, A-Z4, Aa-Hh4 ; salto de paginación entre 184 y 193, es conforme, original mal numerado.- // Encudernación de época en plena piel, lomo con nervios y tejuelo, entrenervios decorados con la divisa C D y planos con las armas correspondientes; cantos y contracantos dorados a rueda; cortes dorados; conserva registro. Cofia rozada y ligeramente abierta, como las puntas delanteras. 5 mm. del margen superior de portada remarginados s. XIX o ppos s. XX para eliminar ex-libris manuscrito (como puede apreciarse al trasluz). Guardas de papel de aguas encoladas sobre sí mismas; papel levemente oscurecido.- // Primera edición de este texto, pieza fundamental de la querella entre el abbé d'Aubignac (François Hedelin) y Ménage acerca de las cualidades que debe observar y las reglas a las que debe sujetarse una buena obra teatral. La querella se inició en 1640 y se prolongó hasta 1664. Aubignac, abogado que dejó la toga para coger los hábitos, protegido del duque de Fronsac y tras él, de Richelieu (tío del duque), fue, siendo ya eclesiástico, uno de los primeros críticos teatrales reconocidos como tales. Defensor de … [Click Below for Full Description]
Bookseller:
Andarto B.
[Pamplona, NA, Spain]
Search for more books on viaLibri