Recently found by viaLibri....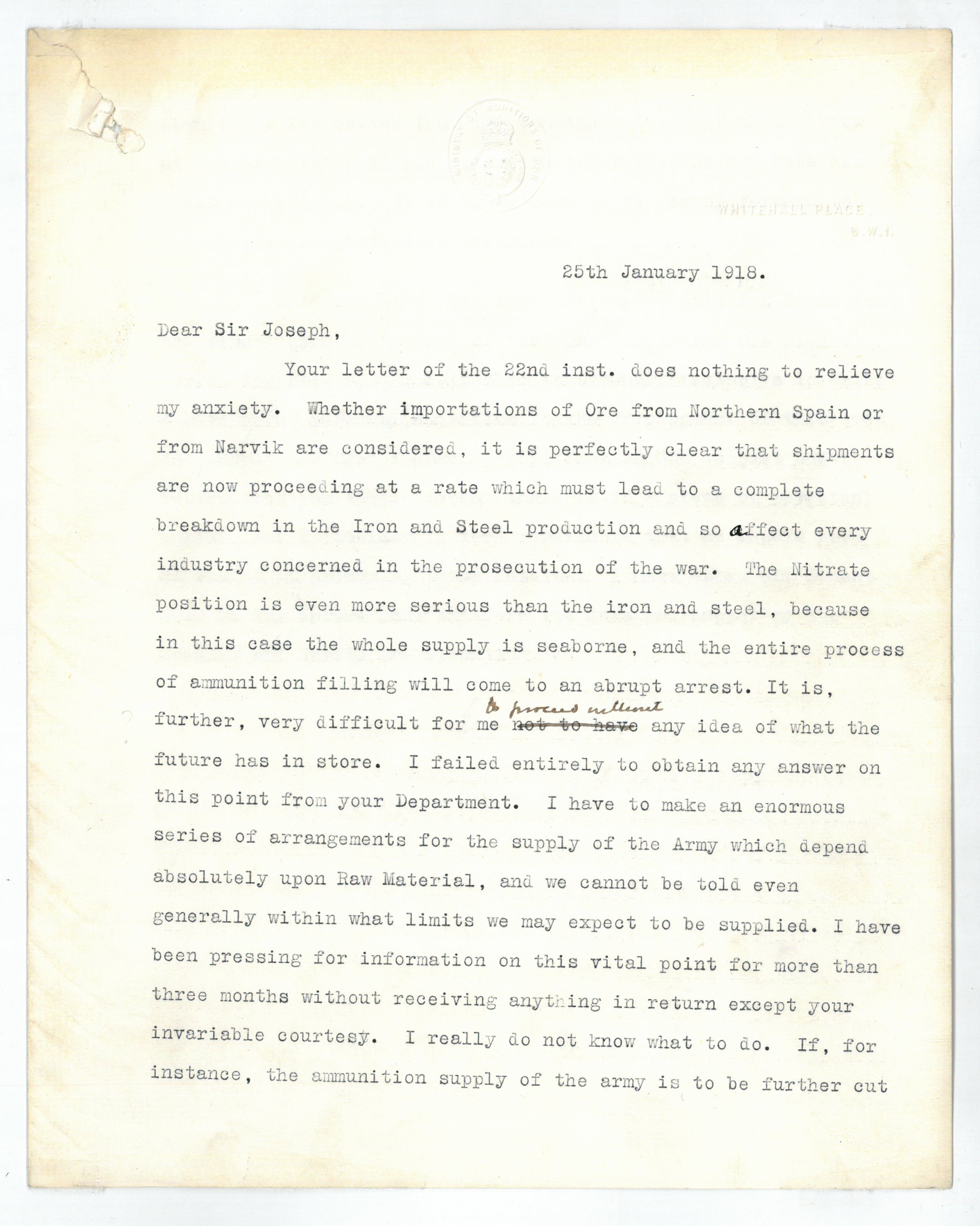 Typed letter signed.
Whitehall, 25 Jan. 1918. 4to. 1½ pp. on double leaf. As Minister of Munitions, a stern wartime letter to his recalcitrant colleague Joseph Paton Maclay, 1st Baron Maclay (1857-1951), on gaining essential military raw material from Spain and Narvik (Norway): "Your letter of the 22nd inst. does nothing to relieve my anxiety. Whether importations of Ore from Northern Spain or from Narvick are considered, it is perfectly clear that shipments are now proceeding at a rate which must lead to a complete breakdown in the Iron and Steel production and so affect every industry concerned in the prosecution of the war. The Nitrate position is even more serious than the iron and steel, because in this case the whole supply is seaborne, and the entire process of ammunition filling will come to an abrupt arrest. It is, further, very difficult for me to proceed without any idea of what the future has in store. I failed entirely to obtain any answer on this point from your Department. I have to make an enormous series of arrangements for the supply of the Army which depend absolutely upon Raw Material, and we cannot be told even generally within what limits we may expect to be supplied. I have been pressing for information on this vital point for more than three months without receiving anything in return except your invariable courtesy. I really do not know what to do [.] As it is we weem to be moving forward to a complete administrative breakdown [.]". - On stationery with printed letterhead of the Ministry of Munitions; punched holes at top left corner.
Bookseller:
Antiquariat INLIBRIS Gilhofer Nfg. GmbH
[Vienna, A, Austria]
Search for more books on viaLibri