Recently found by viaLibri....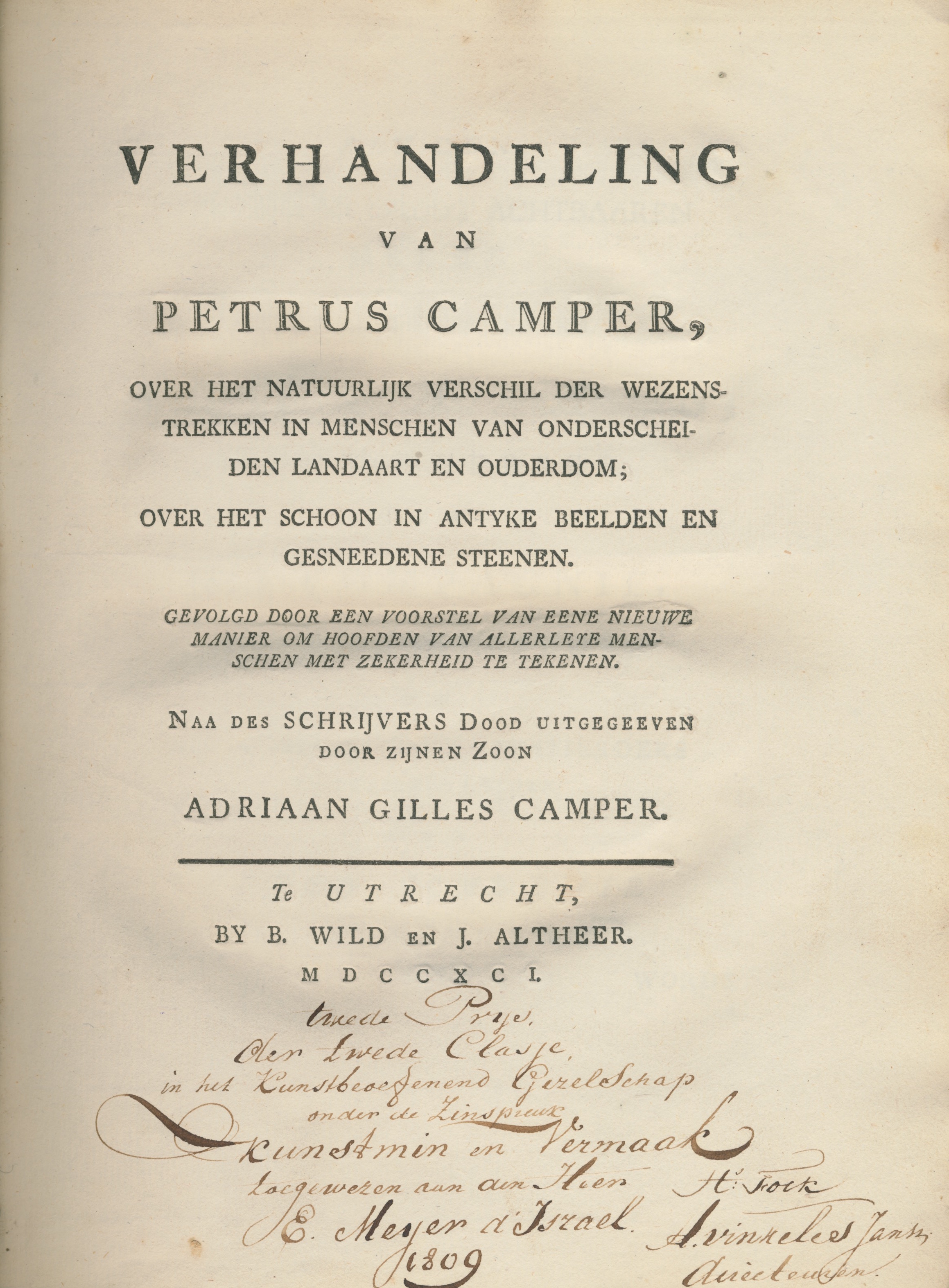 Verhandeling van Petrus Camper, over het natuurlijk verschil der wezenstrekken in menschen van onderscheiden landaart en ouderdom; over het schoon in antyke beelden en gesneedene steenen. Gevolgd door een voorstel van eene nieuwe manier om hoofden van allerleye menschen met zekerheid te tekenen. Naa des schrijvers dood uitgegeven door zijnen zoon Adriaan Gilles Camper.
Utrecht, B. Wild en J. Altheer. 1791, 1st Edition. Hardcover, 28x22 Cm. Book, Contemporary brown marbled boards, gold tooled leather spine wit gilt title, VIII, XII, 108, (1) pp. 10 engravings (5 foldout) (by Reinier Vinkeles after P. Camper). With prize annotation in legible old hand on title page: 'Twede Prijs, der Twede Clasje in het Kunstbeoefenend Gezelschap onder de Zinspreuk Kunstmin en Vermaak toegewezen aan den Heer E. Meyer d'Israel 1809. H. Fock, A. Vinkeles Jansz. directeuren' Large paper copy in fine interior condition. (Binding rubbed) Petrus Camper is renowned for his theory of facial angle (Prognathism). He determined that humans had facial angles between 70º and 80º, with African and Asian angles closer to 70º, and European angles closer to 80º. According to his new portraiture technique, an angle is formed by drawing two lines: one horizontally from the nostril to the ear, and the other perpendicularly from the advancing part of the upper jawbone to the most prominent part of the forehead. He claimed that antique Greco-Roman statues presented an angle of 100-95º, Europeans of 80º, 'Orientals' of 70º, black people of 70º and the orangutan of 42-58º. He stated that, out of all races, Africans were most removed from the classical sense of ideal beauty. Near Fine.
Bookseller:
Novemberland Rare Books/ILAB
[Oegstgeest, ZH, Netherlands]
Search for more books on viaLibri