Recently found by viaLibri....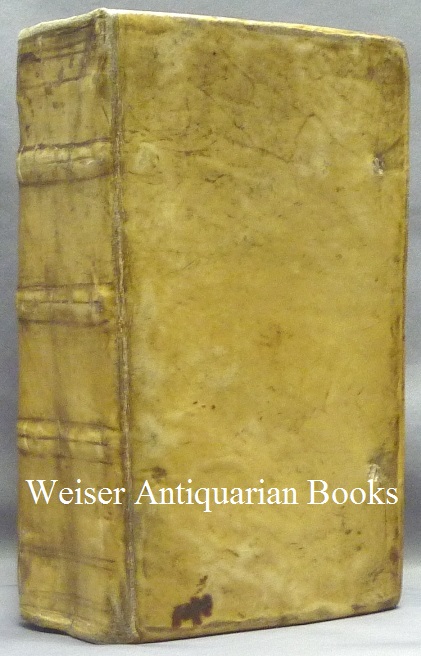 De la Demonomanie des Sorciers.
Chez Estienne Prevosteau, Chez Estienne Prevosteau, 1598. Hardcover, Sextodecimo. 5 1/4 inches x 3 3/8 inches (148 x 85 mm), 604pp (xxxiipp index) Pages 602 & 603 are misnumbered as always in this edition (?) but the text is complete as issued. Contemporary stiff vellum binding, raised bands to spine, remains of ties. A major work in the history of witchcraft persecutions. Jean Bodin (1530-1596) was a noted lawyer and author whose "Demonomanie" was drawn from his own experience as a judge, as well as other contemporary accounts of witchcraft (many of which are recounted). It was written to assist other members of the judiciary who were dealing with cases of witchcraft, and in it Bodin sought to explain what motivated witches, and how they could best be identified, and attempted to forumlate a legal definition of witchcraft, becoming one of the first authors to do so. Despite having a reputation as something of a liberal in other spheres, Bodin had no tolerance when it came to suspected witches. His book shows an unflinching brutality as he carefully set out the best ways to carry out the interrogation, torture, sentencing and execution of the accused, regardless of the age or infirmity of the accused. The work is divided into four books: the first book contains chapters on: The Definition of a Sorcerer (Witch), The Association of Spirits with Men, The Difference between Good and Evil Spirits, Of Prophecy and other Means to know Occult Matters, Of Natural and Human Means to know Occult Matters, etc. The second book contains chapters on: Of Magic in General, Of Secret Invocat … [Click Below for Full Description]
Bookseller:
Weiser Antiquarian Books, Inc.
[Cape Neddick, ME, U.S.A.]
Search for more books on viaLibri