Recently found by viaLibri....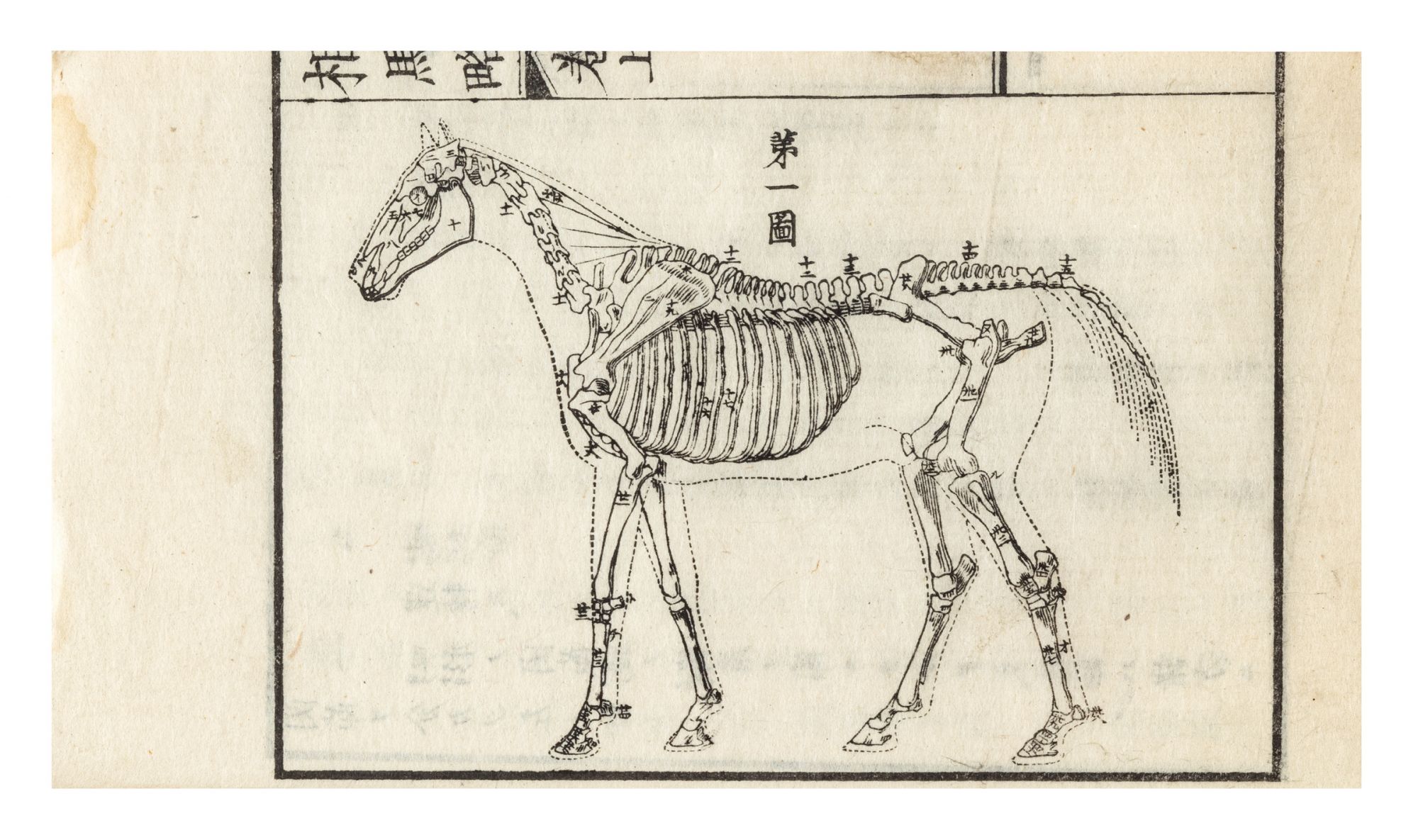 Soba ryaku [Comprehensive Manual of Equine Medical Knowledge]
1867. Trans. by Kiyojiro Kawamoto. 62 woodcut illus. 55; 54 folding leaves. Two vols. Small 8vo, orig. green wrappers, orig. block-printed title labels on upper covers (one label a little defective), new stitching. [Edo]: Seishudo, 1867. First edition in Japanese (1st ed., in Dutch: 1864, with the title Handleiding tot de Paardenkennis), translated by Kiyojiro Kawamoto, a high government official. He was the son of Komin Kawamoto (1810-71), who is known as the "father of chemistry" in Japan, for his translations and writings on Western science and technology (he also was the first to brew beer in Japan). Both were Rangaku scholars and medical doctors. Van der Poll was a veterinary medical doctor who taught at the Waran Hei Gakko, the Japanese-Dutch military academy. In the very interesting Preface, which discusses the genesis of this edition, Kawamoto states that a great number of technical words including anatomical terms are either coined in kanji or phonetically spelled in katakana. The vocabulary for veterinary and equine anatomical terms established in this book is still used in Japan. The text and illustrations are highly Westernized; Kawamoto states that it was important to introduce European veterinary medicine into Japan by means of publishing this well-illustrated book. It contains many illustrations of the skeleton of the horse. There are many pharmaceutical recipes. Fine set and not in WorldCat. This was a successful text in Japan, with a second edition in 1871. [Attributes: First Edition; Soft Cover]
Bookseller:
Jonathan A. Hill, Bookseller Inc.
[New York, NY, U.S.A.]
Search for more books on viaLibri