Recently found by viaLibri....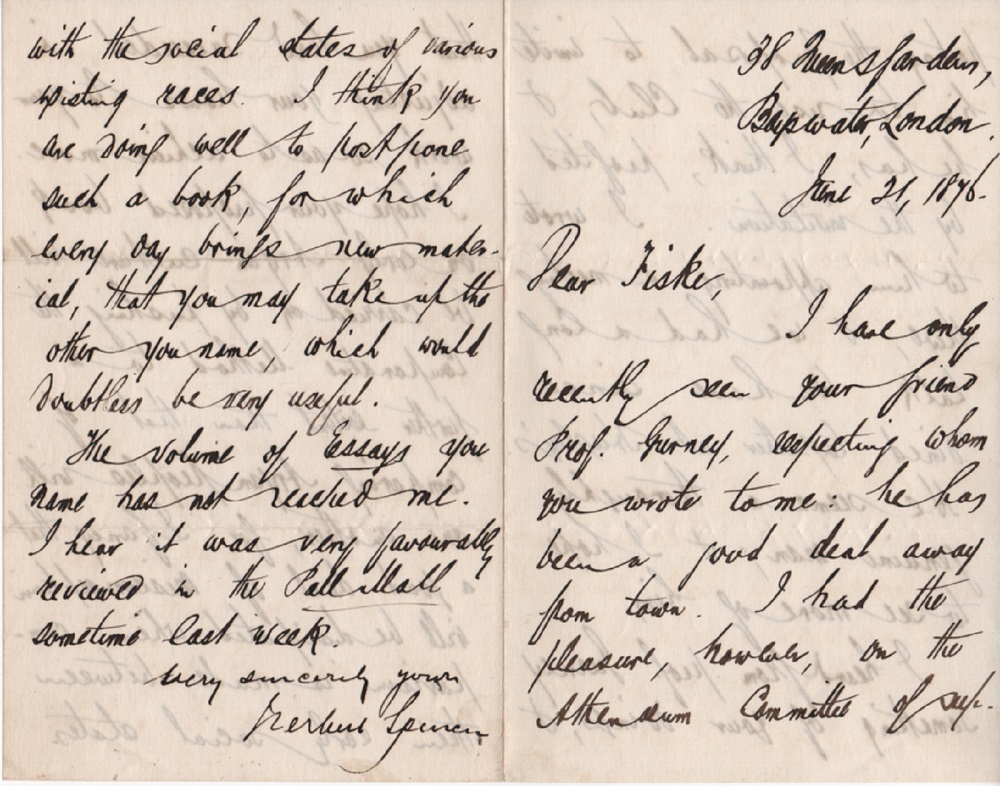 Advice for John Fiske on the study of Aryan races
1876. Herbert Spencer –British biologist and anthropologist. Autograph letter signed, 4 pages, June 21, 1876, London to John Fiske. Fiske was also a noted social philosopher and author on social evolution, building on the theories of Spencer and Darwin. Spencer writes about meeting Fiske's friend Professor Gurney of Harvard. Spencer then discusses reports of Fiske's research on Aryans, reflected in Fiske's books Outline of Cosmic Philosophy and The Destiny of Men. In part: "I hope your proposed book on early Ayrian culture will be carried on by pushing the Comparative Method to a further extent than that of comparing Ayrian peoples with one another, for I fancy that a good deal of misconceptions will be dissipated when comparison is made between their early social states with the social states of various existing races. I think you are doing well to postpone such a book, for which every day brings new material, that you may take up the other you name, which would doubtless be very useful." This a very desirable association between two leading thinkers and authors on evolution and the implications on social behavior. This also gives a slight glimpse into Spencer's approach to research and Fiske's later writing on Aryans. The four page letter, written on a folded 8vo sheet is in superb condition with dark writing.
Verkäufer:
Custodians of History, Inc.
[Plymouth, MA, U.S.A.]
Search for more books on viaLibri