Recently found by viaLibri....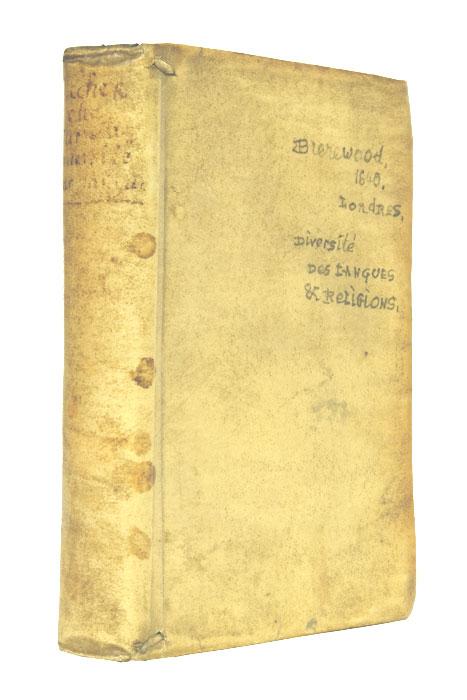 Recherches curieuses sur la diversité des Langues et Religions par toutes les principales parties du Monde. Et mises en François par I. de Montagne.
Paris, Olivier de Varennes, 1640. In-8. 11ff. 338pp. (i.e. 328). Plein vélin, dos lisse (Reliure de l'époque). Première Edition Française de cet ouvrage du mathématicien anglais Edward Brerewood (1565-1613). Il était professeur d'astronomie au Gresham Collège de Londres et possédait une grande érudition dans différents domaines. L'intérêt des recherches contenues dans ce livre, que Larousse qualifie de "très-curieux et très-estimé", a notamment été mis en relief par Margaret T. Hodgen dans son étude "Early Anthropology in the 16th and 17th centuries": "The two related wings of degeneration theory – that associated with Renaissance pessimism and that tied to ethnological phenomena – were brought together in 1614 in Edward Brerewood's perceptive little book on the geographical distribution of languages and religions (.) Brerewood was also probably the first man to apply mathematical analysis to cultural and religious phenomena, and this in conjuction with a similar treatment on the origin and diffusion of languages". Infimes traces de vers dans la marge inférieure de quelques feuillets. Bon exemplaire dans son vélin d'origine. Brunet, I, 1223. Graesse, I, 529. Cf. Hodgen, "Early Anthropology in the 16th and 17th centuries" (1998).
Bookseller:
Librería Comellas
[Barcelona, Spain]
Search for more books on viaLibri