Displayed below are some selected recent viaLibri matches for books published in 1832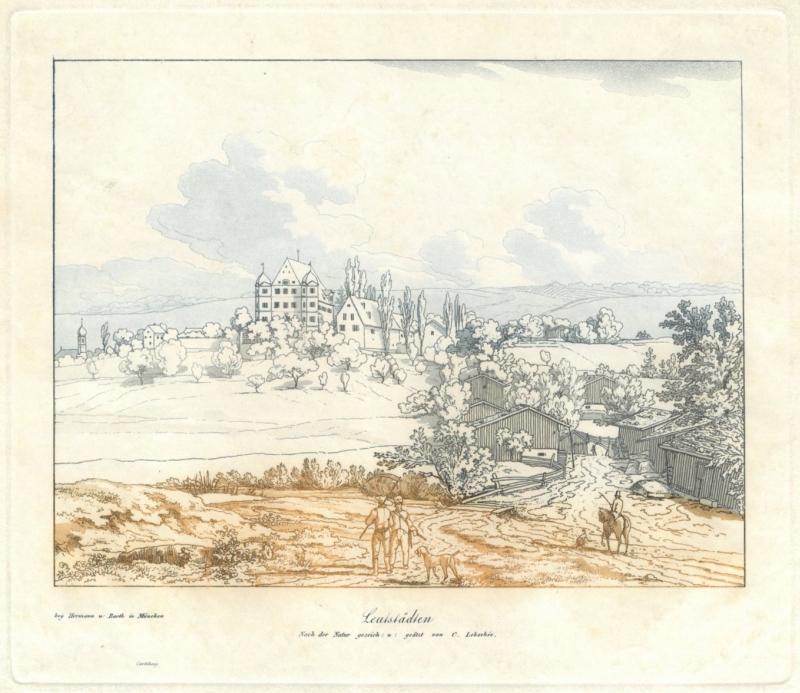 LEUTSTETTEN/Würmtal. "Leutstädten". Gesamtansicht, links Carlsberg.
- Aquatinta in drei Farben gedruckt von C.A. Lebschée, 1832, 13 x 17 cm. Lentner 2250; Schober Nr. 148. - Aus der 1832 bei Lindauer erschienenen Folge "Malerische Ansichten des Starnberger Sees und seiner Umgebungen". - Mit breitem Rand. Sehr selten.
[Bookseller:
Peter Bierl Buch- & Kunstantiquariat
]
Ganzfigürliches Porträt eines mit verschränkten Armen nach links stehenden Mannes.
- Feder in Braun, auf Papier mit Wasserzeichen: J Whatman Turkey Mill 1832, rechts unten signiert und bezeichnet "fecit Mercier Paris Lehmann.", rechts im unteren Rand von anderer Hand nochmals bezeichnet "Henri. par Mercier. Paris.". 29,6:21,5 cm. - Papier vergilbt und mit großflächigem Wasserrand, linke untere Ecke leicht beschädigt. Provenienz: Verso undeutlicher Sammlerstempel. Ob es sich bei dem Dargestellten um ein Bildnis des aus Kiel stammenden französischen Malers Henri Lehmann (Karl Rudolf Heinrich, 1814 Kiel-Paris 1882) handelt, konnten wir nicht zweifelsfrei ermitteln. Mercier stellte 1812/37 regelmäßig im Pariser Salon aus, wo Henri Lehmann 1835 debütierte.
[Bookseller:
Galerie Joseph Fach GmbH
]
Histoire générale et particulière des anomalies de l'organisation chez l'homme et les animaux, ouvrage comprenant des recherches sur les caractères, la classification, l'influence physiologique et pathologique, les rapports généraux, les lois et les causes des monstruosités, des variétés et vices de conformation, ou traité de tératologie.
Paris, Baillière, 1832-1837. ____ Première édition. Isidore Geoffroy Saint-Hilaire est l'inventeur du mot tératologie. Atlas illustré de 20 planches gravées de monstres. He "organised all known human and animal malformations taxonomically. Many of the principles governing abnormal development were enunciated for the first time in this work. It also introduced hundreds of names for specific malformations, many of which are still in use. For comprehensive coverage of rare anomalies it is still of value as a reference source." Garrison-Morton 534.58. "The only son of Etienne Geoffroy Saint-Hilaire, Isidore (...) published in 1832 the first of three large volumes on monsters (...) Although the idea of seeking laws governing the formation of monsters was his father's, Isidore Geoffroy Saint-Hilaire nonetheless grouped and brought into accord, judiciously and critically, a great number of scattered facts. In 1832 he coined the word teratology, to designate the science of monsters." DSB 5, 359. Provenance : Docteur G. Nivert, Tours (cachet sec sur les faux-titres) Petits éclats à deux coiffes. Comme souvent les légendes sous les planches ont été plus ou moins rognées par le relieur. Bel exemplaire. *****. 4 tomes reliés en 3 volumes in-8. [226 x 141 mm] Collation : XV, (1), 746, (2) pp., 1 tableau / (4), 571, (1) pp., 2 tableaux dépl. / (4), 618, (2) pp. / 8, XX pp., 20 planches h.-t. Demi-veau brun, dos à nerfs ornés. (Reliure de l'époque.).
[Bookseller:
Hugues de Latude
]
Critiques et portraits littéraires
- Eugène Renduel, Paris 1832-1839, 14x22,5cm, 5 volumes reliés. - Edition, il primo volume di essere alla data corretta nel 1832, che è molto raro secondo Clouzot. Leganti metà marocco marina Russia con gli angoli, di nuovo liscia decorate con decorati cartucce d'oro fregi floreali, le date d'oro in coda, filetti dorati su piatti di carta marmorizzata, guardie e contreplats di carta fatta a mano, coperte e schienali conservati, eleganti binding nel gusto romantico campi firmati. copia rara e piacevole disegnato in una perfetta romantica Champs vincolante.   - [FRENCH VERSION FOLLOWS] Edition originale, le premier volume étant à la bonne date de 1832, ce qui est très rare selon Clouzot. Reliures en demi maroquin de Russie bleu marine à coins, dos lisses ornés de cartouches décorés de frises florales dorées, dates dorées en queues, filets dorés sur les plats de papier marbré, gardes et contreplats de papier à la cuve, couvertures et dos conservées, élégantes reliures dans le goût romantique signées de Champs. Rare et agréable exemplaire établi dans une parfaite reliure romantique de Champs.  
[Bookseller:
Librairie Le Feu Follet
]
Cours complet de Maçonnerie ou histoire générale de l'initiation, depuis son origine jusqu'à son institution en France.
Paris, Chez l'auteur, 1832, in 8°, de 649 pp. et 2 planches litho. h. t. (pierre cubique et échelle mystérieuse), demi-veau brun époque, dos orné d'un fer maçonnique à froid, couv. d'origine cons., qq. rares rouss. et intéressantes annotations au crayon en marge. Edition originale de la plus grande rareté. Système maçonnique, initiations, petits et grands mystères, mystères de l'Inde, des Égyptiens, des Cabires, des Esséniens, des Chrétiens primitifs... Propagation de l'initiation en Orient, en Italie, dans la Haute-Asie, en Chine, dans les Gaules, étude des 33 degrés de l'écossisme.... Le Dr. Pierre G. Vassal fut Secrétaire Général du G.O. de 1819 à 1827, puis Président du Grand Collège des Rites. ¶ Fesh col. 1420 - Caillet n°11037 - Pas dans Dorbon.
[Bookseller:
L'intersigne Livres anciens
]
Critiques et portraits littéraires
First edition, the first volume with the correct date of 1832, very rare, according to Clouzot.Elegant Romantic half navy blue Russia over marbled paper boards by de Champs, spine with cartouches with gilt floral friezes, gilt date to foot of spine, gilt fillets to covers, marbled endpapers and pastedowns, covers and spine preserved.A good and rare set in a perfect Romantic binding by de Champs.  Eugène Renduel Paris 1832-1839 14x22,5cm 5 volumes reliés
[Bookseller:
Librairie Le Feu Follet
]
Hazel Grouse, or Gelinotte
Vol IV John and Elizabeth Gould Hazel Grouse, or Gelinotte An original hand-coloured lithograph for Gould's 'Birds of Europe', 1832-37 530 x 360 mm approx. £1200
[Bookseller:
Henry Sotheran Ltd.
]
Turtle Dove. [Columba turtur].
GOULD, John and Elizabeth. Turtle Dove. [Columba turtur]. Original lithograph with later hand-colour from Gould's 'Birds of Europe', 1832-37. 540 x 365 mm. 540 x 365 mm. £795
[Bookseller:
Henry Sotheran Ltd.
]
Pallid Thrush [Pale Thrush].
Vol II Pallid Thrush [Pale Thrush], Turdus pallidus. £750
[Bookseller:
Henry Sotheran Ltd.
]
Dix-huit Maximes sur La Netteté at l'Ordre. Traduites de l'anglais et dediées á leur auteur Thereze la Nette, par son respectuaux petit fils, Reginald Graham.
[56] pages. Illustrated throughout with nine drawings in ink including one of Theresa Tidy herself (Reginald's mother, Elizabeth). The manuscript concludes with an Epitaph for Theresa Tidy in a different hand, supposedly written by 'one of the young community who were annoyed by the system she proposed.' This would appear to be Graham herself as it signed with her initials.Elizabeth Graham's EIGHTEEN MAXIMS OF NEATNESS AND ORDER was first published in 1817; it went through many editions.
[Bookseller:
David Miles
]
Russet Wheatear
Vol II John and Elizabeth Gould Russet Wheatear An original hand-coloured lithograph for Gould's 'Birds of Europe', 1832-37 530 x 360 mm approx £515
[Bookseller:
Henry Sotheran Ltd.
]