Displayed below are some selected recent viaLibri matches for books published in 1685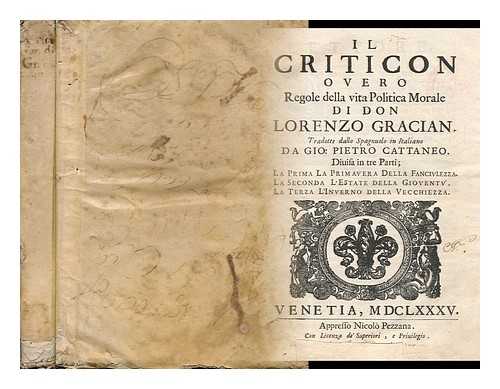 Appresso Nicolo Pezzanna, Venetia, 1685, Hardback, First Italian Edition. Full contemporary vellum-backed boards, good. Half inch sq tear (with loss) to the half-title, inch sq cut from the bottom of the title page. Remains an exceptional example overall; scans &c on request. ; 312 pages; Printer's device to the title. Double columned type - minor foxing and worming. 312 pages. Inventory No: 21967.
Bookseller:
MW Books
[Ireland]
Bookseller:
L'Ile Enchantée
[Paris, France]
1685 - slightly dampstained around edges, otherwise good. From the first edition. [Attributes: First Edition]
Bookseller:
Jeremy Norman's historyofscience
Ultrajecti, Joannem Ribbium/ Joannem van de Water/ Franciscum Halma, 1685.** Relié, plein - maroquin brun, dos orné de fil. fleuronné doré et de pièce de titre doré, dos avec des déchirures, feuillet de titre gravé, 8x13,5cm, (5)230pp(21). Versand D: 12,00 EUR old books oude boeken livre ancien geschiedenis histoire history eleytheria sivi manumissione servorum apud romanos loon wilhelmo Ultrajecti, Joannem Ribbium Joannem Water Franciscum Halma
Bookseller:
BOOKSELLER - ERIK TONEN BOOKS
[antwerpen, Belgium]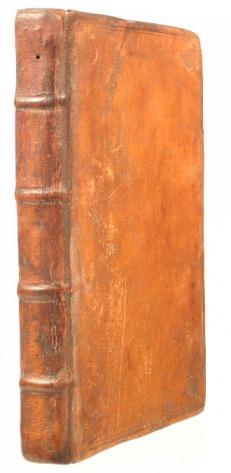 Printed by the assigns of Rich. Atkins, and Edw. Atkins [etc.], London, 1685. Contemporary calf, rebacked, the spine laid down; quite sound
Bookseller:
Meyer Boswell Books, Inc., member ABAA
[San Francisco, CA, U.S.A.]
Stockholm, Niclas Wankijff, 1685. 4:o. (4) s. Tagen ur band. Sprucken mellan bladen. Imprimaturen anger tryckningen till 22 juli 1685. Libris-Id:2515197. Collijn sp, 235 (4 exemplar). Revolten 1685 var ett misslyckat protestantiska upprorsförsök i England för att störta den katolske James II, som precis efterträtt sin bror Karl II som kung av England. Upproret leddes av Karls illegitime son James Scott, hertig av Monsmouth. Denne förlorade dock slaget vid Sedgemoor mot Earlen av Feversham och den blivande hertigen av Marlborough, John Churchill. Hertigen blev tillfångatagen och den 15 juli samma år avrättad för förräderi. Tre år senare 1688 fördrevs dock James II av William av Oranien vid den ärorika revolutionen.
Bookseller:
Centralantikvariatet
[Stockholm, Sweden]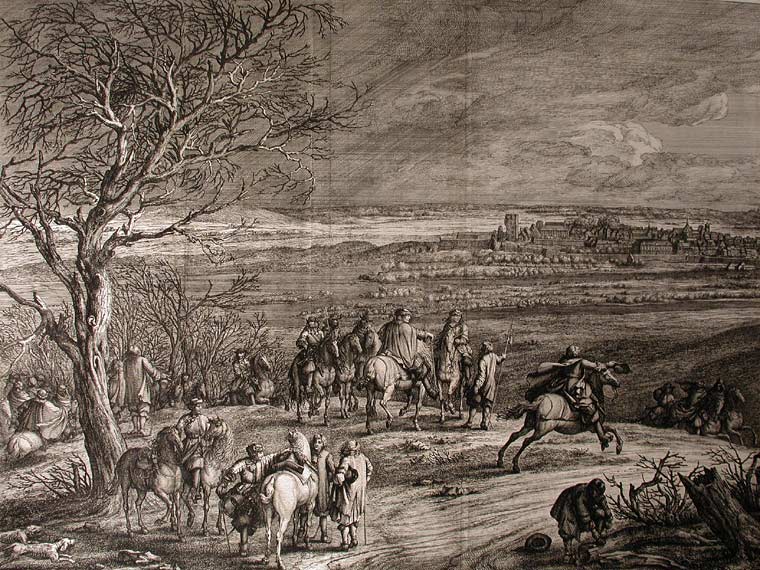 Paris: distribu� par l'Auteur, en l'Hostel des Manufactures des Gobelins, et en la rue St.Jacques, 1685. Paris: distribuë par l'Auteur, en l'Hostel des Manufactures des Gobelins, et en la rue St.Jacques, 1685. Copper engraving, on two joined sheets, by Van Huctenburg and A.F. Baudouinst, after Van der Meulen. Titled in French and Latin. Painted from life by the artist who accompanied Louis XIV on his campaigns, Adam Frans Van der Meulen depicted in this wonderful panorama a post-battle view of Dôle, the capital of Franche-Comté, and the handsome surrounding region. In it, Louis XIV and his brother survey the city they've won from a hilltop. There is actually no unpleasant evidence of military activity except for some smoke billowing from the far side of Dôle. Adam Frans Van der Meulen was a landscape and genre painter, who specialized in battle scenes, and his early works, i.e. those from the years before he left for Paris (the earliest dated work is from 1653) are mainly cavalry skirmishes in the manner of his teacher Pieter Snayer. After he moved to Paris, the character of his work changed and became more ceremonial. He now specialized in large topographical views and military scenes and in royal journeys, processions and receptions. His most important task was to accompany the king on his many campaigns during the wars of conquest waged in the 1660s and 1670s against, inter alia the Spanish Netherlands, and as Peintre de conquêtes du roi officially to portray the memorable sieges, battles and conquests of le Roi Soleil in large-scale canvases or cartoons whi … [Click Below for Full Description]
Bookseller:
Donald A. Heald Rare Books (ABAA)
[New York, NY, U.S.A.]