Displayed below are some selected recent viaLibri matches for books published in 1671
Tryckt i Linköpingh aff Daniel Kämpe. Åhr 1671. 8+520s (s1-519 men med två sidor 376). Nutida vackert och välhållet pergamentband med handtecknad ryggtitel(med fel författarnamn(!)), gamla sprängfärgade snitt; inlagan genomgående bruntonad med fukt- och lagerfläckar, ett hörn av utan textförlust, sidor med lagningar, riss och nagg, spår av exlibris på frampärmens insida, handskriven namnteckning i nedre marginalen på titelbladet. Fortsättning av den i sanning "Wijdlöfftige" boktiteln: Tå han (som på then tijden kallades GUstaff Erichson) bleff medh några fleere Swenske herrar/ förordnat til Gisslare för Kong Christiern then Tyrannen: Men emoot Breff och gifwen Leigde/ sampt medh andra/ wåldsambligen til Danmark bortfördh; Ther Fängzligh anhållen: Hans underliga förlossningh/ och heemkomst til Swerige igen. Får bijfall aff Undersåterna; Fördriwer Tyrannen medh sitt anhangh aff Rijket; Reformerar så Gudztiensten; Stiller sedan månge inrijkes Rebellioner; Låter sigh omsijder Cröna; Gör Swerige til Arffrijke; Och styrer thet så medh högt Förstånd/ och Heroisk Mandom/ in til sin dödh. Först Wijdlöfftigt sammanskrifwen aff fordom Cam:dh Erich Jörenson Tegell/ och Åhr/ 1622, in folio aff Trycket uthgången: Men nu kortteligen Extraherat, och uthi thenne mindre Form Bracht: Medh ett ympnigt Åhrs Register: Aff Christopher L: Grubb. Praes: Calm:
Bookseller:
Antikvariatet i Norrköping
[SE]
Chez Thomas Jolly, Paris, 1671. Four volumes bound in three. [20],593,[3]; [16],539; [16],317,[8]; [6],362,[13]pp., plus eighteen plates (many folding) and five folding maps. Extra engraved titlepage in first and second volumes. Plate of arms in first, third, and fourth volumes. Contemporary calf, leather labels, spines gilt extra. Minor rubbing, some light edge wear. Final text leaf in first volume torn but no loss. Overall a fine, particularly fresh set in the original bindings. The best edition, after the original abridged edition of 1654. This extensive work is full of detailed descriptions of life in the French Antilles, including natural history, slavery, plantation activities, and the like. The fine engraved plates depict sugar plantation work, slaves manufacturing indigo, animals, spiders, land and naval battles between the French and British in the Caribbean, etc. The maps are of St. Christopher, Guadeloupe, St. Croix, Marigalande, and Martinique. "This voluminous account of the French settlements in the West Indies contains numerous passages which indicate the importance of tobacco in the political economy of the islands" - Arents. According to Rich, Dutertre was forced to publish the original 1654 edition before the work was complete: "The first edition of Father Du Tertre's HISTORY OF THE ANTILLES, or rather the project of that work, which the Rev. Father was obliged to put to press in haste, because he understood that some other person was about printing it under some other name, thereby depriving him of the credit of it." SABIN 21458. JCB (3)III:154-155. ARENT … [Click Below for Full Description]
Bookseller:
William Reese Company - Americana
[New Haven, CT, U.S.A.]
Georg Heinrich Frommann, Leipzig/ Lipsiae 1671.. VI, 152 S. mit rot-schwarzem Titel. Klein Oktav 8°. Späterer Pergament-Einband.. Exlibris auf vorderem Innenspiegel. Titelseite am rechten Rand knapp beschnitten, Wurmfraß auf den letzten 10 Seiten am Bug mit geringen Textverlust in jeweils 3-4 Zeilen. Sonst sauber, fest gebunden und gut. - Selten Büro
Bookseller:
Plesse Antiquariat Minzloff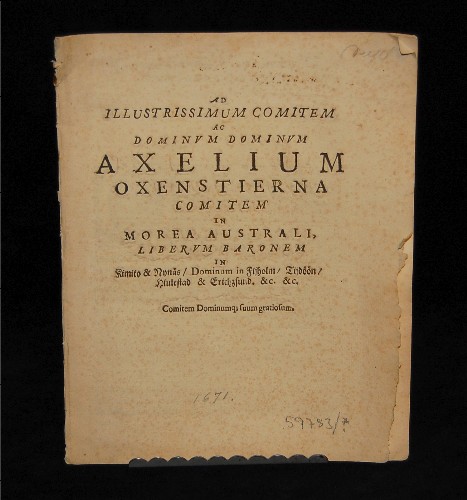 (Uppsala, 1671). 4:o. (11) s. Titelbladet lätt lagerfläckat. Fint tagen ur band, med breda marginaler. Ur Ericsbergs bibliotek. Fant 28. Hyllningstal hållet av professor skytteanus till Axel Oxenstierna (1652-80), sonson till den store Axel Oxenstierna, då denne nedlade sitt ämbete efter sin andra period som rektor för Uppsala universitet. Schefferus hade en bra relation till rikets ledande kretsar och var en eftertraktad talare, även utanför den akademiska världen och höll flera officiella tal, bl.a. vid Kristinas tronavsägelse och vid Karl XI:s trontillträde.
Bookseller:
Centralantikvariatet
[Stockholm, Sweden]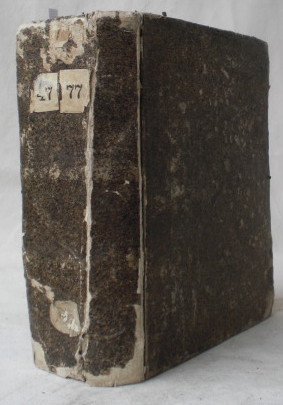 Helmstedt, Halle, Jena, Rinteln, Altdorf bei Nürnberg, Wittenberg u.a, 1671. 4°,. Mit 1 Kupfertafel (1. Titel) sowie 2 Textkupfern und 1 Textholzschnitt (24. Titel). Einband bestoßen und beschabt; einige Bezugspapierfehlstellen; Rücken angebrochen; teils stockfleckig (einige Titel stärker) und etwas gebräunt; Titel von Schrift Nr. 4 angeschmutzt und mit kleinerem Wasserfleck; ein weiteres Blatt dieses Titels wasserfleckig und die ersten 4 Bll. hier mit angesetztem Papierstreifen am Kopf (kein Textverlust); vereinzelt etwas fleckig; letzte Bll. von Schrift Nr. 12 und Titel von Schrift Nr. 13 mit Einrissen im Bundsteg; die meisten Schriften auf dem Titel handschriftlich numeriert; Kupfertafel mit 2 kleinen Flecken; Widmungsblatt von Schrift Nr. 26 mit Loch (etwas Textverlust); vorderer Innendeckel und einige Titelblätter mit kleinem, russischen Bibliotheksschild. Enthält: 1. Christ. Theod. Heinrich von Hagen: Dissertatio sollemnis medico-forensis de medico vulneratum curante a sectione cadaveris non excludendo (...). Diss. an der Helmstädter Universität unter dem Vorsitz von Lorenz Heister. Helmstedt, Schnorr, 1749. Mit 1 Kupfertafel (Abb. eines Beines).(30 S.); 2. Johannes Lorenz vom Jemgumer Closter: Dissertatio inauguralis de clausula salutari libellorum, Von der Anruffung des Mild-Richterlichen Amts in denen Klage-Schreiben. Diss. an der Universität Halle unter dem Vorsitz von Samuel Stryk (Stryck). Halle, Hendel, 1738. (64 S.); 3. Johann Ernst Gottlob von Warnsdorf: Q.D.B.V. de actione cessa adversus condeiussorem in solidum competente. Diss. an der Universität Wittenbe … [Click Below for Full Description]
Bookseller:
AixLibris Antiquariat Klaus Schymiczek
[Aachen, Germany]
Amstelodami 1671, 12°, (4)+330+(18) pp., 36 z.T. gefalt. KupferTaf., 1 Titelkpfr. u. 1 Frontispiz, OPgmtBd.; Front. u. Titelseite mit leichten Wurmfrassspuren, sehr gut erhaltenes Exemplar. FIRST LATIN EDITION. - "Father of Parasitology" Francesco Redi (1626-1698) "in this scientific attack on the doctrine of spontaneous generation, Redi demonstrated, by means of a series of simple experiments involving sealed, open and gauze-covered flasks of meat, that organic matter remained free of larva when protected from insect contamination. He thus proved that 'flesh and plants and other things whether putrefied or putrefiable play no other part, nor have other function in the generation of insects, than to prepare a suitable place or nest into which, at the time of procreaction, the worms or eggs or other seeds of worms are brought and hatched by the animals.' Having shown that insects contagion was necessary before decaying substances develop worms. Redi applied the same principle to parasites found in living creature." Norman 1812 cf. cf. Dibner, Heralds, 188; D.S.B.; GM 97; Horblit 88.Diebner 188, Prandi 7. [Attributes: First Edition]
Bookseller:
Antiq. F.-D. Söhn - Medicusbooks.Com
[Marburg, Germany]
[Madrid. 1671].. 16 leaves. Folio. Dbd. Upper outer corners numbered in contemporary manuscript. Minute toning at foredge, primarily on first leaf. Overall very good. In a half morocco and cloth box. The petition of Don Pedro Nuño Colon de Portugal, descendant of the explorer, Christopher Columbus, and sixth Duke of Veragua and Marquis of Jamaica, requesting that Mariana of Austria, Queen Regent of Charles II of Spain, make some compensation for the loss of income the Duke had suffered since the British took Jamaica in 1655. Jamaica had been the exclusive fief of the descendants of Columbus since 1536 when it was given as a reward to the family. This document is dated 1671 by the text at the top of the second leaf, where the Duke refers to Spain's cession of Jamaica to Great Britain "last year in 1670." Despite this date, some scholars assert a date of 1672. Since most of the text is devoted to the life of Columbus, the document is, by default, also one of the few early biographies of the explorer. In his argument the Duke puts special emphasis on the tremendous gain Spain received by virtue of his ancestor's discovery. In citing various sources he estimates that within the first 170 years after its discovery, the New World had produced for Spain some one billion, 190 million pesos. Despite these figures, the present heir to Columbus' titles and estates was reduced to an income of sixteen thousand ducats. The Duke mentions no specific amount of compensation that he would like for Jamaica, but points out that Puerto Rico is of approximately the same worth. The la … [Click Below for Full Description]
Bookseller:
William Reese Company - Americana