Displayed below are some selected recent viaLibri matches for books published in 1666
Frankfurt, Heyl, 1666. 0 Folio. 6 nn. Bll., 764 S., 1 nn. Bll., 6 nn. Bll., 793 S. Pergament d. Zeit. Ber., best. u. fl. Rü.-Gelenke tls. geplatzt. Durchgehend papierbedingt gebr., fl., kl. Vorbesitzervermerk u. Fehlst. Tit.-Bl., ansonsten guter Zustand. Versand D: 5,00 EUR alte Bücher; lateinische Literatur alt; Religion; THEOLOGIE
Bookseller:
Neusser Buch & Kunstantiquariat
[Germany]
1666. Boloniae, sumptibus Haeredum Evangelistae de Duccijs, 1666. Folio (312 x 203mm). pp. (16, incl. frontisp.) 576, (72, incl. 2 blanks), with fine allegorical engraved frontispiece showing a large garden, woodcut printer's device on title and 36 full-page woodcuts in the text. Contemporary calf, gilt decorated spine in 5 compartments. A fine copy. Only the first volume was published. A second volume on trees was never published due to the author's death. "Giancinto (Hyacintho) was director of the Botanical Gardens at Bologna from 1657-1665, following the directorship of his brother Bartolomeo. The genus Ambrosinia was named after the two brothers" (Hunt 303). The plants described in the present volume are in alphabetical order. " In seguito lo Studio bolognese conobbe ancora personaggi di grande levatura, come i fratelli Bartolomeo (1588 1657) e Giacinto (1605 1671) Ambrosini, che ressero l'Orto, in successione, dal 1620 al 1665. Sotto la loro gestione l'Orto si sviluppo notevolmente: un catalogo delle piante coltivate nel 1653 elenca circa 1500 specie diverse, una collezione certamente fra le maggiori in Europa a quel tempo, che sarebbe invidiata anche da molti orti botanici attuali. Molti anni dopo Linneo avrebbe onorato la memoria degli Ambrosini denominando una specie Ambrosinia bassii, dove il nome del genere ricorda appunto i due antichi prefetti dell'Orto..." (Univ. Bologna website). Hunt 303; Pritzel 132..
Bookseller:
Antiquariaat Junk
Paris, Loyson, 1666. Two books in one volume. Small octavo. Book I: Pp. (vi), 128 [i.e. 126, erratically skipping numbers 121-122], (2). Plus a total of 26 double-page etched plates, some of which fold-out, of which 18 are of fortification construction and 7 are of canons and their carriage, numbered separately respectively. Plus one unnumbered fold-out plate. Tables. Book II: Pp. (iv), 150 [i.e. 154, erratically commencing with number 109 onwards after p. 112]. Plus a total of 25 etched plates, of which 17 double-page plates are on geometry; 4 (3 double-page & one folded) plates are on perspective; and another 4 (3 double-page & one folded) are again on geometrical issues; some plates are with tears, occasionally with considerable loss; two double-page plates lack left leaf. Etched frontispiece. Title-page with decorative device to each book. Handsome head-pieces and decorative initials to each book's dedication to the King. Hardcover, later quarter black calf and boards, spine with raised bands, direct gilt lettering to second compartment; cracks to leather, chipped spine ends, worn corners. With elaborate calligraphic signature on front free endpaper, dated 1784. ~ Rare. Jordan 1957 (first book only). [Attributes: Hard Cover]
Bookseller:
Librarium of The Hague
[The Hague, Netherlands]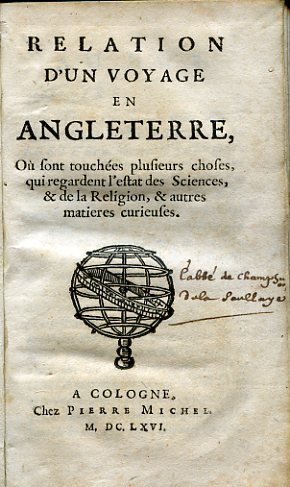 Chez Pierre Michel [A. Wolfgang], A Cologne, 1666. In-12° (138x80mm), pp. (12), 192, (1), legatura coeva p. pergamena rigida con unghie e con titolo manoscritto in antico alla cuffia superiore dle dorso. Al frontespizio, sfera armillare incisa su legno e antica annotazione di possesso. Capilettera ornati incisi in xilografia; tra le pp. 78-79, una tav. incisa ripiegata più volte. Sparse fioriture di lieve entità, ma esemplare assai bello. Edizione simile a quelle elzeviriane (e registrata dal Willems tra quelle annexes aux Elzeviers) di questa relazione di viaggio in Inghilterra del Sorbière (Saint-Ambroix, Uzes, 1615-Parigi, 1670), impressa con il luogo fittizio di Colonia, ma quasi certamente stampata dal Wolfgang di Amsterdam; l'edizione (la seconda assoluta) è esemplata su quella precedente del 1664 del Billaine di Parigi. Nello stesso anno apparve un'altra edizione dell'opera, constante di 180 pp.; quoi qu'en dise Brunet, ni l'une ni l'autre n'appartiennent aux presses elzeviriennes (Willems). L'opera fornisce, con particolare enfasi sulle questioni religiose e sui nuovi progressi delle scienze, un vivace quadro dell'Inghilterra del tempo, con resoconti di visite a Hobbes (autore di cui il Sorbière aveva tradotto in franceseil De Cive), al matematico Willis, a Robert Boyle e ad altre illustri personalità della vita inglese di quegli anni. Da notare che il libro suscitò le ire della casa reale di Danimarca, in ragione dei passaggi concernenti il conte di Ullfeld, che aveva sposato una figlia naturale di re Cristiano IV. Il Sorbière (Saint-Ambroix, Uzes, 1615-Parigi, 167 … [Click Below for Full Description]
Bookseller:
Gilibert Libreria Antiquaria (ILAB-LILA)
[Torino, TO, Italy]
Venezia, Domenico Lovisa, o. J. (nach 1666).. 12°, circa 13,5 x 7,7 cm. 12 Bll., 167 SS. Pergament d. Zt.. Vgl. Rosenthal 5827; BMC STC 675. Sehr seltene Ausgabe des erstmals 1582 in Bologna erschienen alchemistischen Werkes. Der italienische Verbundkatalog verzeichnet nur 1 Exemplar (in Spoleto) und gibt zur Datierung an: "Stampato tra il 1666 e il 1738, probabili anni di attivita del tipografo". Das Werk behandelt allerlei Geheimnisse der Natur und die alchemistischen Beziehungen der Elemente und Stoffe zueinander: Steine, Kräuter, Früchte, Metalle und Mineralien, atmosphärische Phänomene, Astrologie, Kometen und Tierkreis, Ungeheuer, Hexerei und andere okkulte Dinge. Der Autor lehrte an der Akademie von Ravenna und hat weiterhin einen "Dialogo meteorologico" und eine "Historia di Ravenna" verfaßt. - Vereinzelt kleine Randläsuren, leicht gebräunt und nur wenig fleckig. - Very rare edition of this curious text on alchemy and other occult sciences, like astrology, magic, monsters, secret powers of herbs and stones etc. ICCU gives only one copy in Spoleto and vague information about the date (most probably second half of the 17th century). The first edition was 1582 in Bologna. - Complete copy, little browning or spotting, marginal tears.
Bookseller:
Antiquariat Thomas Rezek
Stockholm, Ignatius Meurer, 1666. Graverat gemensamt titelblad: Swerikes rikes laghböker, som äre, landz lagh, stadz lagh, Vplandz lagh, Wästgötha lagh, Östgötha lagh, Södermanl., Wästmanna och Helsing lagh. ... + (4) s. Nytt graverat titelblad: Swerikes Landzlagh, ... Stockholm: Ignatius Meurer, 1665. (6) + 96 + (75) s. Nytt graverat titelblad: Swerikes rijkes stadzlagh .... Stockholm: Ignatius Meurer 1665.(4) + 74 + (1) s. Nytt graverat titelblad: Vplandz laghen, ... Stockholm: Ignatius Meurer, 1665. (1) + 54 + (1) s. Nytt graverat titelblad: Wäst-götha laghbook, ... Stockholm: Ignatius Meurer, 1663 (2) + 112 s. Nytt graverat titelblad: östgötha laghen, ... Stockholm: Ignatius Meurer, 1665. 61 blad. Nytt graverat titelblad: Sudhermanna laghen, ... Stockholm: Ignatius Meurer, 1666. (2) s. + 44 blad. Nytt graverat titelblad: Wästmanna laghbook, ... Stockholm: Ignatius Meurer, 1666. (2) s. + 52 blad (feltryckt: 51). Nytt graverat titelblad: Hälsinge laghen, ... Stockholm: Ignatius Meurer, 1665. 24 blad. Bihang: 4 s. + 16 blad. Samtida helskinnband med fem upphöjda bind och utan ryggtitel. 32 X 20 cm. Ryggen skadad upptill.
Bookseller:
Antikvariat Röda Rummet AB
[SE]
- Chez Jean du Val, Leyde 1666, In 12 (7,5x13cm), 213pp., relié. - Edition alla sfera. Rare. Il lavoro pubblicato in Italia, Ragusa, l'anno seguente. Pieno di vitello marrone ca 1820. Dos costine croisillonné freddo, fili dorati e ruote. Decorazione geometrica che incornicia i piatti freddi. Bordi dorati. Attrito. Leggera mancanza di coda in pelle. Buon esemplare. Gregorio Leti (1630-1701) è lo pseudonimo di Gulio Capocoda, autori di molti opuscoli anti-cattoliche. Capocoda convertito al protestantesimo e si stabilì a Ginevra. Fu poi lo storico di Carlo II in Inghilterra. La storia di Donna Olimpia racconta la storia di una cortigiana alla corte di Roma, infatti, che sarebbe diventato papa Innocenzo X era il suo fratellastro. Si dice che fossero amanti. E 'perplesso che il suo fratellastro divenne Papa, una volta in su, è stata lei che ha guidato la chiesa, accumulando una fortuna enorme sperpero dei beni della chiesa. Dettagli del libro la sua biografia fino al processo. - [FRENCH VERSION FOLLOWS] Edition originale à la sphère. Rare. L'oeuvre paraîtra en Italie, à Raguse, l'année suivante. Reliure en plein veau brun ca 1820 signée Simier en queue. Dos à nerfs croisillonné à froid, filets dorés et roulettes. Décor géométrique à froid encadrant les plats. Tranches dorées. Frottements. Léger manque de cuir en queue. Bon exemplaire. Grégorio Leti (1630-1701) est, sous le pseudonyme de Giulio Capocoda, l'auteur de nombreux pamphlets anti catholiques. Capocoda se convertit au protestantisme et s'établit à Genève. Il fut ensuite l'historiographe de Charles II en Angleterre. L'his … [Click Below for Full Description]
Bookseller:
Librairie Feu Follet
[FR]
O. O. u., Dr., (Elzevier), 1666.. 12°. 6 Bll., 288 SS. Leder um 1900 mit reicher Rücken-, Deckel-, Steh- und Innenkantenvergoldung, Buntpapiervorsatz, Goldschnitt.. Rahir 3155. - Sauberes Exemplar in prachtvollem, tadellos erhaltenem Meistereinband (Adolphe Bertrand). 1. w. Bl. mit hs. Besitzvermerk (dat.: 1918). Exlibris.
Bookseller:
Antiquariat Lutz-Peter Kreussel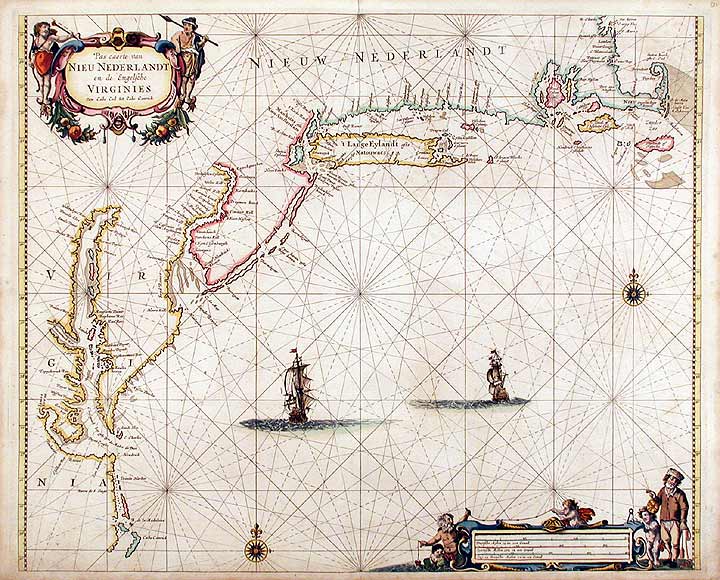 Amsterdam, 1666. Copper engraving with period outline colour. One of the finest and most beautiful 17th-century charts of the Northeast of America, from 'De Zee Atlas ofter Water-Weereld' The seventeenth century was the Golden Age of Dutch mapmaking. As the world's greatest trading nation, marine cartography was a particular specialty, and no one produced more lavish sea charts than Pieter Goos. Finely drawn and engraved, printed on top quality paper, and beautifully coloured, they were intended more for the merchant collector than the practical mariner. Goos' Zee-Atlas was the companion marine atlas of choice for Joan Blaeu's famous terrestrial atlas, the Atlas Maior. This is the general chart of New Netherland from the Zee-Atlas. It covers the Atlantic coast of America from Cape Cod to Cape Hatteras. The emphasis is on the Dutch colony of New Netherland. New Amsterdam (the future New York) is shown at the tip of Manhattan Island. Many other place names of Dutch origin appear, including 'Staten Eylandt', 'Lange Eylandt', and 'Vlysingen' (Flushing). Along the Delaware River a number of Dutch settlements are shown, including Fort Casimir, Nassau and Elsenburgh, as well as the Swedish Fort Christina. The Schuylkill River, site of the future metropolis of Philadelphia, is also located. In New England, Martha's Vineyard and Nantucket are shown with their present names, and several early English settlements, such as 'New Plymouth' are located. The delineation of the Chesapeake Bay is also quite good, with Jamestown located. The Potomac River is shown as the 'Patw … [Click Below for Full Description]
Bookseller:
Donald A. Heald Rare Books (ABAA)
[New York, NY, U.S.A.]
Bruxelles François Foppens 1665-1666 - , 2 t. en 1 vol. in-6, basane brune mouchetée, dos à nerfs orné, tit. rouge et noir, tr. jaspées, (reliure en mauvais état avec manques sur les plats et au dos, coupes élimées, gardes partiellement manquantes, accrocs et piqûres sur les premiers f., 2ème p. de titre déboîtée, qq. piqûres affectant légèrement le texte), 6 f.-550 / 3 f.-480 p. + tables.
Bookseller:
La Memoire du Droit