Displayed below are some selected recent viaLibri matches for books published in 1665
Apud Joannem a Maanen, 1665. Book Condition: Very Good; Dustjacket: None Issued. Aphthonii Aphthonii Progymnasmata, a Rodolpho Agricola partim, partim a Johanne Maria Catanao, latinitate donata ; cum scholiis R. Lorichii, auctario novissimo, tum Fabularum, & Chriarum tractationem, tum Genesios, & Analycos Logica, & Oratoriae exemplum, . . . Edition Unstated Hardcover Apud Joannem a Maanen,1665 Very Good in None Issued Dust Jacket Book Publishing Details Author: Aphthonii Full title: Aphthonii Progymnasmata, a Rodolpho Agricola partim, partim a Johanne Maria Catanao, latinitate donata ; cum scholiis R. Lorichii, auctario novissimo, tum Fabularum, & Chriarum tractationem, tum Genesios, & Analycos Logica, & Oratoriae exemplum, . . .Publisher: Apud Joannem a Maanen, 1665 Edition: Edition UnstatedBinding: HardcoverISBN: No ISBNSize: 32mo - over 4" - 5" tallBook ID: 006487 Comments & Item Features Edition Unstated. Category: Textbooks. Language: Latin. ISBN: No ISBN. Full title: Aphthonii Progymnasmata, a Rodolpho Agricola partim, partim a Johanne Maria Catanaeo, latinitate donata ; cum scholiis R. Lorichii, auctario novissimo, tum Fabularum, & Chriarum tractationem, tum Genesios, & Analycos Logicae, & Oratoriae exemplum, ob oculos ponente. Opus novissimum, emendatissimum, & eloquentiae studiosis utilissimum, cum Indice, accuratissimo & locupletissimo. Original full vellum 4¾" x 3", Latin text, Index, 476 pp., [16], engraved frontis. Title written in old ink on spine, old writing in Latin on front free endpaper, previous owner's name written in small letters on title page, typica … [Click Below for Full Description]
Bookseller:
Dennis Holzman Antiques
[Cohoes, NY, U.S.A.]
1665. Paris, Typographia Regia, 1665. 4to. (266 x 198 mm). pp. (xxvi including frontispiece), 219 with engraved frontispiece, engraved vignette with royal arms on title, nine engraved head- and tailpieces, and six engraved initials; a fine, large copy, ruled in red throughout, in contemporary calf, gilt floral panels with centre and corner pieces on sides, gilt spine, upper joint slightly cracked. First edition of Rapin's celebrated poem on gardens, and a fine piece of book design. Rene Rapin (1621-1687), a Jesuit, wrote this work in imitation of Virgil's 'Georgics'. It is divided into four books, on the flower garden, parkland and trees, water, and the orchard. It is followed by a work in prose, a debate between the 'ancients' and 'moderns' on gardening styles, in which Rapin endorses the 'modern' style. This work enjoyed immense renown, and was translated into English by John Evelyn. "On the threshold of this period the French garden found its earliest poets. Rene Rapin, the learned Jesuit who wrote so many books, published in 1665 a poem called 'Hortorum libri quattuor'. This was in undisguised imitation of Virgil's 'Georgics', but aimed at giving a supplement on the province of the garden, which the Roman poet had neglected. Rapin had already seen something of the development of gardens in the grand siecle, and this appears in much of what he wrote; but he chiefly concerns himself with the gardens of the time of Maria de Medici and Henry IV. All that he writes in his first book, 'The flower garden', is what is demanded by the usual theorists; and about flowers he only g … [Click Below for Full Description]
Bookseller:
Antiquariaat Junk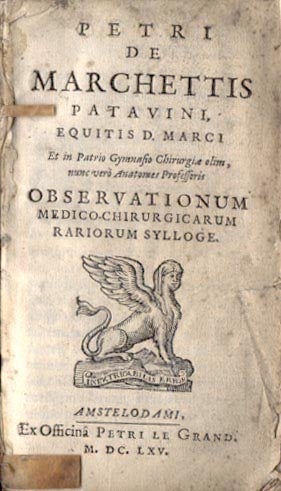 Le Grand, Amsterdam, 1665. 12mo.212pp.(misprinted 112), 2 blanks. 1 folding plate. 128 x 71mm. Contemporary limp vellum, soiled, sewing a little loose. Some soiling and frayed edges in text, a little light foxing, but very good. FIRST 12MO. EDITION, published the year after the original Padua octavo edition. Garrison-Morton 5572, citing the Amsterdam edition. Marchetti was professor of surgery and anatomy at the University of Padua. He had an excellent knowledge of anatomy, and made important contributions to liver surgery, orthopedic surgery, neurosurgery and the treatment of gunshot wounds. His fifty-three "observationes" "have a permanent historical value" (Leonardo, History 169). [Attributes: First Edition]
Bookseller:
Jeremy Norman's historyofscience
[Novato, CA, U.S.A.]
Lugd. Batav et Roterod (Leiden u. Rotterdam), Ex Officina Hackiana, 1665.. 8°. 2 Bl. (24), 534, (46) S. (2) Bl. Mit gest. Titel. Pergamentband der Zeit (fleckig).. Spätere Auflage der von Johannes Friedrich Gronovius (1577-1649) herausgegebenen Fassung, kommentiert von Antonius Thysius (1603-1665). Insgesamt gut erhaltene lateinische Ausgabe von Sallusts Werk mit einem schönen gestochenen Titelblatt. - Mit altem handschr. Namenszug auf dem fliegenden Vorsatz. Durchgehend leicht fleckig und im Schnitt gebräunt. - Resume: Contemporary vellum (stained). Later edition published by Johannes Friedrich Grononvius with commentary by Antonius Thysius.- Fine copy with owner manuscript entry on endpaper. (Sprache: Lateinisch / Latin)
Bookseller:
EOS Buchantiquariat Benz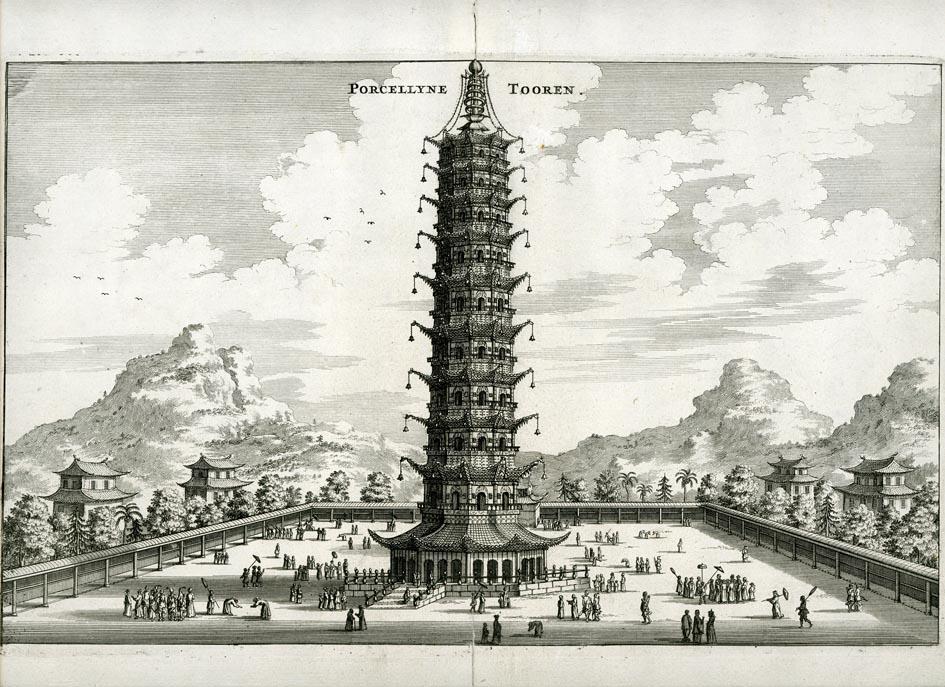 Amsterdam, Jacob van Meurs, 1665. Engraved view, 19 x 30 cm, uncoloured, from "Joan Nieuhof, Het Gezandschap Der Neêrlandtsche Oost-Indische Compagnie, aan den grooten Tartarischen Cham". KEYWORDS:china/maps.
Bookseller:
Krul Antiquarian Books
[Hoofddorp, Netherlands]
Leyde, Jean Sambix le Jeune, 1665. Petit in-12, plein vélin ivoire de l'époque (petit accroc à une coupe, qqs piqûres), (3) f., 407 p. Edition originale posthume "à la Sphère", annexe aux Elzeviers, imprimée à Bruxelles par Fr. Foppens. (Willems, 2010. Brunet, I, 1211. Tchemerzine-Scheler, II, 111). Très bon état intérieur, très frais. Bon exemplaire, bien relié à l'époque. [Attributes: First Edition; Hard Cover]
Bookseller:
Librairie HATCHUEL
[PARIS, France]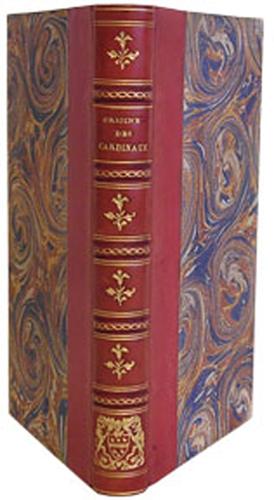 Cologne, Pierre Ab Egmont [i.e. Bruxelles, François Foppens], 1665. Petit in-12, demi-veau cerise, dos à nerfs ornés d'une guirlande et soulignés de doubles filets dorés, fleurons entrenerfs, armes dorées en pied, titre doré, tranches marbrées (rel. du XIXe), (4), 143, (1), 42, 112 p. Edition originale posthume "annexe aux Elzévier" et "très jolie édition imprimée par F. Foppens" (Willems) divisée en trois parties sous pagination particulière. La première contient le "Traité de l'origine des cardinaux", la seconde le traité "Des Légats " la troisième, le "Traité de Pise ". Juriste lyonnais élève des Cujas, l'auteur devint l'un des aumôniers d'Henri IV puis de Louis XIII. Le 'traité des légats' est attribué à Jean-Denis de Sallo. Ce traité fut fait au sujet de la légation du cardinal Chisi qui devait venir en France en exécution du traité de Pise. (Brunet, II, 891. Willems, 2017). Joli exemplaire, frais, bien relié. Ex-libris imprimé de P. de la Morandière. [Attributes: First Edition]
Bookseller:
Librairie HATCHUEL
[PARIS, France]
London:: Printed by John Bill and Christopher Barker / Printed for the Company of Stationers,. 1665 / 1663 / 1663.. 8vo. 17 cm x 10.3 cm. BCP: Griffiths 1665-1, Wing B-3630. Bible: Darlow & Moule 539 [though this copy has the Apocrapha, which D/M lacked]; Herbert 685; Wing B-2267 [incorrectly referencing D/M 685, vice Herbert 685]. Psalms: Wing 2481A. Unpaginated.. Period full vellum [German], with yapp edges, tilted in gilt on the spine: BIBLIA ANGILICANA. AEG.. Gutter break prior to BCP t.p., with possibility of excised prior. leaf (?). Bookplate. Ex-lib, with spine label & divers stamps.. Withal, a VG+ copy.. T.p. Royal Arms' device to BCP. Engraved general title page to Bible. Decorative initial capital letters.
Bookseller:
Tavistock Books, ABAA
Rotterdam. 1665.. Engraved title, title-leaf, [32],583,[13]pp. plus three folding plates. Forty-four copper plate engravings. Quarto. Old vellum. Vellum dust soiled, small portion of spine lacking, some occasional light foxing or tanning. Bottom margin of one folding plate trimmed, slightly affecting explanation. Another folding plate neatly detached. Overall a very nice copy. The second French edition. This copy contains the armorial bookplates of Mathew Wilson and Frances Mary Richardson Currer. Currer (1785-1861) was a renowned British book collector who occasionally had privately printed catalogues of her collection produced. Her library, said to have been comprised of some twenty thousand fine books, was sold through Sotheby's in 1862. "The books were all in choice condition, many with fine bindings...The books contain an heraldic book-plate, and are generally noticeable for their fine condition" - DNB. Mathew Wilson was Currer's grandfather or father (both were of the same name), of Eshton Hall, Yorkshire. This important work on the islands of the Caribbean, with interesting information on Florida, Georgia, and the Eskimos, was originally published in French in 1658, its main purpose being the encouragement of Huguenot emigration to America. Its greatest contribution was the impressive marshalling of contemporary information on the Caribbean islands, especially the French and British colonies developing as sugar plantations. However, Rochefort also includes a long account of an "Apalacite" kingdom of Indians said to exist in Florida and present-day Georgia, fa … [Click Below for Full Description]
Bookseller:
William Reese Company - Americana
Lvov (Lemberg), Lviv Dormition Brotherhood Press, (ca. 1665 - 1691) Text in Church Slavonic. Folio (12" x 7-1/4") Contemporary full-leather binding. Beautifully printed in red and black. Illustrated with broad woodcut border on title, woodcut on title verso, woodcuts throughout the text (some of them full-page); numerous initials in woodcut. Some woodcuts are signed by a certain Nikodim. One stamp (on leaf four) cut out with loss of some text; title page in fragile condition, the year has been cut out the title-page. Very Rare. Click two times on the image to enlarge. For more images please visit our website.. HB.
Bookseller:
Books You Want