Displayed below are some selected recent viaLibri matches for books published in 1651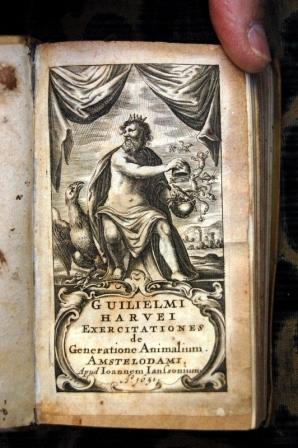 AMSTELODAMI: APUD JOANNEM JANSSONIUM(1651). [600' MEDICINA-RARO] (cm13,6) bella legatura originale in piena pergamena con unghie.--cc. 17 nn. + 1c. bianca (che manca) + pp. 415 + 1 p. bianca + cc. 2 nn. di index. bella antiporta figurata con allegorie. E' il più importante trattato di embriologia del XVII secolo. Pietra miliare del celebre medico inglese che dopo il "de motu cordis" pone la sua attenzione agli studi sulla generazione e capovolge la concezione galeonico-aristotelica dello sviluppo dell' embrione. L Harvey rifiuta le precedenti dottrine sulla formazione del feto e si pone fra i più importanti scienziati di biologia nonostante l' uso limitato del microscopio appena inventato. Prima rara contraffazione in piccolo formato della celebre edizione di Londra, stampata qualche mese prima e Prima edizione stampata nel continente. Dopo l' edizione di Londra del 1651, furono impresse in Olanda ben 3 edizioni in piccolo formato. Vari errori di numerazione rigorosamente elencati in KEINES, Manca la carta 18 nn. che è bianca, alcune antiche sottolineature e una macchia in alto a carta 6 nn. e 7 nn., naturali ombreggiature a qualche carta, altrimenti esemplare bello, genuino e assolutamente completo con due antichi ex libris nobiliari, al frontis e al verso dell' antiporta. KEINES " BIBLIOGRAPHY OF W. HARVEY " n° 37; DAWSON 257; WILLEMS " ELZEVIER " 1129 in nota; KRIVATSY 5345; WALLER 4125; WELLCOME III 220.[f31]. Libro. Book Condition: ottimo. Binding: Rilegato
Bookseller:
Studio bibliografico Libri Antichi Arezzo
[IT]
Kupferstich aus Famiano Strada "De Bello Belgico" Mainz 1651. Kupferstich aus Famiano Strada "De Bello Belgico" Mainz 1651. 22.5x27.5 cm. - Muller, Nederl. 971 - Clemen, Bonn 31 - Dekorative Ansicht mit reicher Personenstaffage und lebhafter Darstellung des Belagerungsverlaufes bis zur Übergabe der Stadt. Unter der Darstellung fünfzeilige Legende A - R.
Bookseller:
Wenner Antiquariat
Lugduni Batavorum [Leiden] Ex Officina Ioannis Maire, 1651. 4to. pp. [xii], 255, [i] blank, 156, 191, [v], 283, [cv] indices. Title page printed in red and black with engraved vignette. Old ink stamp to title. Late eighteenth-century continental green morocco, fully gilt spine and red morocco label, minor wear but a handsome copy. Arnobius was a distinguished rhetorician at Sicca Veneria in North Africa in the late third century, according to St Jerome, before he converted to Christianity after a dream. He wrote the seven books of the Adversus Gentes to convince the local bishop of the sincerity of his new beliefs. The wealth of detail about Graeco-Roman paganism has proved of great interest to historians, but theologically some of Arnobius' ideas remain highly suspect. For example, he considered that the old gods were real enough but subordinate to the supreme Christian God. Book
Bookseller:
Bryars and Bryars
[United Kingdom]
Paris: J. Langlois,, 1651. donné au public et traduit d'italien en françois Par R[oland] F[réart] S[ieur] D[e] C[hambray]. Folio (380 × 257 mm). Contemporary mottled calf, boards with central gilt arms, gilt rules, spine gilt in compartments, marbled endpapers, gilt edges. 56 engraved illustrations and diagrams within text, additional engraved title with portrait, vignette title page, and many engraved head- and tailpieces. Front joint and corners restored, a few trivial spots, a very good copy. First French language edition and the first edition overall, generally recognised as preceding the Italian edition published in the same year at Paris by Langlois, despite the original manuscript – now lost – being in Italian. Leonardo's text is the foundational practical treatise on Renaissance art.
Bookseller:
Peter Harrington
Amstelodami|(Amsterdam): Lodovico Elzevirium (Elzevir)., 1651. Fine. Lodovico Elzevirium (Elzevir)., Amstelodami (Amsterdam) 1651, pet in-12 (13,5x8,5cm), (4) 448., relié. - First Edition. Illustrated with a frontispiece. Vellum full flap. Smooth back with title pen. Guards restarted. Important Greco-Latin dictionary. The German humanist E. Lubin (1565-1621) taught poetry at the University of Rostock from 1595 to 1605 before becoming a professor of theology art. Beautiful elzévirienne edition fine print. Between 1620 and 1680 the production of Elzevir enjoyed a golden age letterpress. Originally small sizes and small print (technical prowess then) there were issues of cost, printing then being in crisis. --- Please note that the translation in english is done automatically, we apologize if the formulas are inaccurate. Contact us for any information! - [FRENCH VERSION FOLLOWS] Edition originale. Illustrée d'un frontispice. Reliure en plein vélin à rabat. Dos lisse avec titre à la plume. Gardes renouvelées. Important dictionnaire greco-latin. L'humaniste allemand E. Lubin (1565-1621) enseigna l'art poétique à l'université de Rostock de 1595 à 1605 avant de devenir professeur de théologie. Belle édition elzévirienne à petits caractères. Entre 1620 et 1680 la production des Elzevir connut un âge d'or typographique. A l'origine des petits formats et des petits caractères (prouesse technique alors) il y eut des questions de coûts, l'imprimerie étant alors en crise.
Bookseller:
Librairie Le Feu Follet
[Paris, France]
Amsterdam: Johan Blaeu, 1651. Amsterdam: Johan Blaeu. Very Good/No Jacket. 1651. Hardback. 16mo - over 5¾" - 6¾" tall 895pp cut down to fit a later binding (no loss of text). Full leather binding. Engraved title-page, marbled endpapers & A.E.G. Edges rubbed, o/w all vg .
Bookseller:
Camilla's Bookshop
[Eastbourne, SX, United Kingdom]
Bologna, eredi di Dozza, 1651. (8), 624, (16) SS. Mit gest. Titelvignette ("Il Coriolano f.") und zahlr. Textholzschnitten (zumeist im Rand). Pappband der Zeit mit hs. Rückentitel in rot und schwarz. 4to. Dritte Ausgabe des gastronomisch-agronomischen Klassikers, bis 1761 in mindestens 18 Ausgaben erschienen. Erstmals 1644 (und dann wieder 1648) aufgelegt. Die vorliegende, überarbeitete Ausgabe enthält als erste das Schlußkapitel über die Eigenschaften eines guten Jägers und bietet somit als erste den endgültigen Text der Folgeauflagen. Die ersten beiden Kapitel widmen sich hauptsächlich der Winzerei, behandeln aber auch die Imkerei und das Brotbacken (ausführlich zu den verschiedenen Brottypen, Zutaten etc. auf S. 22-38). Andere Kapitel widmen sich der Landwirtschaft, dem Gartenbau, dem Pfropfen, der Verwendung der einzelnen Teile des Tieres beim Kochen, den medizinischen Qualitäten verschiedener Speisen sowie den vier Jahreszeiten (mit ausführlicher Aufstellung jeweils geeigneter Menüs). "Interesting on account of the appendix dealing with the qualities and virtues which a hunter should stand possessed of" (Schwerdt). Im selben Jahr erschien eine weitere Ausgabe in Rom. - Titel mit zeitgenöss. Monogrammstempel. Der Einband gelb angefärbt und etwas berieben. Am vorderen Innendeckel herald. Signaturschildchen der aufgelösten "Biblioteca Sommi Picenardi" in der Villa Sommi Picenardi bei Cremona. Westbury 211f. Souhart 452. Vgl. Simon (Bibl. Gastr.) 1443f. (nur spätere Ausgg.). Schwerdt II, 247b (Ausg. 1658). Diese Ausgabe nicht bei Kress oder Goldsmiths'. Nicht bei Bitting o … [Click Below for Full Description]
Bookseller:
Antiquariat INLIBRIS Gilhofer Nfg. GmbH
[Vienna, A, Austria]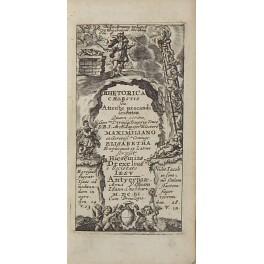 Apud Viduam Ioann. Cnobbari, Antverpiae, 1651. Lievissime imperfezioni alla copertina Frontespizio calcografico (16) + 434 p. - in-24
Bookseller:
Libreria Antiquaria Giulio Cesare
[roma, ROMA, Italy]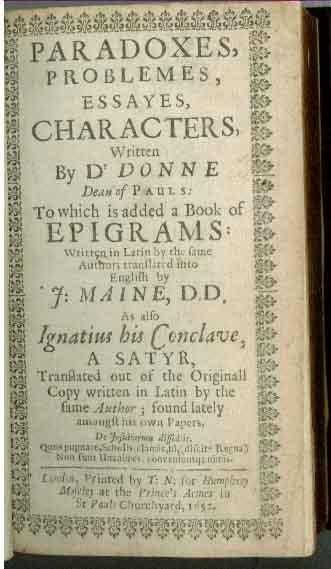 London: Humphrey Moseley, [1651] 1652 & 1653. London: Humphrey Moseley. VG - in Very Good condition. Careful modern restoration using original boards and spine as pattern. Occasional foxing or marks within. Closed tear second page 81 (no loss). Top edge cropped, not impinging. [1651] 1652 & 1653. First Edition thus. Tooled brown leather cover with red/gilt title panel. 145mm x 85mm (6" x 3"). 1-103pp; pp 107-219; 224pp. With separate title pages for Paradoxes and Ignatius, half-title for Essayes. Paradoxes etc pp 1-103pp; Ignatius pp107-219 Title page before page 107.Essayes & prayers etc pp1-224 only the leaf 'to the reader' before page 1. .
Bookseller:
Barter Books Ltd
[Alnwick, NORTH, United Kingdom]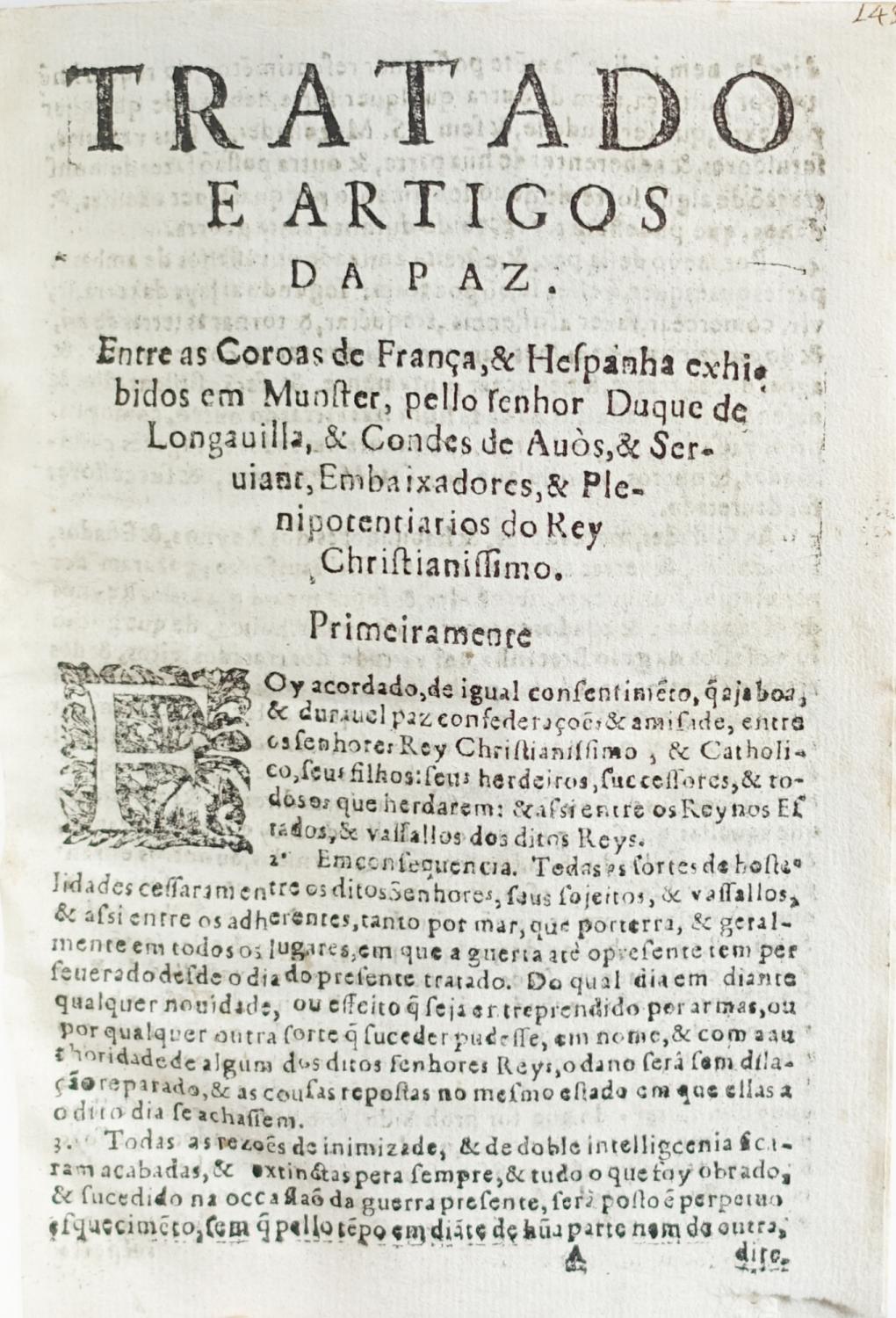 [Colophon] (Lisbon), Por Manoel da Sylva, 1651.. First Portuguese Edition. 4°, old vellum (more recent endpapers; a bit warped). Caption title. Seven-line woodcut initial. In good to very good condition. Old ink foliation (243 to 254) in upper outer corners of each leaf recto. Old paper shelfmarks in upper inner corner of front cover (rectangular) and near lower inner corner of front cover, extending over spine on to back cover (oval). [12 ll.]. *** Very rare Lisbon printing, in Portuguese, of this treaty, the French-Spanish component of the Peace of Munster, or Treaty of Westphalia, ending the Thirty Years' War in 1648. Portugal had declared her independence from Spain in 1640, and had been counting on French support to maintain it.The Treaty of Westphalia incorporated four basic principles:1: The principle of the sovereignty of nation-states and the concomitant fundamental right of political self-determination; 2: the principle of (legal) equality between nation-states; 3: the principle of internationally binding treaties between states; and, 4: the principle of non-intervention of one state in the internal affairs of other states.That is why the Treaty of Westphalia (1648) is so crucial in the history of international political relations. This important series of treaties formed the basis for the modern international system of independent nation-states. In fact, it marked the beginning of an international community of law between sovereign states of equal legal standing, guaranteeing each other their independence and the right of their peoples to political self … [Click Below for Full Description]
Bookseller:
Richard C. Ramer Old and Rare Books
[New York, NY, U.S.A.]
London:: Printed by J. Fletcher, for Richard Marriot,. 1651.. 4to: A - 2S4 (lacks A1, 2S4 - blanks). 19 cm x 14 cm. 1st edition, 1st issue (Keynes 55; Pforzheimer 295; Wing D-1864). [6], 318 pp.. Modern full leather binding, executed in a period style. Red edgestain.. Binding - Fine. Textblock - Overall VG+ (some editorial red &. regular pencil marks & annotations/occasional unobtrusive worming &. dampstaining to margins).. James Russell Lowell was Harvard's class poet [1838], who went on in his later life to become an influential 19th C. man-of-letters. John Donne a favorite author of Lowell, who edited an edition of Donne's poems [1855. Cf. BAL 13085), as well as a posthumously-published Grolier Club 2 volume edition (cf. BAL 13409) of the famous 17th C. poet, which included Donne's Poems, Letters, Elegies, etc. Lowell's copy of Donne's POEMS auctioned in 1992. Here we offer Lowell's copy of Donne's LETTERS, with Lowell's signature in the t.p. right upper margin, and editorial marginalia within. . Frontispiece (in expert copperplate facsimile).
Bookseller:
Tavistock Books, ABAA