Displayed below are some selected recent viaLibri matches for books published in 1642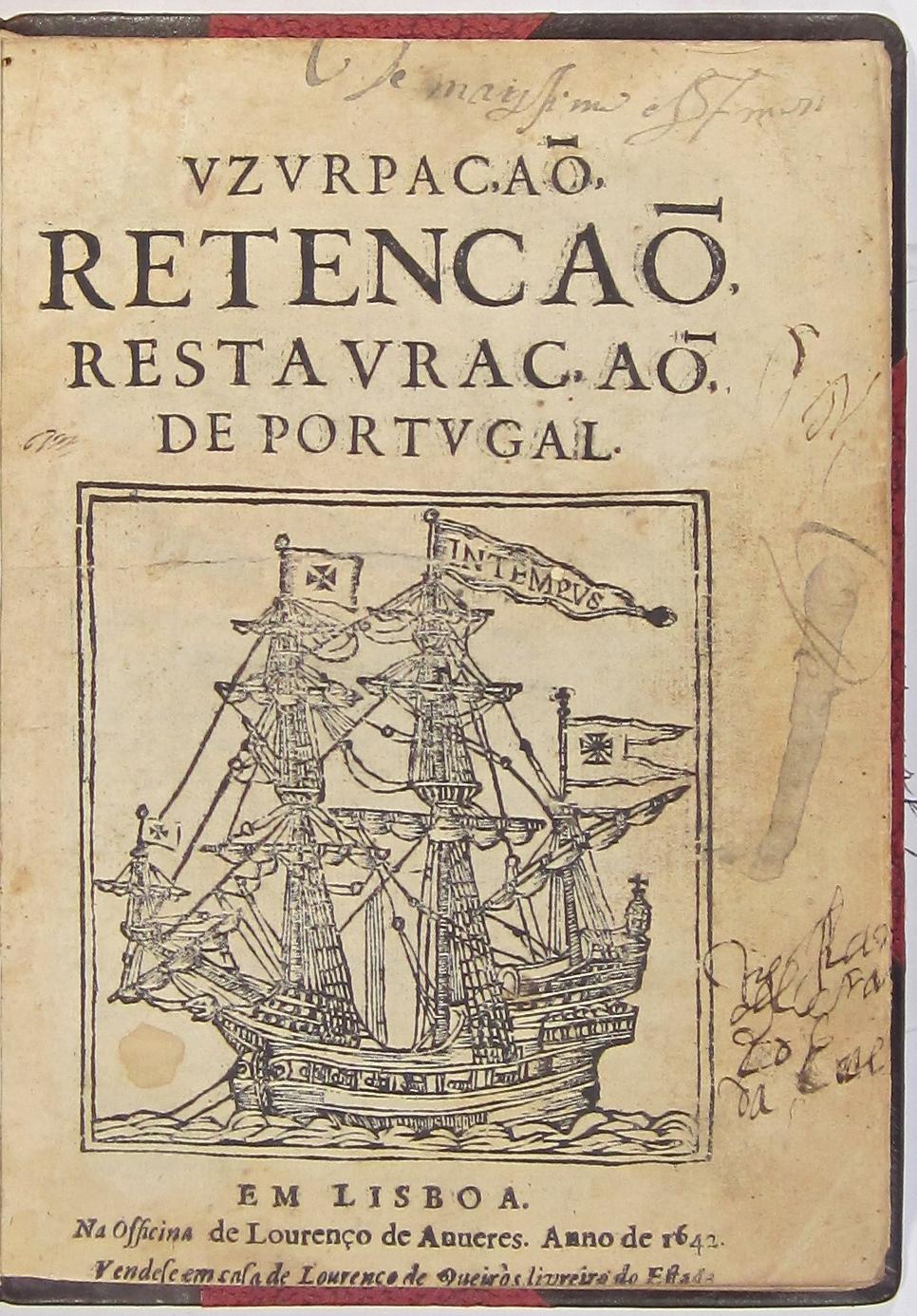 Lisbon, Officina de Lourenço de Anveres, 1642. 4°, modern half calf, flat spine, gilt letter (minor wear). Large woodcut on title of a ship, with motto on flag "In tempus." Repairs to verso of title-page and elsewhere, somewhat crude but without loss of text; final line on title-page shaved; some soiling and dampstains. In good condition. Bookplate of Francisco de Saldanha da Gama Ferrão de Castello Branco. (2), 56 ll. *** FIRST EDITION, explaining the grievances of the Portuguese against King Philip and the Spaniards and justifying D. João and his followers for restoring Portugal's status as an independent kingdom. An Italian translation appeared in Lisbon, 1646 under the title Discorso dell' usurpatione, retentione e ristoratione del regno di Portogallo, and in 1861 it was published under the title Brado aos portuguezes: opusculo patriotico contra as idéas da união de Portugal com a Hespanha, with a prologue by Sebastião José Ribeiro de Sá.Pinto Ribeiro (d. 1649), who held a doctorate of laws from the Universidade de Coimbra, was a magistrate and confidential advisor to D. Luiza, the wife of the Duke of Bragança. He played a notable part in the Restauração, helping to persuade the Duque de Bragança to claim the throne. Along with many others, he has been suggested, in error, as a possible author of the classic Arte de furtar.*** Innocêncio IV, 23 (without collation); X, 336; XVIII, 191 (calling for "5 innumer. - 57 pp."). Barbosa Machado II, 665. Figanière 215. Exposição bibliográfica da Restauração 1531. Perição de Faria, Visconde da Trindade 151: "muito rara." Not in Fo … [Click Below for Full Description]
Bookseller:
Richard C. Ramer Old and Rare Books
[New York, NY, U.S.A.]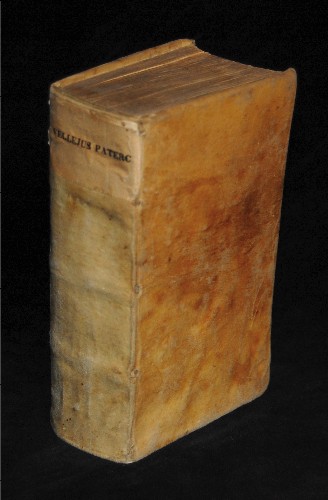 Strassburg, Joan. Philippi Mülbii, 1642. 8:o. (16),+ (223),+ (blank),+ 144, 195-366,+ (177) s. Titel tryckt i rött och svart. Sammanbunden med: BOECLERUS, Johann Heinrich. Characteres politici Velleiani. Strassburg, Joan. Philippi Mülbii, 1642. 8:o. (144) s. Titel tryckt i rött och svart. Samtida understrykningar och marginalanteckningar i bläck. Samtida pergamentband, med senare tryckt titeletikett. Ur biskop Eric Wallers bibliotek, med dess exlibris, samt med Andreas Gregorij namnteckning på titelbladet, daterad Stockholm 1651, samt Friedricus Åhrbergs på försättsbladet, daterad 1745. Schweiger s. 1127 och 1133. Båda verken i första upplagan. Bra proveniensexemplar. Första arbetet innehåller även "Thrasybulos Pacificator, sive De amnestia", liksom Boeclerus långa kommentar. Det senare, Boeclerus politiska arbete om Velleius, utkom i nya upplagor 1662 och 1672. Johann Heinrich Boeclerus (1611-72) var tysk historiker och från år 1637 professor i vältalighet i Strassburg. Som sådan introducerade han den unge Schefferus i studiet av klassikerna. Han kallades av drottning Kristina till den skytteanska professuren i Uppsala 1647 men avböjde, och rekommenderade istället Schefferus. 1649 kom han ändå till Sverige och Uppsala som professor i vältalighet och 1651 utnämndes han till rikshistoriograf. Samma år återvände han dock till Strassburg och till professorsstolen i historia. Historikerna Tacitus och Velleius Paterculus ägnade han speciellt intresse. I denna utgåva följer han Voss text från 1639, men hans kommentarer är mer politiskt-moraliska än filologiska. Eric Waller (1732 … [Click Below for Full Description]
Bookseller:
Centralantikvariatet
[Stockholm, Sweden]
Amsterdam, 1642. 44.5 x 55.5 cms, original colour, clean split at foot of centrefold, vertical creases on either side of the centrefold, short marginal tear on the left of the map, French text to verso.
Bookseller:
Tim Bryars Ltd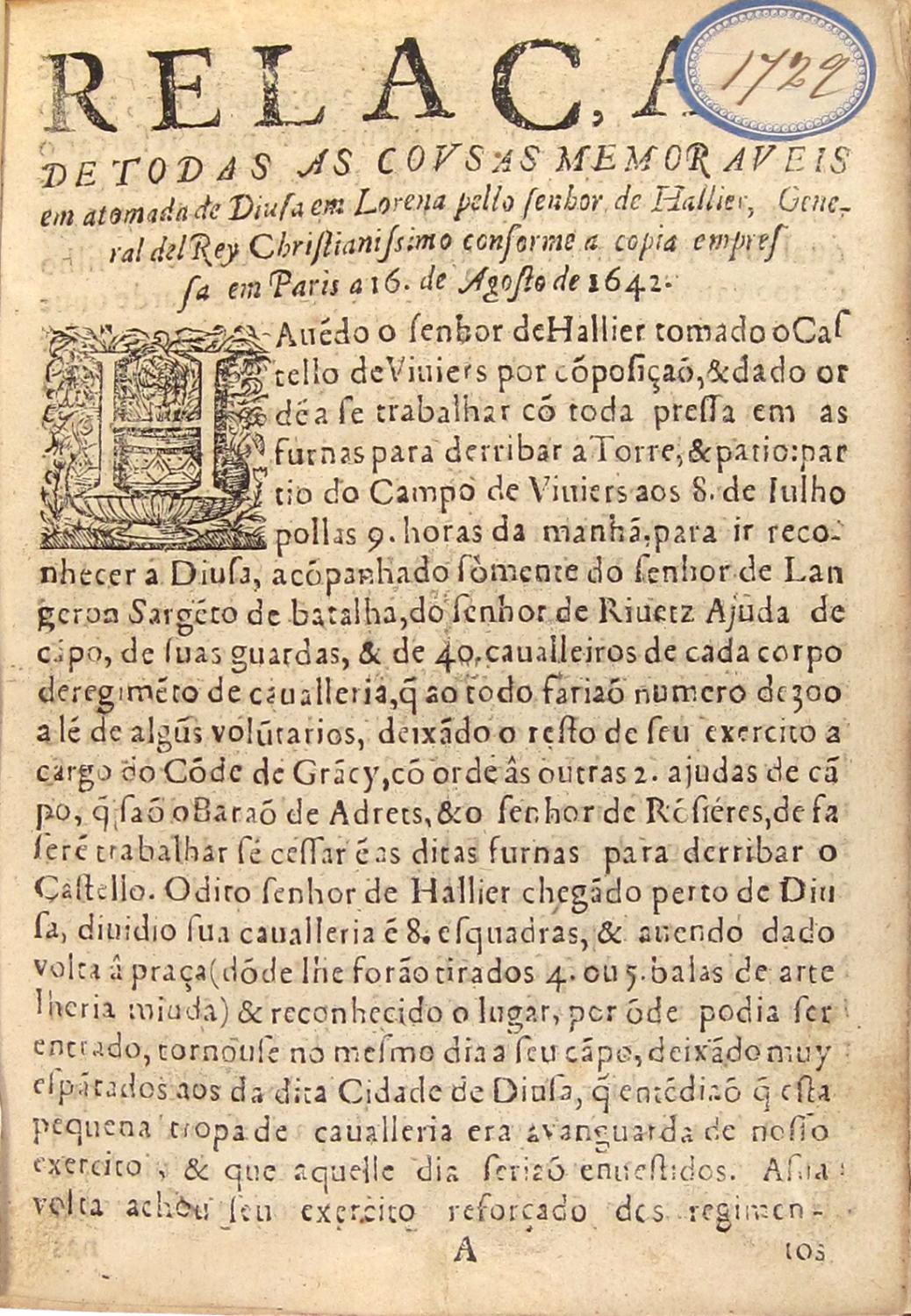 [Colophon] Lisbon, Na Officina de Lourenço de Anveres, 24 October 1642. 4°, recent antique sheep, spine gilt with raised bands in six compartments, crimson leather lettering-piece in second compartment from head, gilt letter, text-block edges rouged. Caption title. Six-line woodcut initial. Light browning. In good to very good condition. Old oval paper ticket with shelfmark 1729 in upper outer corner of first leaf recto, covering last letter of the caption title. (6 ll.). *** First and Only Edition in Portuguese of this rare tract. François de l'Hôpital (1573-1660), comte du Hallier and later Maréchal de France (1643) and duc de Rosnay (1651), was at this time serving as governor of Lorraine, in northeastern France. This account describes how Hallier captured Dieuze, which was incorporated into France. (As part of the Holy Roman Empire it was known as Duss.) Details are given of commanders, troops, and movements. The report mentions Viviers, which was destroyed in 1642 at the order of Richelieu.In 1635, Hallier was named a marshal of France. This was a minor action in the brutal course of the Thirty Years' War (1618-1648), which began as a religious conflict between Catholics and Protestants within the Holy Roman Empire, and evolved into a battle between the Bourbons and Habsburgs. The War significantly affected the outcome of the Portuguese struggle for independence (the Restauração), since it prevented the King of Spain from directing his full military might against Portugal.*** Arouca R233 (citing a copy in the Biblioteca Pública e Arquivo Distrital de Évora). Martinho d … [Click Below for Full Description]
Bookseller:
Richard C. Ramer Old and Rare Books
[New York, NY, U.S.A.]