Displayed below are some selected recent viaLibri matches for books published in 1637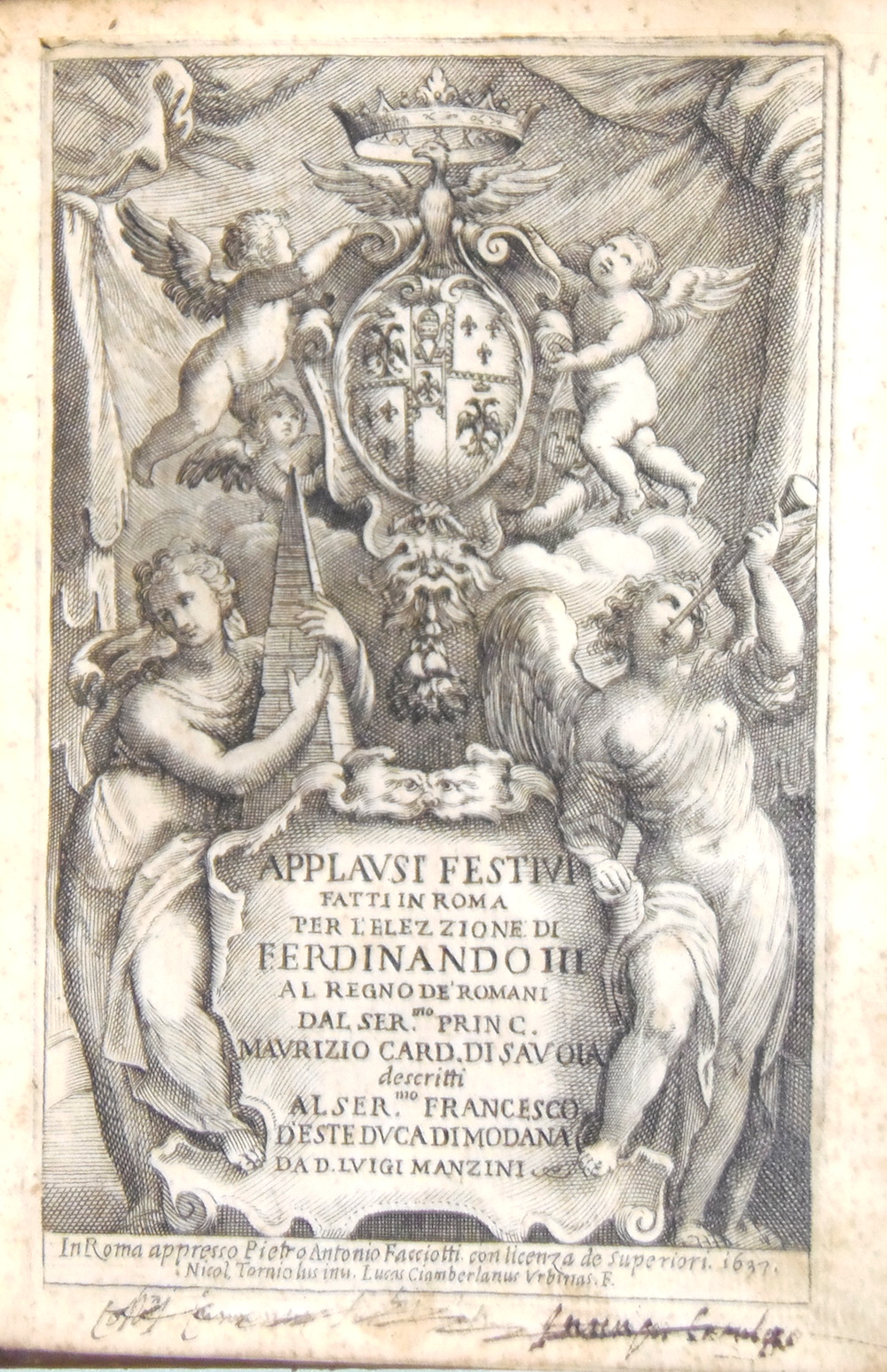 Bookseller:
libreria antiquaria perini Sas di Perini
[Verona, VR, Italy]
1637. Title Page Signed "T.E. Chitty" [Crompton, Richard]. L'Authoritie et Iurisdiction [Jurisdiction] des Courts de la Maiestie de la Roygne: Nouelment Collect & Compose, per R. Crompton del Milieu Temple Esquire, Apprentice del Ley. Si Seuris Index, Mitisis Corde Memento, Dicito, quae Possunt Dicta Decere Senem. London: Printed by the Assignes of Iohn More Esquire, 1637. [iv], 232 ff. Quarto (7" x 5"). Later three-quarter calf over cloth, raised bands, gilt spine. Worn, front hinge cracked but secure, title page signed "T.E. Chitty." Numerous annotations and brief notes in early court hand, light foxing to a few leaves. Ex-library. Institution name gilt-stamped to front cover and spine, corresponding monogram to rear cover, bookplate to front free endpaper, a few small ownership stamps to title page and elsewhere. * Second and final edition, first published in 1594. Crompton was a bencher of the Middle Temple during the reign of Henry VIII and the author of several notable contributions to the legal literature. First published in 1594, L'Authoritie et Iurisdiction is considered to be his principal work. It is essentially a digest of the Year Books and other cases applicable to the subject. On a broader scale, it offers legal justification for the creation of a rigidly hierarchical "natural" society governed by a powerful monarch. This desire, articulated by Bodin among others, was common to several conservatives in England and Europe during the Late Renaissance. This copy probably belonged to Thomas Chitty [1802-1878], the eminent lawyer, teacher and legal reforme … [Click Below for Full Description]
Bookseller:
The Lawbook Exchange, Ltd.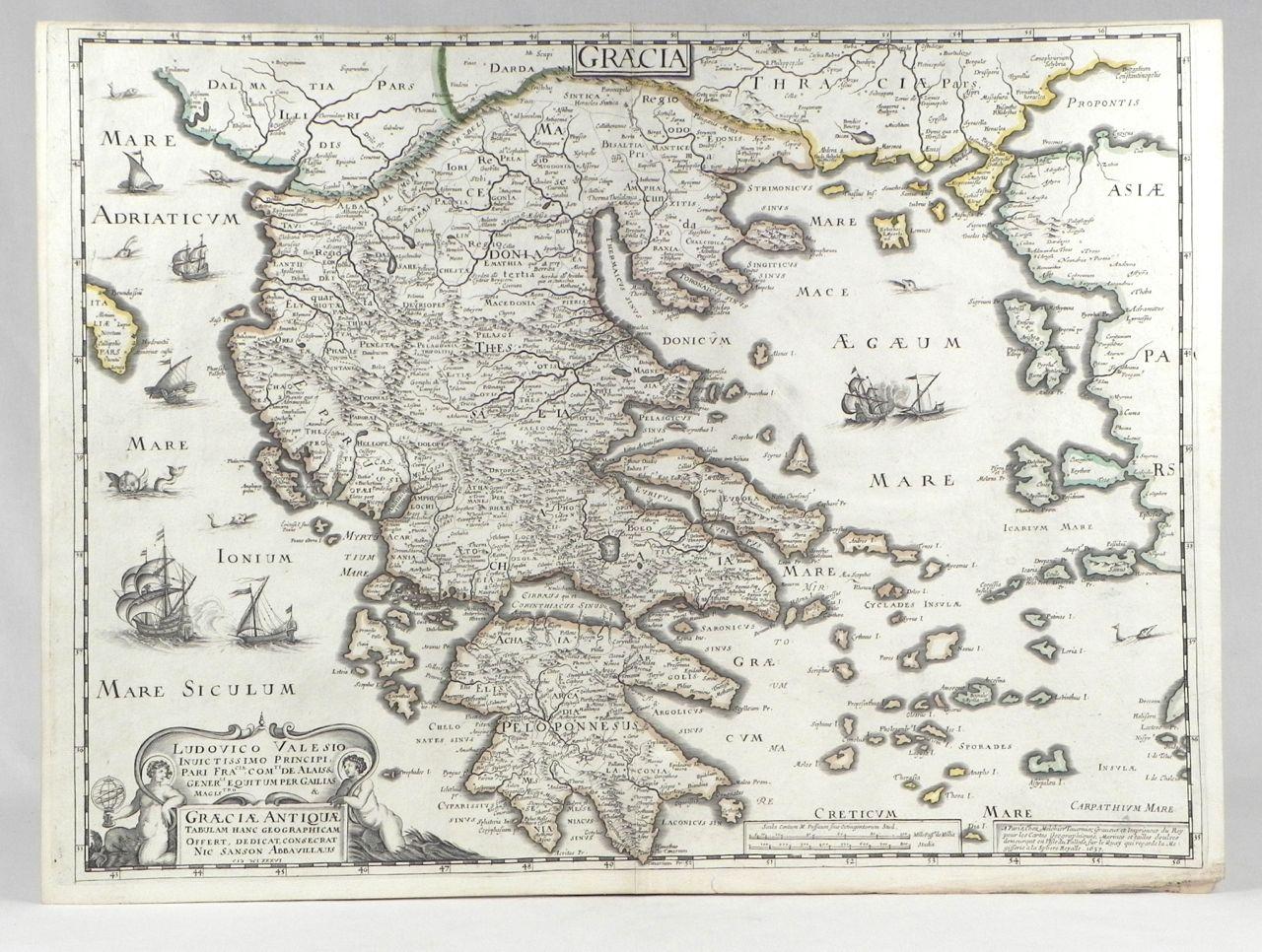 Paris: Melchior Tavernier, 1637. Carte de format 56 x 42 cm; marge supérieure très courte (rognée au niveau de la cuvette). Coloris (modernes?) en contours. Jolie carte décorative, en bel état de fraîcheur.
Bookseller:
LIBRAIRIE DES CARRÉS
[Gennes, France]
Paris,Vitray, 1637. 3 vol. in-12. Frontispice dans chaque vol. représentant Sénèque dans son bain, avant son suicide. 725-646-900 pp. Veau glacé blond contemporain. Filets dorés sur les plats. Dos à caissons, avec nerfs, petit fleuron central. Titre et tomaison gravés. Ouvrage en latin en bon état malgré reliure accidentée au dos du tome III, et coin légèrement mâché au dos du tome I. Livres
Bookseller:
Librairie Laurencier
[Bordeaux, AQUIT, France]
London, 1637. Copper engraving, 29 x 37 cms. Third state (with numeral), from the second edition of Philemon Holland's translation of Camden's Britannia. Black and white. One or two small printer's creases, very faint old library stamp to upper margin, not affecting the printed area. Blank verso.
Bookseller:
Tim Bryars Ltd
Crooke / Jacob Bloome. Very Good with no dust jacket. 1637, 1638. Hardcover. EXPLORATION; Asia; Africa; We fit archival quality clear acrylic covers for additional protection whenever possible. ; Wood block print; ; 309, 364 [17] pages; (Sandys' Travels. ) [Sandys, George. ] [A Relation of a Journey Begun in 1610... Containing a Description of The Turkish Empire, of Egypt, [etc]. ] [London: A. Crooke], [1637]. 4th ed. Folio, late 19th-century 3/4calf & marbled bds. , gilt-lettered spine; light wear. Title page, map & pp. 271/272 supplied in facsimile. Numerous full-page & text engravings. Scattered repairs. Scattered light foxing. Trimmed, no loss of ptg. STC 21730. -----------------Bound with: Herbert, Thomas. Some Years Travels into Divers Parts of Asia and Afrique. London: Jacob Blome and Richard Bishop, 1638. 2nd ed. Folio. Additional engraved title, numerous engravings in text. Pages 9/10, 33/34, 161/162 supplied in facsimile. A few scattered repairs, some dampstaining to upper corners of title pages & front matter. Trimmed. STC 13191. Both titles trimmed to approx. 11 1/8 x 7 3/8 inches (282 x 187 mm. Includes laid in letter from University of Oxford Press describing repairs made in 1928. OTHER GRAPHICS ARE AVAILABLE FOR THIS LISTING. PLEASE EMAIL US FOR THEM. 25702 .
Bookseller:
poor mans books
[U.S.A.]