Displayed below are some selected recent viaLibri matches for books published in 1631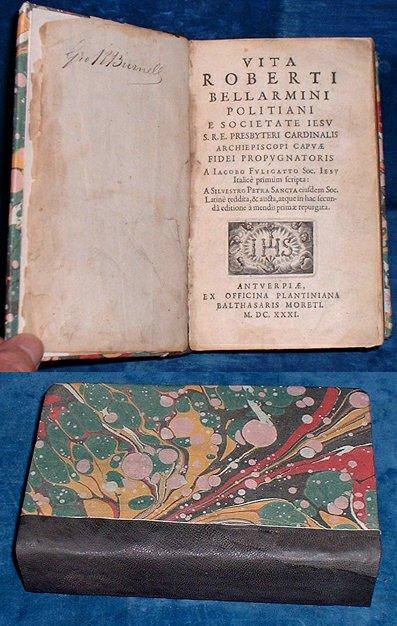 Antwerp: Officina Plantiniana Balthasaris Moreti, 1631. Hardcover. Good. Octavo later morocco spined marbled boards (tips rubbed) [22]pp prelims +576pp +[46]pp index etc + full page printer's mark with Plantin's Calipers in labor et constantia frame held by 2 supporters male & female. Newer endpaper but retaining most of the original endpapers with pen trials "Thomas Shorte", "William Payton", "Robert Payton", "to my cousen Jane" and other nice 17th century writing. *Life of Archbishop Bellarmini who was on close terms with several popes. He was the foremost writer in the refutation of various heretical sects, also responsible for warning Galileo that the heliocentric theory would not be tolerated and to cease its promotion.
Bookseller:
Abbey Antiquarian Books
[Blockley, GLOS, United Kingdom]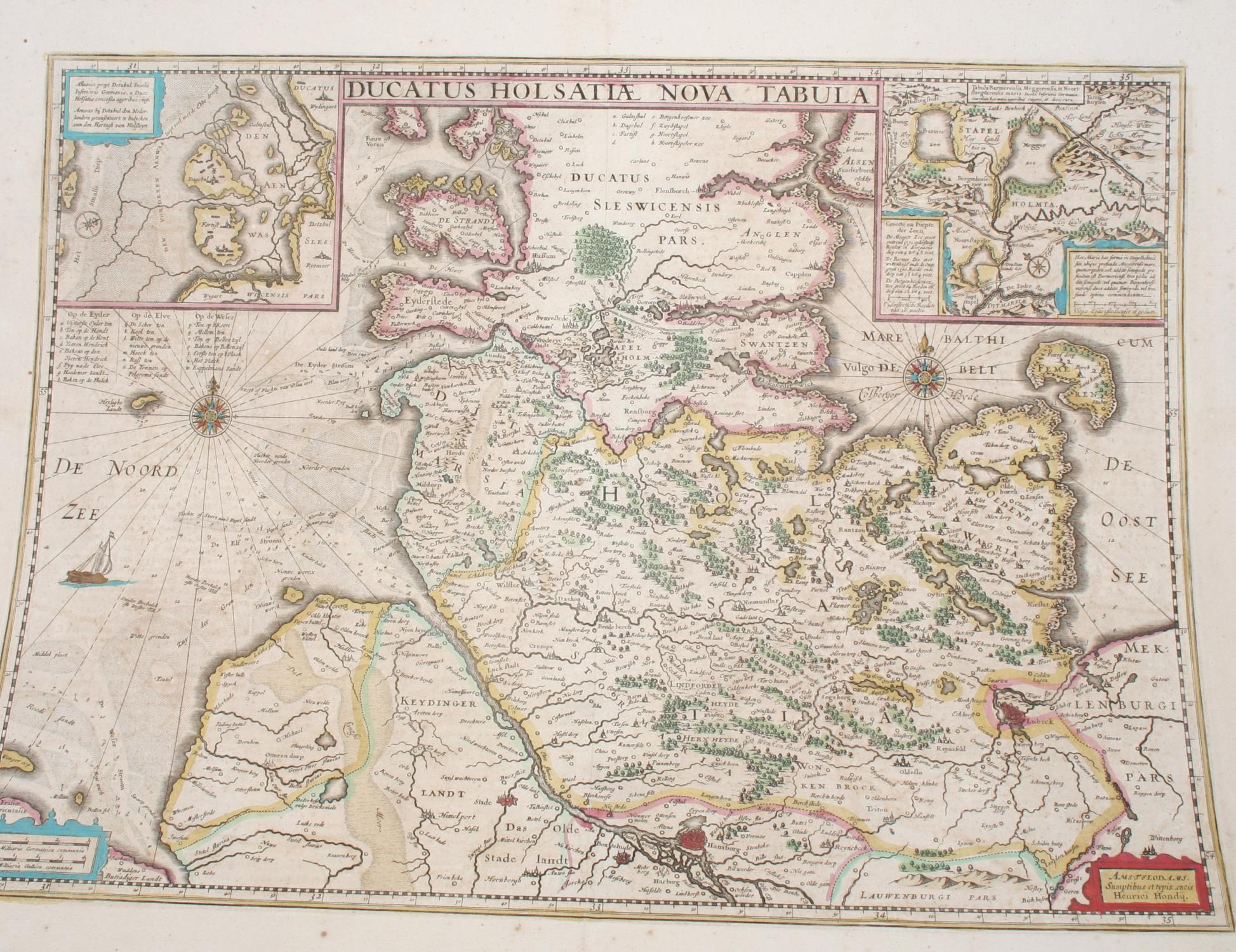 1631. Kobberstukket kort over Slesvig og Holsten i samtidig håndkolorering. 38,5 x 51,5 cm. Med 2 kompasroser, skib i Nordsøen og 2 indsatte særkort i øverste hjørner. På bagsiden fransk tekst. ¶ Kortet er gengivet i Pontanus "Rerum Danicarum Historia" 1631, men støtter sig iøvrigt på Jordans kort med mange nye detaljer. Kortet forekommer uændret i flere atlas fra tiden, således også hos Janssonius.
Bookseller:
Lynge & Søn ILAB-ABF
[Copenhagen, Denmark]
Only edition of Dodderidge's principal work, his singular attempt to determine the qualities of the lawyer and law student, and to probe the fundamental nature of law, his "scholarship reach[ing] far beyond that of most contemporary lawyers". Contemporary speckled calf, neatly and unobtrusively rebacked, showing some wear, light browning, yet an appealing copy. Printed by the Assignes of I. More Esq., London, 1631.
Bookseller:
Meyer Boswell Books, Inc.
[U.S.A.]
Amsterdam: Henrico Hondius, 1631 [but 1633]. Copper-engraved map, with original outline colour, German text on verso (centerfold reinforced, in very good condition). 18 x 21 1/8 inches. The celebrated Hondius map of the Americas, in the third state. Originally issued by Jodicus Hondius Jr. in 1618, this map of the Americas was modified by Henricus Hondius following his brother's death. The original map was based on Jodicus Hondius the elder's map of 1606, along with the Willem Blaeu maps of 1608 and 1617. The map would form Europe's geographical understanding of North and South America for the first half of the 17th century. Several major corrections have been made compared to the 1606 Hondius map. The St. Lawrence Bay and River are much improved, and at the opposite end, Tierra del Fuego has been separated, however nebulously, from the great Terra Incognita, thought (correctly) to exist since ancient times. The rather assertive outgrowth of Virginia in the 1606 map has been modified to reflect more accurately the eastward swelling at North Carolina. Interestingly, Henricus Hondius' next map of North America (1636) adopted the increasingly popular notion that California was an island, and greatly advanced that belief. The map includes inset maps of the North and South Poles. The nicely drawn ships and sea monsters add to the pleasant aesthetic effect of the map. Burden, The Mapping of North America I, 192
Bookseller:
Donald Heald Rare Books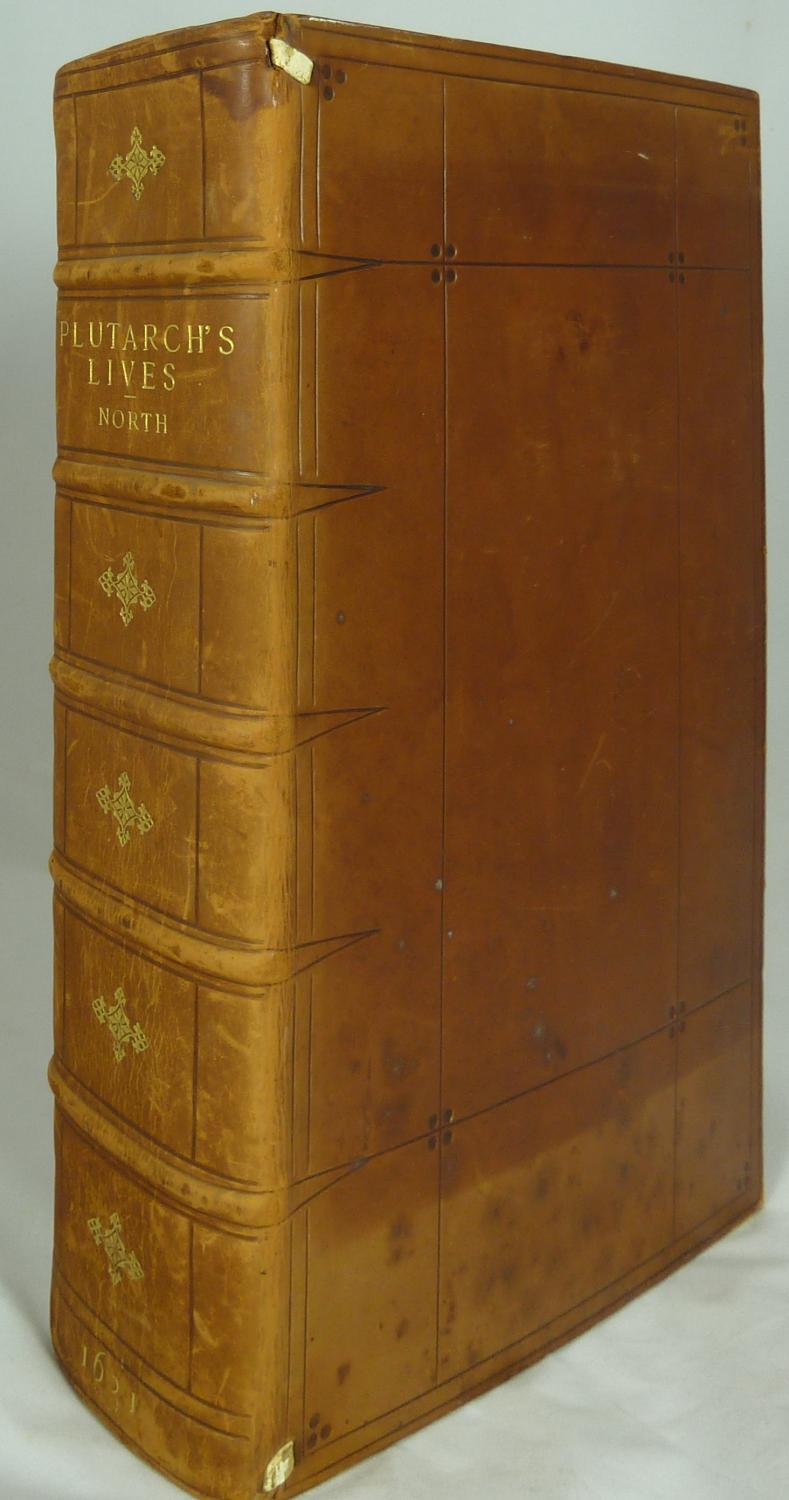 Printed By George Miller, and are to be Sold By Robert Allott, at the Signe of the Black Beare in Pauls Churchyard., London, 1631. The Lives of the Noble Grecians and Romans, compared together by that grave learned philosopher and historiographer, Plutarch of Chaeronea. Translated out of Greeke into French by James Amiot, Abbot of Bellozane, Bishop of Auxerre, one of the Kings privie Counsel, and great Almner of France: With the lives of Hannibal and Scipio African: translated our of Latine into French by Charles del'Escluse, and out of French into English by Sir Thomas North Knight. A neat inscription to the ffep, dated 1909, and a previous owners' book plate, dated 1897. Has been expertly rebound in full tan leather, with blind tooled parallel lines to both boards, which form a decorative border. 'Plutarch's Lives', 'North' and the date, appear in gilt on the spine, with gilt tooling in all 5 of the other compartments. Sunning to both boards has resulted in the shadow of another book that has been placed on top to become apparant. There are two small cracks to join between the front endpapers, measuring four and a half and fifteen centimetres, with another similar crack in the join between the rear endpapers, measuring nine centimetres. These endpapers are not original, and are also stained around the edges (measuring 0.6mm), where they have taken on the brown colour of the leather. Virtually no foxing to pages, though there is a little discolouration due to age. [Attributes: Hard Cover]
Bookseller:
St Marys Books And Prints Wisden Dealers
[Stamford, United Kingdom]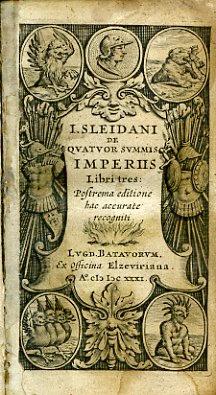 ex Officina Elzeviriana, 1631. In-24° (113x60mm), pp. 309, (24) di indice, (1) bianca. Legatura del secolo decimonono in p. marocchino rosso fuoco con triplice ordine di filetti dorati ai piatti, titolo e ricchi fregi ornamentali in oro su dorso a quattro nervetti. Unghie decorate in oro, tagli dorati. Bel frontespizio inciso su rame con grottesche, panoplie, figure teratomorfe. Testatine e capilettera ornati. Indice finale. Piccoli aloni marginali al frontespizio e alla prima carta di testo. Qualche brunitura. Esemplare proveniente dalle biblioteche private di John Alleyne (suo ex-libris manoscritto alla p. 3) e di Edwin Wolf II (suo monogramma alla prima carta bianca). Ottimo esemplare. Le pp. 225-240, - ossia il quaderno con segnatura P -, sono anteposte tra le pp. 208-209 per antico errore del legatore. La seconda delle due edizioni elzeviriane pubblicate nel 1631. L'opera, la cui edizione originale risale al 1556, fu ancora sovente ristampata in seguito per i tipi degli Elzeviri e consiste in un tentativo di compendiosa storia del mondo conosciuto dai tempi antichi sino all'epoca dell'autore, con marcati intenti di esaltazione della Germania. Willems, p. 91, n. 358. Rahir, 338. Copinger, 4365. Brunet, V, 409-410. Graesse, VI, 421.
Bookseller:
Libreria Antiquaria Galleria Gilibert
[IT]
Nicolaum Henricum, Monachii (Munich) 1631 - Reliure postérieure (19ème) de la bibliothèque du professeur Rüdinger (tampon sur page de titre et première page), ex libris. Dos à nerfs, filets dorés, pièce de titres en maroquin bordeaux, date en queue. Gardes postérieures.Titre frontispice gravé, 19 (ff), index capitum, 288p, index rerum 7 (ff), colophon. Illustré de 3 figures gravées sur cuivre hors texte et 2 in texte, sans le portrait de l'auteur. L'auteur était un médecin allemand de la seconde moitié du XVIIe siècle. [Attributes: Hard Cover]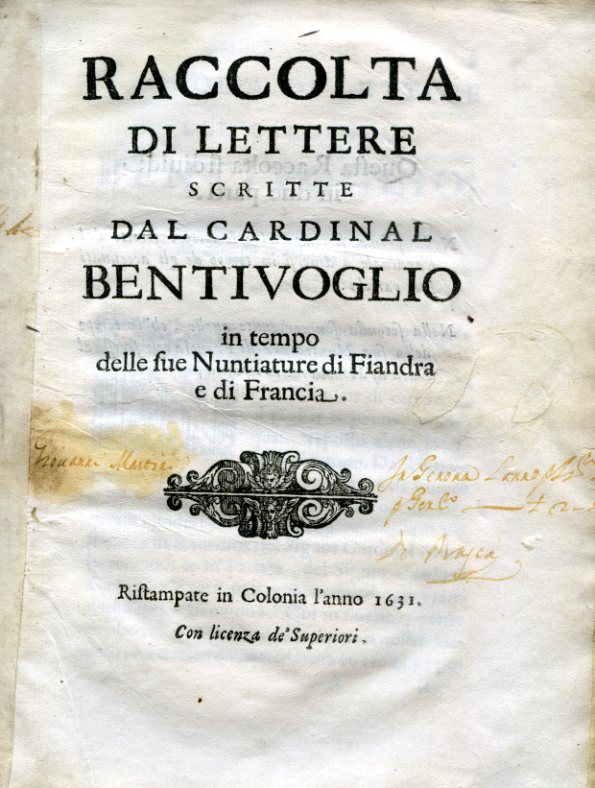 Ristampate in Colonia, 1631. In-4° (220x166mm), pp. (4), 248, (3) di indici, legatura coeva p. pergamena flessibile con titolo manoscritto verticalmente al dorso. Ex-libris manoscritto antico alla prima c. bianca. Fregio xilografico al frontespizio, presentante un'antica annotazione e un restauro al margine interno. Un capolettera ornato in xilografia. A p. [139], con occhietto proprio: Lettere del cardinal Bentiuoglio, scritte in tempo della sua nuntiatura di Francia. Una carta bianca con annotazioni antiche interfogliata tra le pp. 8-9. Bruniture, fioriture e aloni sparsi. Edizione originale, priva di indicazioni tipografiche e con la fittizia dicitura ristampate (l'edizione fu quasi certamente impressa in Italia). Importante pubblicazione dell'epistolario politico-diplomatico del celebre religioso e storico (Ferrara, 1579-Roma, 1644), Cameriere segreto di Clemente VIII, Cardinale dal 1621. Sono raccolte le lettere rivolte dal Bentivoglio ad alcuni dei maggiori scienziati e letterati del suo tempo (Agostino Pallavicino, il Cardinal Borghese, il Marino, membri delle famiglie Borgia, dEste, Gonzaga, Medici, ecc.). Il Bentivoglio fu studente a Padova di leggi, di storia e, sotto la guida di Galileo, di scienze. Nominato nel 1598 Cameriere segreto pontificio, nel suo iniziale periodo romano fu in dimestichezza con il Baronio, il Bellarmino, il Boccalini. Nunzio in Fiandra dal 1607 al 1616 e in Francia dal 1618 al 1621, dimostrò grande abilità diplomatica durante le aspre contese tra cattolici e protestanti. Cardinale dal 1621 e protettore dalla Francia presso la Santa Sede, c … [Click Below for Full Description]
Bookseller:
Gilibert Libreria Antiquaria (ILAB-LILA)
[Torino, TO, Italy]