Displayed below are some selected recent viaLibri matches for books published in 1626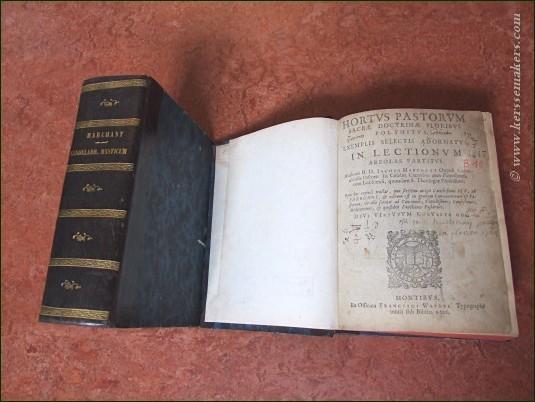 Montibus (Mons, Belgium), Ex Officina Francisci Waudre. 1626 - 1630. 2 volumes. Later 19th century black half leather, gilt. lii,764,viii pp.: vign. & xxiv,1142,vi pp.; 20 cm. Text in Latin. - (sl. worn, sl. browned, convent library stamps, low margin because new bindings) Although still very good. See picture. 1st edition. J. Marchant was a Prof. of the convent of Mons. 2600g [Attributes: First Edition; Hard Cover]
Bookseller:
Emile Kerssemakers ILAB
[Heerlen, Netherlands]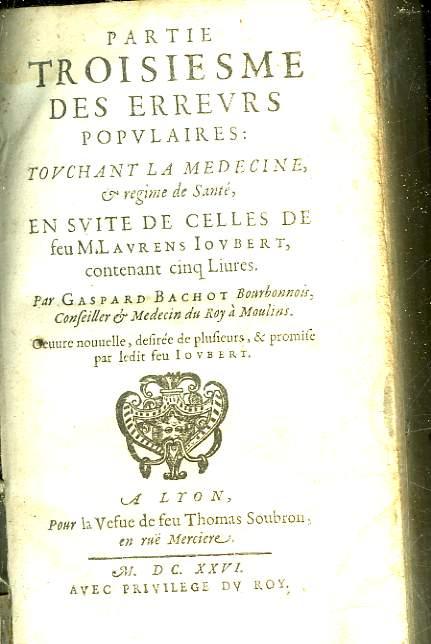 THOMAS SOUBRON. Condition: Bon état. 1626. In-12. Relié. Bon état. Couv. convenable. Dos satisfaisant. Intérieur frais. 509 pages. Couverture Vélin. Bandeaux. lettrines en noir et blanc. En tête de la seconde partie se trouve un portrait de Laurent Joubert. gravé sur bois. Exemplaire avec témoins. de sbibliothèques de MM. Yemeniz et Renard. Quelques traces d'humitidé en marge. Couverture muette.. . . . Classification Dewey : 610-Sciences médicales. Médecine. Expliquez et refutez par M. Laur. Joubert. conseiller et médecin du Roy... Première partie : A Bourdeaux. par S. Millanges. 1579. Seconde partie des Erreurs populaires et propos vulgaires... A Paris. pour Abel l'angelier. 1579. Deux parties en un volume.. SKU : RO30065266. [Attributes: Hard Cover]
Bookseller:
Le-Livre
[SABLONS, France]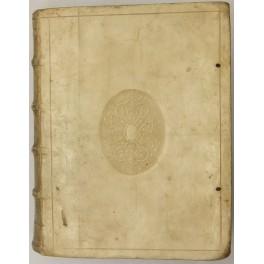 sumptibus Antonii Hierati, Coloniae Agrippinae, 1626. Antica firma di appartenenza e piccola mancanza marginale (senza la minima lesione di testo) al frontespizio. Pronunciata uniforme brunitura dovuta alla qualità della carta Finalini capilettera ornati (103) + 741 + 800 + (92) p. 2 voll. in 1 tomo 251x185 mm p.perg coeva cordonata (4 nervi) con titolo manoscritto al dorso e ricco fregio a rilevo ai piatti
Bookseller:
Libreria Antiquaria Giulio Cesare
[roma, ROMA, Italy]
Impressa en la ciudad Imperial de Augusta [i.e., Trier] con facultad de la Sacra Magestad del Emperador, . 1626 - [16]pp. Small folio. Dbd. Contemporary manuscript docketing on p.[16] and contemporary ink underscoring on p.[7]. Some loss, repaired in silk, from chipping at gutter and from worming in several leaves, the latter affecting some text but not exceeding 1 x 1 inch in area. Closed tears in final leaf, repaired with very early paper on verso. Light staining and foxing. Overall very good. The original Spanish translation of an important invective against Louis XIII during the first phase of France's involvement in the Thirty Years' War. At the time of this publication in 1626, France had actively begun to support the Protestant side in the conflict, concerned with the political threat of the Hapsburg states that surrounded it on three sides (in Spain and Spanish-controlled Flanders to the south and north and the Holy Roman Empire in Germany to the East). In 1624, Cardinal Richelieu was appointed to the Royal Council of Louis XIII and immediately began to institute a vigorous anti-Hapsburg policy. The following year France joined England in subsidizing the efforts of Christian IV of Denmark to defend Lower Saxony against the Holy Roman Empire, beginning an involvement in the war that would eventually lead to its own military participation against its fellow Catholic powers. The present document is a long and detailed warning to Louis XIII against pursuing a course of actions that would pit France against the rest of the Catholic world. According to the document, itsel … [Click Below for Full Description]
Bookseller:
William Reese Company - Americana
- de l'imprimerie de Jean Mommart., Bruxelles 1626, in-4 (15,5x19,5cm), (8) 187pp. (5)., relié. - Seconda edizione dopo l'originale dal 1597, a Bruxelles, in Folio. Illustrato con 114 blasonate su legno, alberi genealogici. Frontespizio in rosso e nero. Miniatura della stampante sul frontespizio. Iniziali. La Francia ha l'edizione BN 1630 a Parigi. Nessuna copia nei cataloghi francesi. E 'l'edizione 1597 e 1630 alla British Library. Una copia dell'edizione 1629 a Manchester. Velina Full time rigida. Smooth indietro con la penna titolo (in grigio). Un vecchio bagnando il fondo della piastra superiore. Il libro è uno dei migliori libri di araldica, e discute la formazione di creste e stemmi che significa che contiene un metodo per compilare genealogie e prole, e ha stabilito la trasmissione delle armi. Il libro è anche un manuale di armi giuste. Armi di Jean Scohier sono azzurro, tre cervi alati snello sabbia. Ex libris incisi XIX armi acquartierati Duca di Guillaboz. Una nota scritta a mano sulla homepage: biblioteconomia. Fontette. No. 39986. Descrizione delle tre edizioni 1597, 1629 e 1630. - [FRENCH VERSION FOLLOWS] Seconde édition après l'originale de 1597, Bruxelles, in Folio. Illustrée de 114 blasons sur bois, d'arbres généalogiques. Page de titre en rouge et noir. Vignette de l'imprimeur sur la page de titre. Lettrines. La BN de France possède l'édition de 1630 à Paris. Aucun exemplaire dans les catalogues français. On trouve l'édition de 1597 et celle de 1630 à la British Library. Un exemplaire de l'édition de 1629 à Manchester. Reliure en plein vélin rigide d'époque … [Click Below for Full Description]
Bookseller:
Librairie Feu Follet
[FR]
Apud Andream Wechelum, 1626-01-01. leatherbound. Good. (OE22) - Francofurti - 171 páginas - Firma del dueño anterior - Ultima hoja desplegable - Problemas de editorial en conteo de páginas - Hojas presentan pintas de óxido - Encuadernado en pergamino - Lomo restaurado con cartón - Regular estado.
Bookseller:
libreria elcidcampeador
[CHL]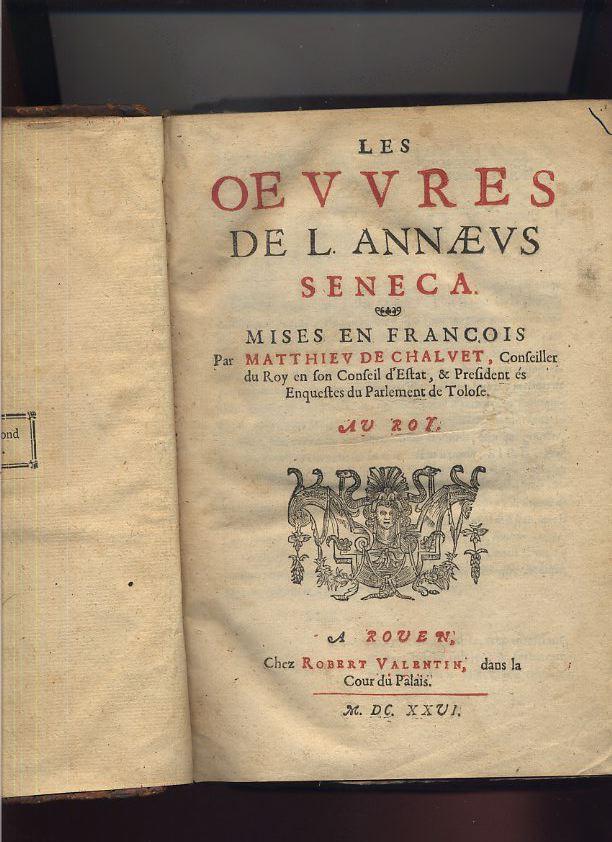 Chez Robert Valentin, Rouen, 1626. Thick 4to. 2 parts in 1 (the second part being "Les Controverses et su a Soires de M. Annaeus."). ff.(12),558,(13). Index. Plus (part 2) 326pp. Title printed in red & black and with a woodcut device. Cont. mottled calf, brown calf label, worn & scuffed, extremities chipped, front hinge split but holding soundly. A useable but worn copy. [Attributes: Hard Cover]
Bookseller:
Kenneth Karmiole, Bookseller, Inc. ABAA
[Santa Monica, CA, U.S.A.]
1626. " IN CHRISTI NOMINE AMEN 1660 INDITIONE DECIMA TERTIA LUNI DUODECIMO MENSIS APRILIS VICENTIE.L' ANNO 1626: 19 MARZO IL SIGNOR QUINTILIAN.STIPULATUS SUM, ET PUBLICAVI ET IN FIDEM SUBCRIPSI". [Pergamena] (cm. 273 x 23,4) Lungo rotolo in pergamena manoscritta, in chiara grafia in italiano e in latino. Contiene un contratto di un lascito testamentario, tutto da studiare, con documenti datati dal 1626 al 1661. Rogiti datati con firme dei testimoni, notai, sigum tabellionis, elenchi di spese, descrizione di beni, lavori eseguiti nei possedimenti ecc. E' nominata la città di Vicentie (Vicenza), Monte Berga ecc. Fra i molti personaggi sono citati: Francesco Palatio, Matteo Zambonatto, Lazzari, Baldisserra, Crivellari, G.B. Trissino, G. Fabbri, Signora Malgavetta ecc. All'esterno è riportato il nome di Giov. Batt. Trissino e la data 12 aprile 1660. L'intero documento, di particolare interesse, è costituito dall'unione di 4 pergamene cucite assieme una di seguito all'altra per una lunghezza di quasi 3 metri.[f18] Libro
Bookseller:
Studio bibliografico Libri Antichi Arezzo di Massai C.
[IT]
por Mateo Piñeiro, Lisbon 1626 - Modern blue morocco-backed marbled paper-covered boards, spine lettered in gilt The very rare second printing of the first authoritative printed account of a European traveller's visit to Tibet. The first Spanish-language edition, printed a few months after the first edition which was in Portuguese. This edition is not Cordier, and OCLC records only a single example: the Bernardo Mendel copy now in the Indiana University library. Antonio de Andrade (1580-1634) was a Portuguese Jesuit missionary who entered the order in 1596. From 1600 to 1624 he was the principal missionary in the Indies. In 1624, with the support of the Moghul emperor, he set out for Tibet, hoping to make contact with a reported trans-Himalayan Christian community. Travelling north to the upper Ganges and then to Mana, on the present-day border of Tibet, he continued on past local resistance to the state of Guge, where he encountered his first Buddhists. Andrade successfully convinced the King to allow the teaching of Christianity, and returned to Agra, where he wrote the present letter to his superiors, relating his journey and his experiences. Andrade would ultimately return to Tibet twice, consecrating a church at Tsaparang in 1626. Andrade's work is important as being the first undoubtedly authentic first-hand description of Tibet by a European: the 14th-century visit of Odorico de Pordenone remains disputed. It was very popular and quickly went through a number of editions. "Throughout Catholic Europe this 'discovery' (so proclaimed by the title of the work, though And … [Click Below for Full Description]
Bookseller:
Donald A. Heald Rare Books (ABAA)