Displayed below are some selected recent viaLibri matches for books published in 1614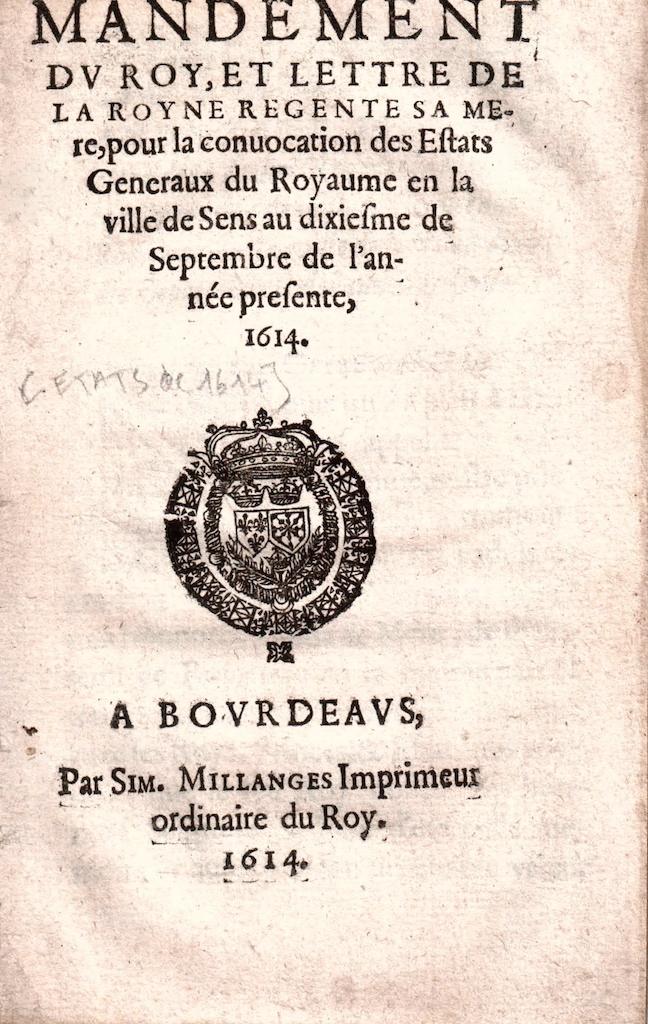 Bordeaux, Simon Millanges, 1614. in-8, 8 pp., dérelié.Dernier feuillet rogné court en tête. C'est la version bordelaise des lettres de convocation imprimées à Paris : la tenue des États avait en effet été prévue à Sens, mais l'assemblée se déroula en fait à Paris à partir du mois d'octobre 1614. SHF, Bourgeois & André, 3290 (pour l'édition parisienne). Pas dans Welsh.
Bookseller:
Librairie Historique F. Teissèdre
[PARIS, France]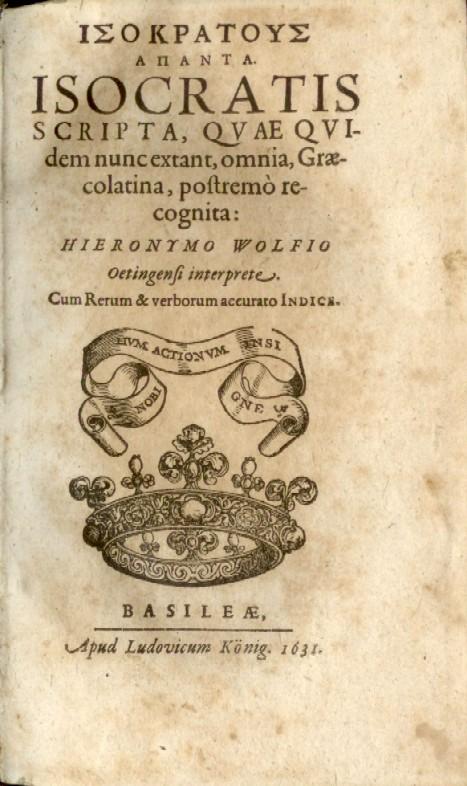 Bookseller:
Biblion Antiquariat
[Zürich, ZH, Switzerland]

By William Stansby for Iohn [John]Helme, London. London: By William Stansby for Iohn [John]Helme, 1614. First Edition. [38], 391, [43]pp. a-d4,A-Iii4,Kkk1 (lacks A3, apparently a blank). Period calf, hand printed paper spine label (perhaps later). STC 22177. Wear to covers; front cover somewhat bowed (splaying), wear to bottom edges, some staining within, some damage, mostly marginal, to later pages, interesting hand-inked old partial dating on flyleaf. Good to Very Good. The rare 1614 first edition in original binding of the first of a number of scholarly works by John Selden, the son of a Sussex yeoman, who achieved renown as a lawyer and legal scholar. Titles of Honor is his treatise on the titles and trappings of nobility -peerage law, heraldry and genealogy being primarily treated - well beyond Europe, to Islamic lands and China. Very likely not replaceable. L26 [Attributes: First Edition; Hard Cover]
Bookseller:
Singularity Rare & Fine
[Baldwinsville, NY, U.S.A.]
London: N.O[kes]. for Thomas Archer, 1614.. [6],68pp. Small quarto. Expertly bound to style in red morocco, stamped in gilt and blind, spine gilt extra, leather label, a.e.g., gilt inner dentelles. Without blanks A1, K3, and K4. Titlepage soiled and repaired, with the lower right quarter supplied in facsimile. Light soiling throughout. Other than loss to title- leaf, a very good copy. The second edition of Coverte's account of his voyage to the East Indies, following the first edition published in London in 1612. The author and his men left Plymouth in March 1607 aboard the Ascension and were among the first Englishmen to see the Cape of Good Hope, arriving there in July 1608. Coverte eventually reached Gujarat, where the ship ran aground while approaching Surat. Not granted permission to remain in Surat, the crew departed to various destinations. Coverte and others set out for the Moghul Court at Agra, arriving there in December 1609. He and other crew members left Agra in January 1610 "with the intention of making their way back to the Levant by the overland route. Travelling by way of Kandahar, Esfahan, and Baghdad...they reached Aleppo in December 1610 and from the coast of the Levant sailed for England. They subsequently arrived home in April 1611" (Howgego). An absorbing account presented in the form of a travel diary, Penrose described the work as a "vigorous narrative...it relates its author's reception by the Emperor Jahangir, and his tedious journey across India, Afghanistan, and Persia, and as such is one of the best examples of a travel journal that the … [Click Below for Full Description]
Bookseller:
William Reese Company - Americana
Paris: Chez Nicollas Lescuyer, 1614 12mo, 536 pages, table of 17 pages; bound in contemporary calf, triple ruled in blind, 4 raised bands, with plain compartments; front board and spine with some splitting through calf, but holding strong; wanting one front blank; light occasional staining and browning to text, but overall, very good..
Bookseller:
Charles Parkhurst Rare Books, Inc.
- pour Samuel Crespin, à Cologni 1614, in-folio (38x25cm), (8f.) 674ff. (45f.)., relié. - L'edizione originale della traduzione di Amyot risale al 1572 in Vascosan Michel a Parigi. Vitello pieno periodo, i nervi della colonna vertebrale 6, 6 gioielli, bordo doppio filetto sulle copertine. Jacques Amyot (1513-1594), è stato il tutore del figlio di Enrico II (futuro Carlo IX e Enrico III), è anche professore presso l'Università di Bourges e diventare grande cappellano della Francia e vescovo di Auxerre sarà importante centro di umanesimo. E 'sotto la raccomandazione di Francesco I che risultano vite degli uomini illustri di Plutarco. Thereof, e successivamente le opere morali avuto e avranno un impatto significativo, non solo per la riscoperta dell'antichità (che quindi ha avuto un impatto maggiore di alcuni studiosi), e Plutarco, ma per la lingua francese si stesso. Montaigne scriveva: "Noi, ignoranti, hanno perso se avessimo questo libro indagini il pasticcio ... Questo è il nostro breviario. Ma non solo traduttore abile preoccupato per la precisione, è anche un divulgatore molto intelligente, piuttosto che uno studioso, come scrisse a un pubblico più ampio e non per gli studiosi, come egli stesso spiega, dice che è necessario chiarire, sembra pura francese, lontano da hellénismes e pedanti turistici, un francese di essere lodato da tutti gli specialisti della lingua francese nel XVII come Vaugelas. Infine, ha portato la traduzione in una nuova era. Brunet, IV, 738. Restauratori abile a angoli, spigoli e tappi. - [FRENCH VERSION FOLLOWS] L'edition originale de la traduction … [Click Below for Full Description]
Bookseller:
Librairie Feu Follet
[FR]
London: John Legatt, 1614.. [4],181,190-386pp., with page 71 and page 333 as 57 and 338, respectively. Elaborate woodcut insignia of Cambridge on title-leaf. Late 17th-century paneled calf, black gilt morocco labels. Scuffed, joints and hinges cracked but holding, slight loss of calf along spine, bookplate on front pastedown. Internally clean. Good. Later edition, after the first of 1605. A history and overview of the British people, by the noted British antiquary and historian. The present text is Camden's "commonplace" variant of his notable history, BRITANNIA, which first appeared in 1586 and was the greatest effort of its kind since Leland. Dedicated to Sir Robert Cotton, who sheltered Camden at his country residence when the plague broke out in London. Scarce. DNB (cd/rom).
Bookseller:
William Reese Company - Americana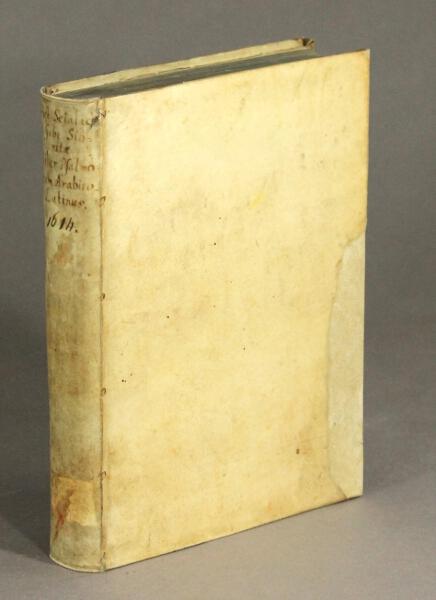 ex Typographia Sauariana, Romae, 1614. 4to, pp. [8], 474, [3]; parallel text in double column (Arabic and Latin); woodcut coat-of-arms on title-p., woodcut printer's device on the antepenultimate leaf; contemporary ink marginalia on the first two leaves of the text; contemporary full vellum, manuscript titling on spine, yapp edges, page edges stained blue; the last 75 leaves with rodent nibblings in the fore-margin extending into the leaf approximately 3/8 of an inch but never approaching any text; the vellum also neatly restored at the fore-margin; 19th century bookplate of Dr. Grauff, and the bookseller's ticket of S. Wolf, Antiquare, Heidelberg. Contained in a brown cloth clamshell box, leather label on spine. "In a recent study Duverdier has shown how Savary de Breves, Ambassador of France in Constantinople from 1584 to 1606, in a crusading spirit conceived the idea of an Oriental press, so that, with the printing of religious works in Syriac and Arabic, the Christian minorities in the Levant would be better prepared to understand and accept the Roman church when their political liberation was near. He has Arabic and Syriac type cut during his stay in Rome (1608-1614) with which first Bellarmin's Catechism in Arabic was published in 1613. An Arabic Psalter was begun at the same time and published a year later . The Arabic typeface for this edition was probably cut by Sottile or another Italian craftsman, and is closely modeled after a Vatical manuscript of the Psalter" (Smitskamp). Darlow & Moule, 1641; Smitskamp, Philologia Orientalis, 33. [Attributes: Hard Cover]
Bookseller:
Rulon-Miller Books (ABAA / ILAB)
[St. Paul, MN, U.S.A.]
(Geneve), Iacobi Stoer, 1614. 8vo. (38) pp.+ 1880 col; (29),+ (3, blanks) pp.+ 871,+ 614 col.+ (23) pp. First title printed in red and black. Both titles printed within woodcut frame and cut in lower margins. Last gathering loose. Tears in margins and annotations in ink. minor worm hole in beginning of part one, inkstain col 370 in part two. Contemporary vellum, partly loss in inner hinges, front edges with pasted numerical paper marks. Book plate of Gillis Berencreutz. Corpus Juris Civilis edited by Denis Godefroy. The first edition by him was published in 1583, also in Geneve by Stoer, this is the fourth. It was reprinted several times, even in the 18th-century. Denis Godefroy (1549-1622) french jurisconsult and professor at Heidelberg. This publication of the whole Corpus Juris Civilis, with his comments on the Pandectae, Codex and Institutiones, form the main achievement of Godefroy. Tomus I continens Pandectarum seu Digestorum libros quinguaginta. Additus est index M. CCCC. XXV. regulas iuris continens. Tomus II: Codicis Dn. Justiniani libri XII authenticae, seu Nouvellae Constitutiones eiusdem Iustiniani CLXVIII. Edicta eiusdem Iustiniani XIII. Constitutiones aliquot Iustiniani, Iustini & Tiberii ex libro Iuliani antecessoris. Leonis iperatoris Nouellae CXIII. Constitutiones imperatoriæ iuris orientalis. Canones Apostolorum. Consuetudines feudorum. Consuetudines Friederici II. Extravagantes. Liber de pace Constantiae.
Bookseller:
Centralantikvariatet
[SE]