Displayed below are some selected recent viaLibri matches for books published in 1605
Venice, 1605. Venice,, 1605. Copper engraving, 10.8 x 14.7 cms, engraved by Girolamo Porro, set in descriptive Italian text with woodcut headpiece and historiated initial, recent hand-colour. From L'Isole piu famose del Mondo, one of the most beautifully engraved of the Italian Isolaria or Island books. Map
Bookseller:
Bryars and Bryars
[United Kingdom]
Venice, 1605. Venice,, 1605. Copper engraving, 10.8 x 14.7 cms, engraved by Girolamo Porro, set in descriptive Italian text with woodcut headpiece and historiated initial, recent hand-colour. From L'Isole piu famose del Mondo, one of the most beautifully engraved of the Italian Isolaria or Island books. Map
Bookseller:
Bryars and Bryars
[United Kingdom]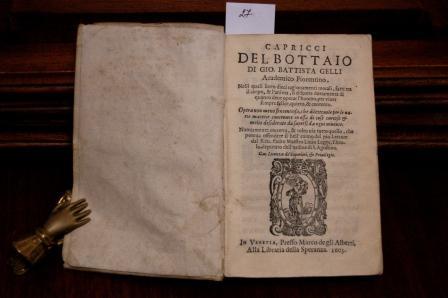 Venetia: MARCO DEGLI ALBERTI, 1605. Venetia: MARCO DEGLI ALBERTI. [Morale-Raro] (cm.15) ottima piena pergamena originale, titolo al dorso. -- cc. 8 nn., pp. 99. Marca tipografica al frontis, fregi e capilettera fig. in xilografia , elegante carattere corsivo. Opera celebre ed una delle più vivaci manifestazioni della prosa italiana del '500. I capricci furono anche sospettati di eresia, e il Gelli ritrattò pubblicamente. Rarissime sono tutte le ediz. antiche. Anche la nostra è citata fra i libri rari dall' haym. Manca a RAZZOLINI, POGGIALI, DURA E CHOIX. Un piccolo forellino di tarlo ma ottimo e fresco esemplare. GAMBA 490; HAYM 382; BRITISH M. CAT. XVII CENT. ITALIAN BOOKS I 383; GRAESSE III 44; BRUNET II 1520; MICHEL-MICHEL IV 29.[f27] . buono. Rilegato. 1605.
Bookseller:
Libri antichi e rari Francesco e Claudia
[Italy]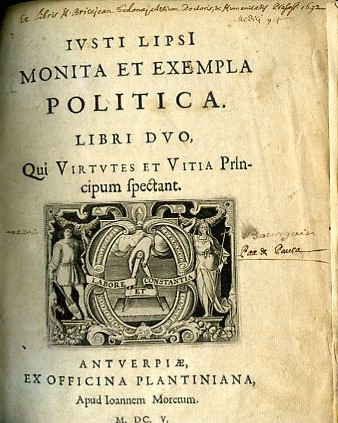 ex Officina Plantiniana, apud Ioannem Moretum, Antverpiae, 1605. In-4° (258x177mm), pp. (8), 213, (5) di approvazioni, privilegi ed explicit tipografico, (1) di impresa tipografica in xilografia con la figura di una mano intenta a tracciare un cerchio con un compasso, tra due figure allegoriche, entro cornice con putti e grottesche con motto entro cartiglio: Constantia labore. Cartonatura decorata recente. Al frontespizio, vignetta calcografica con la variante del motivo iconografico della mano reggente il compasso ed eguale motto latino, con festoni e due figure allegoriche affiancate. Ex-libris manoscritti secenteschi alla medesima carta. Dedica a stampa ad Alberto, Arciduca d'Austria, Duca di Burgundia e Principe del Belgio. Alcuni capilettera xilografici figurati e alcuni cul-de-lamps. Un indice preliminare. Varie bruniture e aloni, restauri al margine inferiore delle prime 8 carte. Editio princeps di uno dei maggiori trattati lipsiani di filosofia politica, disquisizione sulle virtù ed i vizi dei governanti fondata su numerose esemplificazioni storiche spazianti da Dionisio di Siracusa a Carlo V ai Khan tartari. Attraverso uno svolgimento precettistico più che tramite una sistematica teoria delle forme di governo, Giusto Lipsio fornisce la propria visione delle istituzioni monarchiche e dei compromessi inerenti alla politica, preferendo, tra i diversi mali, l'autoritarismo del despota ai perniciosi contraccolpi suscitati dai moti rivoluzionari, e ritenendo inevitabile frutto di una provvidenziale ciclicità il succedere dei buoni principi a quelli cattivi. L'opera fu tr … [Click Below for Full Description]
Bookseller:
Gilibert Libreria Antiquaria (ILAB-LILA)
[Torino, ><, Italy]
Drouart,, Parisiis, 1605 - Cm. 16,5, pp. (16) 356 (4); 38. Con una figura incisa in rame nel testo. Leg. strettamente coeva in perg. semirigida con titoli ms. al dorso. Una piccola mancanza al dorso, peraltro bell'esemplare, genuino ed in ottimo stato di conservazione. Le ultime 38 pp. (numerate a parte) titolano: Ciclops Euripidae Latinitate donata. A Q. Septimo Florente Christiano. Prima edizione, rara, di quest'opera stimata in cui l'autore, per primo, offre una profonda investigazione sul genere letterario satirico di greci e romani. Vi afferma che la poesia satirica dei latini è assai differente da quella dei greci, opinione poi più volte abbracciatta o contestata. In sostanza, Casaubon redasse la prima moderna monografia sulla satira, lavoro che fu considerato come principale lezione per oltre due secoli. Cfr. Brunet I, 1613-14. [Attributes: First Edition]
Bookseller:
Studio Bibliografico Benacense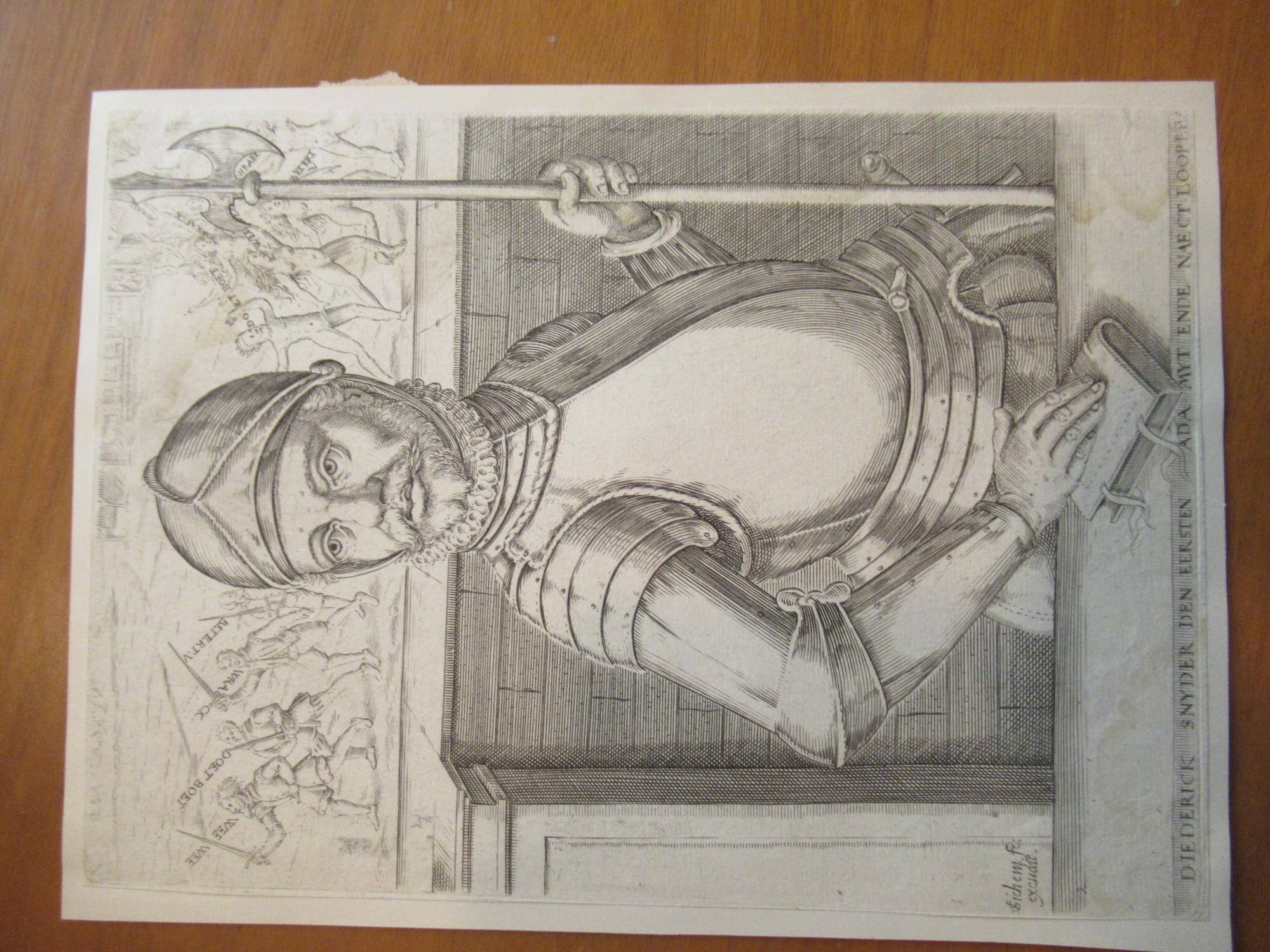 Arnheim: Christoffel Van Sichem, 1605. Original Woodcut 1st Printing. No Binding. Fine. 13.3 x 18.4 Cm. Original Engraving Of Anabaptist Leader Diederick Snyder Den Eersten 7 1/2" X 5 1/2", One Of A Series Of Fine Woodcut Portraits Executed By Van Sichem, All Rare. Torso Portrait, With Figures At Top, Those On Left Clothed, Those On Right Nude, With Text Expressions Coming From Their Heads. A Fine Example, Trimmed To Plate Mark, Mounted. A Very Fine Example With Wide Margins. Christoffel Van Sichem Was A Dutch Golden Age Woodcutter And Engraver. Part Of A Large Collection Of Original Antique Engravings Formed By A Southern California Artist In The Early To Middle Twentieth Century. Each Plate Has Small Glue Marks On Reverse Where They Were Tipped In To An Album.
Bookseller:
Arroyo Seco Books, Pasadena, Member IOBA
[Pasadena, CA, U.S.A.]
Ingolstadt, Adam Sartorius, 1605.. 495, (1) SS. Mit Holzschnittdruckermarke am Titel. Blindgepr. Schweinslederband der Zeit auf 3 Doppelbünden über Holzdeckeln mit abgeschrägten Deckelkanten. 2 Schließen (dav. 1 intakt). 8vo.. Für den Schulgebrach an Jesuitenkollegien gedruckte Ausgabe des Werks über "denkwürdige Taten und Aussprüche", das der Verfasser Kaiser Tiberius widmete. "Es ist eine nach Rubriken geordnete Beispielsammlung, die den Bedürfnissen der Rhetoren und ihrer Schulen dienen sollte" (Tusc. Lex. Lit., 266). - Am Vorsatz Besitzvermerk "Ex libris Jacobi Kofler Rhetoricae studiosus" (dat. Halle, 1659); weitere, teils getilgte Besitzvermerke der Zeit am Titel. Die Deckelblindprägung sauber und wohlerhalten; der unteren Schließe fehlt am Vorderdeckel das Metallelement (der Haken vorhanden). Innen gutes, praktisch fleckenfreies Exemplar mit einigen hs. Marginalien und Anstreichungen der Zeit. - Stalla (1601-1620) 47. VD 17, 12:626984K. Nicht bei Schweiger.
Bookseller:
Antiquariat Inlibris, Gilhofer Nfg. GmbH
Hanover: Typis Wechelianis apud Claud. Marnium & haeredes Johannis Aubrii, 1605. Hanover: Typis Wechelianis apud Claud. Marnium & haeredes Johannis Aubrii. Front board detached and spine missing. Fep loose. First title page slightly soiled. Rest very good. Wormed at back board but not affecting the text. 1605. Reprint. Cream harback vellum covers. 240mm x 18mm (9" x 1"). xv, 1362pp, 327pp. Woodcut to title page of Old and New Testament and woodcut frontispiece to New Testament. An early Bible of the Protestant Reformation from the translation by Francois Vatable published in 1545 in Paris. .
Bookseller:
Barter Books Ltd
[United Kingdom]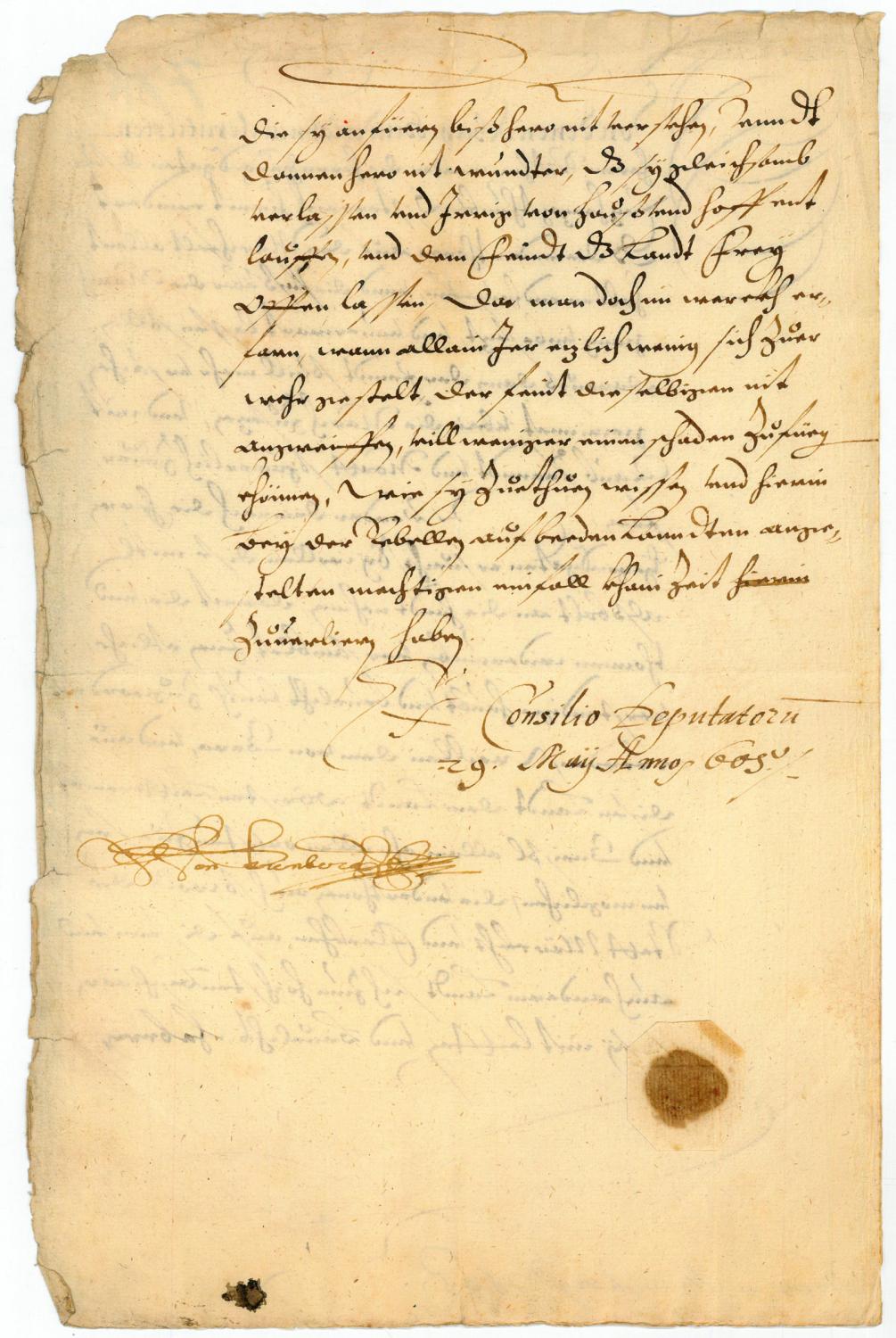 O. O, 29. V, 1605. 1? SS. Papiergedecktes Siegel. Folio. "Von denen Khay. Hinderlaßnen deputierten Herrn Räthen, werden die Herrn Verordneten dises Erzherzogthumbs Österreich hiemit erindert, daß die Underthanen auf den Marchfelt allenthalben endlauffen, unnd die Paß uiber die March ganz unbesezt, und unverwart lassen sollen, darauß dann der feindt so vill mehr Ursachen gewinnet, uber die March zu sezen, und mit Raub Prandt und Mortt so jämmerlich zuverfaren [...]". - Unterzeichner des vorliegenden Schriftstücks dürfte der aus Wien gebürtige Ulrich Krenn zu Krenberg gewesen sein, dessen Lebensweg reich an vielfältigen Tätigkeiten war: Kanzler des Fürstbischofs von Breslau (1576), Klosterrat (1579), mehrmals Dekan der juridischen Fakultät in Wien (zwischen 1584 und 1597), Rektor in Wien (1596), nö. Regimentsrat (1591), Hofrat von Erzherzog Matthias in Staatssachen (1602) und Geheimer Rat von König Matthias (1607). Krenn zu Krenberg besaß die Schlösser Neuwaldegg und Erdberg bei Mistelbach; er hinterließ trotz zweifacher Ehe keinen männlichen Nachkommen. Seine einzige Tochter Johanna Victoria von Krenberg heiratete den Freiherrn Ladislaus von Prag zu Windhag und Engelstein. - Mit zahlr. Läsuren und kl. Einrissen; am rechten Rand stärker angestaubt.
Bookseller:
Antiquariat INLIBRIS Gilhofer Nfg. GmbH
[Vienna, A, Austria]
Venice, 1605. Venice,, 1605. Copper engraving, 10.8 x 14.7 cms, engraved by Girolamo Porro, set in descriptive Italian text with woodcut headpiece and historiated initia, recent hand-colour. From L'Isole piu famose del Mondo, one of the most beautifully engraved of the Italian Isolaria or Island books. Map
Bookseller:
Bryars and Bryars
[United Kingdom]