Displayed below are some selected recent viaLibri matches for books published in 1592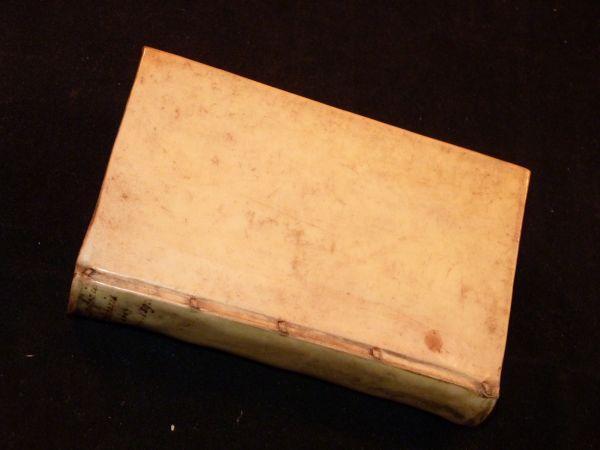 Turoni |(Tours): Apud Claudium Montroeil & joanem Richer., 1592. Fine. Apud Claudium Montroeil & joanem Richer., Turoni (Tours) 1592. 1593, in 12 (8x13cm), 36 ff. et 144ff., relié. - L'édition originale de Pancharis est de 1587, et celle des Imitations de 1588. Les deux oeuvres seront rééditées respectivement en 1592 et 1593. On trouve différentes éditions à la même date chez d'autres éditeurs, notamment à Lyon. Alors que la BN de France possède l'édition des Imitations, son catalogue ne semble pas contenir le Pancharis. La British possède l'édition Lyonnaise de 1588 et de 1592. Collation conforme, bien qu'on ne trouve pas de feuillet de fin, et que le dernier feuillet se termine en bas de page sur un poème. Plein Velin rigide d'époque. spine lisse. Titre à la plume. Jean Bonnefons (1554-1614) fut un poète latin de Clermont. Il était lieutenant général du baillage de Bar sur seine. Il eut un succès certain de son temps , ses contemporains l'ont comparé à Catulle. Gilles Durant (1544-1615), sieur de la Bergerie, était lui-même de Clermont en Auvergne, Il fut avocat au parlement de Paris et poète. Il est l'un des auteur de la Satire Ménippée. --- Please note that the translation in english is done automatically, we apologize if the formulas are inaccurate. Contact us for any information! - [FRENCH VERSION FOLLOWS] L'édition originale de Pancharis est de 1587, et celle des Imitations de 1588. Les deux oeuvres seront rééditées respectivement en 1592 et 1593. On trouve différentes éditions à la même date chez d'autres éditeurs, notamment à Lyon. Alors que la BN de France po … [Click Below for Full Description]
Bookseller:
Librairie Le Feu Follet
[Paris, France]
1592 - Rare Treatise on Heirs in Roman Law Oddi, Sforza [1540-1611]. Compendiosae Substitutionis Tractatus. Cui Novissime Accedunt Notabilia ex Toto Opere Excerpta in Modum Copiosissimi Indicis. . Ferrara: Apud Benedictum Mammarellum, 1592. [xii], 170 ff. (12" x 8"). Contemporary paper boards, covered with old vellum manuscript leaves, early hand-lettered titles to spine and foot of text block, crude early repairs to spine ends. Rubbing to extremities with moderate wear, boards slightly bowed, hinges starting. Large woodcut printer device to title page, woodcut head-pieces, tail-pieces and decorated initials. Worming to lower corner of text to fol. 2, rear free endpaper and rear pastedown. Toning, light browning in a few places, internally clean. A solid copy of a scarce title. * Second edition. First published in Perugia in 1571, this treatise on the Roman law of the substitution of heirs, inheritance and succession reached its third and final edition in 1597. Little is known about Oddi. The title page indicates that he was a jurisconsult in Perugia. OCLC locates 1 copy of the 1592 edition in the Americas at UC Berkeley Law Library and 1 copy of the other two editions at the Library of Congress. Censimento Nazionale Delle Edizioni Italiane del XVI Secolo CNCE 50113. [Attributes: Hard Cover]
Bookseller:
The Lawbook Exchange, Ltd., ABAA ILAB
Firmin Didot Frères, Dorbon Ainé, Supplément au Manuel de Libraire, 1592 pp., Paris 9999 - Des principales divisions de l'Europe, provinces, villes, bourgs, abbayes, etc., avec leur significations actuelle en langues vulgaires; les recherches les plus etendues et les plus consciencieuses sur les origines de la typographie dans toutes les villes, bourgs, abbayes d'Europe, jusqu'au XIX siècle exclusivement; un dictionnaire français latin des noms de lieux, destiné á servir de table. Par un bibliophile. No date. Rebound, original covers are preserved. Scuffed spine. Text in french and it is printed in double column. 8vo. [Attributes: Hard Cover]
Bookseller:
Buenos Aires Libros
Prentet i Ribe, paa Liliebierget 1592. Trykt af Hans Brun. 8vo. 56 blade (komplet). Med træskårne våbenskjolde på bagsiden af titelbladet samt træskåret vignet på sidste blad. Pergamentbind (meget vellykket senere pastichebind) med overfald langs forkanten af permerne og bindebånd af grøn silke. Lette skjolder på de første sider. Hjørnerne på de sidste sider smukt restaureret. I kassette af marmoreret 1700-tals papir. Exlibris (Bent Juel-Jensen).. LN 1613. Danske Provinstryk Ri 11. Thesaurus I,151. Der kendes 12 andre eksemplarer, alle i offentligt eje. Smukt og meget velbevaret eksemplar af Vedels ligprædiken over Ingeborg Gyldenstjerne, hustru til Albert Skeel, lensmand på Riberhus. ** Bøger fra Anders Sørensen Vedels private trykkeri i hans bolig Liljebjerget i Ribe forekommer yderst sjældent i handlen. Dette eksemplar er sidst handlet i 1966
Bookseller:
Vangsgaards Antikvariat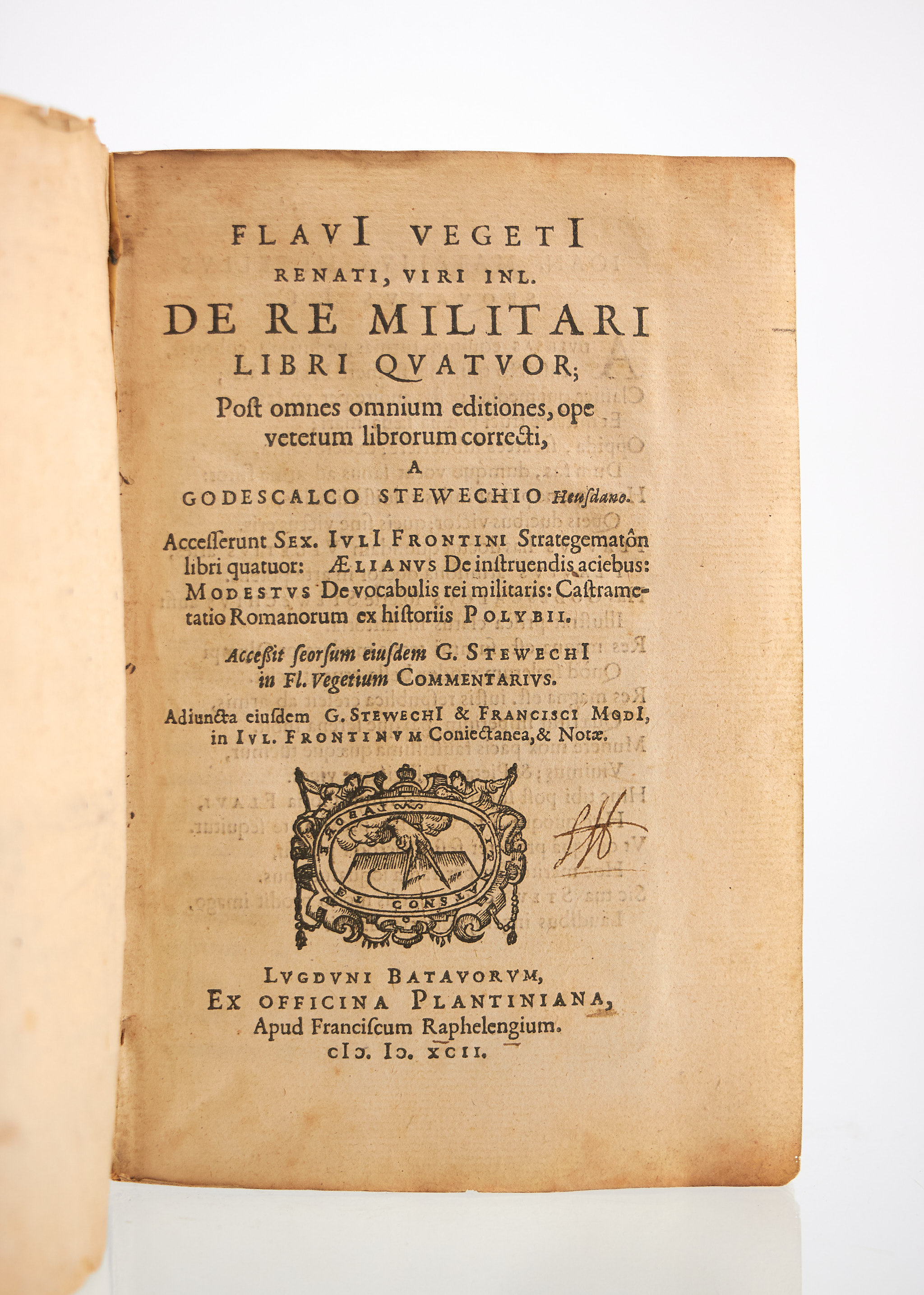 Lugduni Batavorum |(Leyde): Ex officina Plantiniana, apud Franciscum Raphelengium, 1592. Fine. Ex officina Plantiniana, apud Franciscum Raphelengium, Lugduni Batavorum (Leyde) 1592, in-8 (12x17cm), [16], 320, [16], 480, [32] pp. et une planche dépliante., relié. - Second edition Plantinian with comments Steewech after that of 1585 A title vignette of the printer on both title pages. Beautiful estimated edition. Illustrated edition of 51 woodcuts in text and out (military machines, military maneuvers ...) and a folding plate representing the organization of a Roman camp. Comments Stewachius (1557-1588) have a special title page: Godescalci Stewechii Commentarius ad Flavi Vegeti Renati, De re militari libros. Accesserunt eiusdem G. Stewechii & Francisci Modii ... The text of Polybius (Book VI of his History) has been translated into Latin by Janus Lascaris (1445-1535). military dictionary, 'Libellus De Modesti vocabulis rei militaris' was developed by Pomponius Laetus (1425-1497, or Leto) and his students from the work of Vegetius. Full Velin flexible flap time. Traces of laces. As with the black plume. Beautiful copy. Error bookbinder: 49-64 were placed after page 32, so that after page 48 is therefore page 65 Vegetius was a Roman military writer living in the second half of the fourth century and beyond the fact that he was an official of the empire, we know little about his life. We stayed by this author a treaty in which the first five parts deals with recruits and recruitment, the second of the organization of the Legion and the ancient Roman armies, the third milita … [Click Below for Full Description]
Bookseller:
Librairie Le Feu Follet
[Paris, France]
Innsbruck, J. Agricola, 1592.. (32), 477, (29) SS. Mit Wappenholzschnitt am Titel, blattgr. gestoch. Porträt und blattgr. Stammbaum sowie 48 Textholzschnitten mit Wappen. Pergamentband der Zeit mit ornamentaler Blindprägung. Folio.. Erste Ausgabe. - Gerard von Roo war Hofbibliothekar Ferdinands von Tirol und Kunstkämmerer in Ambras. "Die unter seinem Namen bekannten Annalen wurden zwar von ihm begonnen, dann aber nach seinem Tode vom Sekretär Ferdinands Conrad Decius (Diezen) von Weidenberg ganz überarbeitet und fertiggestellt, mit Illustrationen versehen und ins Deutsche übersetzt. Sie erfreuten sich ungeheurer Verbreitung und Nachwirkung" (Coreth). "Das 1592 gedruckte Annalenwerk zeichnet sich [...] vor allem durch eine außerordentlich harmonische Gestaltung von Titel und Textseiten aus. Es ist eine der typographisch vollendetsten Schöpfungen des österreichischen Druckwesens jener Zeit" (Durstmüller). - Vorsätze erneuert, gegen Anfang und Ende wenige Wurmstiche, sonst schönes und sauberes Exemplar. - Adams II, 362 (nur im Druckerverzeichnis genannt). BM-STC German 757. Ebert 19365. Wegele 374. Coreth 50. Durstmüller I, 67. Nicht im VD 16.
Bookseller:
Antiquariat Inlibris, Gilhofer Nfg. GmbH
. Altkol. Kupferstich v. Abraham Ortelius n. Augustin Hirschvogel, 1592, 34 x 46,5 (Bilder zum Artikel auf meiner Homepage, oder bei Anfrage - pictures on my homepage or after request). van der Krogt, Koeman's Atlantes Neerlandici, Vol. III B, S. 857, 7601:31, 31:041; van den Broecke, Ortelius Atlas Maps, S. 194, Nr. 145. - Zeigt Slawonien, Slowenien mit Ober-, Inner- u. Unterkrain, Karst, Istrien, Friaul, Kärnten, Bosnien, Kroatien u. das nördl. Dalmatien. - Unter der Karte Kartuschenleiste mit Kartentitel; darüber links Meilenzeiger; unten rechts in der Karte Richtungszeiger. - In der Adria Segelschiff.
Bookseller:
Antiquariat Norbert Haas
[Stephan Mölleman, Rostock 1592, on behalf of Laurentz Albrecht from Lübeck]. 2°. 272 leaves (pagination erratically says 273). 44 woodcut illustrations. Title-page and last page (colophone) missing (enclosed in photocopies from the Royal Library of Copenhagen). 4 leaves with tears (of which 2 with tears and old repairs affecting text and 2 illustrations). Slightly foxed here and there, but generally clean. Full vellum binding from c. 1665. Contemporary insciption on front endpaper. Enclosed in binding: Homo politicus, Hoc est: Consiliarius Novus, Officiarius & Aulicus. Cosmopoli 1664. 38 pages. + Daniel Keyser: D.T.O.M.A. Historia juris (..) Theoretico-Practicis.Coburg 1663. 37 pages. + ErtzBischöffliche Bremische abgendtigte Defension. Das ist: Kurtzer Bericht welcher Gestalt Ihr Hoch Fürstl. Durchleuchtigkeit von der Königliche Schwedischen Generalität wieder auffgerichtete klare Vertrage.. Glückstadt 1644. (36 Pages). + Nachricht Was wegen des Hauses, Herr- nd Graffschafft Delmenhorst (..) vorgegangen. No place stated, 1665. (24 pages). Folding plate. Enclosed: Correspondence between previous owner and The Royal Library in Copenhagen about the Reyneke-book.. The last 16th century Rostock edition of the Low German version of the beloved medieval animal fiction "Reynard the Fox". The first Low German edition of the poem was printed in Lübeck 1498, but the orthography of the 1592 varies from the first edition. The woodcut illustrations for the story as such are based on the famous originals made by Erhard Altdorfer. Other illustrations include vignettes of various professi … [Click Below for Full Description]
Bookseller:
Vangsgaards Antikvariat
Venice: Aldus Manutius, 1592 In Epistolas M.Tullii Ciceronis qua familiares vocantur Paulus Manutij Commentarius. Ad. Ill.& Excell. mum D.Jacobum Boncompagnum Ducem Sorae Marchionum Viniolae & C. Folio,orig. limp velum (Ext.index) +614 Pp.+ th often lacking index. Large anchor device at title, 17 head - + 15 tailpieces. 55 nice initials. Some pp. ser. browned.The right hand marging of the last 21 pp. ser. waterstained/spotted.some unobstrusive worming in left margin. 1st. front endpaper torn, lower half gone.Binding stained. In spite of it`s defects, still a nice & collectible .Folio. This typographic miracle still stands out miles! Complete with the 1 page catalogue; "Libri di Stampa d' Aldo, che si trovano al presente."
Bookseller:
Quist Antiquarian
[Netherlands]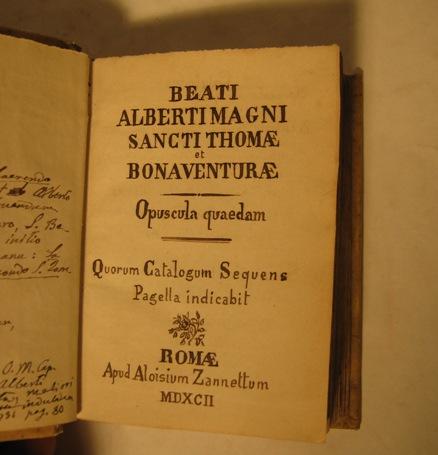 1592. cm. 8 x 12, elegante rilegatura coeva piena pergamena ben conservata con titoli in oro su tassello rosso al dorso, pag. 239 + 320, buone condizioni salvo piccole mancanze alle ultime tre pagine, senza alcuna perdita di parole. Straordinario abbinamento di tre importanti testi (assolutamente rari) scritti da tre tra i piu' grandi filosofi e religiosi esistiti. L'attribuzione a S.Tommaso si rivelò poi errata (l'autore era tedesco). VECCHIO PREZZO EIURO 950 NUOVO PREZZO
Bookseller:
Ferraguti service s.a.s. - Rivisteria
[Parma, PARMA, Italy]
Kupferstich-Karte von Bussemacher bei Quad, 1592. 20 x 30 cm. Hellwig, Mittelrhein und Moselland im Bild alter Karten, Nr. 21 mit Abbildung Seite 96. Zeigt das Gebiet zwischen Koblenz, St. Wendel, Homburg und Prüm. Die Karte ist geostet. Rechts oben kleine Titelkartusche, daneben Kartusche mit Porträt des Trierer Erzbischofs Johann VII. von Schönenberg, darunter Wappenkartusche. Rechts unten Meilenzeiger mit dem Vermerk "Johann bussemc. excudit" und Stechersigle "Q(uad)". Mit lateinischem Rückentext.
Bookseller:
Antiquariat Peter Fritzen
[Trier, Germany]