Displayed below are some selected recent viaLibri matches for books published in 1589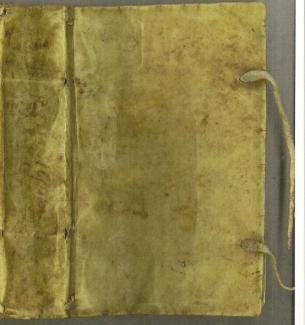 Bookseller:
The Book Collector, Inc. ABAA,IOBA,TxBA
[Forth Worth, TX, U.S.A.]
Copenhagen: Matz Vingaardt, 1589 An impressive tome bound in elaborately gilded and panelled full dark tan, late 17th/early 18th century continental calf with elaborate brass clasps. Gilt armorial to front board. Raised bands and elaborate gilding to spine. Professionally and subtly rebacked. One clasp thong repaired. Heavy wooden bevelled boards. Marbled endpapers but missing free endpapers. 19th and 20th century ink notes to flyleaf. Title page a little trimmed around margins, and this and the dedication leaf have some paper restoration at margins. Portrait of Frederick II pasted to title page verso - as called for, and sometimes absent. Numerous fine woodcut illustrations often of a particularly gruesome nature. Occasional early ink marginalia. The general title and the titles to pts. 2 and 3 are within woodcut frames, containing representations of the Creation, etc., and the royal arms. The illustrations throughout the book resemble those in the folio English Bible (Bishops' version) of 1568, and are enclosed within similar frames. The second Danish Bible, known as 'Frederick II's Bible'. A revision of the first edition of 1550, prepared at the command of the King by a small company at Copenhagen. The Pentateuch was committed to Paul Madsen, Bishop of Zealand; the Prophets to A. Lauritsen; the Psalter to Desiderius Foss; and the rest of the Old Testament to Jo rgen Dybvad and P. Aagesen; while the New Testament was assigned to N. Hemmingsen. The King's chaplain, C. Knopf, acted as intermediary between the Sovereign and the revisers. This edition contains translations of … [Click Below for Full Description]
Bookseller:
Adrian Greenwood Rare Books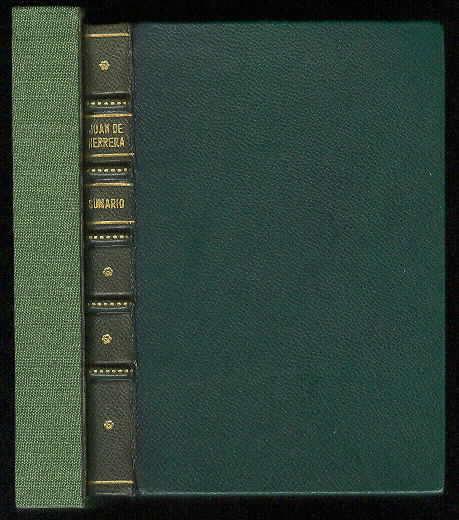 Edición Facsímil de la publicada en Madrid por la viuda de Alfonso Gómez, en 1589.- Madrid: [s.n., pero Tip. Artística], 1954.- [1 h.], 32 folios, [1 h.] + [1 h.] a tamaño original + [9 h.] de apéndices reducidas a 3/4; 8º (16 x 11 cm.); papel ahuesado verjurado; Plena Piel chagrén, lomo dorado, nervios, estuche.- (Reproducción en Facsímile de las Ediciones Antiguas).- Se ha tomado como base para la reproducción íntegra, la segunda tirada, única completa. Aunque no va indicado, el libro es de corta tirada. Libro en español [Attributes: Hard Cover]
Bookseller:
Librería Miguel Miranda, AILA ILAB
[Lope de Vega n.º XIX, Madrid, M, Spain]
Head of title in Greek [romanized: Paroimiai Hellenikai] [Greek Proverbs]. Title page date: [M] [D] C XII, superiorum permissu. "Ex Zenobio seu Zenodoto, Diogeniano & Suidae collectaneis. Partim edita nunc primum, partim Latine reddita, Scholiisque parallelis illustrata, ab Andrea Schotto Antuerpiano, Soc. Iesu Presbytero." [10] printed leaves, 702 pages. -- Thick hardcover, 7.5x10.2 inches, full mottled leather, raised bands, gilt spine decorations, marbled endsheets. Condition: cover boards a bit sprung; cover lightly rubbed/worn; surface crinkles to the leather; pages quite bright and clear; a few (very early) marginal notes. Some early page numbers are misprinted, but the catchwords are corrrect and the text continuous. -- Works by Zenobius the Sophist; Diogenianus, von Heraclea; Suidas (lexicographer) in parallel columns of Greek and Latin, with decorations, and with indexes in Greek and Latin. -- This book is a nice example of the elegant type faces from the continued operations of the printer Christophe Plantin (d.1589) and with his device on title-page and last page (compass held by hand, motto Labore et Constantia).
Bookseller:
BUCKS COUNTY BOOKSHOP
Tiguri (Zurich): In Officina Froschouiana, 1589 Tiguri: In Officina Froschoviana. [Zurich (Switzerland), Christophorus Froschoverus, Christopher Froschauer], 1589. In contemporary dark-brown leather-covered boards. Woodcut printer's device to title, ink stamp of Prior Park to title and margins of a few other ff. Occasional light water-staining to lower margins, heavier towards end, later panelled calf, repaired. [Adams P337]. / Folio. Pp. 6 p.l., [34] index, [1] blank, 977 / A very nice, tight and clean copy. Digital photographs may be available on request. //Matthew Paris (c. 1200 – 1259) was a Benedictine monk, English chronicler, artist in illuminated manuscripts and cartographer, based at St Albans Abbey in Hertfordshire. He wrote (as both author and scribe) a number of works, mostly historical, which he illuminated himself, typically in drawings partly coloured with watercolour washes, sometimes called "tinted drawings". Some were written in Latin, some in Anglo-Norman or French verse. In spite of his surname, and of his knowledge of the French language, he was of English birth but may have studied at Paris in his youth after early education at the St Albans Abbey School (now St Albans School). The first we know of him (from his own writings) is that he was admitted as a monk at St Albans in 1217. It is on the assumption that he was in his teens on admission that his birth date is estimated; some scholars suspect he may have been ten years or older. Many monks only entered monastic life after pursuing a career in the world outside. He was clearly at ease wi … [Click Below for Full Description]
Gillios., Parisiis. 1589 - In 16°, p. perg. del '700, pp. 379 + cc.nn. 10. Marca tipografica al centro del front. Tagli rossi. Carta e stampa fresche. Lievi rare fioriture. Lieve abrasione sul front. Raro.
Bookseller:
Libreria Cicerone
London: Deputies of Christopher Barker, 1589. First edition. 3/4 leather. Very Good +. 8 x 11 inches. Folio. [23], 496, [5] leaves. Collates as * (4 leaves) + A-Y (in 6s) + Aa-Yy (in 6s) + Aaa-Yyy (in 6s) + Aaaa-Vvvv (in 6s) + Xxxx (4 leaves). A few small wormholes mostly in margins, minimally affecting text mostly in preliminaries and Matthew and Revelation. A few neat notes in contemporary hand. Title supplied in facsimile. Rheims version and Bishops Bible version in parallel columns in Roman type, with Fulke's commentary at the end of each chapter. The Rheims version is translated from the Vulgate chiefly by Gregory Martin; the Bishops Bible translation was overseen by Matthew Parker. ESTCS107061; Herbert 202. Expertly bound in light brown modern 3/4 calf with gilt title, author and date to two compartments of the spine which has four raised bands and blindstamped decorations to the other three compartments. A spectacular copy of the first Bishops - Rheims Parallel Bible, allowing comparison of the dueling translations of the Reformation. Rare.
Bookseller:
St. Wulfstans Books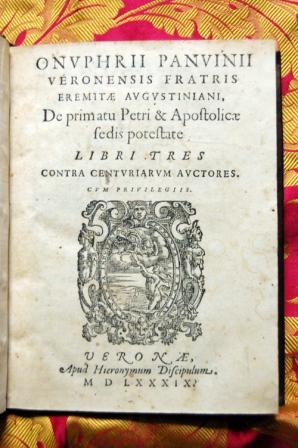 VeronaE: HIERONYMUM DISCIPULUM, 1589. VeronaE: HIERONYMUM DISCIPULUM. PANVINIUS ONOPHRIUS. DE PRIMATU PETRI ET APOSTOLICAE SEDIS POTESTATE. LIBRI TRES CONTRA CENTURIARUM AUCTORES. Veronae, Hieronymum Discipulum 1589.[Prima edizione-Verona] ( 20,2 ) bella piena pelle maculata sec. XVII., titolo su tassello rosso, specchi, nervi e labbro riccaenti impressi in oro ai piccoli ferri. --- cc. 22 nn., pp. 330 + 1 c. con l'errata. Fregi e capilettera figg. in xilografia. EDIZIONE ORIGINALE di una delle più rare opere dell' autore che pubblicò varie cose di medicina, ginnastica, archeologia, matematica, ecc. Intorno al tipografo Discepoli Girolamo, il più importante di Verona vedi ASCARELLI-MENATO 462 e per la marca, vaccaro fig. 539. L' insegna tipografica è molto rara e sconosciuta alla ZAPPELLA. Una seconda edizione apparve nel 1591. Esemplare molto bello in tutto. Nitido e ben completo nonostante le irregolarità di registro in fine. L' errata, aggiunta in un secondo tempo, è presente solo in pochi esemplari. --- ADAMS P 192; --- BM. STC 488; --- GRAESSE V 123; --- DURA 12057: " RARO". Il CENSUS, ICCU registra solo 10 copie presenti nelle biblioteche italiane.[f11] . ottimo. Rilegato. prima edizione. 1589.
Bookseller:
LIBRI ANTICHI E RARI FRANCESCO&CLAUDIA
[AREZZO, Italy]
Venice: Francesco Sanese, 1589. Elaborate woodcut title page, medallion portrait of Bartoli, and numerous woodcut diagrams and illustrations, including 2 folding plates. Small 4to, early limp vellum. Venetia: Franceso Sanese, 1589. Second edition of this early, important treatise on surveying, using the woodblocks from the first edition of 1564. Clean, crisp copy, with the ownership signature of art historian Meyer Schapiro. Very good(+). [Attributes: First Edition; Hard Cover]
Bookseller:
Argosy Book Store, ABAA, ILAB
[New York, NY, U.S.A.]
Naples: Orazio Salviani,, 1589. Folio (296 × 217 mm). Nineteenth-century quarter calf, marbled sides, vellum tips. Woodcut title border incorporating lynx at head, author's portrait on verso, numberous woodcut illustrations and diagrams in text. Joints skilfully restored, neatly relined to style, boards rubbed, a few tiny holes, mostly marginal, some light browning and staining as usual with this paper stock, still a very good copy. First edition of the complete text in twenty books of Della Porta's major work. Giambattista della Porta (1538–1615) is one of the most interesting figures of early modern science. Like Galileo, who was Della Porta's immediate successor as a member of the select scientific society, the Accademia dei Lincei, Della Porta opposed the Aristotelian science that dominated the universities of Renaissance Europe. The Aristotelians proposed a qualitative explanation of the way Nature behaved, and could offer no explanation for those "occult qualities" or "jokes of nature" which were apparent exceptions to nature's regularities. In contrast, Della Porta, the German alchemist Paracelsus, Girolamo Cardano and other 16th-century anti-Aristotelians focused their attention on natural particulars: the way Nature behaved in specific instances, often those that seemed to reveal her most subtle workings. They recognized that a new science would have to account, somehow, for these exceptions to the way the world normally worked. Originally published in Naples in 1558 in four books, Natural Magic was revised and considerably expanded throughout … [Click Below for Full Description]
Bookseller:
Peter Harrington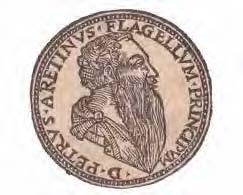 [London, John Wolfe], 1589. [Ragionamenti] La Terza, et ultima parte de Ragionamenti . ne la quale si contengono due ragionamenti, cio è de la Cortim e del Giuoco, cosa morale, e bella. 'Appresso Gio. Andrea de Melagrano'. [London, John Wolfe]1589. 2 parts in 1 volume, small 8vo. [3] + 202 + [1]f. Roman letter. Medallion woodcut portrait of author with legend 'D. Petrus Aretinus Flagellum Principum' on both titles, some ornamental woodcut initials. 18th century polished calf, ornate gilt spine with title. First edition to include the last two of the whores' dialogues (the 'dialogue of courts', and the 'dialogue of games'), considered as especially outrageous, completing Aretino's evocative, stylish street commentary on low life in Renaissance Italy. The work was edited by the London printer John Wolfe (d.1601),formerly apprenticed to John Day,who may have been trained by Giunti at Florence. Wolfe had set up a press near St Paul's, London, to produce piracies of books prohibited in Italy to sell them in continental Europe and was imprisoned for this in 1582. As explained in the printer's preface to the reader, this 3rd part of the Dialogues was published as a supplement to his collected edition of 1584. The volume is continuously foliated and divided into 2 parts: the first 66 leaves contain the 'Raggionamenti de la corti', the second part has the title 'Raggionamenti . nel quale si parla del gioco con maralita piacevole'. The text was not reprinted in the bowdlerized Elzevier editions of the Ragionamenti (1660 & 1668), but re-issued separately in 1650 under the title of 'Le … [Click Below for Full Description]
Bookseller:
Hünersdorff Rare Books ABA ILAB
[London, United Kingdom]