Displayed below are some selected recent viaLibri matches for books published in 1586
In Aedibus Franc. Sexalli, 1586. 2 opere in un vol. in-4° (212x155mm), pp. 180 nn. di indice bicolonne, 434, (2). Segue: Giovanni Battista Piotto, "De Blasphemia Tractatus... Continensetiam plures declarationes Constitutionum Dominij Mediolani", Novariae, in aedibus Francisci Sexalli, 1586, pp. 71. Legatura coeva in p. pergamena molle con legacci e titolo manoscritto in antico al dorso. Fresco esemplare in ottimo stato conservativo. Ex-libris moderno. Seconda edizione del "Tractatus de in Litem Iurando" (la prima era stata impressa dallo stesso Sesalli nel 1557) ed edizione originale del "Tractatus De Plasphemiis" (richiamato nel frontespizio della prima opera), pubblicato postumo per le cure del figlio dell'autore (Novara, 1518-ivi, 1570). Le opere del Piotto conobbero notevole diffusione anche fuori dall'àmbito strettamente locale e contengono molti riferimenti alle Constitutiones Dominii Mediolanensis del 1541 promulgate da Carlo V, sistematica codificazione delle norme giuridiche relative al Ducato di Milano e alle terre ad esso appartenenti. Copiosissimo l'indice analitico preliminare, che, lungi dall'essere una mera compilazione, comprende al proprio interno diverse piccole disquisizioni, come nella voce "Novaria Civitas", lunga ben 18 pp. e costituente una compendiosa storia della città di Novara. Bersano Begey, nn. 2141 (le cita come opere a se stanti). Argelati, 1475. Manca a STC Italian Books e all'Adams. Latino
Bookseller:
Gilibert
[Italy]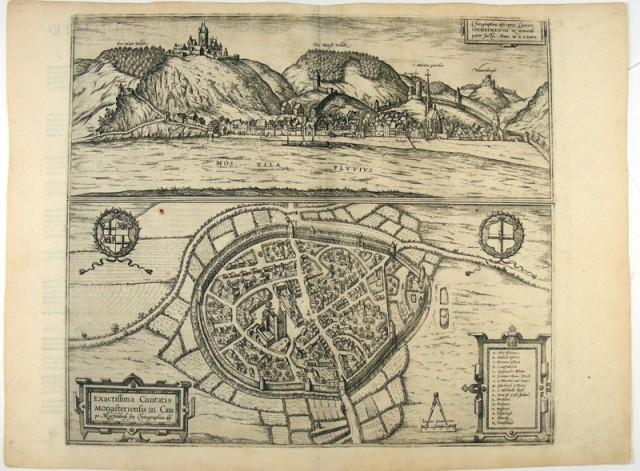 Kupferstich aus Braun-Hogenberg, 1586. Ca. 37 x 42 cm. Oberer Blattrand etwas wellig beschnitten, kl. Rostfleck in der Darstellung von Münstermaifeld. Zwei detailreiche Ansichten auf einem Blatt. Die älteste Ansicht von Cochem zeigt die Stadt mit der Burg und der Pestkapelle, der Ort wird beherrscht von der Pfarrkirche St. Martin. Rechts, nordwestlich von Cochem über dem Endertbachtal, auf einem Felskegel die Winneburg. Münstermaifeld wird aus der Vogelschau gezeigt. Die Stadt wird umgeben von einer Stadtmauer und einem Graben. Daran angrenzend sind Felder dargestellt. Links und rechts oben sind Wappen abgebildet. Rechts unten befindet sich eine Legende, daneben ein Meilenzeiger mit Zirkel. Das Blatt erschien in den "Civitates Orbis Terrarum" von Braun und Hogenberg. Mit lateinischem Rückentext.
Bookseller:
Antiquariat Peter Fritzen
[Trier, Germany]
Venice: Presso Gio. Battista Bonfadio, , 1586. Venice: Presso Gio. Battista Bonfadio, 1586 Popular edition of The Nymphs of Fiesole, edited by Francesco Sansovino (1521-1586), esteemed author, who was edited many great Italian literary works (including Cento novelle scelti de' più nobili scittori della linga volgare) and translated many classical works into Italian. An uncommon edition; OCLC lists six copies in America. [Together with:] Groto, Luigi. Luigi. Delle rime di Luigi Groto. Novamente ristampate, & ricorrette dal medesimo Auttore. Venetia: Agostino Zoppini, & Nepoti, 1598. Twelvemo. 190, [2, blank] pp. Later edition of the poems of Groto (1541-85), called "The Blind Man of Adria"--but also a rare edition--not listed in OCLC or RLIN. [and:] Groto, Luigi. La Calisto nova favola pastorale. Nuovamente stampata. Venetia: Agostin Zopini [sic], & Nepoti, 1599. Twelvemo. 81, [1, colophon], [2, blank] leaves. Later edition. OCLC notes for copies. [and:] Divizio, Bernardo, da Bibbiena, Cardinal. Calandra comedia...Di nuovo con somma diligenza corretta & ristampata. Venetia: Lucio Spineda, 1600. Twelvemo. 54 leaves. Later edition of Cardinal da Bibbiena's (1470-1520) most famous and admired literary work. This edition not in OCLC or RLIN. The four works are bound together in full stiff vellum, with the title of the first in manuscript on the spine, ties lacking. . Twelvemo. Endpapers from an old Spanish printed text. Some light browning to first and last work at lower margin, occasional contemporary ink underscoring. Generally a very good, clean copy. Four Italian literary … [Click Below for Full Description]
Bookseller:
Michael R. Thompson Books, A.B.A.A.
[Los Angeles, CA, U.S.A.]
Madrid: En casa de Pedro Madrigal, 1586 [but dated 1587 on the colophon page].. Two parts bound in one volume. [12],116; 244,[12] leaves, including one full-page plate. Small octavo. Contemporary calf, rebacked with original gilt backstrip laid down, gilt red morocco label. Binding edgeworn and rubbed, foredge of front board gnawed. Trimmed close, affecting the first work of the title and the running headline in the preliminary material. Ex- lib., with a small ink stamp on the verso of the titlepage and on the colophon page. Faint old stain in upper margin of second part, else quite clean internally. About very good. In a half morocco box. An early edition of Gonzalez de Mendoza, following the first of 1585, and the second and best edition to contain the Espejo narrative of early exploration in the American Southwest. Antonio de Espejo began his exploration of New Mexico in 1583, in the company of Fray Beltran and fourteen soldiers. The ostensible reason for his expedition was to find Fr. Agustin Rodriguez, who had disappeared in that region the previous year, but much more was accomplished than merely establishing the sad fate of the martyred Franciscan. A true wealth of new information about the traversed territory was garnered, and this is the first publication to include notice of that expedition (found in this edition beginning on leaf 165 of the second part). Most editions of this work do not contain the information about Espejo's New Mexican adventure, and Wagner says that the present edition is only the second with the Espejo narrative, following a Madrid editio … [Click Below for Full Description]
Bookseller:
William Reese Company - Americana
- apresso Giambattista Sessa & fratelli, In Venetia (Venise) 1586, in-12 (15,3x10cm), 11ff., relié. - Neue Ausgabe nach dem Original von 1562. Rare. Brunet II, 789 dargestellt. Ausgabe kursiv zwanzig Figuren in und aus neugierig Objekte einschließlich Text kombiniert Buchstaben. Ein Exemplar in der Bibliothek von Manchester, haben wir nichts in Frankreich und Deutschland gefunden. Pergament Vollzeit, glatt zurück und so lange Manuskript Stift. Eine Träne auf dem Rücken (1 cm). Seiten wieder das Sorgerecht hat Titelseite durch zwei kleine Stücke von Papier auf der Rückseite verstärkt. Lodovico Dolce (1508-1568), Gelehrter und Humanist venezianischen beschäftigte Ausgaben der klassischen italienischen Texten (Dante, Petrarca ...) in Zusammenarbeit mit Ferrari Verleger und erneuert das Genre, das seinen Stempel trägt. Er übersetzte die Metamorphosen italienischen und schrieb mehrere Dialoge, auf dem ein Malerei Vasari und Aretino, und ein anderer auf den Farbeigenschaften. Er schrieb, wie Theaterstücke. Das allgemeine Thema des Dialogs ist das Okkulte, Astrologie. - [FRENCH VERSION FOLLOWS] Nouvelle édition après l'originale de 1562. Rare. Brunet II, 789. Edition à caractères italiques illustrée d'une vingtaine de figures in et hors texte curieuses associant notamment des objets aux lettres. Un exemplaire à la bibliothèque de Manchester, nous n'avons rien trouvé en France et en Allemagne. Reliure en plein vélin d'époque, dos lisse et titre manuscrit en long à la plume. Une déchirure sur le dos (1 cm). Pages de garde restaurées, la page de titre a été renforcée de deux petits b … [Click Below for Full Description]
Bookseller:
Librairie Feu Follet
[France]