Displayed below are some selected recent viaLibri matches for books published in 1576
1576. Digest of Rulings by Matteo D'Afflito Ursilli, Cesare [16th. Cent.]. [D'Afflito, Matteo (c.1450-c.1529)]. Aureae Iurium Addictiones, Annotationes, & Quaedam Advertentiae, Cum Quibusdam Novis Decisionibus Casibusque in Facto Contingentibus ad Decisiones Sacri Consilii D. Matthei de Afflicto. Assito Repertorio Amplissimo Rerum Omnium per Ordinem Alphabeti. Cum Privilegio Anno XV. Venice: Expensis D. Iacobi Anelli de Maria, 1576. [viii], 612, [96] pp. Main text printed in parallel columns. Quarto (8" x 6"). Contemporary quarter patterned paper over contrasting paper boards, early hand-lettered title to bottom edge. Some rubbing with light wear to extremities, front hinge starting. Large woodcut printer device to title page, woodcut initials. Early owner annotation to front pastedown, early signature to title page, a few brief underlinings and check marks to text. Inkspots to edges, faint finger smudges and stains to a few leaves, interior otherwise fresh. $2,000. * Second edition. With index. First published in 1568, this is a digest of Neapolitan cases decided by Matteo D'Afflito, an important jurist, royal official and author of notable Tractatus de Jure Protomiseos (1544). KVK locates 2 copies of this edition, 4 copies of all editions. 1 copy located in North America (at Harvard Law School). Not in Adams or the British Museum Catalogue.
Bookseller:
The Lawbook Exchange, Ltd.
[USA]
Lisbon, João Barreira, 1576. - Large woodcut printer's device on title of palm tree with mountains and setting (rising?) sun in background, in an oval frame, with the words "Omnia" and "Omnibvs" vertically at each side. Woodcut initials. (4 ), 78 ll. 4°, eighteenth-century mottled sheep (slight wear to extremities), flat spine richly gilt, crimson leather lettering piece, gilt letter, text-block edges sprinkled red. Some soiling to title-page; occasional light waterstains. Substantial contemporary or slightly later annotation in outer blank margin of leaf H8 recto. Overall in good to very good condition. ---- FIRST EDITION of the first comprehensive treatise on proper Portuguese spelling, and only the second published study of any aspect of the Portuguese language, preceded by Fernão de Oliveira's Portuguese grammar of 1536 (see Saraiva & Lopes, @História da literatura portuguesa, 9th ed., p. 25). It can be seen as part of the widespread effort in the sixteenth century to standardize the orthography of vernaculars.Duarte Nunes de Leão (ca. 1530-1608), whose name appears on the title page as Duarte Nunez de Lião (which is sometimes also given as Liam), historian, philologist, geographer, and jurisconsult (ca. 1530-1608), was born at Évora and studied civil law at Coimbra. He eventually rose to the position of judge of the Casa da Supplicação (court of appeals). His many other published works include the @Repertorio dos cinquo livros das ordenacões (Lisbon, 1560), an important summary of Portuguese laws (updated by his @Leis extravagantes, Lisbon, 1569), @Chronicas dos Reis d … [Click Below for Full Description]
Bookseller:
Richard C. Ramer Old and Rare Books
Köln, Maternus Cholinus 1576. 32 cm. (10), 1082, (50) Seiten mit Holzschnitt-Druckermarke auf Titel. Blindgeprägter Schweinsleder-Band der Zeit über Holzdeckeln mit Messingschließen, der Rücken braun gefärbt - VD16 P 1059 - Index Aurel. 103.087 - Adams vergleiche H-819 - Von Paulus Diaconus (Warnefried; geb. ca. 720-30 in Friuli, gestorben ca. 799 in Monte Cassino) im Auftrag Karls des Großen zusammengestelltes Homiliar, "welches bis zur Gegenwart den Grundstock der Brevierlesungen bildet ..." (Kosch DLL XI, 980). Die Einbanddecken sind mit drei Rollen- und Doppelblindlinien kassettiert; die äußere Rolle zeigt ein Rankenmuster, die mittlere zeigt Porträts in ovaler Umrandung, die innere Rolle zeigt Fides, Spes, Sapientia. Einband etwas berieben und Wurmlöcher, Schließhaken entfernt, leicht gebräunt, stellenweise stockfleckig, auf Titel zeitgenöss. Besitzvermerke, S. 173 und 176 (einseitig unbedruckt) durch Kopien ersetzt. - Sprache / Language: Lateinisch / Latin -
Bookseller:
Wenner Antiquariat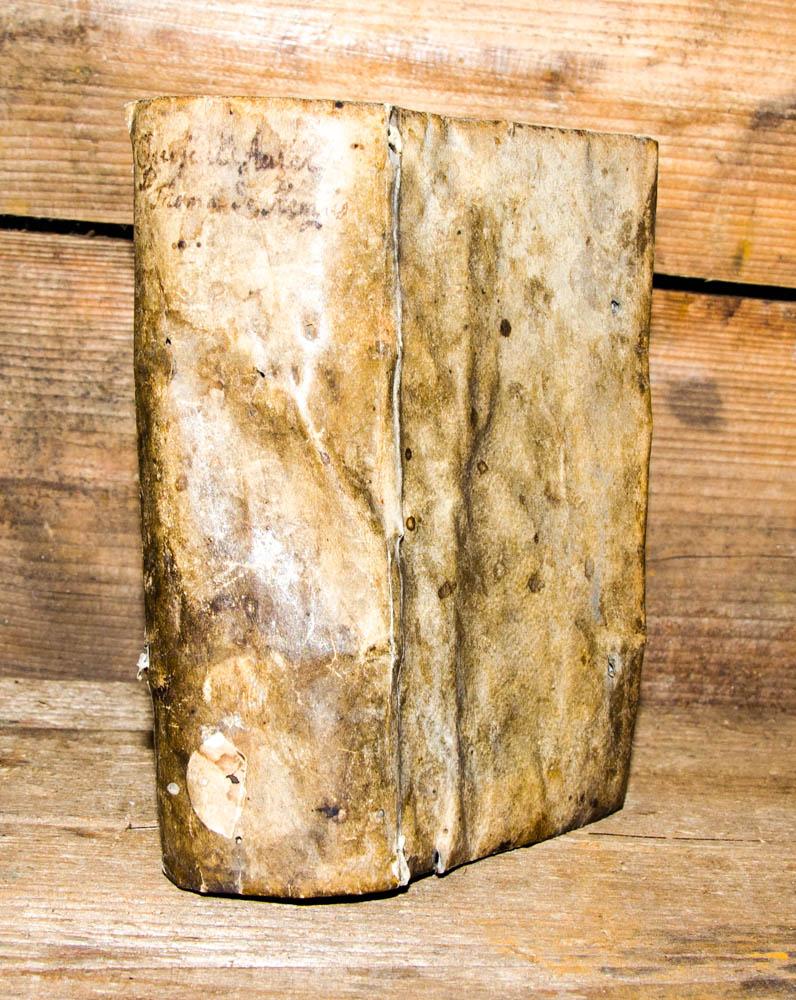 Venezia, Giunta ("Petrus Dehuchinus sumptibus dictorum de Iuntis"), 1576. Kl-8°, circa 12,5 x 8 cm., 360 (recte 370) num. Bll, 8 Bll., mit Druckermarke. Pergament d. Zt. Nicht bei Adams; ICCU CNCE 27497. Seltene, von Pietro Deuchino für Lucantonio Giunta gedruckte Ausgabe der Werke des Thomas von Kempen (ca. 1380-1471). Enthält: De disciplina claustralium, Soliliquium, Sermones, Epistolae etc. Dazu ein Text von Vincente Ferrer. - Titel mit schwachem altem Stempel, etwas gebräunt, wenig wasserrandig. Einband stärker berieben, angestaubt, ohne Bindebänder. [7 Warenabbildungen bei antiquariat.de]
Bookseller:
Antiquariat Thomas Rezek
[München, Germany]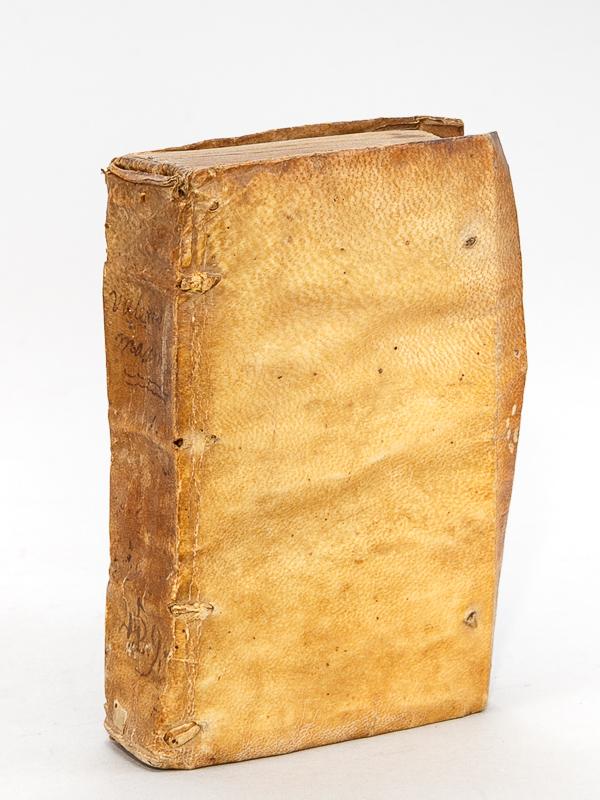 1 vol. in-16 rel. d'époque plein vélin, Apud Ant. Gryphium, Lugduni [ Lyon ], 1576, 12 ff. n. ch., 555 pp., 145 pp., 12 ff. n. ch. et 1 f. blanc Etat très satisfaisant (rel. anc. frottée, 3 derniers ff. faibles, bon état par ailleurs) pour cette édition recherchée pour les savants commentaires de Vinand. Baudrier, VIII, 340 N° 4 et 9 Langue: Latin [Attributes: Hard Cover]
Bookseller:
Librairie du Cardinal
[GRADIGNAN, France]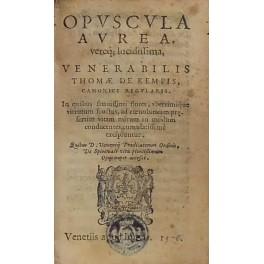 apud Iuntas (excudebat Petrus Dehuchinus sumptibus dictorum de Iuntis), Venetiis 1576 - Tagli spruzzati. Antico timbro d'appartenenza al frontespizio cc. 360 + (7) p. 116x65 mm p.pelle cordonata senza titolo sul dorso
Bookseller:
Libreria Antiquaria Giulio Cesare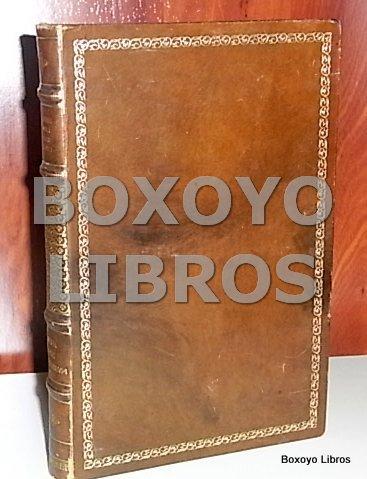 Excudebat Franciscus à Canto, Methymnae Campi, 1576. 27 cm. Plena piel moderna. Lomo cuajado. Márgenes cortos. Gran escudo de armas grabado en portada, circundado con lema. Capitulares ilustradas. Texto a dos columnas. Ejemplar muy raro, en excelente estado, ligeramente recortado margen superior, sin afectar texto. 169 folios. 1 h. 25 fols (falta última hoja del índice) En español. Book in spanish. El pago contrarrembolso lleva un recargo de 2 euros. [Attributes: Hard Cover]
Bookseller:
Boxoyo Libros S.L.
[Cáceres, Spain]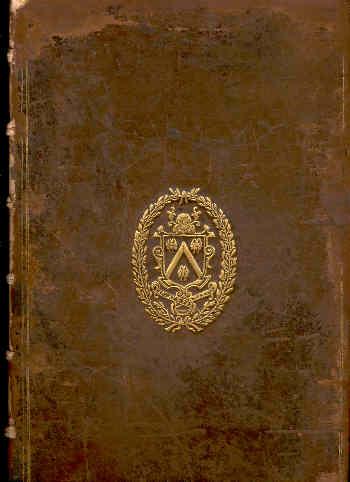 Ferrariae Ex typis Haeredum Francisci Rubei. 1576. In binding with Arms of J. A. De Thou. (Continens partitiones, resolutiones q's, exemplum earum, quas in omnia eiusdem Aristotelis opera Auctor meditabatur. Adiunctis quibusdam Scholijs, quaestionibus, & in digressiones Averrois digressionibus. Omnia a Hieronymo Bovio Ferrarien. collecta & edita. Ad Sereniss. Principem Alfonsum II. Ferrariae Ducem.). Folio; 12 ¾ in. x 8 ¼ in; page size: 31.6 x 20.2 mm. 475 pp. including charts (.de Mente humana): pp.7-14. Ecclesiastical approval, Register. Fine woodcut printer's device of pine tree with motto: "Sua cuique dies" on verso p. 475. Heraldic title page woodcut & fine woodcut heading & initials. Old calf with simple single & double lined rules framing a 3 ½ in. x 2 ½ in. gilt heraldic stamp on front & back covers featuring an oval of tied bays surrounding a shield with angel-head crest & 3 bees & chevron within the shield & name: IAC. AVGVUST. THVANVS. Spine in 7 compartments with 6 monograms formed of the letters I A D T. See J. Pearson Catalogue "Two Hundred Books.World's Greatest Book Collectors" p. 20 #27 for De Thou's & his wife's armorial bookbinding. Age related defects are present to the binding, with some leather partially worn off of the spine and corners. The covers show some wear and abrasions. Heraldic gilt medallions are quite clear but gilt titling & monograms on spine are faded. The binding is unrestored. No copy of the Montecatini De Anima was reported by libraries in US in the pre-1956 NUC or Supplement & is in itself quite a rare book. Text edges show light age … [Click Below for Full Description]
Bookseller:
Peter Keisogloff Rare Books, Inc.
[Brecksville, OH, U.S.A.]
Basel, Herwagen (per Eusebium Episcopum), 1576.. Titel, (14), 756 SS. (= 1498 Sp.). Mit Holzschnittdruckermarke am Titel (alt ankoloriert), am letzten Bl. verso wdh., sowie mehreren schwarzgrundigen figuralen und floralen Initialen in Holzschnitt. Blindgeprägter Schweinslederband der Zeit über Holzdeckeln auf 4 Doppelbünden mit reicher Rollen- und Plattenprägung sowie den Initialen "IVK" und "DVK". Das Mittelstück mit dem großen sächsischen Wappen. Ohne die Schließen. Folio.. Durch Hervag veranstalteter Nachdruck des bis ins 18. Jh. immer wieder aufgelegten Werkes (erstmals 1535 in Brixen erschienen). Der Verfasser, Mario Nizolio (1498-1575?), war ein wichtiger Philosoph des Humanismus; er wirkte ein auf bedeutende Autoren des 17. Jh. wie Leibniz. In der Tradition von Valla, Petrarca und letztlich Cicero wird für Nizolio die Natur erst durch das Wort offenbar; so führte ihn seine Betonung von Philologie und Rhetorik zu intensiver linguistisch-philosophischer Forschung, die ihn von den Lehren anderer Frühhumanisten (wie Bruni oder Vittorino) scharf absetzte. Die hohe (gerade auch philosophische) Wertschätzung Ciceros ließ Nizolio sein klassisches Wörterbuch zusammenstellen: "Cette ouvrage est un recueil alphabetique des tous les mots employes par l'orateur romain, avec des examples qui servent a en determiner les differents acceptions [...] Michael Nizzoli, neveu de Mario, en publia une nouvelle edition, corrige sur les manuscrits de son oncle [...] Ce tresor eut une grande vogue dans le seizieme siecle: a peine avait-il paru, que les imprimeurs de Bale et de Lyon le reprodu … [Click Below for Full Description]
Bookseller:
Antiquariat Inlibris, Gilhofer Nfg. GmbH
A Lyon: par Benoist Rigaud, 1576. relié. in 16 (11,3x8,5cm). L'ouvrage fut mis à l'index et fut réédité en 1575 sous une forme expurgée, la première traduction française semble avoir paru en 1527 selon un exemplaire de l'université de Glasgow., bien qu'une donnée contradictoire donne 1528 comme date de la première édition française en latin par Robert Etienne. Rare, comme toutes les éditions. Absent de la BNF et des catalogues français (exception d'une édition à Lyon de 1586), comme de nombreuses bibliothèques. Brunet donne 1499 comme la date de l'originale V, 1135. le Grégoire donne 1571 pour la première édition…? Cartonnage à papier brique XVIIIème ou début XIXème, encre du titre estompée et illisible. Polydore Vergil (1470-1555) est né et mort à Urbino, après avoir étudié à Bologne et Padoue, il devint le secrétaire du duc d'Urbino et le chambellan d'Alexandre VI. Ses deux premiers écrits le rendirent célèbres et obtinrent une grande popularité 'Proverbiorum libellus' et 'De inventoribus rerum', traduite en français par 'Les inventeurs des choses'. En 1501 le pape l'envoya en Angleterre, devenant l'intime de Henri VII, ce dernier lui commanda une histoire d'Angleterre par lequel Polydore devint le premier historien moderne, ne se contentant pas d'établir une simple chronique mais étudiant les événements, ainsi il influença tous les historiens futurs et même shakespeare dans sa vision de l'histoire. Il revint dans son pays natal lors des changements religieux en Angleterre. (Encyclopédie Cath … [Click Below for Full Description]
Bookseller:
Librairie Le Feu Follet