Displayed below are some selected recent viaLibri matches for books published in 1573
1573. Afflito's Principal Treatise D' Afflito, Matteo (Afflictis, Matthias de) [c.1443-c.1523]. Baldus de Ubaldus, Petrus [1327-1406]. Tract. de Iure Prothomiseos. Hac Postrema Editione a Pluribus Quibus Scatebat Erroribus Vindicatus. Cum Commentariolo Gravissimi Iuris Interpretis, Marci Mantuae Benavidii Patavini, ad L. Dudum, C. de Contrahen. Empt. Summarioq, ac Elementario Indice Super Additis, Diligentissime Exornatus. Venice: Apud Christophorum Zanettum, 1573. [iii], 4-108, [8] ff. Octavo (6" x 4"). Contemporary limp vellum. Light soiling, central section of spine, half of front cover and all of front free endpaper lacking, rear pastedown loose, binding secure. Attractive woodcut printer device, head-piece, tail-piece and decorated initials. Occasional light foxing, light browning in a few places, internally clean. * Later edition. D'Afflito was an important Italian jurist and royal official. Tractatus de Jure Protomiseos, a treatise on preemption, purchase and sale is a commentary on the Constitutio de Jure Protomiseos of Holy Roman Emperor Frederick I (Barbarossa) [1122-1190]. One of his principal works, it was first published in 1544 and went through several issues and editions into the eighteenth century. In Zennetti's 1573 edition offered here D'Afflito's treatise is followed by a discussion of the same topic by the great Bolognese commentator Baldus de Ubaldis. KVK locates 3 copies of this edition, OCLC locates 2 (Library of Congress and Penn State University). Adams, Catalogue of Books Printed on the Continent of Europe, 1501-1600 A318.
Bookseller:
The Lawbook Exchange, Ltd.
Frankfurt, Egenolffs Erben 1573. 17 cm. (8), 280, (4) Blatt mit 2 Initialen und 66 Textholzschnitten. Blindgeprägter Lederband der Zeit mit Rollenstempeln über Holzdeckeln - VD16 R 582 - Gambacorta /Giordano S. 82 - Durling 3814 - Richter, Egenolff 352 - 4. Auflage bei Egenolffs Erben, Neuauflage der Frankfurter Ausgabe von 1557 mit Hinzufügung von Camerarius, Joachim d.Ä.: Victus et cultus ratio; Diocles: Epistola praeservativa; Fernel, Jean: Emissi sanguinis observatio; Melanchthon, Philipp: De moderatione cibi et potus; Polybus: De salubri diaeta. Curios Bearbeitung des von der Schule von Salerno entwickelten Diätkochbuches, dem König von England gewidmet. Johann Curio (Curion), geboren in Rheinberg im Kurfürstentum Köln, studierte Medizin in Erfurt und starb 1561. Die Holzschnitte zeigen Heilpflanzen, Essen und Trinken, Badeszenen, Charaktere, Behandlungsmethoden, und a. Werkzeuge zur Zahn-Extraktion. Die Rollenstempel auf beiden Deckeln (Salvator - Johannes - Paulus - David) sind beschrieben bei Haebler II, 288, 11. Kanten stellenweise Schabspuren, Rücken und Ecken restauriert, erste 40 Blatt und letzte 20 Blatt im Rand Feuchtigkeitssspur, Titel und das letzte Blatt (Index T-Z) in Faksimile auf altem Papier. - Sprache / Language: Lateinisch / Latin -
Bookseller:
Wenner Antiquariat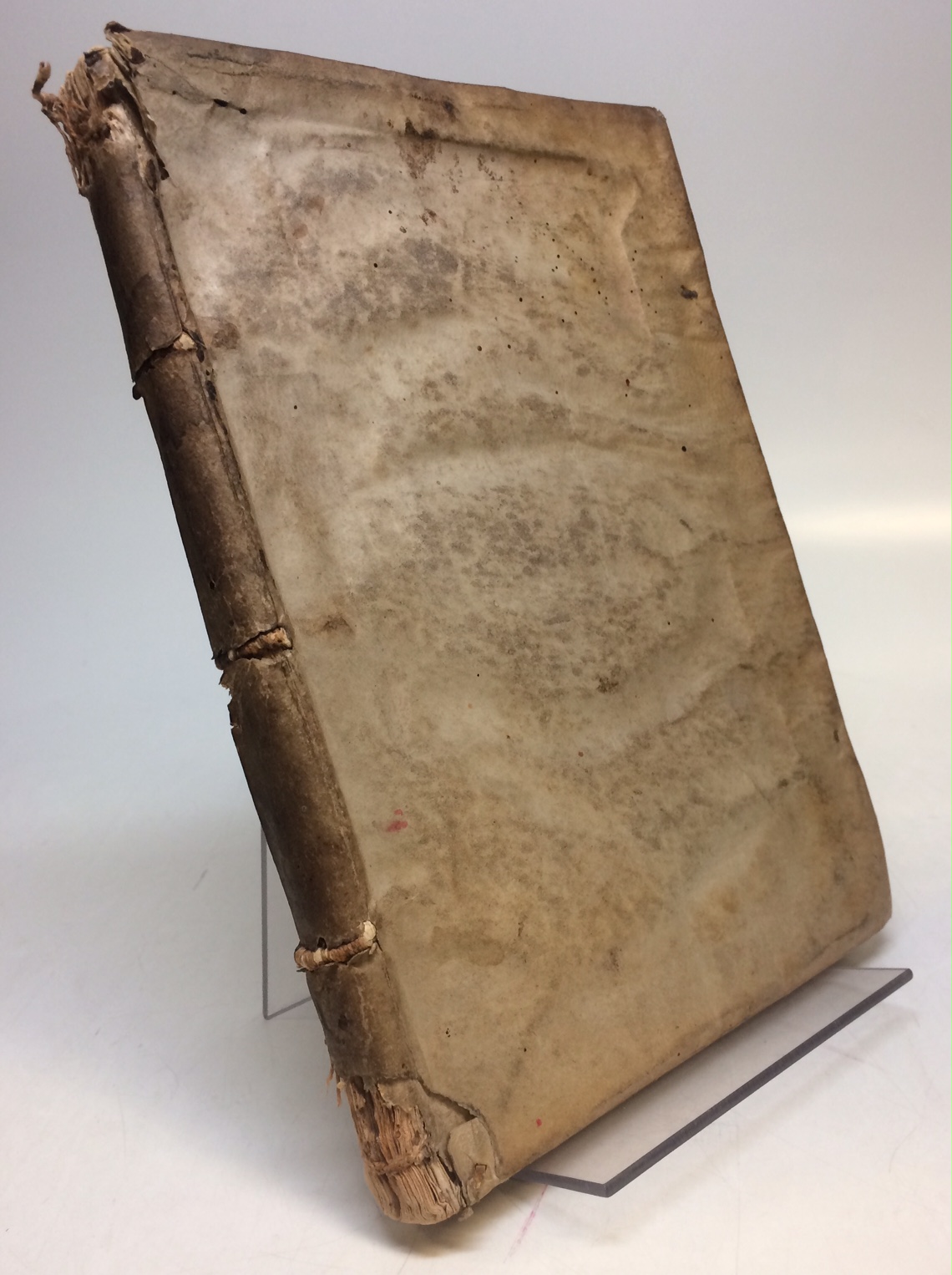 Florence: Guinti, 1573. hardcover. very good. Small 4to, full contemporary vellum (well-worn; very light staining on the right margin of the title page and the following 3 leaves, not affecting the text; 7 leaves have small pieces torn from bottom margins, with no loss of text; light stains to the "Tavola" with a repair to one initial letter). Fiorenza: de'Guinti, 1573. Very good. Italian edition of the "Optica". The Prospettiva di Eliodoro Larisseo has a separate title page. Despite condition flaws, a very good copy, with the ownership signature of art historian Meyer Schapiro.
Bookseller:
Argosy Book Store, ABAA, ILAB
[New York, NY, U.S.A.]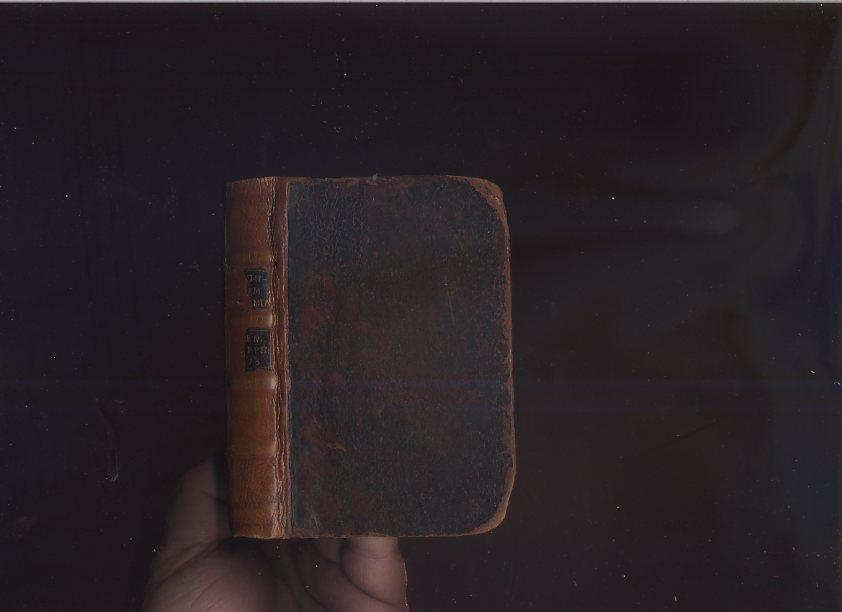 Geneva: Excudebat Henr. Stephanus, 1573. Sm. 8vo. (5" x 3"). (32), 256pp. Text in Greek & Latin. Woodcut vignette printer's device on title. Cont. calf, worn (corners of covers worn down), rebacked, fragments of orig. calf labels laid down. Title page a bit soiled. Armorial bookplate on front pastedown. Renouard; p. 140, # 10.
Bookseller:
Kenneth Karmiole, Bookseller, Inc. ABAA
[Santa Monica, CA, U.S.A.]
Paris: Jacques Du Puys, 1573., 1573. 2 Parts in 1. 4to. pp. 28 p.l., [31], 177 [i.e. 476], [1], [blank leaf]; 4 p.l., 328 [i.e. 329], [1], [3]errata. woodcut device on titles. woodcut ornaments & initials. An appealing copy, bound in contemporary blind-stamped pigskin over wooden bds., brass catches & 1 (of 2) clasps (stain on upper cover). First Edition. Jacques Charpentier [Jacobus Carpentarius] achieved a high reputation as a teacher of philosophy at the Collège de Bourgogne for sixteen years before pursuing medical studies at Paris. In 1566 he obtained the chair of mathematics at the Collège de France, and he served as physician to Charles IX. As a partisan and commentator on Aristotle he wrote several discourses against Pierre Ramus. Adams C759. BM STC French p. 9 [vide ALCINOUS]. Schwab 267. Rand I 85.. 1st Edition.
Bookseller:
D & E Lake Ltd. (ABAC, ILAB)
[Canada]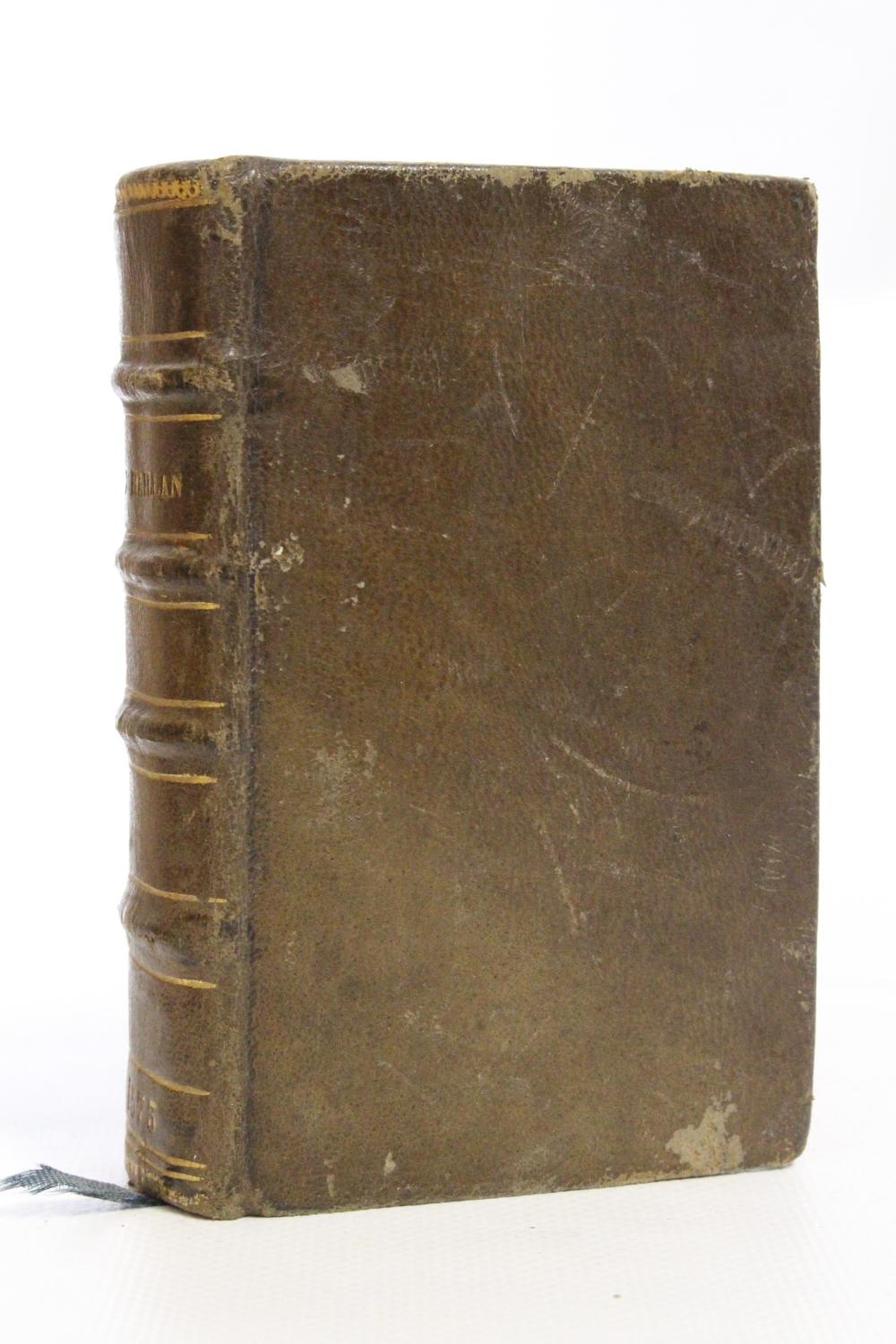 - chez Pierre l'Huillier, à Paris 1573, in 16 (12,3x8cm), (40) 375pp. (66), (1bc) 30ff., relié. - Neue Ausgabe nach der ursprünglichen Ausgabe 1570 (1572 Privileg), Zusammenfassung der Geschichte der Grafen von Anjou hat seine eigene Titelseite. Die Ausgabe enthält ein Porträt des Autors. Obwohl dieses Buch wurde mehrmals nachgedruckt, sind sech Ausgaben jetzt auch ungewöhnlich. 4. Ausgabe "einer Arbeit, die großen Erfolg gehabt hat, und ist immer noch gut zu sehen." Brunet II, 1612. Volllammfell braun ersten Hälfte XIX, zurück Nerven mit Netzen und Datumsgrenze. Kopieren kurz geschnitten. Bernard Girard (1535-1610) geboren und starb in Bordeaux, nach der Sekretär François de Noailles und berühmt zu werden als Dichter und Historiker, wurde er von Charles IX von Frankreich im Jahr 1571, Historiker und Genealoge ernannt die Reihenfolge der Heiligen esptit von Henry III. Er ist der erste Französisch Schriftsteller, um einen Körper der nationalen Geschichte zusammengesetzt haben, und es einige Fabeln gefunden hat, er erhielt viele Traditionen im Allgemeinen abgelehnt. - [FRENCH VERSION FOLLOWS] Nouvelle édition après l'édition originale de 1570 (privilège de 1572), l'histoire sommaire des comtes d'Anjou possède sa propre page de titre. L'édition comporte un portrait de l'auteur. Bien que ce livre fut plusieurs fois réédité, les éditions du XVIème sont aujourd'hui bien peu courantes. 4ème édition 'd'un ouvrage qui a eut beaucoup de succès et qui est encore bon à consulter.' Brunet II, 1612. Reliure en pleine basane brune première moitié XIXème, dos à nerfs avec filets et date en … [Click Below for Full Description]
Bookseller:
Librairie Le Feu Follet
[Paris, France]
Antwerps, Ortelius, A., 1573. "Rhetiae alpestris descriptio, in qua hodie Tirolis Comitatus." und "Goritiae, Karstii, Chaczeolae, Carniolae, Histriae, et Windorum Marchae descrip.". Kol. Kupf.-Ktn. von W. Lazius (bei A. Ortelius, 1573). Zwei Karten auf 1 Blatt. 34:50 cm.. V. d. Broecke Nr. 116a,b; Koeman III, map 2780+7170:31, ed. 31:051 (1595 Latin)- Karten von Tirol und Istrien (Kroatien und Slowenien). - Tirol mit Titelbandrole und kl. Kart. unten links. Istrien mit Titelkart. oben.
Bookseller:
Antikvariat Karel Krenek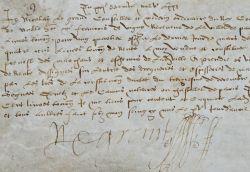 1 pièce signée sur vélin 1 12,5 x 26,5 cm 15/04/1573 petits trous d'enliassage Pièce signée par Nicolas Le Grand «conseiller et médecin ordinaire du Roy», qui reconnaît avoir reçu la somme de cent livres tournois «par messieurs les prévost des marchands et eschevins de lad. ville [Paris] à prendre sur vingt cinq mil livres tournois de rente assignées sur l'entrée des drogueries et espisseries de Marseille [.]». [Attributes: Signed Copy]
Bookseller:
Traces Ecrites
[Paris, France]
[Geneva]: excudebat Henr. Stephanus, 1573. First edition, folio, 2 parts in 1, as issued; pp. [8], 664 columns; [8], 13-247; printer's woodcut device on title; generally a very good, sound and useable copy in 17th century calf, neatly rebacked, red morocco label (slightly chipped) on spine. Estienne's critical edition of two manuscript glossaries (ca. 2nd-3rd century A.D.) discovered by him, the first Latin-Greek, the second Greek-Latin. The former "is among the best glossaries we have, full of rare, ancient learning..." The two glossaries are followed by Estienne's treatise on Greek dialectology in the form of a commentary on Johannes Gramaticus's and Corinthus's De dialectis, followed by large appendix in which Estienne ranges over a number of subjects not covered by them. This volume grew out of Estienne's research during his compilation of the Thesaurus linguae gracae, and hence is sometimes regarded as a supplement to the same. But actually "this important work ... is, in fact, an independent work" (Schreiber). "By far the greatest achievement of Henri Estienne was his truly monumental Thesaurus Graecae Linguae, which had been initiated by Robert Esteinne; the publication of this pioneer work marked the great event of Henri Estienne's career, as well as a highpoint in the annals of European scholarship. The Thesaurus has not yet been replaced, remaining to this day one of the essential instruments for the study of Greek" (Schreiber, p. 128). "Even more than with [Robert Estienne's] Thesaurus Latinus, there has to this day been no substitute for the Thesaurus Graecus … [Click Below for Full Description]
Bookseller:
Rulon-Miller Books
[United States]