Displayed below are some selected recent viaLibri matches for books published in 1564
appresso Fr. Rampazetto,, In Venetia, 1564. Pp. 65. Marchio tipografico al frontespizio, testate e capolettera figurati. Legato con: BEMBO P. Le prose. nelle quali si ragiona della Volgar Lingua, scritte al Cardinal de' Medici. divise in tre libri, e di nuovo aggiunte le Postille nel margine, e rivedute con somma diligenza da M. Francesco Sansovino. In Venetia, Rampazetto, 1562. Marchio tipografico al frontespizio, testate e capolettera figurati. Due opere in un volume di cm. 12,5, legatura posteriore in pergamena semirigida. Prima opera: Un tarletto anticamente richiuso al margine basso di alcune carte che tocca alcune lettere ed uno strappo ricongiunto ad una carta (senza grave danno). Manca l'ultima carta (bianca?, colophon?). Seconda opera: La rifilatura marginale tocco in un paio di casi le note; mancano le due carte finali poste dopo il colophon, sicuramente bianche. A parte i difetti dichiarati esemplare ben conservato. Entrambe le edizioni non comuni. Cfr. Adams per la prima (pure mancante della carta finale).
Bookseller:
Studio Bibliografico Benacense
[riva del garda, Italy]
- After studying Greek, Latin, and mathematics, Ortelius went into business with his sister as a book dealer and "printer of maps." In 1564, Ortelius' career reached a turning point with the production of a world map in eight sheets, only one copy of which is known to exist. Other maps followed, but the crowning achievement of Ortelius' career was the compilation of a collection of maps from European mapmakers into a single volume of uniform size. Unlike many of his contemporaries, Ortelius noted his sources of information, and, although others had published collections of modern maps in book form, Ortelius' work, the Theatrum Orbis Terrarum, was the first uniformly sized, systematic collection of maps; this work can therefore be called the first atlas (although the term was not used until 20 years later by Mercator). Elegantly engraved by Frans Hogenberg, the work contained 70 maps on 53 leaves. In the following years, five supplements were added. Originally issued in 1570, four editions of the Theatrum were published the first year; it was to be reissued in 42 editions overall, until 1612, with 5 supplements and text in Latin, Dutch, German, French, Spanish, Italian and English.
Bookseller:
Arader Galleries San Francisco
Antwerpen, G. Simon 1564.. 8°. 2 unbedr. Bl. (neu eingefügt), Titelbl., 7 nn. Bll., 373 (=371) S. (Seitensprung v. S. 360-363 ohne Textverlust), 21 nn. Bll., mit e. Druckermarke am Titelblatt u. e. Holzschnittporträt des Lemnius am Titelblatt verso, mit großen u. kleinen Initialen, Schlußvignetten, sow. e. Druckervermerk am Schlußblatt verso (J. Withagen). Halblederband aus späterer Zeit, mit e. schwarzen goldgeprägten Rückenschild, sowie schöner Rückengoldprägung, Einbanddeckel marmoriert, Vorsatz gesprenkelt, stärker berieben, bestoßen. Titelblatt fleckig, e. Tintenfleck am zweiten ungezählten Blatt, Schlußseiten wasserrandig. Mit verblasstem Stempel, sow. kleinen Schriftzügen v. alter Hand am Titelblatt, e. Namenszug v. alter Hand u. e. Besitzstempel, kombiniert mit handschriftlicher Numerierung am zweiten unbedruckten Blatt avers u. e. Schriftzug v. alter Hand in Tinte (Anno 1799 procuratus) u. e. in Bleistift verso, mit gestochenem Wappen-Ex-Libris.. BSB-AK 22,218. Vgl. Durling 352,2770. BM: Dutch Books 115. Jöcher 2,2359. Ferguson II,22f. - Hauptwerk des L. (auch Lemmens; 1505-1568), d. Theologie, Philosophie u. Medizin unter Vesalius studierte. Seltene Ausgabe, bei Adams, Durling (Cat. of 16. Century Printed Books in the Nat. Library of Medicine) u. B;: Dutch Books nur andere, v. W. Simon besorgte, Antwerpener Ausgaben verzeichnet. Erste vollständige, um zwei "Libri" ergänzte Ausgabe.
Bookseller:
Antiquariat Löcker
- Hieronymum Cavalcalupum, Venetiis (Venise) 1564, fort in-8 (15,5x11cm), (32f.) 632ff., relié. - Erste Ausgabe 1517 (Source-Bibliothek Salzburg). Aufkleber Drucker eines Reiter, der einen Wolf. Absent Brunet. Voll Pergament Zeit, Nerven. Oberkiefer offen 2 cm. 3 Baumstümpfe mit Lücken an der Stelle der Nähte und Schnürsenkel an beiden Gerichten. Piemontesische italienische Jurist lehrte er in Turin. Er starb im Jahre 1540. Appostilles Kommentare und Schriften der Kirchenväter, Briefe des Paulus an Seneca und Briefe an die Römer, wird jedes Thema behandelt postillaes und qauestionnes (Beichte, Kommunion der Maria. ..) - [FRENCH VERSION FOLLOWS] Nouvelle édition après la première édition de 1517 (source bibliothèque de Salzbourg). Vignette de l'imprimeur d'un cavalier chevauchant un loup. Absent à Brunet. Reliure en plein vélin d'époque à nerfs. Mors supérieur ouvert sur 2 cm. 3 accrocs avec manques à l'endroit des coutures et des lacets sur les deux plats. Juriste italien piémontais,il enseignait à Turin. Il est mort en 1540. Commentaires et appostilles des écrits des pères de l'église, de la correspondance de Paul à Sénèque et des épitres aux romains, chaque sujet est traité en postillaes et qauestionnes (de la confession, de la communion de Marie...)
Bookseller:
Librairie Feu Follet
[France]
Venise: francesco Vanese, 1564. relié. in 4 (17.3x22.7cm). Edition originale de ce traité d'arpentage, de perspective et de mesure appliqués à l'architecture. L'ouvrage contient une abondante illustration de gravures sur bois, 2 pl. dépliantes et 163 gravures dont 6 à pleine page. Notre exemplaire possède la même collation que l'exemplaire détenu à la bibliothèque d'Oxford, cette bibliothèque étant une des seules à donner une collation complète. Plein parchemin souple de l'époque à lacets. Dos lisse avec titre à la plume. Traces de lacets. Assez bel exemplaire, dans l'ensemble très frais. Non seulement très rare, il s'agit d'un ouvrage fondamental sur la question. Mortimer-Harvard, Italian sixteen century books, n°45. Le livre de Bartoli constitue une importante contribution à l'art et à l'architecture, ce dernier applique la géométrie euclidienne à la mesure et à la perspective. Graesse, I, 303. Bartoli (1503-1572) montre en outre comment mesurer un bâtiment à l'aide d'un astrolabe, d'un quadrant ou d'un compas, on remarquera la précision et l'efficacité des instrument médiévaux en application. L'auteur fut le conseiller iconographique de Vasari pour la décoration de la suite des salles du Palazzo Vecchio à Venise, il fut également l'architecte du palazzo Ricasoli à Florence. De nombreuses études récentes lui ont été consacrées. Florentin dont les vastes connaissances s'étendaient à de nombreuses disciplines, humaniste de son temps comme le fut De Vinci, Ses œuvres sont très diverses : discour … [Click Below for Full Description]
Bookseller:
Librairie Le Feu Follet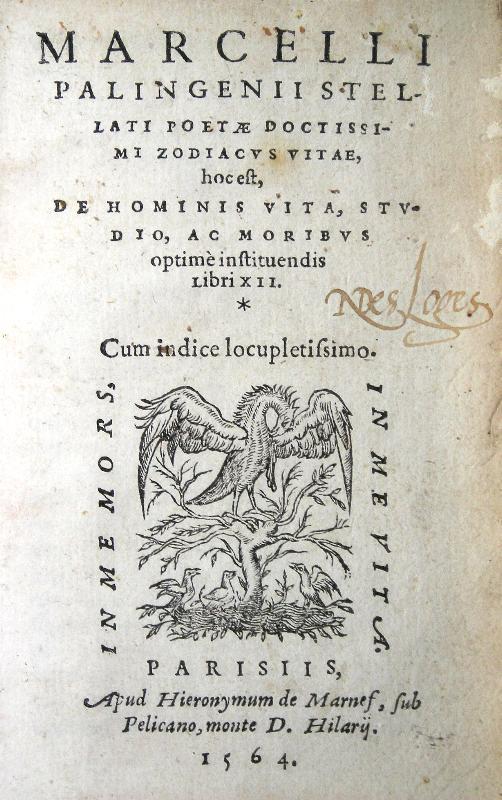 Paris 1564 - In 12 relié veau, 366 pages et index.
Bookseller:
La Basse Fontaine
[France]
[Zürich], Tigvri excvdebat Christophorvs Froschovervs ivnior, Anno MDLXIIII [1564]. (16) p. + 576 leaves. Contemporary leather binding with remnants of clasps
Bookseller:
Antikvariat Röda Rummet AB