Displayed below are some selected recent viaLibri matches for books published in 1564
Antwerpen, G. Simon 1564.. 8°. 2 unbedr. Bl. (neu eingefügt), Titelbl., 7 nn. Bll., 373 (=371) S. (Seitensprung v. S. 360-363 ohne Textverlust), 21 nn. Bll., mit e. Druckermarke am Titelblatt u. e. Holzschnittporträt des Lemnius am Titelblatt verso, mit großen u. kleinen Initialen, Schlußvignetten, sow. e. Druckervermerk am Schlußblatt verso (J. Withagen). Halblederband aus späterer Zeit, mit e. schwarzen goldgeprägten Rückenschild, sowie schöner Rückengoldprägung, Einbanddeckel marmoriert, Vorsatz gesprenkelt, stärker berieben, bestoßen. Titelblatt fleckig, e. Tintenfleck am zweiten ungezählten Blatt, Schlußseiten wasserrandig. Mit verblasstem Stempel, sow. kleinen Schriftzügen v. alter Hand am Titelblatt, e. Namenszug v. alter Hand u. e. Besitzstempel, kombiniert mit handschriftlicher Numerierung am zweiten unbedruckten Blatt avers u. e. Schriftzug v. alter Hand in Tinte (Anno 1799 procuratus) u. e. in Bleistift verso, mit gestochenem Wappen-Ex-Libris.. BSB-AK 22,218. Vgl. Durling 352,2770. BM: Dutch Books 115. Jöcher 2,2359. Ferguson II,22f. - Hauptwerk des L. (auch Lemmens; 1505-1568), d. Theologie, Philosophie u. Medizin unter Vesalius studierte. Seltene Ausgabe, bei Adams, Durling (Cat. of 16. Century Printed Books in the Nat. Library of Medicine) u. B;: Dutch Books nur andere, v. W. Simon besorgte, Antwerpener Ausgaben verzeichnet. Erste vollständige, um zwei "Libri" ergänzte Ausgabe.
Bookseller:
Antiquariat Löcker
Venetiis |(Venise): Hieronymum Cavalcalupum, 1564. Fine. Hieronymum Cavalcalupum, Venetiis (Venise) 1564, fort in-8 (15,5x11cm), (32f.) 632ff., relié. - First edition in 1517 (source library Salzburg). Sticker printer of a horseman riding a wolf. Absent Brunet. Full Vellum time to nerves. Upper joint open 2 cm. 3 snags with gaps at the location of seams and laces on both boards. Piedmontese Italian jurist, he taught at Turin. He died in 1540. Appostilles Comments and writings of the church fathers, letters of Paul to Seneca and Epistles to the Romans, each subject is treated postillaes and qauestionnes (confession, communion of Mary. ..) --- Please note that the translation in english is done automatically, we apologize if the formulas are inaccurate. Contact us for any information! - [FRENCH VERSION FOLLOWS] Nouvelle édition après la première édition de 1517 (source bibliothèque de Salzbourg). Vignette de l'imprimeur d'un cavalier chevauchant un loup. Absent à Brunet. Reliure en plein vélin d'époque à nerfs. Mors supérieur ouvert sur 2 cm. 3 accrocs avec manques à l'endroit des coutures et des lacets sur les deux plats. Juriste italien piémontais,il enseignait à Turin. Il est mort en 1540. Commentaires et appostilles des écrits des pères de l'église, de la correspondance de Paul à Sénèque et des épitres aux romains, chaque sujet est traité en postillaes et qauestionnes (de la confession, de la communion de Marie...)
Bookseller:
Librairie Le Feu Follet
[France]
Venise: francesco Vanese, 1564. relié. in 4 (17.3x22.7cm). Edition originale de ce traité d'arpentage, de perspective et de mesure appliqués à l'architecture. L'ouvrage contient une abondante illustration de gravures sur bois, 2 pl. dépliantes et 163 gravures dont 6 à pleine page. Notre exemplaire possède la même collation que l'exemplaire détenu à la bibliothèque d'Oxford, cette bibliothèque étant une des seules à donner une collation complète. Plein parchemin souple de l'époque à lacets. Dos lisse avec titre à la plume. Traces de lacets. Assez bel exemplaire, dans l'ensemble très frais. Non seulement très rare, il s'agit d'un ouvrage fondamental sur la question. Mortimer-Harvard, Italian sixteen century books, n°45. Le livre de Bartoli constitue une importante contribution à l'art et à l'architecture, ce dernier applique la géométrie euclidienne à la mesure et à la perspective. Graesse, I, 303. Bartoli (1503-1572) montre en outre comment mesurer un bâtiment à l'aide d'un astrolabe, d'un quadrant ou d'un compas, on remarquera la précision et l'efficacité des instrument médiévaux en application. L'auteur fut le conseiller iconographique de Vasari pour la décoration de la suite des salles du Palazzo Vecchio à Venise, il fut également l'architecte du palazzo Ricasoli à Florence. De nombreuses études récentes lui ont été consacrées. Florentin dont les vastes connaissances s'étendaient à de nombreuses disciplines, humaniste de son temps comme le fut De Vinci, Ses œuvres sont très diverses : discour … [Click Below for Full Description]
Bookseller:
Librairie Le Feu Follet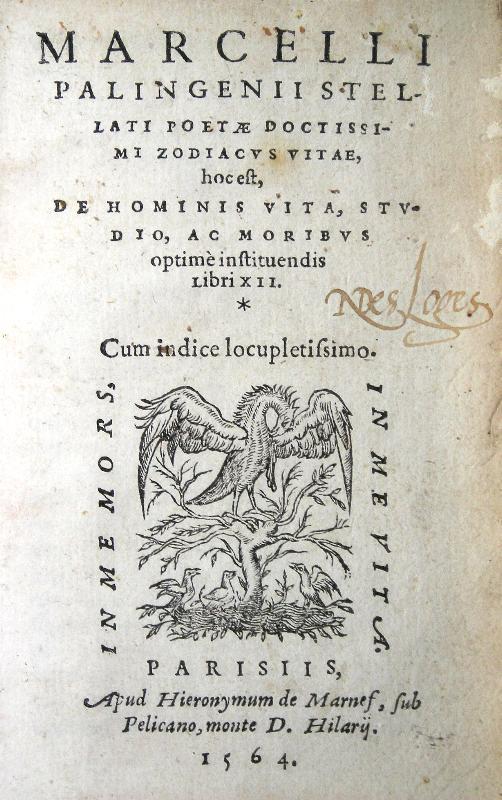 Paris 1564 - In 12 relié veau, 366 pages et index.
Bookseller:
La Basse Fontaine
[France]
[Zürich], Tigvri excvdebat Christophorvs Froschovervs ivnior, Anno MDLXIIII [1564]. (16) p. + 576 leaves. Contemporary leather binding with remnants of clasps
Bookseller:
Antikvariat Röda Rummet AB