Displayed below are some selected recent viaLibri matches for books published in 1551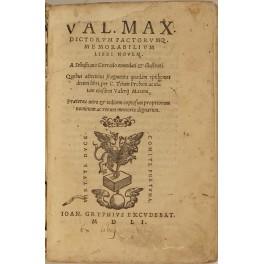 Ioan. Gryphius excudebat, (Venetiis), 1551. Piccoli strappi e sbucciature alla copertina pergamena del dorso sostituita annotazione di antica mano sul risguardo posteriore al frontespizio antica firma di appartenenza abrasa e mancanza al margine superiore che sfiora il primo rigo dello specchio di Capilettera figurati marca tipografica del Griffio ripetuta in altra versione a fine volume 232 + (10) p. - 159x101 mm
Bookseller:
Libreria Antiquaria Giulio Cesare
[roma, ROMA, Italy]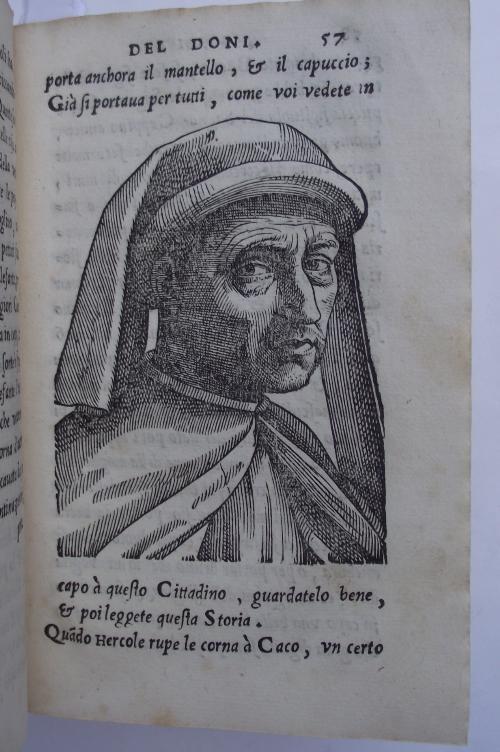 per Francesco Marcolini,, In Vinegia, 1551. Quattro parti in un volume di cm. 16, pp. (32) 63 (1); (8) 64 (6); 61 (3); cc. (1) 87. Con frontespizi figurati e molte incisioni xilografiche nel testo anche a piena pagina. Legatura ottocentesca in mezza pergamena con titoli la dorso. Qualche macchietta, rade antiche scritte a penna, peraltro esemplare in buono stato di conservazione. Si tratta di quattro parti (di 6) della celebre e rara prima edizione della Zucca. Le parti presenti sono: 1. I cicalamenti; 2. Le baie. 3. Le chiachiere (seguite dal Post scritta); 4. I frutti (divisi in due parti). Come è noto ogni parte possiede proprio frontespizio e dati tipografici autonomi; già nel '500 ciascuna possedeva circolazione autonoma, è quindi assai comune trovare quest'opera in maniera frammentata, ed invece raro reperirla completa in tutte le sei parti. Cfr. Gamba 1367. [Attributes: First Edition; Hard Cover]
Bookseller:
Studio Bibliografico Benacense
[riva del garda, Italy]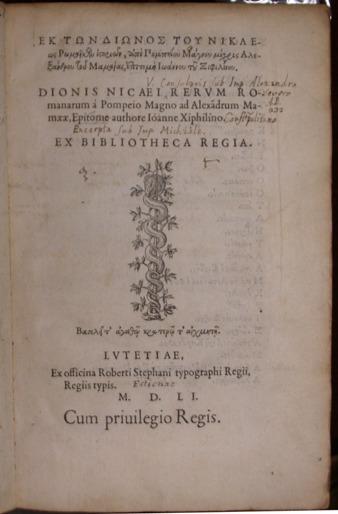 Paris: Robert Estienne, 1551 & Paris: [Robert Estienne], 1551. 4to. pp. 357, [3]; 3 p.l., 280, [10]index. Greek & Latin texts. woodcut devices on titles (Renouard 471 & 296). woodcut ornaments & initials. 18th century calf, rebacked, all edges gilt (binding worn but solid, crack in spine, occasional light embrowning & marginal stains). First Edition of the abridgment of Dio Cassius by the younger Joannes Xiphilinus, bound, possibly as issued, with Guillaume Leblanc's Latin translation of same. Estienne's name does not appear on the title-page to the second title. These works complement Estienne's 1548 folio edition of Dio Cassius. Xiphilinus' 11th century epitome of the roman history is the only source for Dio's lost books 61 to 80 (see Schreiber). The first text is printed in the first font of the 'grecs du roi', and is based on a manuscript in the Royal Library. It is also one of the last Greek texts to carry Estienne's Paris imprint. Mortimer, Harvard French 16th Century Books, 170-171. Adams D515 (2nd part). Schreiber 108 (1st part). Renouard p. 80, nos. 8 & 9. [Attributes: First Edition; Hard Cover]
Bookseller:
D & E LAKE LTD. (ABAC/ILAB)
[Toronto, ON, Canada]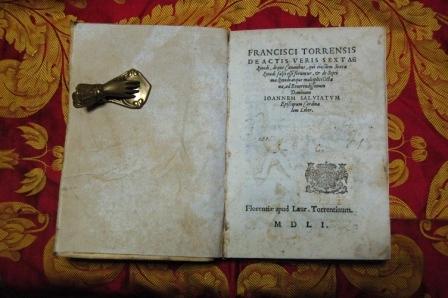 Florentiae MDLI.: APUD LAUR. TORRENTINUM, 1551. Florentiae MDLI.: APUD LAUR. TORRENTINUM. [500' TORRENTINO] (cm.20,5) ottima piena pergamena originale, titolo al dorso.-- pp. 101 + 1p. nn. + 1 carta con l' errata e bianca al verso. L' indice è al verso del frontis. Rara edizione originale dedicata a Giovanni Salviati. E la terza parte, a se stante, separatamente citata dal MORENI e l' unica che porta data e tipografia, poichè le due precedenti: "De summi ponteficis" e "De resistentia." sono prive di dati tipografici (Cfr. MORENI pp. 187/188). Vecchio restauro al margine di p.5 che intacca il testo, altrimenti esemplare bello e nitido con antico ex libris nobiliare al frontis. MORENI p.189; BM.STC. 687; ADAMS T1192.[f30] . ottimo. Rilegato. Edizione Originale. 1551.
Bookseller:
Libri antichi e rari Francesco e Claudia
[Italy]
Lyon, Sebastian Gryphius, 1551.. 418, (42) SS. Halblederband um 1750 mit goldgepr. rotem Rückenschildchen und etwas Rückenvergoldung sowie blau marmoriertem Deckelbezug. Kl.-8vo.. Erster einer Folge von Nachdrucken der Lyoneser Ausgabe von 1538. Trogus' Geschichtswerk, die erste Universalgeschichte der römischen Literatur, ist nur in diesem Auszug des Justinus (3. Jh.). erhalten. "Diese Geschichte der nichtrömischen Welt umfaßt die Geschichte von Assyrien, Medien, Persien und vor allem von Makedonien und den Diadochenreichen" (Tusc. Lex. Lit. 263). Am Schluß beigegeben ist die Kaisergeschichte des Sextus Aurelius Victor. - Zahlreiche hübsche Humanistenmarginalien der Zeit (bei der Neubindung teils angeschnitten). Exemplar aus der Stiftsbibliothek Kremsmünster (OÖ) mit entspr. Stempelung am Vorsatz und kl. Deckeletikett. - BM-STC French 427. Baudrier VIII, 252. Schweiger II.1, 488. Nicht bei Adams, Brunet, Ebert, Graesse.
Bookseller:
Antiquariat Inlibris, Gilhofer Nfg. GmbH
Vinegia (Venedig), Gabriel Giolito de Ferrari e Fratelli, 1551. Cont. full limp vellum. Small fraction on back-cover cut away. (76),(4) pp. Printers large wood-cut device on title and at end. Old inscription at top of title. Positions Illustrated in the text by woodcut and letters. Bound with: FRONTINUS, SEXTUS JULIUS. Astutie militari di Sesto Ivlio Frontino huomo consolare, di Li Famosi et eccellenti Capitani Romani, Greci, Barbari, & Hesterni. In Venetia (Venedig), Per Comin de Trino, 1541. 144 pp. With wood-cut initials. Printers wood-engr. device on title. ¶ Aelian was a Greek military writer of the 2nd century A.D., resident in Rome. His military treatise is dedicated to Hadrian. It is a handbook of Greek, i.e. Macedonian, drill and tactics as practised by the Hellenistic successors of Alexander the Great. The work exercised a great influence. The translations made in the 16th century formed the groundwork of numerous books on drill and tactics. The first edition of the Greek text was issued by Robortelli in Venice 1552 - the Italian edition as here a year before. Recorded in Conrad Walther: Versuch...Militair=Bibliothek. 1783 p. 7 (x), and by Rumpf: Allg. Literatur d. Kriegswiss. 1824, No 321. - The work by Frontinus is third Italian edition (Graesse II:640), and is a translation of the authors military work which consists of military Stratagems from Greek and Roman History (Strategematcon libri III). He was also the author of De aquis urbis Romae (Romes water-supply) as he was appointed to superintendent of the aquaducts. - Both works of greatest rarity, and interna … [Click Below for Full Description]
Bookseller:
Herman H J Lynge & Søn A/S
[DK]
Basel: Herwagen, 1551.. 136 S. Pergamentband aus altem Material.. 1. Ausgabe der seltenen Pestschrift. - Nahezu fleckenloses Exemplar. - VD 16, C 5138; Durling 1036; Wellcome I 1610; Waller 2133.
Bookseller:
Antiquariat Scheppler & Müller
Basel, Froben, 1551. Folio. Beautiful near cont. full mottled calf w. six raised bands on back, creating seven compartments, inside which gilt acorn-like ornamentations. Single gilt line-border and large gilt centre-pieces on boards. Repair to lower back, upper and lower hinges cracked. General wear to boards and back. Internally very fine and clean w. very faint marginal waterstaining to a few leaves. W. the large woodcut printer's device of Froben on t-p. and on final page. Very nice woodcut initials. (8), 645, (23) pp. ¶ The very rare and beautiful Froben-edition of Juvenal's famous Satires, noted for the learned scholia of Curio. "This edition, printed by one of Froben's sons, is noticed by Ruperti as containing the Scholia of Curio... Henninius, in his edition of 1685, more particularly discusses the Scholia of Curio, and the merits of Britannicus. This edition of 1551 is scarce." (Dibdin II:153). Graesse, III: 519.Juvenal's famous Satires (from around the end of the 1st till the beginning of the second century) constitute a number of famous and influential poems, all in the Roman genre of Satire, comprising a wide-ranging discussion of society and social ethics and moral. These poems came to play a great role in the Renaissance, when the genre was brought vividly to live by the Renaissance humanists, and the possibilities that came with the recently developed ease of printing greatly spread the fame of the work.
Bookseller:
Herman H J Lynge & Søn A/S
[DK]
4to. [26]ff. (last leaf blank). Old vellum, later endpapers.
Bookseller:
Maggs Bros. Ltd.
[U.K.]