Displayed below are some selected recent viaLibri matches for books published in 1543
Basel, Barth. Vuesthemeri, sumptibus Ioannis Oporini, 1543. 8vo. (16),+ 96, 67-193,+ (1) pp. With wood cut initials. Title page with paper repair at lower margin, leaf m (pp.141-142) with repair. Minor foxing. Fine modern full calf with richly gilt spine with red label, boards with gilt borders and gilt inner bordures, gilt edges (G. Hedberg). Adams B2456. VD16:B6621. First latin edition, the first German appeard in 1539. Hermannus Bonnus (1504-1548) was a lutheran reformer and became superintendent in Lübeck from 1530. The latin translation is by Justin Gobler of St. Goar (†1567).
Bookseller:
Centralantikvariatet
[Sweden]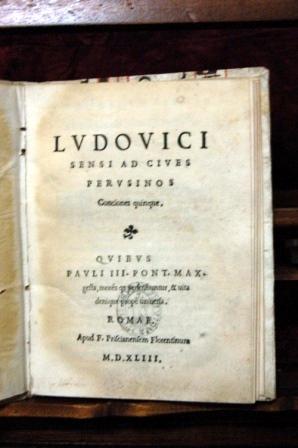 Romae: F. PRISCIANENSEM FLORENTINUM, 1543. Romae: F. PRISCIANENSEM FLORENTINUM. [PERUGIA] (cm 20,3) Buona mz. pergamena sec. XVII-XVIII. -cc.49nn. + 1 c. bianca. carattere rotondo, capilettera figurati edizione originale ed unica di grande rarità, di quest'opera che descrive gli usi, i costumi e la moralità dei perugini, con cenni storici intorno a Papa Paolo III.Esemplare particolare appartenuto a Leonardo trissino (1780-1841) di Vicenza, del quale si legge Autografo alla sguardia: "Leonardo Trissino, dono di Francesco Testo, 23 marzo 1839, un anno dalla morte del carissimo cognato conte." ESEMPLARE MOLTO BELLO E NITIDO per notizie sul Trissino vedi Rumor S. "scrittori Vicentini" III p. 251. Manca a Lozzi, Choix, Ranghiasci, Iacobilli ecc.Citato solo da Vermiglioli II 287 e BM.STC. 622, ed Adams S 937. ICCU nel census registra solo 7 copie presenti nelle biblioteche italiane.[f35] . ottimo. Rilegato. EDIZIONE ORIGINALE MOLTO RARA. 1543.
Bookseller:
LIBRI ANTICHI E RARI FRANCESCO&CLAUDIA
[AREZZO, Italy]
Paris, Simon de Colines, 7 May 1543. 8vo. 215 + (41)ff. including 1 blank f., Roman, Greek & italic letter. With a series of fine, large criblé initials. Printer's woodcut device on title. 18th century French red morocco, gilt, edges gilt; neatly rebacked. An excellent edition of Erasmus' redaction of the Lives. At the beginning is a letter by Erasmus to Dukes Frederick and George of Saxony, dated Antwerp, June 1517 (see Allen). The second part comprises Egnatus' annotations, Erasmus' Loca restituta, and an epitome of Budé's classic work on ancient coins and measures, De Asse. A tall copy, complete with the last blank leaf. Adams, Cambridge, S-2041. Renouard, Colines, pp384-5. Van der Haeghen, Bibl. Erasmiana, II p52. For the device, cf. Renouard, Marques Typographiques Parisiennes (1928) no 194. See Allen II, pp578-586, no 586. [Attributes: Hard Cover]
Bookseller:
Hünersdorff Rare Books ABA ILAB
[London, United Kingdom]
Venice. 1543.. 40 leaves. 12mo. Modern half morocco over marbled boards, spine gilt. Occasional very minor spots, some leaves expertly restored in lower margin, not affecting text. Leaf C3 bound before C2, leaf C7 bound before C6. A very good copy. The rare third edition of Contarini's account of his travels from Venice to Persia and Russia between 1473 and 1477. A member of a prominent Venetian family, the author was delegated by the republic, which at the time was at war with Mahomet II, to travel to the court of Hussum Hasan Bey, the sovereign of Persia. The purpose was to encourage that ruler to continue to wage war against the Ottomans, who were threatening Venetian interests in the Middle East and Europe. Unable to travel by sea, Contarini traveled by land through Poland to the Crimea, crossing the Black Sea and continuing to his destination through Mingrelia and Armenia. "Contarini encountered Hussum Hasan at Esfahan, accompanied him to Tabriz, and then returned homeward by way of Derbent and the Caspian Sea to Astrakhen. From there he ascended the Volga to Moscow, where he was politely received by the grand-duke of Muscovy. Contarini returned to Venice in 1477" - Howgego. First published in 1487, a second edition followed in 1524. In addition to this 1543 edition, the account was reprinted the same year with that of the Venetian traveler, Josafa Barbara. Confirming continuing interest in Contarini's travels throughout the Renaissance, the account was also included by Ramusio in his great collection of voyages and travels published between 1550 and 1559, and Antonio … [Click Below for Full Description]
Bookseller:
William Reese Company - Americana
Basel: Michael Isingrin, 1543.. [20],230,[2]pp. plus two folding maps and eighteen in- text maps. Woodcut vignette on titlepage and final leaf. Folio. 18th- century three-quarter calf and patterned paper boards, spine gilt, morocco label. Boards a bit bowed, spine slightly wormed. A few leaves very lightly tanned, two small worm holes in outer margin of final four leaves. Very good. Second edition, after the first of 1538. A landmark in the mapping of North America, this collection of geographic accounts, edited by Sebastian Münster, contains "the earliest representation of the north-west coast of America on a printed map" (Burden). It takes the form of a land mass in the upper right corner of the folding "Asia Major" map, extending northwest, labeled "Terra Incognita," and shown with a small bay, trees, and hills. The cartographer of the map is unidentified, though Wagner asserts that it was drawn by Münster. Julius Solinus (ca. 250 A.D.) was a Roman geographer of some repute. His POLYHISTOR... was first published by Nicholas Jenson in Venice in 1473, and Isingrin's edition of 1538 was the first to contain maps by Münster. Münster also added notes to the text containing up-to- date geographic information. Burden further notes that the Asia Major map shows one of the first delineations of a strait between Asia and America, some two hundred years before Bering's voyages to the region. It is also the first work to include a printed map of Asia as a whole. A significant work of geography, containing a seminal image of the northwest coast of North America. BURDEN 11. WA … [Click Below for Full Description]
Bookseller:
William Reese Company - Americana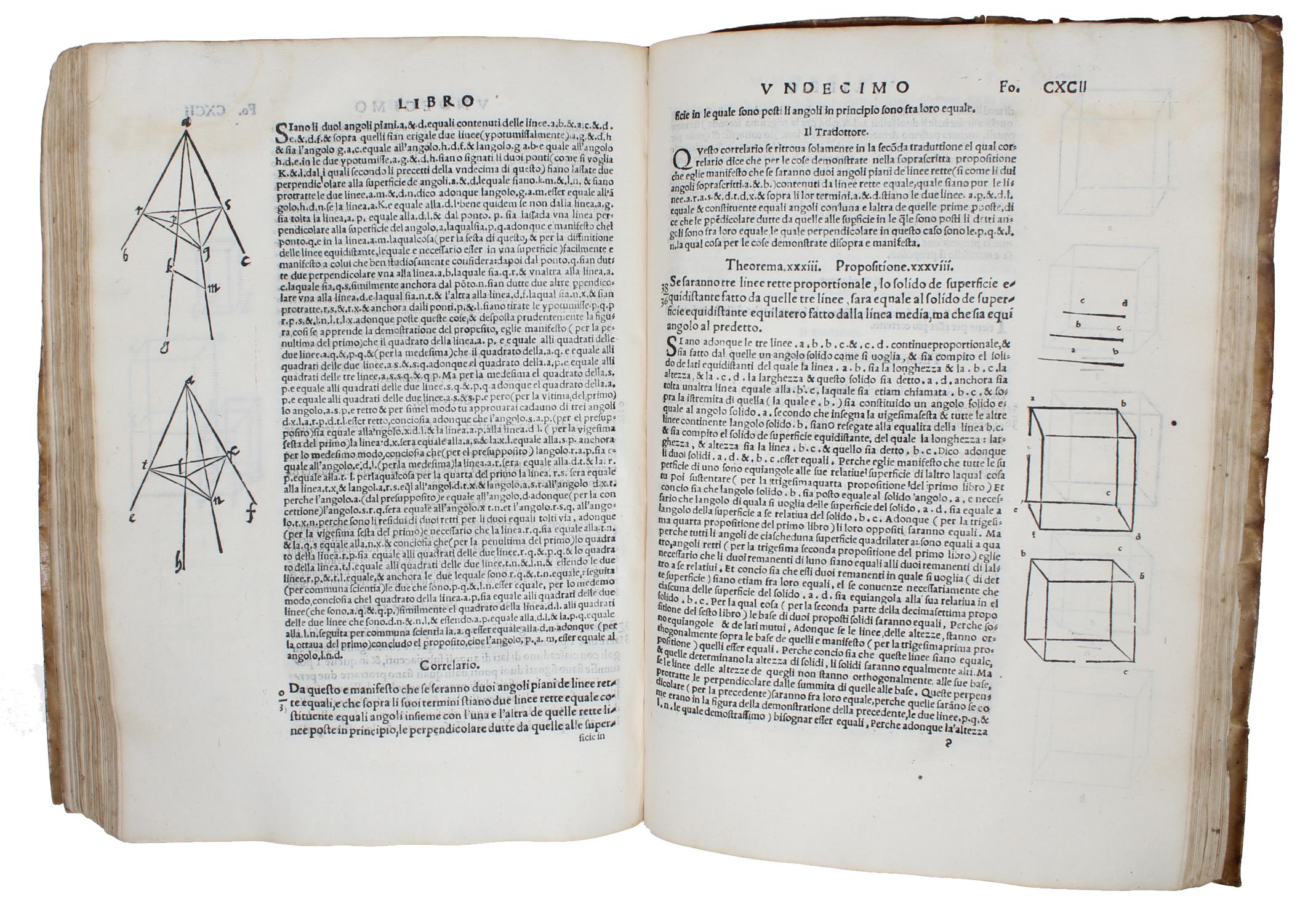 (Colophon: Venice, Venturino Rossenelli, 1543). Folio. (30,5x22 cm.). Contemporary full Italian limp vellum. Remains of ties. Old handwritten title on spine. Upper part of frontcover slightly creased. A few small nicks to hinges at cords. Vellum with brownspots. 242 leaves (2-241 numb. II-CCXXXIX). Misnumbering of leaves in sign. A (10 lvs.), due to the insertion of corrections on f A5. (Collation corresponds to that given by Thomas-Stanford No. 34). Large margins profusely illustrated with diagrams. Upper right corner of title gone with loss of of 3 letters "NSE" in MEGARENSE, f A2-A6 with upper right corners and a wormtract-hole in lower margin repaired. A wormtract in lower margin on the next 11 lvs. A1-A6 mounted skillfully on thin opaque parchment-paper. A rather faint dampstain in upper right corner throughout. Last 5 leaves with a small nick in right margin, no loss. Otherwise remarkable clean and printed on good strong paper. On the title a large woodcut device with arms with G.T. (Gabriele Tadino, to whom the work is dedicated). Colophon with large woodcut device with the letters .P.Z.F. and this repeated on verso of last leaf. Scarce first edition of the first translation of Euclid in any modern language by the famous Niccolo Tartaglia. The translation and Tartaglia's commentaries, strongly accelerated the development of physics and mechanics in the 16th century, as it showed how mathematics could be applied to dynamics and mechanics as well as to architecture, construction and perspective. More than 20 years should elapse before the next language should receive t … [Click Below for Full Description]
Bookseller:
Lynge & Søn ILAB-ABF
[Copenhagen, Denmark]
Mainz, Ivo Schöffer 1543. 30 cm. (6), 36 Blatt mit Titelholzschnitt, 2 (1 ganzseit.) Textholzschnitten und Holzschn.-Druckermarke von Conrad Faber von Kreuznach. Titel in Rot und Schwarz gedruckt. Biegsamer Antiphonar-Pgt.-Umschlag - VD16 D 1077 - Roth, Schöffer 208, 78 - BM STC German Books 347 - Stintzing / Landsb. I, 621 ff. - Die 9. Auflage der "Carolina", des Strafgesetzbuchs Karl V. und ersten allgemeinen deutschen Strafgesetzbuches, erstmals durch Schöffer, unter Verleihung eines kaiserlichen Privilegiums gegen den Nachdruck, publiziert. "Die in dieser Officin erschienenen sind als amtliche Abdrucke zu betrachten" (Stintzing-Landsberg). Der von 2 Platten gedruckte Titelholzschnitt zeigt Folterinstrumente und eine Hinrichtungsszene, der Textholzschnitt zeigt den Kaiser mit seinen Insignien und die Kurfürsten mit ihren Wappen, der ganzseitige Holzschnitt mit Darstellung des Jüngsten Gerichts. Stellenweise schwach gebräunt, Titelblatt am Rand kleine Fehlstelle restauriert. -
Bookseller:
Wenner Antiquariat
Marburg, Egenolff 1543. 31 cm. (24), 439, (1) Seiten; (10), 87 Blatt mit 595 Textholzschnitten. Pergamentband der Zeit. - VD16 D 2004 - Benzing, Egenolff 202 - Nissen BBI 496 - Benzing, Ryff 133 - Erste von Ryff herausgegebene Ausgabe, die Holzschnitte hauptsächlich aus dem Rösslinschen Kräuterbuch (Nissen). Darstellung von Arzneipflanzen und deren Anwendung sowie seltene Tiere. Etwa 300 Seiten mit Wurmfraß, meist am Rand, stellenweise mit geringem Textverlust. - Sprache / Language: Lateinisch / Latin -
Bookseller:
Wenner Antiquariat