Displayed below are some selected recent viaLibri matches for books published in 1538
Per Agostino de Bindoni, Venice, 1538. Sm. 8vo. 344pp. Illustrated with a large woodcut vignette on title page, verso of title and colophon with devices, and 78 woodcuts of hands keyed to the text. Nicely rebound in faux period calf, gilt tooled spine in 3 compartments. Small chip and tear into blank upper margin of B1 and small printing flaw at bottom corner of A2 verso. An early Italian language edition of one of the most popular works on chiromancy of the 16th century. Tricasso (1491-c.1550) was a disciple of Barthelemy Cocles. At variance with Cocles on a number of points, he set out in this work to analyze the significance of 78 configurations of hands, as well as to outline the supposed astrological implications. His work is frequently cited by many later writers on the subject. As with other copies cited in OCLC, the date at the conclusion of the author's preface is misprinted "1635" (it should be "1535," the date of the first Italian edition of this title). Brunet V:945; STC of Italian Books, p. 680. Caillet 10830. [Attributes: First Edition; Hard Cover]
Bookseller:
Kenneth Karmiole, Bookseller, Inc. ABAA
[Santa Monica, CA, U.S.A.]
Per Agostino de Bindoni, Venice, 1538. Sm. 8vo. 344pp. Illustrated with a large woodcut vignette on title page, verso of title and colophon with devices, and 78 woodcuts of hands keyed to the text. Cont. vellum with manuscript spine lettering. Light browning and soiling, including title page, but overall a very nice copy in a contemporary binding. An early Italian language edition of one of the most popular works on chiromancy of the 16th century. Tricasso (1491-c.1550) was a disciple of Barthelemy Cocles. At variance with Cocles on a number of points, he set out in this work to analyze the significance of 78 configurations of hands, as well as to outline the supposed astrological implications. His work is frequently cited by many later writers on the subject. As with other copies cited in OCLC, the date at the conclusion of the author's preface is misprinted "1635" (it should be "1535," the date of the first Italian edition of this title). Brunet V:945; STC of Italian Books, p. 680. Caillet 10830. [Attributes: First Edition]
Bookseller:
Kenneth Karmiole, Bookseller, Inc. ABAA
[Santa Monica, CA, U.S.A.]
Freiburg im Breisgau: [Johann Faber, of Emmerich, 1538]., 1538. 3 Parts in 1. 8vo. pp. 20 p.l., 549, [3], 69, [17], [blank leaf], 114, [1 leaf]. double-page woodcut map & 5 full-page woodcuts. woodcut device at the end of each of the 3 parts. woodcut initials. contemporary blind-stamped pigskin, with initials 'ITI' & date '1544' in centre panel on upper cover, outer panels including heads of Erasmus, Luther & Melanchthon (some wear to spine & edges, clasps & catches gone, institutional book label & rubberstamp on title, 5 gatherings with some scoring & old marginal notes, some light marginal dampstaining; overall a good copy with ample margins in an appealing binding). First Edition with the Commentary and Emendations of Henricus Glareanus (Heinrich LORITI [1488-1563]), Swiss poet, musician and scholar. Glareanus was a contemporary and friend of Erasmus, who considered him the most important Swiss humanist. In 1512 he was crowned poet laureate by the Emperor Maximilian. A scarce and esteemed edition. Not in Adams or BM STC German. Brunet I 1454 ("Une des meilleurs éditions…"). Graesse II 6. Moss I pp. 229-30.. 1st Edition.
Bookseller:
D & E Lake Ltd. (ABAC, ILAB)
Argentorati [Strasbourg] ex aedibus Wendelini Rehelii [...], 1538. 8vo. ff. [vii], cccxliv. Lacks preliminary leaf *8; woodcut printer's device to final page; ownership inscription excised from the title, which has subsequently been laid down, and old marginal repair in the margin of leaf *2; there are a couple of old ink library stamps (marked 'duplicate', one on the pastedown and one on the verso of the title) and a marginal wormhole in the last few leaves of text. Later quarter calf, c. 1800, over green boards; fully gilt spine, slightly rubbed but sound. An early edition of Mirandula's popular anthology of extracts from Latin poets, which range from Virgil to Boethius. Adams M-1473. Book
Bookseller:
Bryars and Bryars
[United Kingdom]
With two title leaves and small woodcut initials. Venetiis, per D. Bernardinum Stagnium, 1538. Small 8°. (15 x 10 cm). Contemporary slightly worn vellum binding. (8) + 472 + 160 leaves. The first 8 and the last 45 not numbered. Three or four pages with minor marginal notes. One corner repaired. Title page and endpapers somwhat soiled. Five leaves with larger marginal ink spots. Stained. For-edge with several signs of use.. Not in Darlow & Moule
Bookseller:
Mandøes Antikvariat
Augsburg, Ulhart 1538. 21 cm. (48, letzte 2 weiß) Seiten Neuer Buntpapier-Umschlag - BBKL 16, 336ff (vgl.) - Kuczynski 531 - VD16 C 5741 - Variante der ersten und einzigen Ausgabe, wird auch Caspar Schwenckfeld zugeschrieben. Crautwald (auch Krautwald bzw. Cratoaldus, 1465 - 1545), als "Schwenckfelds Melanchthon" bekannt, verwirft die Praxis der Säuglingstaufe als unbiblisch und propagiert die Geisttaufe als innere Wandlung des Menschen (BBKL). Titel und Blattränder fingerfleckig bzw. Feuchtigkeitsränder -
Bookseller:
Wenner Antiquariat
- Manuscrito de una carta ejecutoria de hidalguía, 1538, 32x22, encuadernado en pergamino, 28 hojas, ilustrado (portada, escudo, letras capitulares), Antequera, Málaga, siglo XVI
Bookseller:
Librería Francisco Soler / Lib. Abadía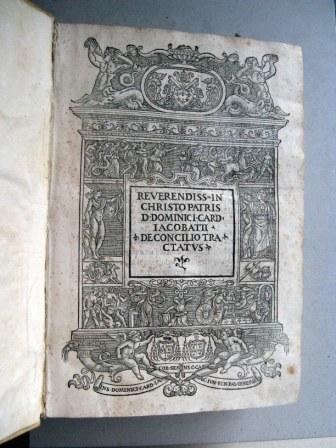 Romae: ANTONIUS BLADUS MENSE OCTOBRI M. D. XXXVIII, 1538. Romae: ANTONIUS BLADUS MENSE OCTOBRI M. D. XXXVIII. [Fig. Blado-Teologia] (cm.30) bella piena pergamena coeva, tre grossi nervi, titolo al dorso. -- cc. 20 nn., pp. 783 + 1p con colophon e marca tipografica. Magnifico frontis, completamente inciso in xilografia con figure, stemmi, putti, cornucopie e scene mitologiche. Testo a due colonne, molti e bellissimi capolettera grandi e piccoli anche a fondo nero. Edizione originale molto bella come tutte le impressioni del Blado che ebbe l' incarico dalla biblioteca Vaticana di stampare molti suoi manoscritti Greci e Latini. Per notizie sul Blado vedi: BERNONI "DEI TORRESANI, BLADO E RAGAZZONI" Milano 1890. L' autore, Vescovo di Lucera e cardinale nel 1517, fu eccellente avvocato concistoriale, arrivò alla carica di vicario del Papa. Il Pontefice le dette l' incarico della stesura di questa importante ed erudita opera. Assai raro, manca a BM. STC., CHOIX, e a molta bibliografia consultata. Si allega, in fine, una lettera manoscritta in chiara grafia, su tre facciate, datata 1733. . Alcuni forellini di tarlo al dorso solamente, peraltro esemplare bellissimo, nitido e fresco. FUMAGALLI n° 46: " bell' edizione a due colonne in carattere molto minuto con bel frontespizio xilografico a figure", ADAMS J 30.[f23] . ottimo. Rilegato. prima edizione. 1538.
Bookseller:
Libri antichi e rari Francesco e Claudia
[Italy]
Basel, Michael IsIngrin und Heinrich Petri, 1538.. 4° (29,2x19,5 cm). (10) Bl., 226 S. (statt 230 [S. 211-214 fehlen]). Mit 2 gef., doppelblattgr. Holzschnitt-Karten und 18 (2 ganzs.) Holzschnitt-Karten im Text nach Sebastian Münster geschnitten von Conrad Schnitt. Mit 2 grossen gef. Holzschnitt-Karten, 18, teilw. grosse oder ganzs. (2) Holzschnitt-Karten im Text sowie gegen 50 Holzschnitt-Initialen. Pergamentbd. d. späten 16. Jhdts. (umgebunden, Deckel an den Aussenkanten auf die Grösse des Buchblocks angepasst).. Burmeister 171. - Hantzsch 25 und 76 ff.. - JCB, Add., S.6. - Skelton, VIII; Nordenskiöld, Facsimile Atlas, S. 108, Nr. 27. - Karrow (1993), 410 und 420 f. - Burden, The Mapping of North America (1996), Nr. 11; Jones, Adventures, 25. - Erste von Sebastian Münster (1488-1552) kommentierter Gemeinschaftsdruck von Solinus' und Melas geographischen Texten und die erste illustrierte Ausgabe beider Texte überhaupt. Zu Solinus erschienen dreizehn Holzschnitte und den Mela-Text illustrierte Münster mit sieben Holzschnitt-Karten. Die gefaltete Karte von Asien (Asia maior [zwischen S. 150 und 151]) zeigt oben rechts die älteste im Druck erschienene kartographische Darstellung des amerikanischen Nordwestens (,Terra incognita'). Die zweite gefaltete Karte zeigt Griechenland mit Kleinasien. Unter den in den Text eingebetteten Holzschnittkarten besonders hervorzuheben ist die Karte auf S. 48, welche erstmals ziemlich akkurat das Flusssystem Russlands darstellt. Möglicherweise geht sie auf Informationen des geistigen Erschliessers Russlands für das Abendland, Siegmund Freiherr … [Click Below for Full Description]
Bookseller:
Biblion Antiquariat Leonidas Sakellaridi
Nuremberg: Johann Petri, 1538.. [8],111pp., including a full-page map of the world and its zones. Small quarto. Modern calf, spine gilt, raised bands. A few instances of early manuscript notes in the margins. Minor, expert repair to the foredge of the titlepage. Light, even tanning. A very handsome copy. The first and only edition of a geographical description of the world whose last chapter, "De Terris et Insulis nuper repertis," is devoted to the Americas. Amerigo Vespucci is named as the discoverer of the New World, which Rithaymer dubs "America" in his honor. The chapter also includes references to Temiscela (Mexico), Haiti, Cuba, and Brazil, and reports two islands discovered under the auspices of Ferdinand and Isabella, but with no mention of the discoverer. There is also information on Java, Madagascar, and Zypangrus (Japan). The map, a sphere with Europe, Africa, and Asia at its center, is not noted by Shirley. Rithaymer, a native of Mariazell in Styria, relates much detailed information, based on his personal knowledge and observations, and on sources such as Vadianus, Ziegler, and Tornadel. Not in Borba de Moraes, Church, or Medina. OCLC locates only two copies, at Yale and the University of Minnesota. Rare and significant. HARRISSE, ADDITIONS 119. EUROPEAN AMERICANA 538/10. KRAUS, AMERICANA VETUSTISSIMA 45. SABIN 71582. JCB (3)1:124-5. OCLC 40522276.
Bookseller:
William Reese Company - Americana