Displayed below are some selected recent viaLibri matches for books published in 1532
Basel: In Officina Frobeniana, [Apud Hieronymum Frobenium & Micolaum Episcopium, August], 1532., 1532. folio. pp. 6 p.l., 959, [1]. woodcut printer's device on title & at end. woodcut initials. several text diagrams. A nice wide-margined copy in contemporary blind-stamped calf over wooden bds., 1 brass catch, lacking clasps (covers scuffed, rear cover with a few small round wormholes, spine ends & corners worn, paper label on upper spine, tear in Tt4-6 – no loss). Sixth Edition of the Latin Translation by Marsilio Ficino, the first to contain the careful revisions of distinguished Protestant theologian Simon Grynaeus [1493-1541]. Grynaeus, a friend of Melanchthon and Erasmus, and professor of Greek at Heidelberg (1523) and Basel (1536), was also the editor of the second Greek edition of Plato, published at Basel in 1534. Ficino's translation, begun in 1466 and first published in 1484-85, made his name famous in the history of scholarship and has been called "the best translation of that author Italy can boast." (Encyc. Britan., 11th Edn.) The manuscripts on which he worked were supplied by his patron Cosimo de' Medici and by Americo Benci. While the translation was in progress, Ficino periodically submitted its pages for discussion and revision to Angelo Poliziano, Christoforo Landino, Demetrios Chalchondylas, and other fellow scholars who were members of the Platonic Academy. "Marsilio Ficino (1433-1499) was the most influential representative of Renaissance Platonism. Together with Alberti, Pico della Mirandola, Cosimo de' Medici, Politian, and La … [Click Below for Full Description]
Bookseller:
D & E Lake Ltd. (ABAC, ILAB)
Paris: Galliot Du Pré, 1532. THE MOST SPECTACULAR FRENCH RENAISSANCE DOUBLE-CORDIFORM MAP OF THE WORLD, DESIGNED BY A MATHAMATICAL GENIUS Woodcut: 13" x 16 7/8" References: Lloyd Arnold Brown, The World Encompassed, exh. cat. (Baltimore, 1952), n. 64; Rodney W. Shirley, The Mapping of the World (London, 1983), n. 66; R. V. Tooley, Maps and Map-makers (New York, reprint 1990), 38. Oronce Finé, the most eminent French cartographer of the sixteenth century, is celebrated for having employed a distinctive and influential cordiform (or heart-shaped) projection for world maps. This striking example, the first double-cordiform map ever published, was subsequently much imitated. Drawn in 1531, it first appeared in the 1532 Paris edition of Johann Huttich and Simon Grynaeus's Novus orbis regionum, a collection of travel accounts that had also been published in Basel several months before. As a double-cordiform representation, it shows the world divided into separate hemispheres, north and south, each depicted in the form of a heart or cordum that mirrors the other, with the two meeting at a central point on the Equator. The left or northern cordum encompasses Asia, Europe, part of Africa and America, while the right includes those parts of Africa and the New World that lay south of the Equator as well as "Terra Australis," the southern continent that was then little more than speculative. Based on sophisticated geometric principles for reducing the spherical earth to a two-dimensional image, Finé's delineation of the world was much copied throughout the sixteenth century. … [Click Below for Full Description]
Bookseller:
Arader Galleries
Basel: Hervagius, 1532. THE FIRST WORLD MAPS TO DEPICT THE THEORIES OF NICOLAUS COPERNICUS Woodcut: 143/4" x 22" References: Lloyd Arnold Brown, The World Encompassed, exh. cat. (Baltimore, 1952), n. 65; Rodney W. Shirley, The Mapping of the World (London, 1983), n. 67. While the Paris edition of Johann Huttich and Simon Grynaeus's 1532 Novus orbis regionum included Oronce Finé's double-cordiform map (see above, n. 9), the Basel edition of the same year included this very different cartographic treatment of the world on an oval projection. With the cartography ascribed to prominent cartographer Sebastian Münster and the execution to the celebrated German artist Hans Holbein the Younger, the map is particularly fine from an artistic standpoint, with sea monsters adorning the waves of the oceans, exotic animals and landscape views with curious classical architectural structures around the margins, along with less benign scenes depicting acts of cannibalism and animal sacrifice. These nightmarish fantasies of terrible creatures and terrifying customs in distant places surely reflect the flights of imagination that contemporary geographical discoveries inspired among western Europeans, and one might go so far as to say that Holbein inflected his rendering with a distinctly medieval sensibility. In another sense, however, the map was progressive, even groundbreaking, for it was one of the first world maps to reflect the Copernican theory of a heliocentric universe. Nicolaus Copernicus (1473-1543), the Polish astronomer who famously argued that the earth orbited around th … [Click Below for Full Description]
Bookseller:
Arader Galleries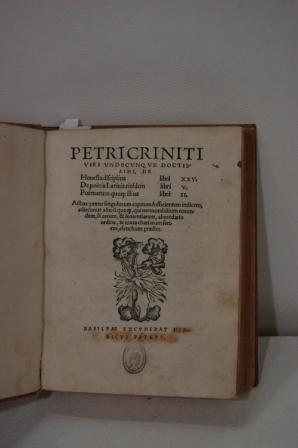 HENRICUS PETRUS. (IN FINE): MENSE AUGUSTO 1532. [CLASSICI-ENCICLOPEDICO] (cm. 19,5) bella piena pergamena del XVII sec., titolo al dorso.-- cc. 30 nn., pp. 575 + 1p. nn. con registro e colophon + 1 carta con al verso grande marca tipografica. Carattere rotondo e corsivo, molti capolettera ornati e figurati conferiscono a questa edizione notevole eleganza e bellezza. Dopo l' edizione del 1504 l' opera ebbe tantissime ristampe e questa nostra è fra le migliori. Sono citati centinaia di illustri personaggi dell' antichità su ogni disciplina; tratta di storia, filosofia, malattie, amore, magia, astrologia e molti altri argomenti che conferiscono all' opera un carattere veramente vasto. Antiche annotazioni al margine di poche carte interne, vecchi timbretto al frontis, peraltro esemplare molto bello, fresco e nitido impresso su ottima carta. NEGRI "SCRITTORI FIORENTINI" p. 462; BM. STC. GERMAN 228; ADAMS C 2952; GRAESSE II 301.[f40] Libro
Bookseller:
Studio bibliografico Libri Antichi Arezzo di Massai C.
[IT]
1532. (8), CCCLXXXIII [recte: 381], (1) Bll. Mit breiter figürlicher Titelbordüre, Holzschnittwappen am Titel verso und einigen figürlichen Holzschnitt-Initialen von Anton Woensam von Worms. (Beigebunden): Ders. In omnes beati Pauli epistolas commentaria. Ebd., (10. III.) 1532. (6), CXL [140] Bll. Mit breiter figürlicher Titelbordüre und einigen figürlichen Holzschnitt-Initialen von A. Woensam. Blindgeprägter dunkelbrauner Lederband der Zeit über Holzdeckeln. Reste von Schließen. Folio. Erste Ausgaben dieser Bearbeitungen. Woensams schöne Titeleinfassung (am Titel der Beibindung wiederholt) zeigt den thronenden himmlischen Vater, die Evangelisten und Kirchenväter sowie die Ekstase des Karthäusers Dionysius. Der heraldische Holzschnitt am Titel verso zeigt das Wappen des Heinrich VIII. von England. - Der blindgeprägte Einband (am Deckel der Verfasser und das Bindejahr "1537"; vierfache Bordüre mit verschiedenen Knospenstempeln) berieben und beschabt; kleinere Kapitalläsuren fachmännisch ergänzt. Leicht gebräunt; am Anfang und Ende mit kl. Wurmspuren. Titel etwas fingerfleckig; hs. Besitzvermerk "Monasterii Planicensis" (dat. 1645). I: VD 16, D 1917. Adams D 579. IA 154.026. Merlo 1033, 412 und 1061, 472. - II. VD 16, D 1868. IA 154.025 (nur 3 Ex. in Amsterdam UB, München SB und Wolfenbüttel HB). Merlo 1033, 412. Vgl. Adams D 593 (nur Ausg. 1533). Beide Werke nicht im BM-STC German.
Bookseller:
Antiquariat Inlibris
[Austria]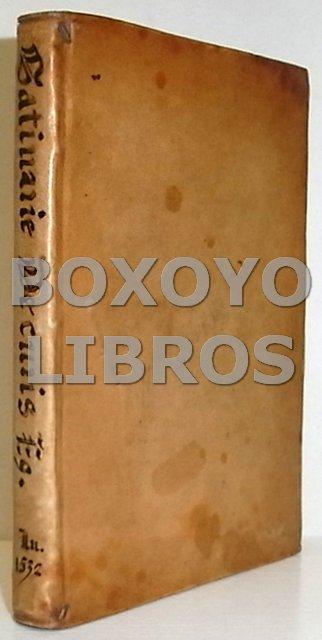 Opera Industria Benedicti Bônyn impressores. Sumptibus. Vicentii de Portinariis biblipole, Lugduni, 1532. "18 cm. Pergamino rígido (siglos XVI o XVII). Lomo rotulado. Grabado xilog. en portada, enmarcado en pórtico de columnas con el lema del impresor: Vicentius de Portonariis de Tridino de Monte Ferrato. Grabadito (fol, 41), representando una especie de cánula para enemas. Raro ejemplar de caracteres góticos, con texto a doble columna, de este conocido tratado de medicina renacentista de Marco Gatinaria y los comentarios al "Liber Nonus" del famoso médico árabe Ibn Zakaria Razi, conocido como Rhazes Almansur. Siguen los textos de Astari, Landulfo y Sebastiano dell'Aquila. Paginación foliada: xcv- 1 h. Anotaciones de época en hoja de portada y en márgenes de los folios 47, 87 y 88, con algunos subrayados. Leve recuerdo de humedad en varias páginas y pequeñas restauraciones en margen superior de los folios I al XIII" En latín. El pago contrarrembolso lleva un recargo de 2 euros.
Bookseller:
Boxoyo Libros S.L.
[Cáceres, Spain]
1532. Parisiis, J. Parvum, 1532. Folio (355 x 245mm). pp. (36), 671, (188, index). 18th century mottled calf, richly gilt ornamented spine with red gilt lettered label. A famous and important work, which is called by Sarton: "One of the most influential books ever published". 'Cette edition citee avec eloge par Ernesti et par Rezzonico...' (Brunet IV, 715). An attractively bound copy. Some marginal worming more stongly in the index section with some loss of text. Graesse V, 339: 'Excellente ed...'.
Bookseller:
Antiquariaat Junk
Basel: And. Cratandrum et Jo. Bebelium, 1532. Folio. ff. (4), 175, (1). Woodcut printer's device on title and on the verso of the final leaf. Early vellum with blind-stamped arms on both covers. Morocco spine label. Vellum somewhat soiled & with a small gouge to the front cover. Neat inscription of a previous owner on the title page and small blind stamp of the same on the margins of some leaves. The first edition of the collected works of the physician Leoniceno (1428-1524), which includes his medical writings on Galen, Pliny the Elder, snake venom, syphilis, etc. Wellcome #3743; Durling #2788. See Garrison and Morton #1798 and #2363. [Attributes: First Edition; Hard Cover]
Bookseller:
Kenneth Karmiole, Bookseller, Inc. ABAA
[Santa Monica, CA, U.S.A.]
Bookseller:
Maggs Bros. Ltd.