Displayed below are some selected recent viaLibri matches for books published in 1499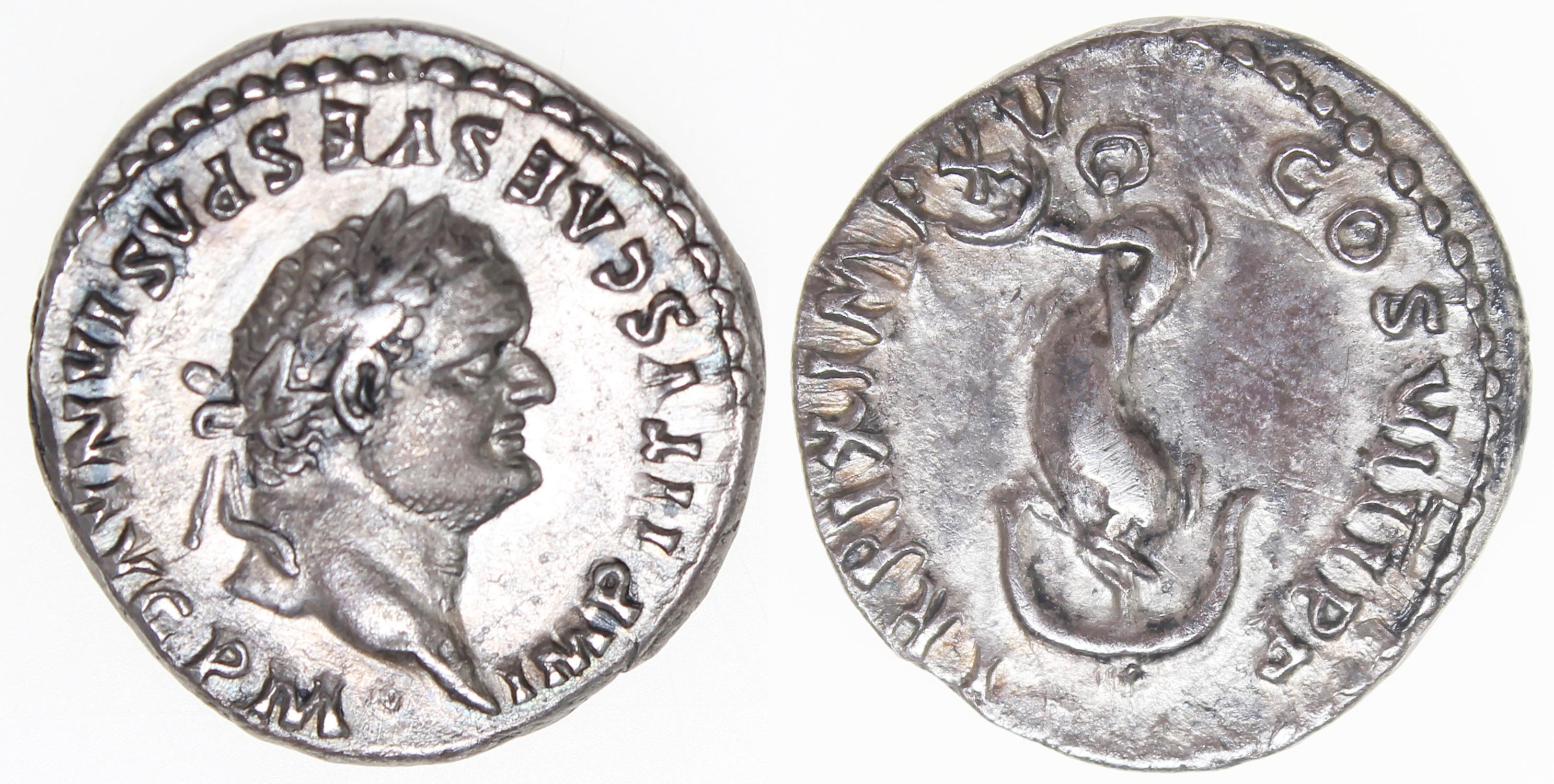 [Rome, AD 79-80]. 18 mm. diameter. Dolphin entwined around anchor on one side, and Draped bust of Tutus, turning right on the other side. An excellent, near mint specimen. 3,05 g. ¶ Excellent specimen of the beautiful and rare coin that inspired Aldus Manutius' famous printer's device, the dolphin-and-anchor, the most famous logo in the history of book printing and the trademark of the Renaissance. The Aldus coin is the only book- or printing-related ancient coin in existence.<br><br>Aldus Manutius, the most famous printer of all times, had been given a copy of the Titus coin, with the dolphin-and-anchor logo on the verso, as a gift by Pietro Bembo. He was extremely taken by the magnificent logo, that in Roman times, by Titus Vespasian, had been used to illustrate the proverb "Festina lente" ("make haste slowly"), and was so inspired by it that he began using it as his printer's device at the very beginning of the 16th century. Before it appears as his printer's device for the first time, he used it as an illustration in one of his most magnificent books, Colonna's "Hypnerotomachia Poliphili", 1499.<br><br>In his "Adagiorum Collectanea", the collection of classical proverbs that he kept revising throughout his life, Erasmus Roterodamus had composed a lengthy essay on the "festina lente" proverb, which intrigued him immensely. Erasmus traced the motto back to the emperor Titus Vespasian, who had minted a coin with the emblem (i.e. the present coin), and had the rare opportunity to inspect that very coin - namely that which belonged to his printer, Aldus Manutius, who had bee … [Click Below for Full Description]
Bookseller:
Lynge & Søn ILAB-ABF
[Copenhagen, Denmark]
Venice: 1499, 12 June.. Folio. 310 x 212mm. Contemp. oak boards with leather backing, rubbing and restorations to spine, lacks clasps (front cover has leather remains), wormholes in covers; medieval vellum ms. used as binder?s pastedowns with central text and commentary; dampstain to upper inner margin at front an outer margin in rear; wormhole in text (some letters affected); ink burn hole in one of the added leaves at front; contemporary marginal annotations throughout; 8 leaves have been added (4 front, 4 rear) which have contemporary index in red and brown inks (7 of the pages are used); old institution number stamped at end with library mark removed, a few old stains.. 2 White on black decorated initials.Type 16:108R; Greek type 80 Gkb. The letters of Cicero are of a varied character. They range from the most informal communications with members of his family to serious and elaborate compositions which are practically treatises in epistolary form. A very large proportion of them were obviously written out of the mood of the moment, with no thought of the possibility of publication; and in these the style is comparatively relaxed and colloquial. Others, addressed to public characters, are practically of the same nature as his speeches, discussions of political questions intended to influence public opinion...In the case of both of these two main groups the interest is twofold: personal and historical, though it is naturally in the private letters that we find most light thrown on the character of the writer. In spite of the spontaneity of these epistles there exists a … [Click Below for Full Description]
Bookseller:
Krown & Spellman, Booksellers
Germany A BEAUTIFULLY DETAILED SIXTEENTH-CENTURY MINIATURE GLOBE Diameter: 21/2" last quarter of the sixteenth century. This elaborate and finely engraved miniature globe shows an intricately detailed image of the world. The land shows mountains and rivers, named as profusely as space allows, and the small crowns denote kingdoms. The oceans are stippled and decorated with four sailing ships and three sea monsters. The globe is joined along the plane of the elliptic and holes at the North and South Poles originally held support pins. Several small texts are found, in particular in the Southern Continent below India, "Terra nove plane cognita Inventa Ao 1499" and by the Moluccas, "Insula nove inventa." The globe also names all the continents, Equator and tropics, the oceans and some islands. Modeled on the work of Johannes Oterschaden, this rare and beautifully engraved miniature silver globe was probably made to form a part of a globe clock or elaborate armillary sphere. Elements of Oterschaden's geography almost certainly derive from Francois Demongenet's terrestrial globe of 1560. It is likely that the globe makers met while working in southern France, Oterschaden for the Bishop of Comminges and Demongenet at Vejoul in Franche Comté. In addition, it seems likely that Oterschaden was also in contact with the German globe maker Christoff Schniepp and Willem Nicolai at Leiden because their globes seem to share the same source of geography.. Book.
Bookseller:
Arader Galleries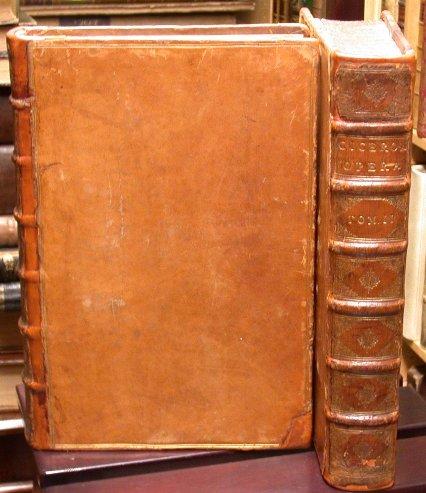 Paris: Robert Estienne, 15[38]-39. 5 Parts in 2 Volumes. folio. pp. 8 p.l., 288; 340 [i.e. 640], [6]; 416; 450, [1 leaf]; 158, [100]. 6 titles with woodcut printer's device. several woodcut initials. 17th century calf, recornered & rebacked with gilt spines mounted (staining to p. 240 of second part, lower blank margin of title of 3rd part renewed, a few small round wormholes at beginning of Vol. II). numerous neat old ms. marginal notations & some scoring in first volume. Second Edition edited by Italian classical scholar, Pietro Vettori [1499-1585], elegantly printed in folio format by Robert Estienne. It is based on the Giunta Venice edition of 1534, with a few additional notes by the editor. The five parts comprise the rhetoric (Part I), the orations (Part II), the letters (Part III), the philosophical writings (Part IV), and Vettori's commentary (Part V). Adams C1640. BM STC French p. 109. Brunet II 7 (incorrectly citing 6 Vols.). Moss I p. 291. cfRenouard p. 48 (citing 4 Vols. & different title). [Attributes: Hard Cover]
Bookseller:
D & E LAKE LTD. (ABAC/ILAB)
[Toronto, ON, Canada]